The influential website Fortune put out an article titled "Why Google Is the Most Vulnerable FANG Stock." Ironically, Alphabet (GOOG) (GOOGL) is the least vulnerable among FANG stocks. In fact, in order of competitive advantage I rank the four tech giants like this:
Google
Facebook (FB)
Amazon (AMZN)
Netflix (NFLX)
In the Fortune article, Alphabet is singled out as the weakest link because of the threat of the European Union regulation. Tech analyst Mahaney from RBC Capital Markets is quoted to that effect:
The biggest competitive risk for all these is government," said Mahaney, but nonetheless singled out Google as facing a special peril from regulators.

Mahaney pointed to the search giant's recent antitrust headaches in Europe, which include a whopping $2.7 billion penalty over its shopping search results, and separate investigations into Android and its ad policies.
Let's assume Mahaney isn't talking about stock price vulnerability. In that case, this would be a short article because Alphabet isn't growing that much slower, but it is a lot cheaper.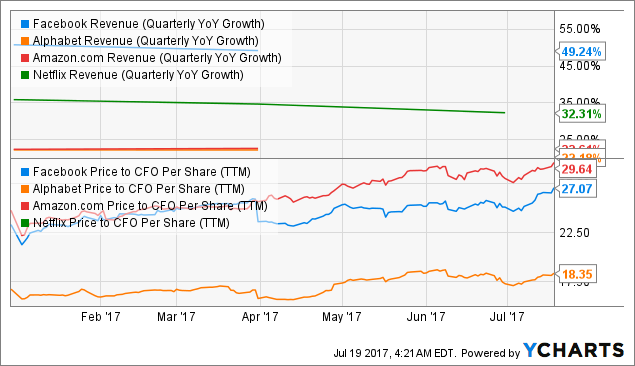 FB Revenue (Quarterly YoY Growth) data by YCharts
To analyze the vulnerabilities of the respective business models, I start by defining their competitive advantages. Bruce Greenwald, author of "Competition Demystified," only identifies four types of competitive advantage:
Supply advantages
Demand advantages
Regulatory advantages
Economies of scale
Facebook
Monetize user generated content while benefiting from customer captivity because of the network effect. This results in some supply and demand advantages and even some economies of scale.
Amazon
Amazon's competitive advantage is a lot harder to define. In essence, it comes down to two things: 1) lowest cost producer advantage in respect to other major retailers while 2) benefiting from economies of scale in an otherwise highly fragmented market.
Netflix
Netflix benefits from a network effect and from government regulation reducing its cost base.
Alphabet
Alphabet benefits from economies of scale, customer captivity and a supply advantage.
Netflix competitive advantage
Clearly the most vulnerable among these models is Netflix. The company benefits from a network effect because its user base enables it to offer good terms to content providers and its library of content attracts additional users. However, the network is not without rivals in Amazon Prime and Twitch and Alphabet's YouTube. If net neutrality is overturned, Netflix or its customers may face increased expenses that diminish one current advantage over cable content bundles. If anyone has a regulatory problem to manage, it is Netflix.
Amazon's competitive advantage
Amazon's competitive advantage is hard to pinpoint. Execution is of a very high level. This creates the impression there are competitive advantages where there may be none.
Its management built a lot of small competitive advantages that together culminated in very low customer acquisition costs and a highly efficient organization. As long as management keeps executing like this, the advantage it built up incrementally is not easily bridged.
Facebook's competitive advantage
Facebook has a tremendous competitive advantage because it built up a global network. That is dominant in almost every geography. The longer it remains dominant, the harder it becomes to dethrone. Customers become captive. They depend on Facebook for access to their network. Facebook is able to offer superior advertising propositions because of its highly specific customer data which it sources at a very low cost.
This is an economic moat that is not easily crossed by competitors. Specialized networks could take some share away from Facebook. LinkedIn (LNKD) is one example. You probably don't spend as much time there but there are use cases where it is superior.
There are notable examples of social networks that have failed, like Myspace and Digg. There is a chance we can add Twitter (TWTR) to that someday. Until then, follow me here if you like to talk investments.
Alphabet's Competitive Advantage
Alphabet has 80% of the desktop search market share and 96% of mobile market share, according to netmarketshare. The company services so much queries it is able to develop highly specialized algorithms.
Because of its dominant market share, it collects the most important data to remain the highest quality search engine for you: your previous queries and your response to its answers. If you switch to another search engine, like Microsoft's (MSFT) Bing, that is bound to be a painful experience as it lacks that same dataset and is bound to come up with answers to your queries that are of a lower average quality.
Conclusion
Solely based on competitive advantages, I would buy Alphabet first and Netflix last. If we take management quality into account, I could move up Amazon one spot. Ultimately, the price you pay matters. If we take price into account, there is only one FANG I'd want: Alphabet.
Disclosure: I/we have no positions in any stocks mentioned, and no plans to initiate any positions within the next 72 hours.
I wrote this article myself, and it expresses my own opinions. I am not receiving compensation for it (other than from Seeking Alpha). I have no business relationship with any company whose stock is mentioned in this article.