In my article about why you should have growth stocks in your portfolio, I wrote about the foundations of my growth stocks strategy, which is more qualitative than quantitative.
In the first article that I dedicated to growth stocks that could go up a lot in the next years (Potential multibaggers pt.1), I looked at Shopify (NYSE:SHOP). In the second part of this series, (Potential multibaggers pt.2), I shone a light on Shopify's Chinese counterpart: Baozun (NASDAQ:BZUN). For the third installment of this series, we stay in booming China with the social app company Momo Inc. (NASDAQ:MOMO).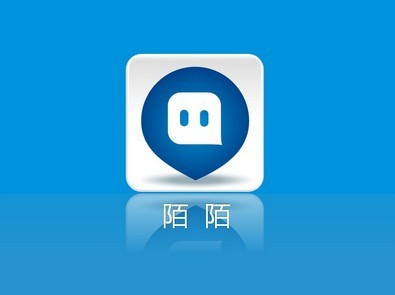 Momo made its IPO on the Nasdaq on November 7, 2014. Its main product is a mobile-based social networking platform, based on location and interests. Basically, this means that you can meet people who are near you and/or have the same interests as you. But it also has a stand-alone video application called Hani. The social app is growing quickly.
On the last conference call (in May 2017), the company declared that the total MAUs (Monthly Active Users) on the Momo platform reached 85.2 million for the 1st quarter of 2017, compared with 72.3 million the year before and 4.1 million more than the previous quarter. That is almost an 18% YoY growth. And the company knows how to monetize its users.
But before we go into more details about the company and the stock, I want to talk about the macroeconomics of Chinese investments. I did this too for Baozun, so if you still remember this, you can scroll a bit further down.
A lot of investors are afraid of Chinese stocks because of fraud and unreliability, but I think that you throw out the baby with the bathwater then. There is an enormous potential in China, with its population of almost 1.4 billion people and its steadily high economic growth. Yes, there have been fraudulent affairs before, but that is the case anywhere in the world. Remember Enron, Bernard Madoff, Lehman Brothers, WorldCom and other American giant fraud cases?
Does that mean that you shouldn't invest in American companies. Now, I know that the accounting principles of the USA (GAAP) are better and stricter than the Chinese, but they are catching up. Especially the bigger companies that have ADRs on the American stock exchange seem to have better accounting principles and seem more reliable to me.
Investing in China
Some stocks will have more natural risk than others, but risk often means reward. Whereas the US market still has some gems, I think that there is a lot more value to be found on other markets, which are growing like weeds now and in the decades to come. I know that a lot of investors start to shiver if they simply hear the words 'China' and 'investing' in the same sentence, but be rational: the country is expected to overtake the USA in the near term as the economic superpower in the world. This is the GDP growth of China in the last ten years compared to that of the US:

While the GDP growth of the US is nothing to sneeze at, that of China is more than seven times as big.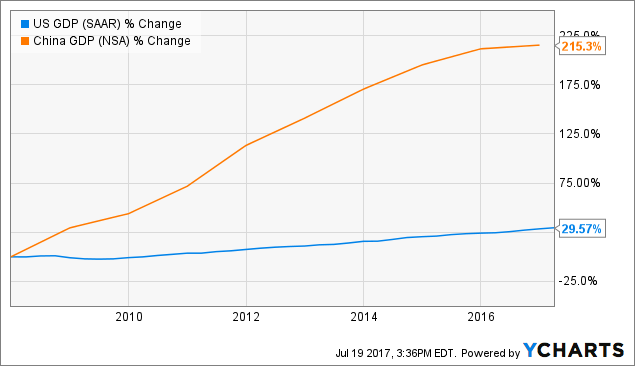 US GDP data by YCharts
The next chart is a bit outdated. I can't find the exact date, but the Chinese GDP is more like $12T now, that of the US $19T; I guess therefore that it dates from 2011. It shows the sheer power that China has to leverage its huge population. Yes, freedom is less in the Chinese Republic, but the economic power is huge.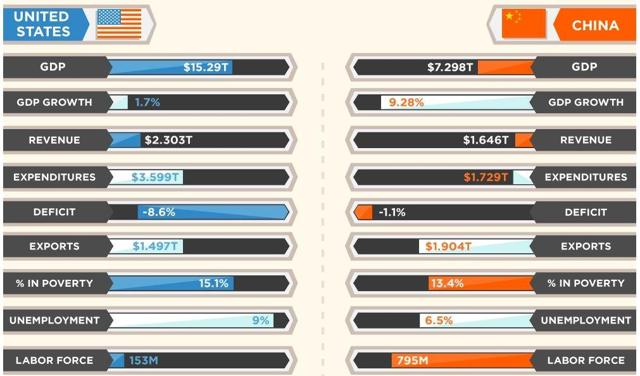 (Source: master of finance.org)
The Chinese economy is growing like weeds and that creates opportunities. Especially because there is more and more of a middle class in China and it is growing fast. If you are not fond of Chinese opportunities, this article maybe is not for you, but I promise you that there will follow other opportunities too as this series of potential multibaggers. But maybe you should just put aside your prejudices, if you have any, and read on about Momo.
Risks
With higher potential often comes higher risk. This may be especially true for Chinese technology stocks. If the Chinese government wants to curtail social media apps as Momo, it simply does. Or maybe there will be a newer, more exciting social app that comes around?
In my opinion, both risks are present, but not very likely. Momo is a Chinese app, not a foreign one, which is already a difference. Therefore, it knows the system very well. Secondly, Momo has more the name of being a date app than a social uproar app. Thirdly, the Communist Party knows that they don't make themselves very popular with the population by blocking a whole app. So I see this risk as rather small, but not completely impossible.
The threat of another app taking Momo's place is even smaller in my opinion. The company has shown that it can adapt when it is not profitable enough and there is an enormous opportunity waiting in the mobile video market, especially in the advertising market, which has only started now.
Momo, the company
This is the short presentation of the company and its core business:
Momo, Inc. operates as a mobile-based social networking platform. The platform includes Momo mobile application and related features, functionalities, tools and services that is provided to users, customers and platform partners. It enables users to establish and expand social relationships based on location and interests. The company was founded by Yan Tang, Yong Li, Xiao Liang Lei and Zhiwei Li on November 23, 2011 and is headquartered in Beijing, China.
(Source: seekingalpha.com)
These are the core data for the stock:
The first thing that I see is a rather small market cap of just $6.47 B. This is a dwarf versus the giant Facebook (FB), which has a market cap of about $470B, more than 72 times bigger. I like these kind of market caps. Not too small, so somewhat more stable mostly, but not too big, so there is enough space for huge growth.
The second thing that I notice, is that Momo's P/S ratio is half of that of Facebook: 8 vs. 15.5. I like that.
Momo's P/E is more or less in line with that of Facebook (39 vs. 41 for Facebook), but its forward P/E (not in this list, but from finviz.com) is much lower: 19 vs. 27.
The PEG is not in the list, but it is very interesting, just 0.79 (again the source is finviz.com).
The profitability is high. You can already see that in the facts, but it is better to compare to the sector, and that is what Simplywall.st does:

Momo outshines the sector on ROE, ROA and ROC.
The earnings growth, with 1,231% is so huge that it is unsustainable, of course. But Finviz.com expects the EPS to grow at 50% annually for the next five years. Yes, you have read that correctly: 50% for the next five years, with a forward P/E ratio of just 19.
From the balance sheet, you can see some important things too. There is no debt, which is always a huge positive for any company, and about $740M in cash. This shows that Momo is unlikely to be in any form of financial stress.
All these elements shows to me that Momo might be a hidden gem and even rarer, a potential multibagger that is not overvalued. You can also see that in this model for intrinsic value of Simplywall.st:

This model shows that, based on future cash flows, Momo is fairly valued with its current price. That is exceptional for such a growth stock.
The numbers sure look impressive: A relatively small market cap in a huge market that grows at a very high rate, in a business that is in a secular growth trend, earnings positive, attractively priced, high growth in revenue and EPS and high earnings growth projected. But I also want to consider the qualitative criteria that I use for growth stocks.
1. The company must have a good story
Now this may seem petty, but companies that have ideas that they can articulate and make investors enthusiastic about will probably have the same conviction in trying to win their customers. For Shopify, I summarized it as 'It will make your business online sales boom.' For Baozun, you could say the same thing.
For Momo, there is also a compelling tagline: 'Momo is a combination of Snapchat and Tinder'. This quote comes from chairman and CEO Tang Yan. On the Q4 2016 earnings conference call, he made me enthusiastic. How about you?
Q4 was another remarkable quarter for us in almost every major aspect and execution. Total revenues for the quarter reached another record high as $246.1 million up 524% year-over-year and far exceeded our regional revenue guidance range. Again the outstanding top line performance came in together with significant bottom-line expansion powered by the strong operating leverage based on our efficient business model. For the fourth quarter of 2016 non-GAAP net income reached $91.5 million up 675% from the same period last year.
2. A visionary CEO
One of the most valuable aspects of growth stocks is having a visionary CEO, a great leader that has exceptional qualities as to where the company is heading.
In most cases Chinese, CEOs are harder to judge for me than European or American CEOs because mostly there is less material in English. But Tang Yan, the CEO of Momo, is an exception. For example, he has been in the 40 under 40 article of Fortune, a list of the most powerful, influential and important business elites under the age of 40, in October 2014.
The man has vision and seems to do everything right. When he saw that the original location-based feature didn't thrill people anymore, he switched Momo to a much broader platform with live video, games, etc. This was hugely successful: live video boomed from 1M to $194.8M YOY last year.
Maybe this might sound strange to some, but I like to look a CEO into the eye before I buy a stock. Before you think that I have a whole network of big shots as my closest friends, I mean on a screen. If I see how CEOs communicate to the press, I often get a better idea of how they are as a leader of the company I may invest in. For Tang Yan, I only have found one interview. Even though it is a somewhat strange interview because of the interpretation, Tang Yan seems to answer to the point, seems to have a vision of where the company is heading and shows drive and ambition.
3. An innovating company
A growth stock must be innovating. If the company doesn't innovate, it doesn't have a growth stock.
Momo combines location, meeting, dating, gaming and live video in the booming Chinese market. This gives a huge boost to their ARPU (Average Revenue Per User). Especially the live video part is booming. And more than any other company in China, Momo is the standard-bearer of mobile live video, more than YY (YY).
4. A long-term vision
Whether I pick DGI stocks or growth stocks, I don't change my strategy: I buy stocks for the long road. Mostly I am a buy-and-hold guy. In my bio here on SA, there is the sentence that I think qualifies me very well: I don't think in years but rather in decades.
As a consequence, I pick stocks of companies that have a vision for the future and that I believe that they will thrive over the next years or decade (in as far as that is foreseeable, of course). Momo is such a stock. I think both digitalization, personal video, mobile content and the growing Chinese internet market are secular trends that will go on for years and years and Momo thrives from those trends.
A long-term vision also forces me to look at the question if the growth stock that I buy is part of a secular trend and I think for Momo, you could answer 'Yes' wholeheartedly. Yes, because social apps are a secular trend; yes, because the steady growth of a lot of Chinese towards middle class is a secular trend.
5. At least double-digit growth over the next five years
While this is not always as simple as it seems because there are so many ratios, in the case of Momo, it is. I can simply look at the forward P/E ratio and see that it has tremendous growth ahead. This is the FAST graph of the EPS growth for the next years.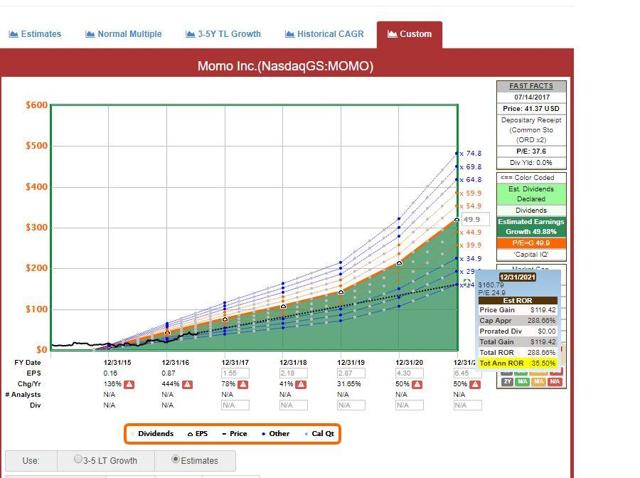 The EPS growth for 2020 and 2021 are just the averages (50%), but the estimates for 2017, 2018 and 2019 are really impressive: 78%, 41% and 31%. Those numbers are simply great. Even with 'just' a 20% growth in 2020 and 2021 and with a P/E of 25 (not too aggressive at all for a growth stock), you could see a stock price of about $105, a CAGR of more than 20% and that with very conservative presumptions. I'll explain later why these presumptions are so conservative.
6. The three Os
Finally, this is maybe the most important benchmark for growth stocks: they really should have as much as possible of what I call the three Os: overachieving, owning, and overdelivering.
Overachieving
Tang Yan was an executive of NetEase (NTES), which means that he already had a good life. But it was not enough for him. He wanted his own platform and he has succeeded in a very short time to convince the Chinese market of his platform.
Owning
I like a management that has got a big amount of skin in the game. If the stock does well, the managers will do well financially too. Their interests and that of the stockholder are the same. On the other hand, if CEOs are great at their job, but they are not such a big holder of their own company's stock, it doesn't really mean anything. If they are not the founder of the company, then it is hard to own a substantial part of it. Ownership is a bonus.
Momo has that bonus. This is who owns the company, again from Simplywall.st:

The website shows that insiders have about 57.5 M shares on a total of 198M, which means that insiders hold about 28.8% of the company, which is a great ratio. By the way: the second biggest public company that is a shareholder is the almighty Alibaba (BABA).
Overdelivering
When you look at the growth rate of the company, well, I surely would say that this is overdelivering already. Here is a statistic from Momo vs. the S&P 500 since its IPO: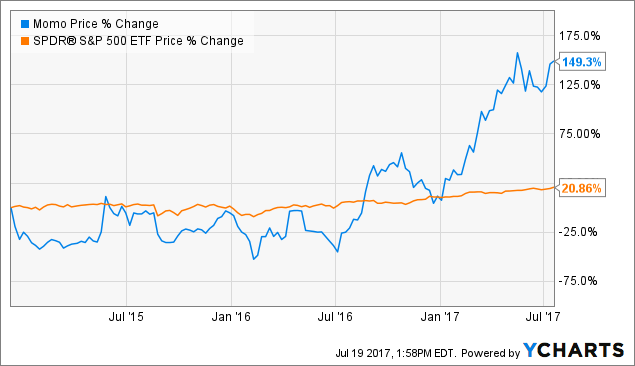 MOMO data by YCharts
As you can see, Momo has only started to outperform the S&P 500 (SPY) only since the beginning of this year, but I think the cork is out of the bottle now. What became apparent to investors is also that the mobile marketing revenues were a new way of boosting the overall revenue. Simply put: selling adds on the app becomes a very profitable source of revenue. This was integrated with mobile videos in the form of mobile adds. In 2017, the company will also continue to add more integrated gaming in the app.
Another domain on which Momo is a big fat overdeliverer is the earnings beatings. This is an overview of the last 8 quarters: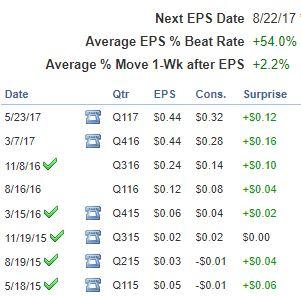 (Source: streetinsider.com)
As you can see, Momo is a great outperformer, with an average EPS % beat rate of 54%. That is great. In my experience, companies that do this, mostly continue to outperform. Again this is a reason to think that my $105 target for 2021 was rather conservative. And it is a nice last point of proof that Momo is an overdeliverer.
Conclusion
I think Momo is another Chinese hidden gem, just as Baozun. With such huge growth expectations in a huge market, in which the company could grow extensively over the next years and decades, this is a stock that may be a multibagger over the next years. Therefore, I have opened a position in this stock. I will add and keep adding to my position if they keep delivering.
This was the third part of my series of potential multibaggers. With these high growth companies, you should be prepared for some more volatility, but as long as you keep your eyes on the road, mostly they are greatly rewarding. It is also better to take several of these potential multibaggers in your portfolio to spread the risk. But one thing: don't sell them for any petty reason as a price drop or some speculative assumptions. Probably you will have to buy them back later at a much more elevated price.
In the next few articles in this series, I will highlight some other growth stocks that could be potential multibaggers.
If you don't want to miss those articles, please feel free to hit the follow button.
In the meantime, keep growing!