Introduction
As a practical matter, I am typically quite bullish on transformational deals involving either Alphabet (NASDAQ:GOOG) (NASDAQ:GOOGL) or Apple (NASDAQ:AAPL) regardless of which new product niche they pursue. The fact that both of these technological giants see value in partnering in fleet tests with leaders in the auto-rental sector suggests to me there is definitely value to be found. I was drawn to purchase Hertz (HTZ) last week based on my stock screens that help me identify new breakout potential in momentum stock characteristics.
Without considering technical measures of fund flows and pricing behavior there is not yet a clear fundamental valuation that would otherwise anticipate 45% returns in a week. What is particularly unique to this momentum breakout for HTZ and Avis (CAR) is that speculators recognize how it may significantly revolutionize the future rental car business model.
How best to value Hertz?
A purely fundamental approach toward assessing the market value of Hertz or Avis comes up with values substantially short of their current stock prices. The negative profit margins of Hertz and low 1.20% margin for Avis illustrate the competitive, capital intensive, ongoing struggle to replace rapidly depreciating vehicles and find growth in a well-developed market. If this is where the story ends, many shorts are extremely well-positioned behind record-high short ratios.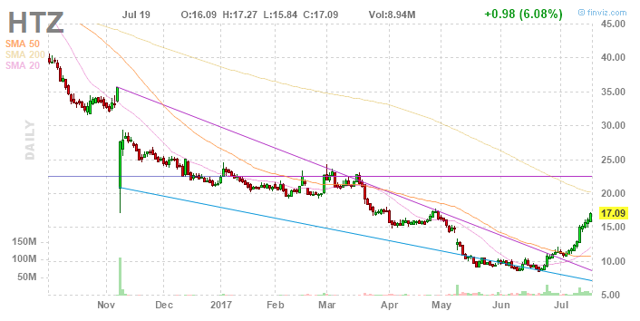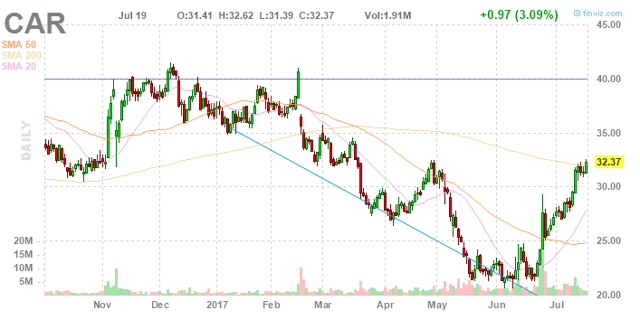 However, every now and again, transformational shifts occur. I'm reminded of the b-school example of Southern Pacific Railroad and their miles and miles of communication lines stretching along their tracks all across the country. Again, through a significant shift in business model, the Southern Pacific Railroad Internal Networking Telephony business - known to us as SPRINT - became a successful international communication company. The real value question for Hertz is what does a partnership with Apple bring to the long-term growth of the rental car business?
What is the value proposition?
If the fundamental value of joint ventures with Alphabet and Apple are not easily quantifiable, what is the value that should be measured? On the one hand, fundamental value analysts have a high degree of invested skepticism. On the other hand, futurists envision ordering autonomous rental vehicles delivered and returned to any selected spot on their Google/Apple map with the touch of a phone app. What's this partnership worth? Here are some thoughts:
A self-directed order and return system would give Hertz and Avis a way to combat the loss of market share over the years to Lyft (LYFT) and Uber (UBER).
The fleet approach of the rental car business would allow for more rapid product rollout with potential cost sharing between Hertz and Apple.
It provides yet another platform for Apple iTunes and movie streaming revenue even as Tesla (NASDAQ:TSLA) announced its entry into music streaming last month.
Advocates of autonomous driving say these systems can be many times safer than human drivers. Unfamiliarity with new rental vehicles may also be a contributor to higher incident rates with rental cars. This anticipated safety improvement not only reduces insurance and replacement costs, but may also contribute to less wear and tear on the rental vehicles themselves. So these substantial reductions in physical depreciation rates and maintenance costs could represent significant margin improvements.
Fleet communication, tracking and movement could be more easily coordinated to meet demand, avoid congestion, and result in tremendous efficiency improvements not constrained by human labor and operating hours.
The value depends on the deal
We know that Alphabet by way of their self-driving unit, Waymo, has entered into an agreement with Avis Budget Group. We know that Apple now has a similar agreement with Hertz's Donlen fleet-management unit.
Ultimately, any reasonable valuation depends on the specifics of these agreements. Will Hertz be a maintenance and storage facility for Apple autonomous cars? Or will the rental companies find a way to leverage their international facilities and fleet management experience to gain a competitive advantage with the evolving autonomous driving systems?
"Don't expect any of these recent partnership agreements to be long-lived, entirely exclusive, or without an escape clause," McPherson, the automated vehicle consultant, said. "Parties will use the relationships to learn complementary businesses, try out what works, and try to be first to market with an end-to-end solution. The prize for being first-to-market with a safe, profitable autonomous vehicle is beyond estimation, but at the very least, that company will be worth as much Uber's valuation." ~ TheVerge.com
An Uber valuation may be an overly optimistic outlook in a competitive growth market with major automotive companies becoming significant entrants into the autonomous market as well. The objective reality is that competition in this segment now spans players from across GM (NYSE:GM), Ford (NYSE:F), Tesla, Alphabet, Apple, Hertz, and Avis with many other competitors in between. All told maybe the 45% short ratios are overly pessimistic about shifting paradigms and a fair valuation involves meaningful growth and profits for Hertz in the near future. One thing remains clear, the momentum characteristics for price breakout have been very strong.
Disclosure: I am/we are long HTZ.
I wrote this article myself, and it expresses my own opinions. I am not receiving compensation for it (other than from Seeking Alpha). I have no business relationship with any company whose stock is mentioned in this article.