The world is truly your oyster... but only if you have the optimism to see it that way. --Alexander Green, author of Beyond Wealth
The stock markets of the world have had quite a ride since December 2011, as this 6-month chart of the Dow Jones Industrial Average epitomizes. What goes up in a hurried and dramatic fashion can go down in a New York minute or a sudden "flash crash."
I'm optimistic that the stock market will keep going higher if those who brought us the "flash crash" don't get in the way. Perhaps we are building the proverbial "Wall of Worry" for the stock market to go higher, and it wouldn't surprise me to see a Dow of 13,500 or higher before the substantial correction that will inevitably occur.
As Arthur Hill pointed out today, and I share this with his permission as I'm a happy, enthusiastic subscriber of his, there's a "canary singing in the coal mine."
Relative weakness in small-caps remains a concern because small companies are the canaries in the economic coalmine. Smaller companies are less diversified and have less exposure abroad, which makes them more vulnerable to changes in the US economy. ...

Chart 1 shows the performance of the Russell 2000 relative to the S&P 100 using the Price Relative ratio. This ratio rises when small-caps outperform and falls when small-caps underperform. Small-caps outperformed in October and January with a bout of flat performance in between (November-December). February was a different story as the ratio fell rather sharply. This is because IWM traded flat as the S&P 100 moved higher. The blue dotted line marks the start of underperformance on February 3rd.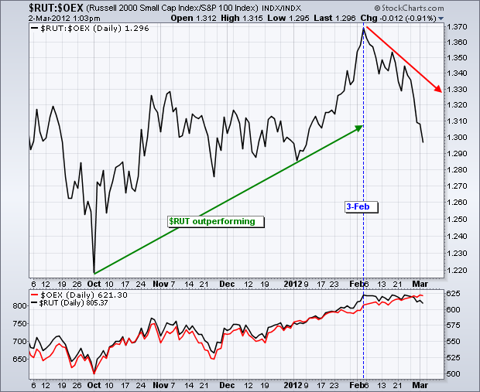 So, with at least the possibility of an impending correction, let's look at 3 stocks you might want to sell at present levels. Microsoft (NASDAQ:MSFT), Intel (NASDAQ:INTC) and Procter & Gamble (NYSE:PG) are 3 solid, dividend-paying companies that have had a terrific run, but are either in the process of topping out or in the case of PG, breaking down.
Apple (NASDAQ:AAPL) is appears to be ready to match or exceed its 52-week high of $548.21, but if it reaches that point and then closes below that level, that too may be an ominous early-warning signal both for AAPL shares and the market as a whole.
I'd argue with the best-of-the-best analysts that these companies are dominant forces in their industries, but as the late Benjamin Graham might have said if he were participating, "They appear to have gotten ahead of themselves."
A pervasive and counter-intuitive theme in the stock market since 2007 involves capturing profits and having plenty of cash to buy on the substantial market corrections that ensue. Look at the 5-year chart of the DJIA. One can clearly see a similar pattern that more clearly began in 2009 and appears to be repeating itself in 2012.
If you are a buyer, and you're looking to roll the dice on stocks between this point and whenever this year's correction will unfold, you'd be wise to look at great companies that have underperformed so far. Three good examples are Vale S.A. (NYSE:VALE), Rio Tinto Plc (NYSE:RIO) and AngloGold Ashanti (NYSE:AU).
RIO almost needs no introduction. The company produces aluminum products, including bauxite, alumina, and aluminum. It mines for copper, gold, molybdenum, silver, and nickel, as well as sulfuric acid and diamonds.
When it comes to industrial minerals, such as borates, titanium dioxide feedstocks, talc, high purity iron, salt, metal powders, zircon, and rutile, RIO is a big player. They also produce thermal and coking coal,uranium and iron ore. It primarily operates in Australia, North America, South America, Asia, Europe, and Africa.
RIO trades at less than 9 times forward earnings and pays a sweet 3.2%. It's key financial statistics should be considered carefully.
Vale S.A. (VALE) the Brazilian dynamo that engages in the exploration, production, and sale of basic metals in Brazil and internationally, is ridiculously cheap at only 6 times forward earnings and sporting a 4.5% dividend.
The company generated over $25 billion during the past 12 months through its involvement in fertilizers, logistics, and steel businesses. Its Bulk Material segment engages in the extraction of iron ore and pellet production, as well as the profitable operation of extensive transportation systems in both northern and southern Brazil.
This includes railroads, ports, and terminals related to mining operations. This segment also includes manganese ore mining and ferro-alloys activities.
Yes, they have $25 billion in debt, but they could pay that off in a number of different ways that management is currently focused on. Their quarterly revenue (year-over-year) grew by 64% and their quarterly earnings growth(y-o-y) is an impressive 37%.
With an operating margin approaching 50% and their other basic material products (including nickel, copper, and aluminum; and their operations in aluminum trading, alumina refining, aluminum metal smelting, and bauxite mining activities) should keep that number high.
On top of that VALE generates and sells energy through hydroelectric power plants. Take a good look at their web site and the scope of their businesses and you'll see why it's a very promising stock.
Last but not least, I took the recent 6% correction in the price of gold and silver to put on a "bull call spread" in AngloGold Ashanti (AU) the African-based mega-miner that engages in the exploration and production of gold. It also produces silver, uranium oxide, and sulfuric acid.
On Feb.15th they announced that they had record full-year earnings of $1.3 billion that allowed them to double their dividend to a yield of 2.4%. Yet the stock is still trading below $43 at just 8 times forward earnings. Their 6-month chart shows that the stock hasn't caught fire quite yet, and it seems to mirror the movement of Barrick Gold (ABX).
Although a bull call spread limits your upside profits, it also limits your downside risk while at the same time tying up less of your investing capital. Know the risks and ask your brokerage lots of questions before investing in options.
AU has garnered a 31% operating margin and a mind-blowing 673% (y-o-y) quarterly earnings growth expansion that leads me to anticipate a possible 12 month upside target price of $52-a-share, if not higher. That would be at least a 26% increase over the current price Friday of $41.06.
So don't be shy about "selling high and buying low" and consider it's nearly impossible to sell at "the top" and buy at "the bottom."