Red Hat (NYSE: RHT) has been transforming itself into a major player in the cloud market. Red Hat has made hybrid cloud technologies a key focus area for their growth. Its hybrid cloud offerings are based on Red Hat Openshift for Platform-as-a-Service (PaaS) and Red Hat OpenStack for Infrastructure-as-a-Service (IaaS).
Red Hat reports revenue under two broad operating segments:
Infrastructure-Related Offerings
Red Hat Enterprise Linux operating system

Red Hat Satellite - System Management software for physical, virtual and cloud infrastructure

Red Hat Enterprise Virtualization software that allows customers to utilize and manage a common hardware infrastructure to run multiple operating systems and applications.

Application Development Related and Other
Emerging Technology Offerings
Red Hat JBoss Middleware

Red Hat Cloud Offering

Red Hat Mobile

Red Hat Storage
Historically, Red Hat has been, what many would consider, a purely Linux Operating System shop. They have and continue to generate a substantial percentage of their subscription revenue from their Linux Operating System business. In fiscal years 2014, 2015 and 2016, their infrastructure-related business accounted for 76.3%, 74% and 72.1% of total revenue. But, their Application Development related business has been accounting for a greater share of the total revenue. In fiscal years 2014, 2015 and 2016, this division accounted for 10.8%, 13.2% and 15.7% of the total revenue.
Exhibit: Steady Increase in Revenue from App. Dev. Business (Includes Hybrid Cloud Products)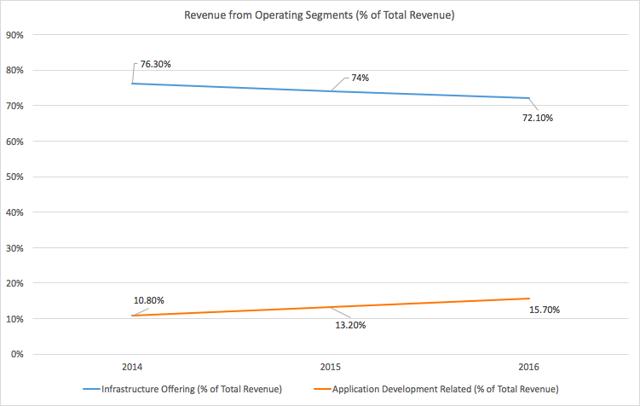 (Source: Company Filings, Author)
There is evidence that within their application development business, their Hybrid Cloud Solutions is beginning to account for larger share of revenues. Their application development business saw a strong three-year CAGR of 38%. Red Hat currently does not separately break-out revenue from their cloud products.
Exhibit: App. Dev-Related & Emerging Tech. Growing at Nearly 40% CAGR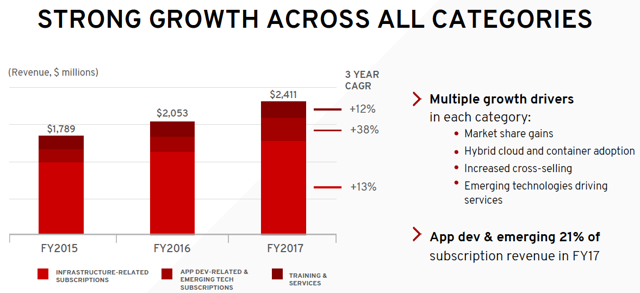 (Source: Company Filings)
Besides that, in fiscal 2017, they have added over 300 customers on Red Hat Openshift, which is double the number of customers from fiscal 2016. They have added nearly 400 customers in fiscal 2017 for their OpenStack platform.
Exhibit: Strong Hybrid Cloud & Container Adoption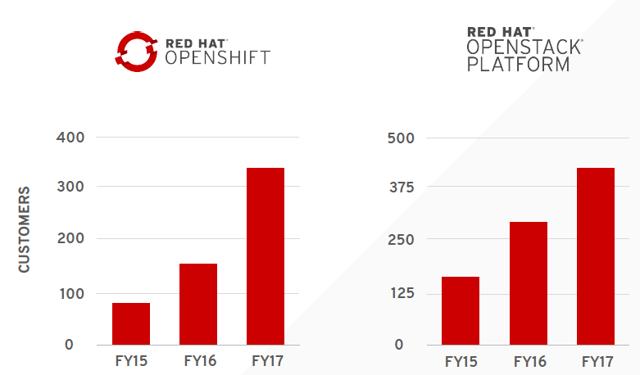 (Source: Company Filings)
There is a strong case to be made for the growth of the hybrid cloud. Many companies do not wish to be tied too closely to any one public cloud like Amazon Web Services or Microsoft Azure. If they can host their mission critical applications in their own data center or colocation facility that would give them greater control and oversight over their proprietary data. In the age where data is sometimes more valuable than the widgets that these companies sell, having control over data is extremely critical. There is also the challenge of transporting vast amounts of data from a data center into a data center owned by a public cloud vendor. Applications are useless without the data. The size of the application is small and can be migrated to a public cloud easily compared to the task of migrating data that has been gathered over the years or even decades. Transferring 100 petabytes of data over a 1 Gbps connection could take more than 20 years and so Amazon introduced a product called AWS Snowmobile to help transfer vast amounts of data from a customer's data center into their data center. The snowmobile is a 45-foot long ruggedized shipping container that is stacked with storage and can transfer up to 100 PB of data from a customer's data center into an AWS owned data center.
Exhibit: AWS Snowmobile Data Transfer Service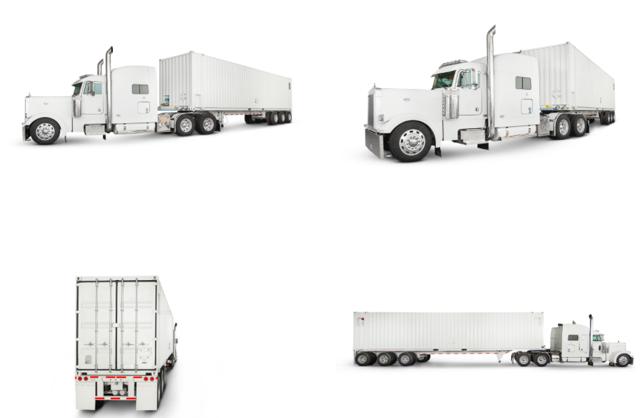 (Source: Amazon.com)
This is the data transfer predicament that public cloud vendors and their customers face. You can choose to transfer data to AWS or any other public cloud today, but it would be extremely difficult to move all that data out of that public cloud tomorrow.
A hybrid cloud gives a company the option to host their applications and data on premise and then extend into a public cloud as demand arises or even use a public cloud for certain niche applications. There are also companies out there who are reluctant to host any business on Amazon Web Services (AMZN) out of fear of letting a competitor profit from their business. Recently, Wal-Mart (WMT) has asked some of its vendors to build services on AWS's rivals. Beneficiaries of this mandate by Wal-Mart are companies like Microsoft (MSFT) and Red Hat.
According to NIST, any cloud computing model needs to have these essential characteristics:
On-demand self-service

Broad network access

Resource pooling

Rapid Elasticity

Measured service
If a company can gain these benefits from a hybrid cloud platform while maintaining control over their data and application environments, they would choose this option. The cost of the solution is also an important consideration and any hybrid cloud should be fairly cost competitive to a public cloud. Red Hat's hybrid cloud offering, which is based on open source technologies, may be the closest to matching the cost of public cloud vendors while offering benefits of full control over the environment. Hybrid cloud products allow companies to balance both their data governance and cost considerations. Red Hat's revenue from application development-related and other emerging products was about $322.98 million for the fiscal year ended in February 2016. For the quarter that ended on May 31, 2017, they had generated about $138.54 million in revenue for that division that represents a growth of 40.7% a year-ago quarter. Since hybrid cloud solutions involve multiple products, Red Hat may also be seeing larger deal sizes. But, hybrid cloud solutions may take longer to sell given the complexity of the solution and the need for the customer to rethink many of his business processes.
Momentum is on the Red Hat's side when it comes to their cloud business. Expect great things from them in the future. They may prove to be a strong competitor in the cloud.