Skyworks Solutions (SWKS) reported third quarter earnings after the close Thursday, and as promised, here is my write-up of the most salient points and what investors can take away from the report. As a high-level summary, I think Skyworks again demonstrated why it is deserving of its current valuation and more due to strong revenue and earnings growth, best-in-class profit margins, and a commitment to returning capital to shareholders. For some context on my expectations, my pre-earnings primer can be read here.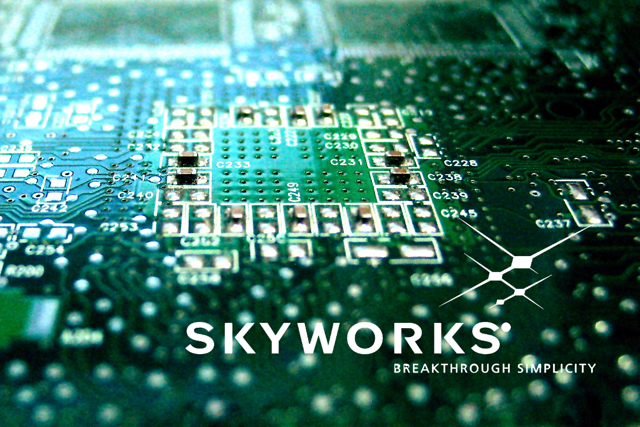 For the third quarter, Skyworks reported revenue of $901 million, which beat consensus estimates by $10 million and represents YoY growth of about 20%, and EPS of $1.57, which beat estimates by 5 cents and represents growth of about 27% YoY.
Additionally, non-GAAP profit margin increased YoY by a bit over 250 bps to 27%, further widening Skyworks' best-in-class margins, and free cash flow was $201 million. One can also read about the multitude of design wins in the quarter from the company's earnings press release, which includes in Huawei smartphones, Samsung Galaxy smartphones, vehicle-to-vehicle communications, and much more.
The main takeaways from Q3 were that revenue growth, as expected, continues to rebound sharply after a lackluster FY2016, profit margins remain among the best in the industry, and strength is being seen across all segments. As a bonus, SWKS shareholders were also treated to the news that the company is increasing the quarterly dividend from $0.28 per share to $0.32 per share, a 14% increase.
This is wonderful news because, as I've written in the past, the one area where I think Skyworks can do better is returning capital to shareholders. Most of this effort to this point has focused on repurchasing shares, of which I am not a fan, so I was pleasantly surprised to see a boost to the dividend, which I see as a much more effective and beneficial method of capital return.
Moving on, I'd like to focus the bulk of this article on discussing the company's future prospects, which includes management's expectations for the coming quarters and Q4 guidance.
Skyworks guided for Q4 revenue of $980 million and EPS of $1.75, which came in above consensus estimates for $973 million and $1.73 in EPS, and though the projections were better than analysts expected, the stock is trading down by 3% after-hours on moderate volume. I won't try to discern the reason for the drop except to say that this has become a recurring theme for SWKS and investors will benefit from using the numbers to make a decision rather than the stock price.
I think the company's Q4 guidance is a good example of this advice in action as, assuming Skyworks meets EPS guidance for the quarter, which is conservative considering the company almost always guides low and then beats, FY2017 EPS would come out to $6.38, up 14.5% YoY.
This values SWKS at a trailing P/E of about 17, which seems a tad expensive, but considering the stock's PEG ratio is hovering around 1 right now, expectations for earnings growth over the next few years would seem to make SWKS attractively priced. Beyond the usual financial and valuation metrics, Skyworks' Q3 conference call provided some noteworthy things as well, which I'll now list and discuss.
1) Skyworks says it expects to generate in excess of $1.1 billion in free cash flow in FY2017, which implies Q4 FCF of more than $272 million. This is especially impressive when one considers that the company generated $1.1 billion in operating cash flow for FY2016. The cash pile jumped to $1.4 billion in Q3, and it looks poised to keep growing as it keeps pouring in every quarter.
2) Perhaps most interesting and encouraging was the commentary on broad market sales, which CEO Liam Griffin stated would reach $250 million in Q4 and therefore an annualized run rate of $1 billion. This business, which has been consistently growing double digits YoY, is key to Skyworks' future growth prospects as the smartphone market appears to be reaching a saturation point.
The IoT market is ripe for growth, and while many companies use IoT as a buzzword and claim it as their next big growth driver, Skyworks appears to already be deriving significant sales from IoT, which is still in its infancy. This is an exciting area in terms of sales potential for Skyworks and the current progress here is encouraging.
3) In response to an analyst question about management's expectations regarding its largest customer, Apple (NASDAQ:AAPL), and the timing of the cycle this year, Griffin stated that they see no difference in the upcoming cycle than in years past, which would seem to indicate Skyworks isn't expecting any delays in iPhone shipments. This contrasts with reports that the iPhone 8 would be delayed by two or three months.
While it's possible management is being completely honest with us here, another explanation could be that Apple is still pushing to get the iPhone 8 out on time and doesn't yet want to give up and admit that the reports of likely delays are accurate. In this case, I find it highly possible that Apple told its suppliers, including Skyworks, to report results as if everything is going according to schedule, even if there is a possibility of delay.
Ultimately, we'll probably know soon enough whether a delay is imminent, in which case, Skyworks will likely warn on Q4 revenue and earnings, or miss estimates by a significant margin. As I've stated, the effect of delaying the iPhone 8 would likely result in no net change in overall revenue and earnings, and would just pull them forward into Q1 2018 instead of having them recorded in Q4. In this case, there is no fundamental downsides for the company and any dips caused by the news could be viewed as buying opportunities.
4) While we didn't get any specifics for Q1 2018, Griffin did state that it should be up YoY and that it will see a similar sequential increase from Q4 that we've seen in FY2017. Considering Q3 saw sequential growth of 5.7% and Q4 guidance indicates sequential growth of 8.9%, it seems highly likely that Q1 2018 will see Skyworks cross $1 billion in quarterly revenue for the first time ever. This is a historic milestone and one that seemed inevitable in the beginning of FY2016 only to be left unachieved after a series of poor quarters. Now it appears Skyworks will reach the mark, which only requires 2% sequential revenue growth over Q4.
5) Not one question asking if Skyworks is developing BAW filters! I'm sure Griffin was happy about that.
After getting the specific numbers for Q4 guidance and reading through the conference call, I see very little reason for pessimism. Revenue and earnings are growing, gross and profit margins are expanding, IoT and broad market sales are booming, mobile-derived sales are still rising despite the smartphone market nearing saturation, cash flow is as healthy as it's ever been, the dividend has been raised, and the prospects of an iPhone delay don't seem too worrisome. On the whole, Skyworks' Q3 report affirmed the bull thesis and provided me with additional confidence in my position in the stock.
From an investment perspective, I will likely add to my SWKS position if the stock falls 5% or more tomorrow, and will be content to simply hold my shares if we see less than that. This is simply reflective of my capital situation, but for other investors, I see SWKS as a Buy at current price levels and a Strong Buy at any price below $100.
Best of luck!
If you want to stay up to date on my articles, you can "Follow" me by clicking "Follow" at the top of this page or by going to my author page.
Thanks for reading!
Disclosure: I am/we are long SWKS.
I wrote this article myself, and it expresses my own opinions. I am not receiving compensation for it (other than from Seeking Alpha). I have no business relationship with any company whose stock is mentioned in this article.