A surprising winner so far in 2017 has been foreign stocks. While a lot of attention is put on the S&P 500's double-digit YTD gains, foreign equity markets have outperformed the United States.
There are three primary reasons for this trend-all of which are important when considering whether to add on to foreign equity positions or scale back. Below I will outline the three primary drivers in foreign equity growth and recommend two funds that have outperformed the index while trading at a significant discount.
A Weakening Dollar
One of the hallmarks of President Trump's economic goals has been to encourage a weaker U.S. dollar. This took many traders by surprise when the president first made these comments in February; previously, Trump's focus on infrastructure spending and more trade barriers had encouraged a stronger dollar. When Trump then suggested, in late February, that he wants a weak dollar to help US exporters, the dollar fell steeply, as seen by the PowerShares DB US Dollar Bullish ETF (NYSEARCA:UUP):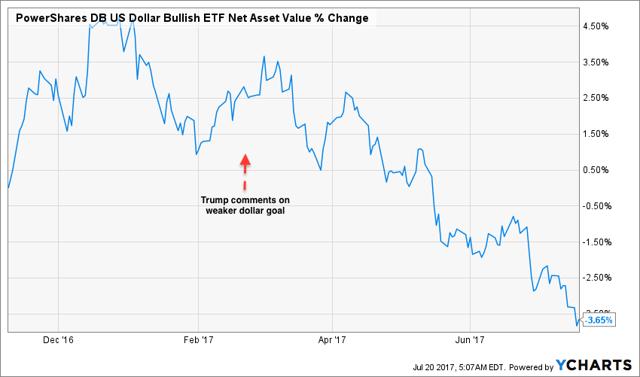 This has led some to consider the dollar oversold and ready for a correction, but the dollar remains extremely strong compared to five years ago, and is only at the bottom of its 3-year range: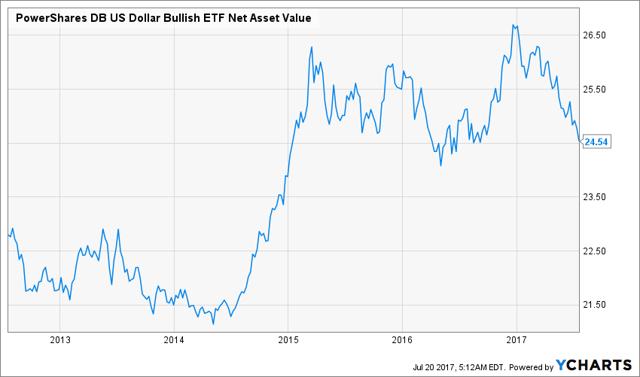 While some believe a stronger dollar is likely given its recent weakness, growing demand for other assets, particularly equities, could offset U.S. dollar demand, especially if earnings and GDP growth remain robust (see below).
The recent decline in the U.S. dollar has helped foreign stocks outperform the S&P 500, as evident when comparing recent returns for the Vanguard FTSE All-Wld ex-US ETF (NYSEARCA:VEU) versus the SPDR S&P 500 ETF (NYSEARCA:SPY):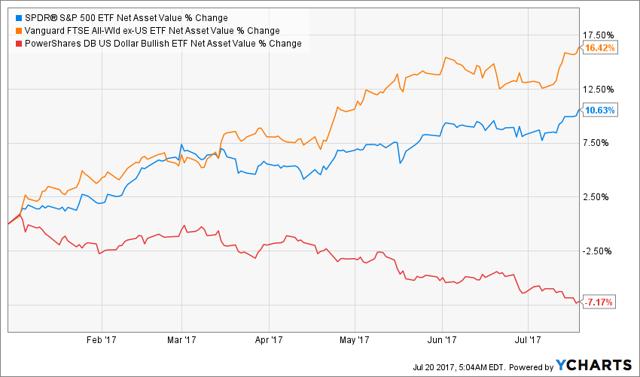 More U.S. dollar downside could encourage more demand for foreign stocks, especially when we consider that foreign stocks have remained exceedingly depressed for years. While the S&P 500 is up 59.3% from a decade ago, VEU is down 13.3%: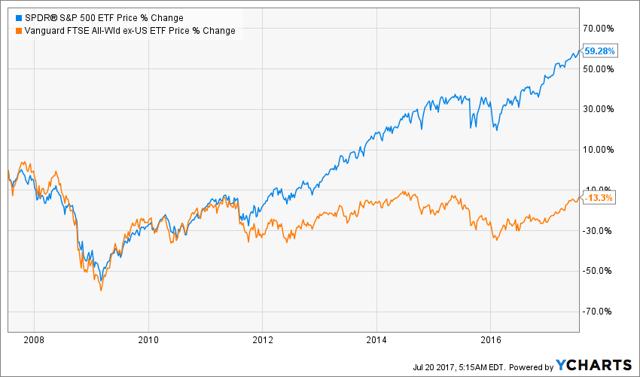 That underperformance can be attributed to a variety of issues from monetary policy to GDP growth expectations to investor demand. However, when we look at earnings growth and GDP expectations, we see that there are solid reasons to believe foreign equities' recent strong performance in the last six months is set to continue.
Stronger GDP Growth
Since recovering from the 2007-2009 financial crisis, GDP growth globally has remained below 3% and has trended sideways.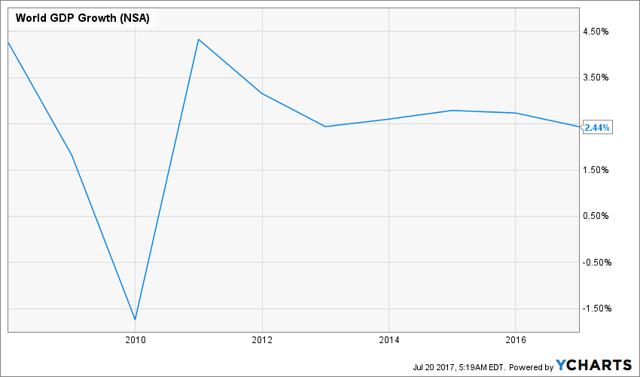 Regional headwinds have all contributed to this trend. The deflationary sovereign debt crisis in the European Union was an early problem for growth in 2011-2012, while the continued slowdown in China and India (which has only recently recovered) caused weak global growth to persist in 2013-2016. Brazil, which is one of the largest emerging market nations in the world, has also seen growth evaporate to today, again hurting global growth: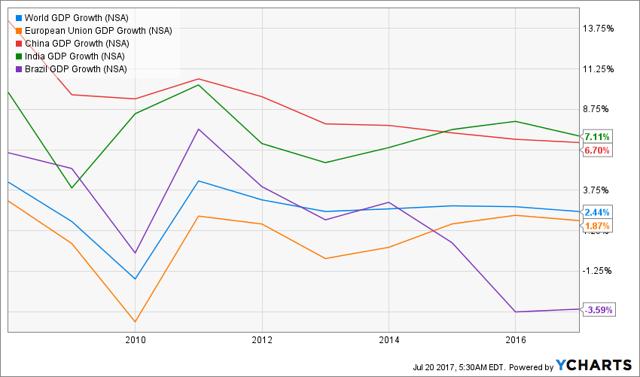 Fortunately, this trend has begun to reverse. India's recovery is one thing; the deceleration of China's economic slowdown is another. What's more, the European Union is seeing growth rates markedly higher, again benefiting the trend. For this reason, the World Bank is now optimistically seeing 2.7% global GDP growth in 2017.
Of course, U.S. economic growth is a major component of global GDP growth. While this has been a tailwind for GDP figures in the past, the U.S. remains stubbornly range bound in terms of GDP growth: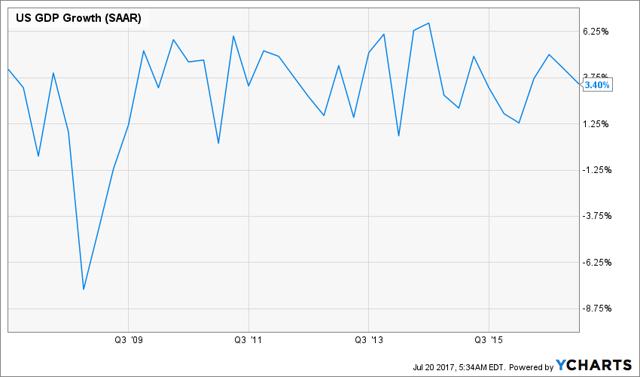 What's more, the U.S. remains one of the most expensive stock markets in the world on a P/E basis, with more expensive nations being too small to matter much: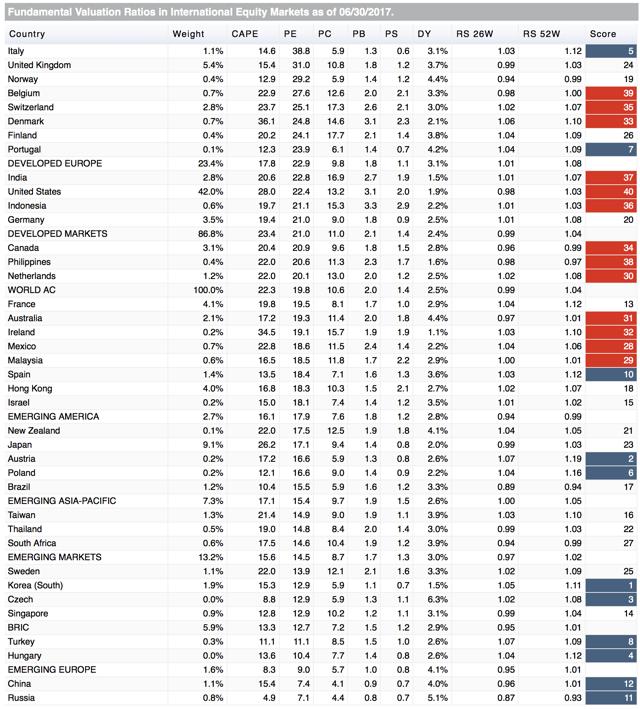 Source: Star Capital
Nations with higher GDP growth rates such as the BRICs remain phenomenally cheaper; even excluding Russia, Brazil, India, and China are far cheaper than more developed nations and the United States. This indicates that global stocks have not fully priced in upcoming growth, and that emerging market stocks may have this even less priced in than developed nation stocks.
Earnings Growth Potential
A weaker dollar and stronger GDP growth benefit foreign companies' earnings metrics in two important ways. Firstly, on a U.S. dollar-reported basis, a weaker dollar will inherently inflate earnings in U.S. dollar stated terms. Secondly, stronger GDP growth, assuming it is based on higher aggregate demand, will result in higher revenues and earnings for companies in countries where that GDP growth is occurring.
Political instability and a stock bubble in China in 2015 partly obscured the upside potential here, and discouraged many from investing long term in these markets. However, expectations have turned extremely optimistic in recent months thanks to recent performance. UBS expects emerging market EPS to grow 25.6% in U.S. dollars. Lazard, J.P. Morgan, and other Wall Street firms have similar expectations. A lot of data is driving these estimates. PMI numbers for manufacturing have remained above 50 since July 2016 and have remained at their highest in three years since then. Emerging market foreign exchange reserves have surged to around 25% of GDP, external debt has fallen to 22% of GDP, and equity valuations are below global averages for 5 of the 8 largest emerging nations.

Source: J.P. Morgan Asset Management
Price-to-book ratios are also still below their average, even after the recent bull run: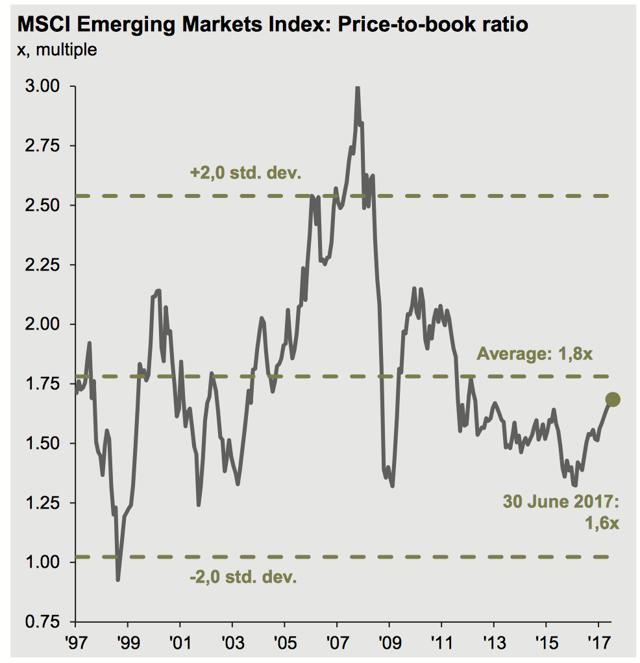 Despite the strong fundamentals, investor demand has not followed suit, with non-resident flows into EM equities remaining lower than in 2015 and 2016: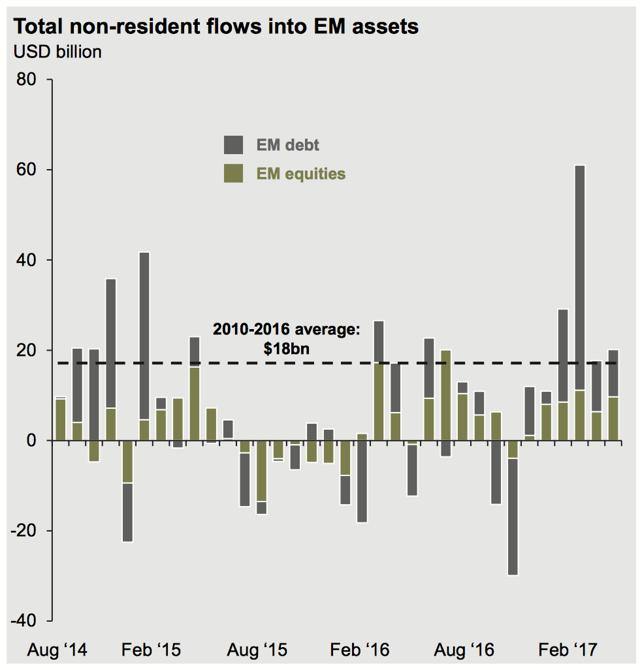 The trend of weak inflows isn't limited to emerging market funds. According to ICI, world equity fund flows surged in early 2017 but have slowed considerably, and even this year's rush of capital into foreign equity ETFs was less than the persistent flow of funds into these ETFs back in 2015:
Thus, while fundamentals are improving, foreign investors are slow to buy into the better story we're seeing from emerging market countries. This is not the picture one sees when looking at the breakneck rise in emerging market funds like the Vanguard FTSE Emerging Markets ETF (NYSEARCA:VWO):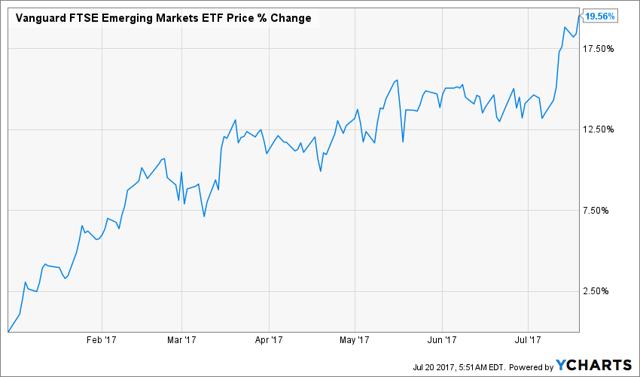 Nonetheless, the story of fund flows, earnings, GDP, and U.S. dollar weakness suggests that there is significantly more upside to be had in investing abroad.
The Funds to Pick
With improving global growth and particular low valuation in emerging markets, a fund like VWO makes a lot of sense. However, I prefer to get these assets at a discount, which is possible with four closed-end funds (CEFs) focusing on emerging market stocks that are trading at anywhere from a 7% to 10.5% discount to NAV:
Symbol

Name

Management Fee + Interest Expense

NAV

Price

%Premium/

Discount

Aberdeen Emerging Market SMC

1.57%

15.61

14.21

-9.88

Templeton Emerging Markets

1.39%

17.48

16.00

-9.55

Voya Emerging Market High Dividend

1.44%

9.65

9.20

-5.40

MS Emerging Markets

1.58%

18.79

16.90

-11.01
Two of those funds (EMF and MSF) have also outperformed VWO in the last year: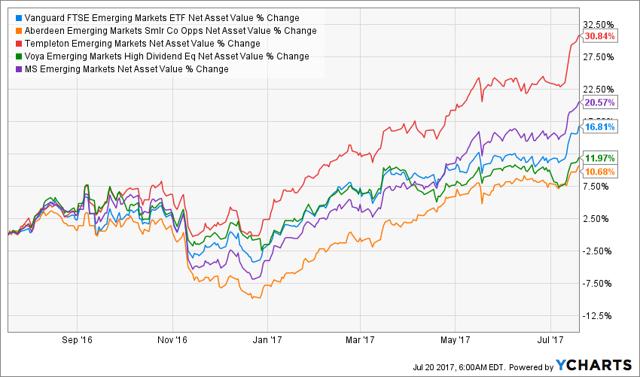 Despite that outperformance, these two funds have not seen their discount to NAV fall significantly in the last year: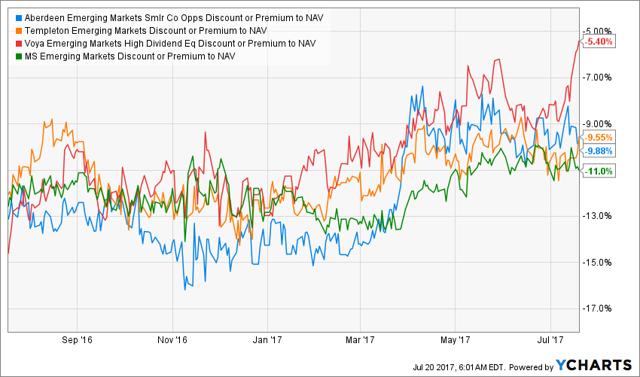 The near 10% discount of these funds more than offsets their higher fees relative to VWO, although investors should look more deeply at the funds' long term discount to NAV, their current net investment income, recent capital gains, and dividend policy to determine whether these funds fit your investment portfolio and goals.
Disclosure: I/we have no positions in any stocks mentioned, and no plans to initiate any positions within the next 72 hours. I wrote this article myself, and it expresses my own opinions. I am not receiving compensation for it (other than from Seeking Alpha). I have no business relationship with any company whose stock is mentioned in this article.