Back in September I wrote an article about Sirius XM Radio (NASDAQ:SIRI) titled : I Can't Get Serious about Sirius XM Radio, and the Seeking Alpha commentators took me to task. There are some true believers in this stock. Since then a real challenger has come to the fore front by the name of Pandora Media (NYSE:P). I ran a poll and asked: As a consumer, which will you be using, Sirius or Pandora? The results were 74% to 26% in favor of Pandora. I also ran another poll and asked: As an investor ,which stock do you think will have the best total return over the next 5 years? The result was 75% to 25% again in favor of Pandora.
During the last 6 months the market has spoken, and Sirius was up 36% and Pandora up 11% in a market as measured by the Value Line Index that is up 11%. Please review this graph provided by Barchart: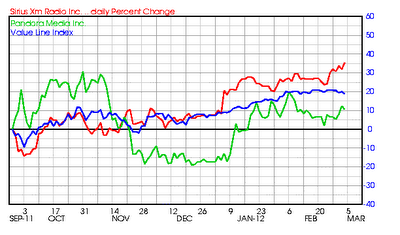 Let's try to objectively review both stocks. Company profiles from Yahoo Finance:
Sirius XM Radio Inc. provides satellite radio services in the United States and Canada. The company broadcasts approximately 135 channels, including music, sports, entertainment, comedy, talk, news, traffic, and weather channels on subscription fee basis through two satellite radio systems. It also offers music genres, such as rock, pop, and hip-hop, as well as dance, jazz, Latin, and classical music; advertising on non-music channels; and applications to allow consumers to access Internet services on mobile devices. In addition, the company sells satellite radios, components, and accessories; designs, establishes specifications, sources or specifies parts and components, and manages various aspects of the logistics and production of satellite and Internet radios; and licenses its technology to various electronics manufacturers to develop, manufacture, and distribute radios under various brands. Further, it provides music services for commercial establishments; satellite television services; Backseat TV, a service offering television content designed primarily for children in the backseat of vehicles; Travel Link, a suite of data services that include graphical weather, fuel prices, sports schedules and scores, and movie listings; and real-time traffic and weather services. The company's satellite radios are primarily distributed through automakers, retailers, and through its Website. As of December 31, 2011, it had 21,892,824 subscribers. The company was formerly known as Sirius Satellite Radio Inc. and changed its name to Sirius XM Radio Inc. in August 2008. Sirius XM Radio Inc. was founded in 1990 and is headquartered in New York, New York.


Pandora Media, Inc. operates as an Internet radio company in the United States. It provides its radio service to traditional computers, Android phones, Blackberry phones, and the iPhone. The company allows listeners to seed personalized stations with artists, composers, songs, and genres or choose stations organized by genre, as well as enables listeners to create up to 100 personalized stations and use combination feature to listen to two or more of their stations at one time. It also offers display advertising, audio advertising, video advertising, and mobile advertising products. The company was formerly known as Savage Beast Technologies Incorporated and changed its name to Pandora Media, Inc. in July 2005. Pandora Media, Inc. was founded in 2000 and is based in Oakland, California.

The biggest consumer advantage Pandora seems to have is that with Sirius you have a choice of around 135 channels, but Pandora let's you pick an artist or genre you enjoy and it custom-builds your station using something very fascinating called the Music Genome Project to find music just like the one you chose. You can even make multiple picks depending on your mood.
Technical Factors
Sirius Barchart technical indicators:
100% Barchart technical buy signal
Trend Spotter buy signal
Above its 20, 50 and 100 day moving averages
The price is up 23.12% in the last quarter and only 2.14% off its 1 year high
Relative strength Index 67.40%
Barchart computes a technical support level 2.16
Recently traded at 2.28 with a 50 day moving average of 2.07
Pandora Barchart technical indicators:
64% Barchart technical buy signal
Trend Spotter buy signal
Above its 20, 50 and 100 day moving averages
Although up 23.93% in the last quarter its 48.62% off its 1 year high
Relative Strength Index 54.78%
Barchart computes a technical support level at 12.47
Recently traded at 13.41 with a 50 day moving average of 12.31
Fundamental Factors
Sirius is followed by 14 analysts from 13 Wall Street firms
Analysts predict revenue will increase by 11.20% this year and another 12.40% next year
Earnings are estimated to increase by 42.90% next year and continue to increase by 19.80% annually over the next 5 years
These consensus numbers result in 4 strong by, 6 buy, 3 hold, 1 under perform and no sell recommendations
The P/E is almost twice the P/E of the market at 32.29
Presently pays no dividend
Pandora is followed by 20 analysts from 15 Wall Street firms
Analyst predict revenue will increase by 51.40% annually over the next 5 years
Earnings are expected to be profitable in this year and compound at the rate of 40.06% annually over the next 5 year
The consensus numbers resulted in 6 strong buy, 6 buy, 6 hold, no under perform and a lone sell recommendation
Analysts think investors can see an annual total return in the 16% - 20% neighborhood over the next 5 years
Not profitable at the present so no P/E or dividend rate yet
Value Line has initiated coverage
So far these both look like 2 stocks I'd like to have in my portfolio, but further research gave me quite a surprise:
General Investor Interest
I look to the readers of Motley Fool to gauge what the individual investor is thinking:
Sirius: 5,403 readers have it on their watch list:
82% of the reader voted that the stock will beat the market
71% of the more experienced and savvy All Stars voted for the same result
85% of the brokerage firms and columnist are favorable on the stock with Wayne Rogers and Tobin Smith favorable and Jim Cramer and Barclay's giving a sell
Pandora: Only 465 readers presently have the stock on their watch lists:
Only 31% of the readership think Pandora will beat the market
Only 20% of the All Stars are favorable on this stock
Only 57% of the firms and columnists are gave favorable recommendations. Jim Cramer also panned this one.
Summary: Well with a head to head comparison of Sirius XM Radio to Pandora Media, where are we?
Price appreciation in the current market goes to SIRI up 36% to P up 19% in the current rally
Consumer review I think goes to P for the user friendly Music Genome Project
Consumer acceptance goes to SIRI - while P is now being offered in Hot Spot enabled autos SIRI still has the majority of the new car market share
Fundamentals if we look at the 5 year growth forecasts give P the edge if the forecasts numbers are correct
General investor interest goes hands down to SIRI as still many of the individual investors are leery of Pandora's prospects to become profitable
It looks like I'll have to concede that Sirius is still in the driver's seat. I'll have Pandora on my watch lists for future consideration. Sirius is still volatile and I'd advise investors in either to watch the 14 day turtle channels of both.
Sirius: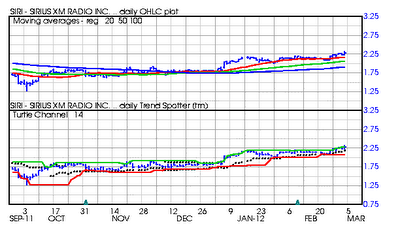 Pandora: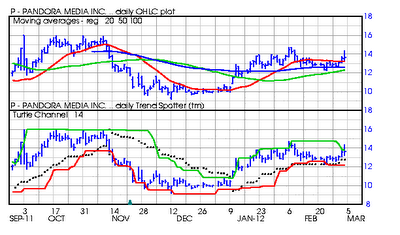 Disclosure: I have no positions in any stocks mentioned, and no plans to initiate any positions within the next 72 hours.