W.W. Granger (NYSE:GWW) is one of the recent victims of the "Amazon (NASDAQ:AMZN) scare." At one point this week the stock was down by over $100 per share from the January 2017 high of $262.70. However, being a contrarian, while everyone is dumping nearly everything related to traditional retail, in order to buy Amazon, I'm more worried about the e-commerce giant's shareholders.
"Many shall be restored that now are fallen, and many shall fall that now are in honor."
It is no coincidence that the great Graham and Dodd decided to put this quote by Horace on the first page of "Security Analysis." Amazon aside, my thesis is that Grainger shall be restored and the market is offering long-term investors the chance to buy shares at a low price. The company's 10-year earnings and revenue record shown below is among the reasons for my optimism.
The Fundamentals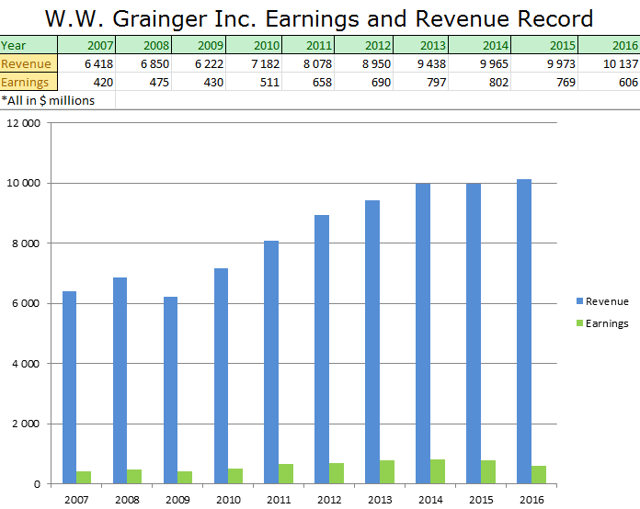 Source: W.W. Grainger's SEC Filings
There are three important takeaways from this chart. First, Grainger has been profitable in every single year within the past decade. Second, even during the Great Recession, the company's sales and earnings remained very decent, suggesting this is a crisis-proof business. And third, the obvious uptrend in Grainger's results means it is still growing.
2016 is interesting. On one hand, it brought the company's highest ever revenue. On the other, net income was lower than in 2011. In my opinion, an analysis based solely on last year is going to create a false impression, so I'm going to use Grainger's average performance for the past three years from now on.
Grainger's average gross margin for the last three-year period is close to 42%, more than twice as high as the 20% minimum a company with control over the price of its products should be able to achieve.
Furthermore, Grainger's SG&A and depreciation and amortization costs amount to just 68% and 5.5% of the gross profit, respectively, while nothing is spent on research and development. In addition, less than 50% of the net income is used on capital expenditures.
What is even better is that the interest expense barely reaches 3% of the operating income. That is because Grainger's total debt burden is so small it could be paid off entirely in under four years using nothing but the company's not-so-stellar 2016 profit.
High gross margins and low costs help Grainger achieve a 12.9% return on assets and 29.8% return on equity, despite the fact that the net profit margin is not very impressive at 7.2%.
Not very impressive, but apparently high enough to allow the company to fuel growth, buyback its own stock and pay regular dividends to shareholders. After the recent selloff, Grainger's dividend yield jumped to over 3%.
While a lot of retailers are currently fighting declining sales and struggling to get rid of their inventories, the company's top line is actually rising each year, while the inventory stays virtually unchanged. Demand for Grainger's products is still strong.
Also, despite Grainger's shrinking equity base, which is not a problem by the way, given the steady profits and low debt level, the company is increasing the amount of retained earnings by 6.13% annually, from $5.28 billion in 2012 to $7.11 billion last year.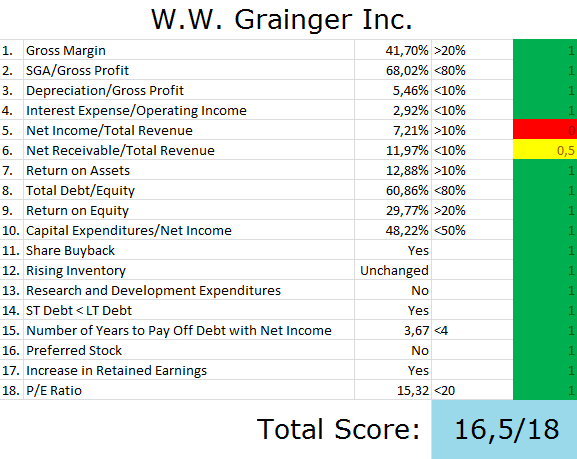 Source: Calculations based on information from MarketWatch
If you ask me, Grainger is a solid business and investors with a long-term perspective on the business should take advantage of Mr. Market's current pessimism.
The stock's three-year trailing average P/E ratio is 15.3 and its current P/E ratio is 16.9. According to Morningstar, both are significantly lower than the 24.2 industry average, the S&P 500's 21.4 and GWW's own 21.5 five-year median, so we can conclude that even though the stock might not be a screaming bargain, it is definitely cheap right now.
Between 2006 and 2016, Grainger's EPS grew at an annual compounded rate of 8.8%. If the company could maintain this growth rate for the next 10 years, it should report EPS of $22.94 in 2026. And if the stock trades at its 21.5 median P/E ratio, the price of a single share should be close to $500. $493, to be exact, no splits assumed.
Buying GWW now at $166 and selling it at $500 10 years later translates into 11.7% annually for a total return of 201%, not counting the dividends. Sounds good to me, especially if you think the general market is overvalued, like I do.
Technical Analysis Check
Grainger's fundamentals are solid and should further improve once the industry gets out of the current retail recession. In order to strengthen the bullish case, I'm going take a look at the situation from a different angle now.
Some might say technical analysis has no place in investing, but I think that as long as the two methods confirm each other's conclusions, it won't hurt to combine them. The method I use is called the Elliott Wave Principle. It states that a stock's uptrend is usually interrupted by a three-wave correction in the opposite direction, but once the correction ends, the uptrend resumes. Let's see if GWW's pullback since the September 2013 all-time high fits into the description.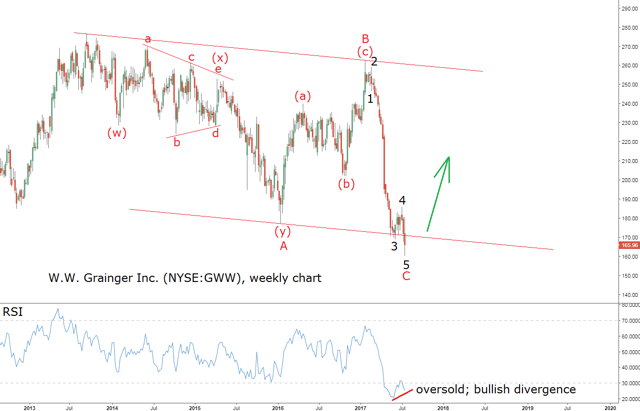 Chart by TradingView
Grainger's decline looks like a textbook three-wave correction, labeled A-B-C, which has been developing between the parallel lines of a price channel. As visible, the stock already touched the lower line of the channel and the Relative Strength Index shows an oversold condition accompanied by a bullish divergence between the last two swing lows in wave C.
I'm always against picking bottoms, but if technical analysis suggests the stock is close to one, and fundamental analysis suggests the business is strong, I'm not going to argue.
Conclusion
If you are looking for a stock to make you rich overnight, I am afraid GWW is not it. It is, however, a company you can rely on for relatively predictable long-term gains and healthy regular dividends. If that is what you are looking for, both fundamental and technical analyses indicate Grainger's out-of-favor period is close to its end.
If you liked this article, please do not forget to hit the "Follow" button!
Disclosure: I/we have no positions in any stocks mentioned, and no plans to initiate any positions within the next 72 hours.
I wrote this article myself, and it expresses my own opinions. I am not receiving compensation for it (other than from Seeking Alpha). I have no business relationship with any company whose stock is mentioned in this article.