In my previous article on Farmland Partners, Inc. (NYSE:FPI), I shared my thoughts that the huge drop after Q1 was caused by significant misunderstandings of the financials. In that article, I suggested that FPI would provide some interesting trading possibilities.
Sure enough, when Q2 earnings were announced, the stock jumped at what was interpreted as good news, even though the earnings were precisely what management had guided for after Q1.
Stepping back from the quarter-by-quarter drama, FPI remains plagued with fundamental issues.
Worthless Supplements
Reten-What?
One thing that stood out while looking at the supplement was that there is absolutely nothing on lease expirations, rental rates or retention. Mr. Pittman discussed leases, but what he said conflicts with what he has said in the past.
In the Q4 2016 conference call, he said:
"I mean [leases] were negotiated at the absolute high in the row crop world particularly in the Illinois and Eastern Nebraska and places like that. And you're seeing them come down, but not massively. I mean there are, everyone's different, but they're often in the 5-ish% kind of range. But the row crop areas, other than the core of the Midwest are still getting modest rent increases and specialty crop regions can get even very significant rent increases."
Great, so this call was held in February of 2017, by then it should have a really good idea of renewal rates, right? 5%-ish, that is not nearly as bad as us evil fear-mongers have been saying! And offset by rising rents elsewhere, nothing to worry about here folks, move along.
Here comes the Q1 2017 report, where all the numbers should be known, and what did we hear from Mr. Pittman?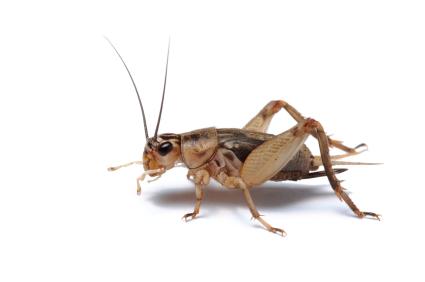 Finally, in Q2, we find out what actually happened in Q1 when Mr. Pittman declared that renewals in Illinois in Q1 went down 15%; in Colorado, they went down 25%; and in the Southeast, they went down 30%. That is a far cry from "5%-ish".
Turning to the 10-Q I found the following line:
"Across our entire portfolio, we are experiencing flat to modestly lower rent rates in connection with lease renewals." - Q3 2016 10-Q.
That was changed in the 2016 10-K to say:
"In our primary row crop farmland, we see flat to modestly lower rent rates in connection with 2017 lease renewals."
Which is also what it said in the Q2 10-Q. Neither one provided any commentary on if or how much that was offset by rising rents elsewhere. "Modest" is such a wonderful word because it means nothing. Sure, 15% is "modest" compared to 50%. No doubt its lawyers are very comfortable that they could defend the wording in court.
There are no retention statistics and no same-store sales in the supplement. Fortunately, it is hidden in the bowels of the 10-Q on page 37:
"Total rental income under cash leases for the same-property portfolio decreased to $4.6 million for the three months ended June 30, 2017, from $5.6 million for the three months ended June 30, 2016, as a result of average annual rent for the same-property portfolio decreasing year over year to $163 per acre in the second quarter of 2017 from $201 in the comparative three-month period ended June 30, 2016."
My math shows that as a 19% decrease in the same-property portfolio, a bit more than "5%-ish". Especially since only a portion of the same-property portfolio was up for renewals. The 10-Q goes on:
"In the fourth quarter of 2016 we recognized $6.5 million in revenue in connection with the termination of certain leases. Had we recognized such revenue through the remaining life of the cancelled leases, the average annual rent for the same property portfolio would have decreased from $201 in the second quarter of 2016 to $187 in the second quarter of 2017."
This is the lease termination fee that Mr. Pittman has been spinning as a boon for the last couple of calls. What happened is a tenant backed out of a lease, and this particular lease had a provision where it paid 25% of all rents up front. FPI held that deposit, and when the lease terminated in Q4 2016, it recognized the deposit as revenue. The farm was released at a substantially lower rate, but much of the difference is made up with what you consider the 25% fee already collected from the prior tenant.
Mr. Pittman is making a big deal, trying to claim that the 25% termination fee results in higher actual rent for the property. It is great when you can lease a property and keep the prior termination fee, but from a cash flow standpoint, the termination fee is a one-time windfall. It helps make up for the lower rent and allows FPI to avoid the economic loss from losing the tenant. But that cash is now spent, and I feel it is very misleading for FPI to adjust AFFO as if that 25% termination fee were coming in the future.
What matters to investors is the ongoing rent, which is substantially lower. There is a provision in the new lease for crop-sharing, so at the end of the year, this particular lease will pay out more than it did the first half, making the new lease not quite as large of a cut as it appears right now.
At the end of the day, the decrease in SSS is substantial and FPI has worked hard to hide it. Portfolio wide, the decrease was to $200/acre from $202/acre. Buoyed by the much higher per/acre rates provided by the specialty crops on the West Coast.
Upcoming Expirations
It turns out that FPI has a significant amount of leases expiring this year.

Mr. Pittman suggested that the decline will not be as significant. Maybe, maybe not. We do not even have a breakdown of how the expiring leases are apportioned among states or crop types. We can infer that the majority are in Illinois since three years ago, FPI was Illinois centric. There is no way that any analyst could come up with anything other than a wild guess. If I am going to be making wild uninformed guesses, I will go play roulette.
As far as I am concerned, management's unwillingness to be transparent regarding lease renewals is a gigantic red flag.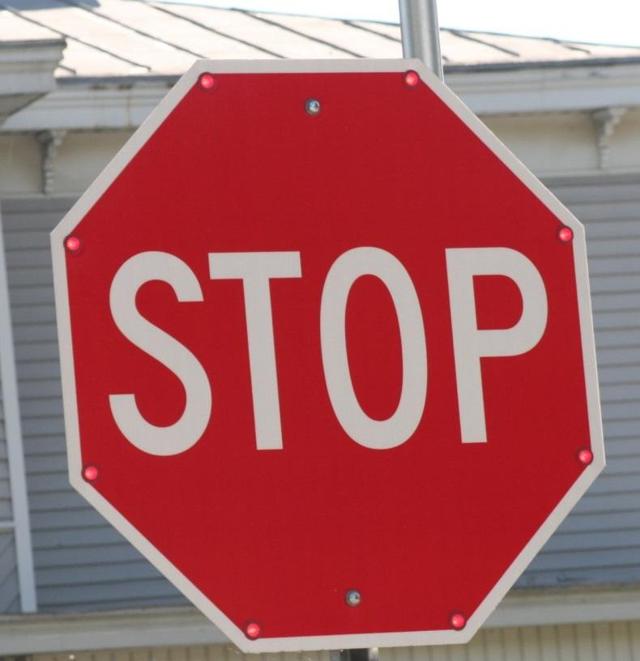 Declining rents in row crop areas is a challenge, but it most likely is not one that would sink FPI. It is a challenge that could be quantified, estimated and dealt with if the necessary information is provided up front. If management is willing to downplay and outright lie (I believe "5%-ish" was nothing less) about it, what happens when an even larger issue crops up?
We know that 11.8% of revenue is going to be renegotiated and there is a very high probability that those leases will be renewed at lower rates.
Pro-Forma
As an appraiser, I am all too familiar with pro-formas clearly written while wearing rose colored glasses.
These numbers reflect annualizing Q2 AFFO and making adjustments for lease termination and crop share. It does not include any adjustment for rental decreases in 2018.
The lease termination adjustment is a joke. That revenue was recognized in Q4 2016. Now it is trying to include it in future AFFO. It was a one-time event that was recognized and it is not appropriate to rely on that for dividend coverage because the revenue was already recognized and spent.
This means that the pro-forma should have a range of $0.35-0.45. Even the inflated numbers only covered the dividend in the best case scenario. Going into the future, it is very clear that current cash flows are not sufficient to cover the dividend.
Growth
With same properties likely to continue having declining revenue to some extent, FPI is not likely to have internal growth at all, let alone enough to make up the dividend gap. The only other option is to acquire more properties.
That is not an option. With the share price in the dregs, FPI cannot issue equity to make accretive investments. As Mr. Pittman said on the conference call, it has very little dry powder due to its already high leverage. Mr. Pittman was pretty clear in the conference call:
"So the way we think about it is, at this stock price, we are not issuers of common equity. It's frankly too dilutive. We own a great deal of farmland worth substantially more than what the stock price would suggest. So we are not going to sell that land in effect by issuing equity at these deep discounts. If the stock price recovered substantially, we would change our view on that. That leads us to have to think about other alternatives of financing whether that is preferred, that we can issue in acquisitions or something like that, but the bottom line is we do hit pause, right? We will not be as acquisitive in this year as we were in the last year because capital cost is too high. And that's just the reality."
Or as he said later when questioned directly about how much dry powder the company has for acquisitions:
"The short answer is not very much, a tiny amount."
Based on this, investors cannot expect any more significant acquisitions this year.
2018
Mr. Pittman promised that the company would release guidance for 2018 later in the year. It will be interesting to see what it comes up with. Even if you take his assertions that the 17 to 18 renewals are essentially flat, which I think is complete baloney, AFFO is nowhere near enough to cover the dividend.
The only potential saving grace for FPI seems to be a huge increase in crop-sharing revenue if grain prices spike in 2018. That is far from likely let alone guaranteed.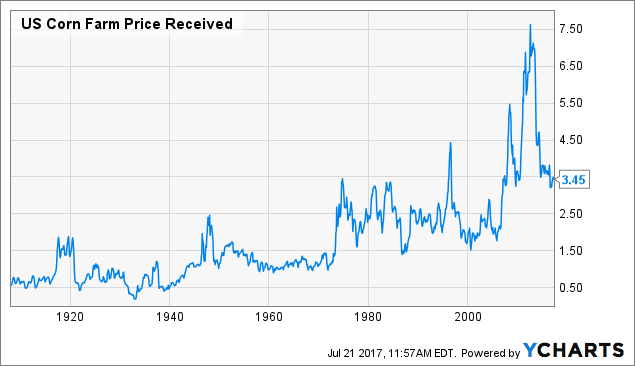 US Corn Farm Price Received data by YCharts
Corn prices right now seem low compared to the last decade. However, if we take a broad view, we can see that historically, corn is still relatively high. We can see that historically, after broad spikes, the price levels off and will stay down for 2-3 decades.
Fundamentally, the price of grains is highly influenced by weather and political events. We can point to the droughts and supply shortages that caused the two recent spikes. We do not know when the next one will happen; it could be next year, or it could be 2050. FPI needs to find a way to profit at current grain prices if it is going to survive long term.
Conclusion
Previously, I had stated in comments that I believed FPI's dividend was safe for the immediate future and that AFFO would grow to cover it. Given this new information, I do not believe that AFFO will grow enough to cover the dividend. The dividend is only safe for as long as FPI is willing to borrow or dilute to pay it.
The lack of clarity regarding rental rates is very alarming to me. It prevents investors and shareholders from accurately predicting the impact they might have on future AFFO.
Mr. Pittman has revealed himself as completely unreliable at predicting future rental rates. At best, he was incompetent; at worst, he was intentionally deceitful. "5%-ish" was not even in the ballpark for what the company was negotiating the Illinois rents at. Why should we believe him when he says there will not be declines next year?
Experts have consistently noted the continuing decline of rents in Illinois, and expense estimates continue to show that most farmers will experience negative margins at current rents. Common sense says that as farmers who experienced negative margins renegotiate, they will seek to negotiate at a level that will provide positive margins. After all, farmers are out to make money.
FPI is apparently increasing its crop participation leases, which will leave it more exposed to grain prices. That would be great if FPI was in a position where guaranteed cash flow is enough to cover the expenses and dividends and the participation was a cherry on top waiting to catch the next spike. Unfortunately, FPI is in a position where it NEEDS grain prices to increase.
If you want to bet on grain prices, buy an ETF like the Teucrium Corn ETF (NYSEARCA:CORN) or Teucrium Soybean Fund (NYSEARCA:SOYB). There is less downside.
Previously, I was trading FPI, taking advantage of the volatility. As of today, I have completely exited all of my positions and have no intent of establishing another one.
Sources: Company SEC Filings, Transcripts from Seeking Alpha
Disclosure: I/we have no positions in any stocks mentioned, and no plans to initiate any positions within the next 72 hours.
I wrote this article myself, and it expresses my own opinions. I am not receiving compensation for it (other than from Seeking Alpha). I have no business relationship with any company whose stock is mentioned in this article.