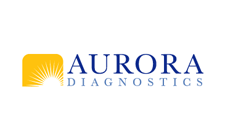 Aurora Diagnostics: ~14% Yield-To-Maturity, Maturing January 2020
This week's bond review focuses on a company in the ever-in-demand healthcare sector. Aurora Diagnostics is a leading pathology services and cancer diagnostics company. The company has consistently grown revenues and adjusted EBITDA over the past few years.
Between 2014 and 2016, net revenues grew from $242.6 million to $284.0 million, an increase of 17.1%.

Adjusted EBITDA also grew during the same period, from $39.4 million to $54.3 million, representing an increase of 37.8%.
In addition, Aurora has made shrewd acquisitions that have helped increase its revenues, while simultaneously reducing some of its operating costs. The company's 2020 bonds, couponed at 12.25% coupon, appear to be priced around 95 and indicate a yield to maturity of about 14%. However, please note that the bonds are not very liquid and may prove to be difficult to acquire at our targeted price. Given the opportunity to invest in an industry that is less volatile than commodities or technology, we believe these relatively short 30-month bonds represent an excellent diversification into the healthcare sector and would make an outstanding addition to our Fixed-Income2.com (FX2) global fixed income portfolio. View the most recent aggregate performance of our managed FX2 portfolio below.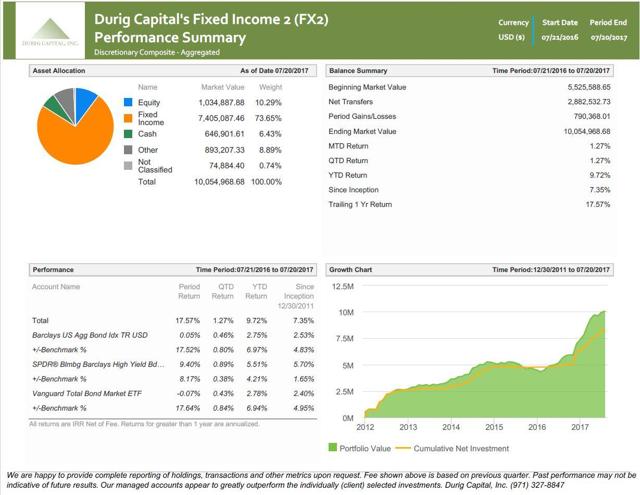 Q1 and 2016 Financial Results
Aurora Diagnostics recently released its results for the three months ending March 31, 2017. A close examination of the numbers reveals increased operating income (year over year) as well as a decrease in its selling, general and administrative expenses (SG&A). Without the effect of the non-cash impairment charge in Q1 of $9.5 million, Aurora posted operating income of $3.2 million compared to $1.4 million in the previous year's period, representing a massive increase of 126%. In addition, the company's SG&A expenses decreased by 8.4% year over year, from $18.9 million to $17.3 million.
A look at Aurora's 2016 Annual Report display the company's steady improvement over the past three years, both in revenues and adjusted EBITDA.
| | | | |
| --- | --- | --- | --- |
| Year | 2014 | 2015 | 2016 |
| Net Revenues | $242.6 M | $263.8 M | $284.0 M |
| Increase Over Previous Year | | 8.7% | $7.7% |
| Adjusted EBITDA | $39.4 M | $46.6 M | $54.3 M |
| Increase Over Previous Year | | 18.2% | 16.5% |
About the Issuer
Aurora Diagnostics is a leading independent pathology services and cancer diagnostics company. It provides integrated diagnostic consultations, information services and personalized medicine services tailored to the patients of its referring physicians, hospitals and hospital systems. The company also provides research services to pharmaceutical companies and other research entities. Its highly-trained, sub specialized pathologists deliver comprehensive diagnostic opinions of a patient's condition and work collaboratively with referring physicians to determine appropriate treatments. Aurora has established long-standing relationships with its referring physicians as a result of its locally provided diagnostic services, frequent diagnostic consultations and flexible IT solutions that are customizable to its clients' needs. The company's client-centered approach to providing diagnostic services is driven by the belief that the practice of medicine and the delivery of healthcare are both personal and best delivered locally.
As of March 31, 2017, Aurora operated 27 community-based pathology practices with over 160 board-certified pathologists on staff, and its clients included over 13,000 referring physicians and 110 hospitals across 45 states. The company's referring physicians include dermatologists, obstetricians and gynecologists, family practitioners, gastroenterologists, urologists, general surgeons and oncologists.
Growth Through Strategic Acquisitions
Since Aurora's formation in 2006, the company has acquired 32 diagnostic companies throughout the United States. Some of its recent acquisitions in 2016 and 2017 include:
In April 2016, Aurora acquired Pacific Pathology Associates located in Salem, Oregon.

Also in April 2016, Aurora acquired Pathology Associates of Sebring which is located in Central Florida.

The 2016 acquisitions contributed approximately $2.0 million in revenue in the latest reported quarterly results (three months ended March 31, 2017).

To date in 2017, Aurora has made three acquisitions. In April, the company acquired Pathology Associates of Princeton (New Jersey) as well as University Pathologists in Rhode Island. Then in May, Aurora acquired Cleveland Skin Pathology Lab Inc., located in Cleveland, Ohio.
These acquisitions have increased Aurora's presence across key geographical markets in the United States.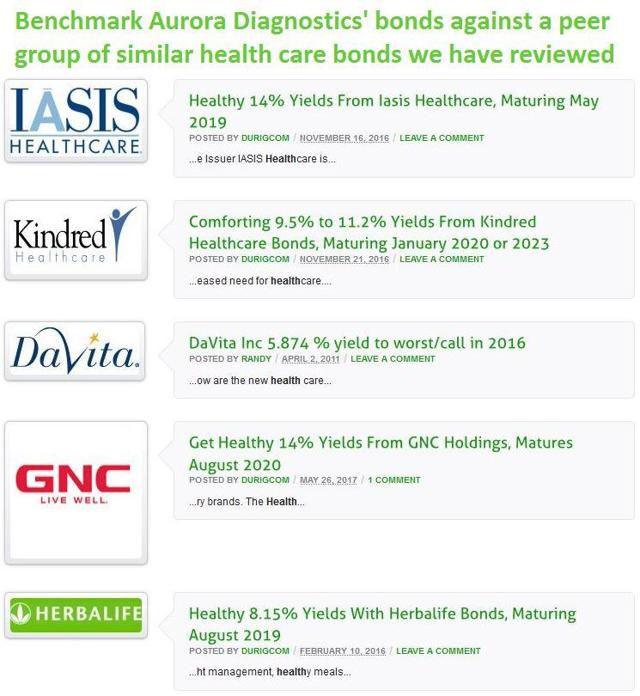 Trends in the Medical Diagnostic Sector
Currently, there is an evolving trend among pathologists to form larger practices. This provides a broader range of services for patients and allows pathologists greater opportunity to work with various types of patient cases. This trend appears to be driven by cost-containment, increased competition, managed care limitations and the increasing cost and complexity involved in running a medical practice. In addition, due to the current trends of increasing outpatient services, outsourcing, as well as hospital consolidations, pathologists increasingly seek to align themselves with larger practices that can assist healthcare providers in the ever-evolving healthcare environment. Larger practices can offer pathologists advantages over a smaller practice, including more favorable contract terms with hospitals and other providers, a dedicated sales and marketing function, continuing education and career advancement opportunities, more effective billing and collection procedures, and access to management experience. As of result of these factors, there appears to be substantial consolidation opportunities in the pathology market as smaller providers seek the opportunities afforded by diagnostic companies with a broader selection of services for referring physicians. This trend definitely fits in with the many acquisitions by Aurora of smaller, more regional pathology firms.
Unique Features of 2020 Notes
These 2020 notes have some unique features associated with them. First, the interest payable to bondholders is a combination of cash (paid at 10.75%) and payment-in-kind (PIK) interest (paid at 1.50%). In addition, after January 2019, the PIK interest rate increases to 3.0%.
These 2020 notes were issued as part of an exchange of about 99% of the company's 2018 notes that were couponed at 10.75% (priced near par, and only available on an extremely limited basis). Along with this exchange, bondholders also received warrants to purchase Aurora stock.
As the company is currently a private company, this indicates the possibility of a plan to take the company public at some future date. This would provide an infusion of cash for Aurora which could be used to improve the company's balance sheet.
Interest Coverage and Liquidity
As of March 31, 2017, Aurora Diagnostics had cash and cash equivalents of $17.4 million and working capital of $11.8 million. In addition, the company had $14.0 million available under its revolving credit facility, for a total liquidity of $43.2 million.
In computing interest coverage, we can look at the company's adjusted EBITDA for its most recent quarter and compare that to the company's interest expense. For Q1, Aurora had adjusted EBITDA of $11.03 million and interest expense of $10.3 million for an adjusted EBITDA/interest ratio of just over 1x. While this interest coverage is lower than many companies we've profiled, the addition of the two pathology firms added earlier this year should increase revenues for the balance of 2017.
Risks
The default risk is directly tied to whether Aurora can continue to increase its revenues as it has in the past three years and translate this to increased profits and cash flow. The company has added two new firms to its portfolio of companies this year which should increase its revenues for 2017 and beyond. Acquisitions typically add revenues while decreasing overall costs through economies of scale – cutting duplicate business functions within the newly acquired business and leveraging those already in place to manage the newly acquired business.
A significant portion of Aurora Diagnostics' revenues are due to payouts from governmental programs (Medicare and Medicaid). Last year (2016), 24% of Aurora's revenues came from Medicare/Medicaid. The ever-changing rate of payout from these programs continues to affect the revenues of Aurora Diagnostics, as payouts have continued to decline in recent years, presenting a unique challenge for the company. If payouts continue to decline, this could have an adverse effect on overall revenues.
In general, bond prices rise when interest rates fall and vice versa. This effect tends to be more pronounced for lower couponed, longer-term debt instruments. Any fixed income security sold or redeemed prior to maturity may be subject to a gain or loss. Higher yielding bonds typically have lower credit ratings, if any, and therefore involve higher degrees of risk and may not be suitable for all investors.
Summary and Conclusion
Aurora Diagnostics has steadily increased its revenues and adjusted EBITDA over the past few years. With the acquisitions made in 2016 and early 2017, Aurora should continue to add revenues to its bottom line through 2017 and beyond. Aurora has capitalized on the the trend of small pathology firms looking to combine with larger firms through its acquisitions. Its latest Q1 results showed an impressive increase in operating income. These 30-month bonds, with a yield-to-maturity of ~14% provide a welcomed instrument for diversification into the healthcare sector and make an ideal addition to our FX2 managed income portfolio.
Issuer: Aurora Diagnostics
Bond Coupon: 12.250%
Maturity: 01/15/2020
Rating: -- /--
Pays: Semi-annually
Price: ~95
Yield to Maturity: ~14%
Bond Coupon: 10.75%
Maturity: 01/15/2018
Rating: -- /--
Pays: Semi-annually
Price: ~100
Yield to Maturity: ~10.75
(less than 2 million in face value of these callable shorter notes remain outstanding)
Disclosure: Durig Capital and certain clients may have positions in Aurora Diagnostics Corporation 2020 bonds.
Please note that all yield and price indications are shown from the time of our research. Our reports are never an offer to buy or sell any security. We are not a broker/dealer, and reports are intended for distribution to our clients. As a result of our institutional association, we frequently obtain better yield/price executions for our clients than is initially indicated in our reports.
Disclosure: I/we have no positions in any stocks mentioned, and no plans to initiate any positions within the next 72 hours.
I wrote this article myself, and it expresses my own opinions. I am not receiving compensation for it. I have no business relationship with any company whose stock is mentioned in this article.