Are they talking their book or are they shooting straight? It is a valid question.
The "they" that I am talking about are the experienced and successful fund managers who today are issuing warnings about the valuation of the S&P 500 (SPY).
The reason that it is a fair question is that most active managers and even some of the very, very good ones have underperformed the S&P 500 in recent years. Given their underperformance a person might expect them to say that the valuation of the S&P 500 is not going to last.
That provides them with a reasonable explanation for why the stocks that they have owned have underperformed.
The latest experienced shop that has raised valuation concerns is Longleaf Partners. Like many of the other firms I follow Longleaf thinks that investors purchasing the S&P 500 index today are taking on a lot of risk.
You can put me firmly in the camp that agrees with them. The reason I agree with them is that I believe the evidence strongly supports a market that is ripe for a major correction.
I also believe that ignoring the warnings coming from these experienced investors is a major mistake.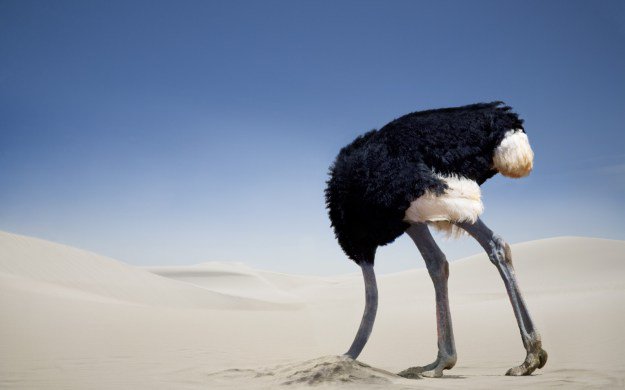 Source: WafflesatNoon
The Cause Of The S&P 500 Overvaluation Is No Mystery
I recently wrote an article about the challenges facing the Canadian economy. The biggest problem is a debt fueled housing bubble.
The weird thing about the Canadian housing bubble is how it is almost entirely located in just two cities, Vancouver and Toronto.
Why is the bubble located in just those two cities? Because that is where there is a lot of money chasing after houses.
What is happening in the stock market is similar.
Billions and billions of dollars have moved out of actively managed funds and into passively managed index funds and ETFs.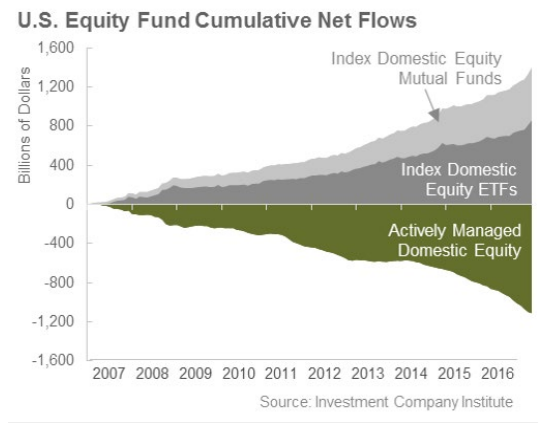 Those billions of dollars have bid up the valuations of S&P 500 companies and had the opposite effect on non-index stocks which are more often owned by actively managed funds.
This isn't rocket science. Those hundreds of billions of dollars that have gone into passive investment vehicles have to push up valuations of the underlying stocks. All of the purchasing these vehicles do is done with no consideration given to valuation, so the underlying stock valuations just keep going up, up, up.
Because the S&P 500 and most indices are market cap weighted, the largest capitalization stocks in particular just keep getting bigger and bigger no matter what the actual earnings of these companies are doing.
The chart above doesn't even fully capture how bid up the largest S&P 500 stocks are because it doesn't account for the fact that a good percentage of funds classified as actively managed are actually "closet-indexers".
A huge amount of money has been purchasing stocks with no thought given to valuation. That never ends well.
Which Is Better: Active or Passive? Neither - It Goes In Cycles
I'm not saying that there is anything wrong with passive investing. In fact I think that it is quite often the best choice.
Warren Buffett certainly agrees given that he has advised his wife to put almost all of her cash into index funds after he is gone.
What I am saying is that right now specifically is a terrible time to plow money into an S&P 500 index fund. Just like it was at the end of 1999.
You can be a fan of passive investing, but you can also be aware of valuations.
Check out the chart below that Longleaf included in the previously linked investor letter. It details historically the percentage of actively managed funds that have outperformed at various points in time.
That last time so few active managers have outperformed was 1999 which not coincidentally (in my opinion) was the last time the S&P 500 was really, really overvalued.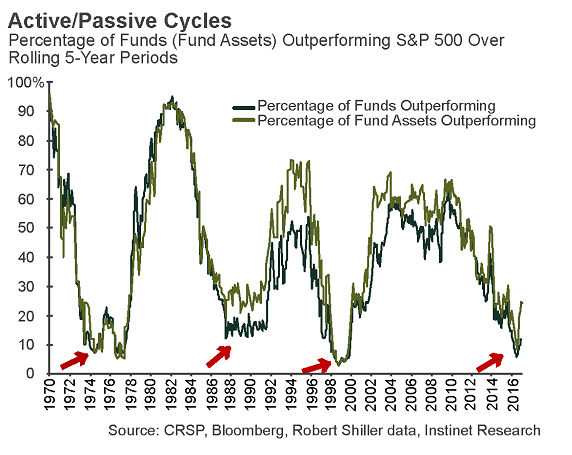 Now About Those Valuations – They Are Lofty
My belief is that the cause of the S&P 500 being dangerously expensive is the wave of funds that have gone into passive vehicles.
But what is the evidence that the S&P 500 is actually expensive?
Here is what Longleaf has to say about valuation and other concerns:
• Valuations as commonly measured by price/earnings ratios (P/E) are almost 19x today, well above the 15x average over the last 10 years and the longer term 25-year average of under 17x, which includes multiple bull and bear markets.

Considering that today's earnings reflect margins at historically high levels, the current P/E is even more risky.

• The more meaningful and alarming measure of enterprise value/earnings before interest and taxes (EV/EBIT) adjusts for the current lower-than-normal interest rate costs of companies by removing interest payments from earnings and looking at overall debt (EV = the value of a company's debt + its equity price).

EV/EBIT has averaged around 12x over the last 10 years and the longer term, but today it stands at almost 15x, a premium that is not justified simply by the market giving credit for any potential tax reform.

• Complacency is high among investors around the world with YTD volatility close to a multiyear low in Europe, Asia, and the U.S. The VIX, which tracks U.S. expected volatility, is near an all-time low.

• The spread of bullish versus bearish sentiment is over 36%, a level considered in the "danger zone," and not far from the bullish levels that preceded other market corrections.
Some Thoughts For Investors – Build A Portfolio To Avoid The Carnage
The bull market that we are currently in is now 100 months old. The average length of historical bull markets is 55 months.
Put in human terms where our life expectancy is now around 80, the current bull market is 145 years old.
In terms of gains this bull market it up 325% versus the historical norm of 185% in a bull run.
There is pain coming and it is primarily coming to the stocks that have benefited the most from the index fund bubble.
For many months now I have been building the Superinvestor Bulletin Portfolio so that it will significantly outperform a mass exodus of cash from passively managed vehicles.
You can do the same.
Here are a few thoughts that others might consider at this point in time:
Focus on intrinsic value – I believe that now is the exact time to focus on a bottoms up approach and really think about the value of what you are buying. When this index bubble pops cash is going to flee passive vehicles and be allocated to value focused strategies.
Do not be afraid to hold cash – Yes it is painful in this ultra-low interest rate world but I believe that keeping cash in your portfolio will work very well over the next 18 months. First, cash is going to outperform what I expect could be a declining S&P 500. Second, having that cash will allow you to take advantage of opportunities presented when the correction occurs. Third, it is extremely relaxing to have a cash war chest when a market panic erupts.
Focus on good balance sheets – When the stuff hits the fan it is the leveraged companies that get hit the worst.
Look outside the United States – Valuations outside the U.S. listed stocks are better today.
Look outside the index – Now is the perfect time to be looking at off-the radar companies that are not owned by passive investment vehicles. With capital having fled actively managed funds mispricing in these companies is quite likely.
Thanks for taking the time to read. Please use the "follow" option at the top of this article if you would like to read my future material.
About The Superinvestor Bulletin
Come take a free trial of our service that has a one-year track record that we are very proud of.
Today we are focused on stocks that we believe will outperform when this bull-run inevitably ends. Our latest portfolio addition is the focus of an activist investor who is determined to unlock value.
Click here for a free trial and get a look at our existing portfolio and comprehensive company reports.
Disclosure: I/we have no positions in any stocks mentioned, and no plans to initiate any positions within the next 72 hours.
I wrote this article myself, and it expresses my own opinions. I am not receiving compensation for it (other than from Seeking Alpha). I have no business relationship with any company whose stock is mentioned in this article.