Source: CNBC
With Friday's VIX close of 9.37, we decided to take a look at the lowest vol closes going back to the inception of the index.
This is not quite as straightforward at first glance as one might think. There is a small wrinkle involved. Toward the end of 2003, CBOE changed the methodology it used to calculate the VIX. This from the CBOE:

As you can see, there is data readily available for two eras: one going up through 2003, and another beginning in 2004. We lumped these two tables together to run an analysis through Excel for the lowest closing vol levels.
There are 7945 data observations for VXO, beginning in January 1986. The table below features the 32 lowest closes for the index, on an even playing field as it were.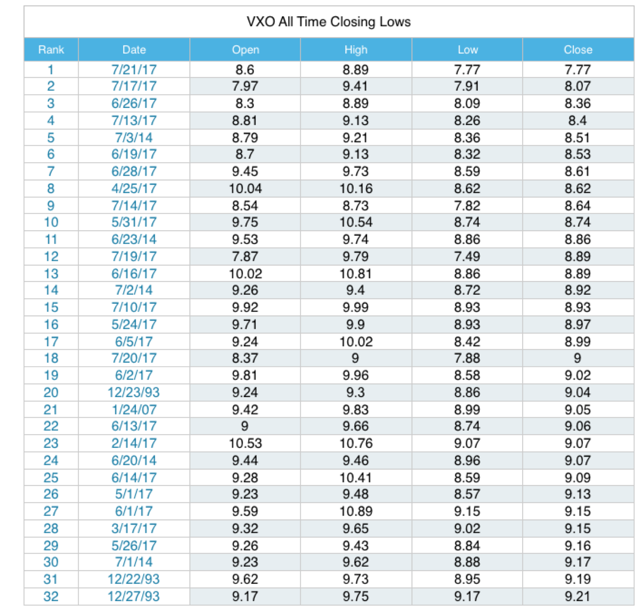 Source: CBOE, The Balance of Trade
Examining all-time low closes for the VXO demonstrates that only one quarter of the sample does not occur in 2017!
Traders and investors need to reconcile two seemingly contradictory concepts in their minds and strategies:
First, low vol begets low vol. There is no reason that vol "has" to revert to some norm within the the next couple weeks or months because vol ultimately does mean revert. Furthermore, when (not if, when) vol does mean revert, it does not have to do so in some dramatic fashion as it did back in August 2015 or towards the end of January 2016. Of course, high-vol eruptions most certainly are possible some would even say likely.
Secondly, these times really are not going to last. The current environment is almost certainly an anomaly. A fascinating one to be sure. And theories abound as to why vol has cratered as it has:
Central bank largesse
High frequency traders
Preponderance of inverse volatility products
Hyper buy-the-dip response that does not allow volatility to get out of control
Too much "cash on the sidelines"
Our take is that we are now seeing an inverse bubble in volatility. The reasons why or how might be plenty interesting in terms of discussion. The implications for broader asset class impact when volatility sustainably reverts are potentially very large.
We absolutely could be wrong here. It is entirely possible that this low-vol environment abates peaceably and without much incident. Also, volatility shouldn't always be average. Frequently it deserves to be well above and well below its long term mean. Many rational market agents supply reasons for why the markets are correct in assessing low vols to the current macro and/or micro environment.
That said, the current levels are low to the point of unsettling. Friday's close marks the very lowest of all-time lows in the originally constructed index, which for the record are more than a full point below the VIX of today's construction.
We'd tell you to trade safe out there… but safety is the current law of the land.
Please consider following us.
Disclosure: I am/we are short SPY.
I wrote this article myself, and it expresses my own opinions. I am not receiving compensation for it (other than from Seeking Alpha). I have no business relationship with any company whose stock is mentioned in this article.
Additional disclosure: We actively trade the futures markets, potentially taking multiple positions on any given day, both long and short. It is our belief that the S&P 500 is meaningfully overvalued. As such, we typically carry a net short position using ES options and futures.