Sears (SHLD) received a short term bump on news that it was planning to sell its full line of Kenmore appliances on Amazon (AMZN). Reportedly, this is the largest move of any kind by Sears to market its Kenmore line. The stock has since sold off from the temporary rally fueled by the Amazon news. Investors are now left to wonder whether this move will be key to bringing Sears back to profitability or merely another short lived rally on its way to bankruptcy.

The fundamentals appear bleak for Sears. The company has been participating in a sector-wide closing of its brick and mortar retail stores. Sears joins other retailers such as Macy's (M) and J.C. Penney (JCP) by closing a large number of its stores to stay afloat. The company is on track to close 265 stores this year with more closings likely in the near future.
Lack of Mall Traffic in Sears
Investors wondering about the fate of Sears can easily perform a simple walkthrough of its stores to see why the company is struggling. The retailer doesn't appear to have much traffic in its stores at all. Most of its stores appear to be nothing short of ghost towns, with few if any shoppers. Merchandise appears to be incomplete, with the store often not carrying a complete line of merchandise.
In addition, it makes little sense for shoppers to go to Sears with its empty stores and shorthanded staff when they could go to Home Depot (HD) or Lowe's (LOW) and receive a much better experience. The company has simply lost relevance with today's consumers, and is nothing but a placeholder of the past.
Sears is Selling Off All Its Assets

Sears has been aggressively selling off its real estate assets as well. Sears has also been siphoning off its other key trademark brands like Craftsman in order to stay afloat. This does not appear to be a viable strategy long term. Eventually, Sears will run out of money and out of assets to sell to survive.
Ideally, investors should be looking for the company to be funding its operations through cash flow, not by selling off assets. These recent asset sales by Sears appears to be a band-aid rather than a long term solution. Investors counting on CEO Eddie Lampert to save the company may be disappointed if the company decides to file for bankruptcy.
Technicals Paint a Bleak Picture

Unfortunately, sometimes stocks get sold off for all the wrong reasons. This usually leads into a long term recovery for bullish investors that can buy into the emotional panic selling. With Sears, the selling appears fully justified. This stock has been in a steady downtrend for a long time, and doesn't appear to be stopping anytime soon.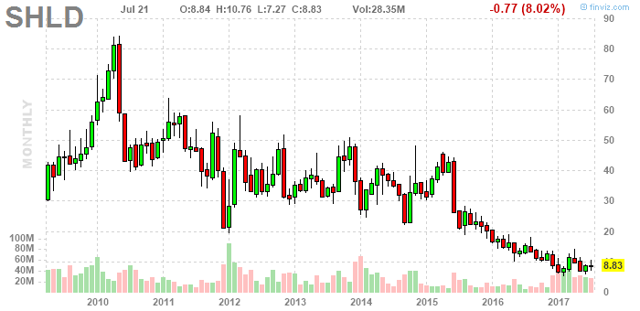 Source: finviz.com
Long term, the price target may very well be zero on this name. There is nothing in sight for investors looking to play the long side. I recommend avoiding Sears at all cost, given the plethora of better value plays in the market today.
Avoid Buying Sears Stock
Any short term rally in the stock price will likely be sold down hard due to profit taking by traders and the short sellers alike. The fundamentals of the company hardly justify the current premium stock price.
Readers should take advantage of any short term bumps in the stock price to exit any speculative long positions. Long term, the appliance move by Sears into Amazon is hardly enough to save the dying company.
Rival J.C. Penney has already ventured into the appliance business, potentially taking away more market share from Sears. There is nothing in Sears that distinguishes itself from its competitors, making Sears a poor investment vehicle overall.
Despite the pep talk and any other financial lifelines that CEO Eddie Lampert can infuse into the company, the company's prospects appear dim. There are no growth catalysts currently in place to distinguish the brand from its competition.

Avoid Sears, Buy J.C. Penney Instead

Traditional retail has been a difficult area to invest in as of late. Investors looking to buy into the retail turnaround story should look at J.C. Penney. J.C. Penney was a once left for dead retailer that is a recovering thanks in part to a better management team coupled with a set of key value initiatives. In fact, J.C. Penney is slated to be profitable this year with EPS guidance expected to be between $.40-$.65 a share.

Investors that want to play the potential retail recovery should look into J.C. Penney instead, given the share price is far lower than Sears. J.C. Penney's improving fundamentals and its growth prospects compared to Sears make J.C. Penney a much better retail play. Ironically, Sears is still selling for a premium valuation despite a complete lack of profitability, compared to J.C Penney which is a company that is actually profitable long term.
Disclosure: I/we have no positions in any stocks mentioned, and no plans to initiate any positions within the next 72 hours.
I wrote this article myself, and it expresses my own opinions. I am not receiving compensation for it (other than from Seeking Alpha). I have no business relationship with any company whose stock is mentioned in this article.