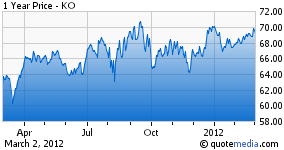 With its more than 500 non-alcoholic beverage brands, the Coca Cola Company (NYSE:KO) is very difficult not to notice. When we look at the top five beverages in the world in terms of revenue, Coca Cola's brands take four spots (Coke, Fanta, Sprite and Diet Coke). The company markets and sells its products in 200 countries.
Because the company already has exposure to the entire world, it sees most of its growth through launching new products. A decade ago, Coca Cola had net operating revenue of $19.56 billion, net income of $3.05 billion and earnings of $1.23 per share. In 2011, the company enjoyed net operating revenue of $46.54 billion, net income of $8.57 billion and earnings of $3.69 per share. This indicates a revenue growth of 138%, net income growth of 181% and EPS growth of 200% in the last decade. Despite its huge size, the company continues to grow solidly. Coca Cola's growth will continue as the company launches new products and developing nations are able to afford more of its products in 2012 and beyond.
Recently Coca Cola launched a number of new brands all over the world. For example, in Peru the company launched Frugos Sabores Caseros, a juice nectar. Also, in a number of South American countries, the company introduced new products, namely, Powerade ION4, Glacéau Smartwater, Del Valle Limon and Nada and an energy drink called Burn. The company decided to bring back Fanta in some Asian countries such as Singapore and Malaysia. In Vietnam, Coca Cola launched its green tea brand Real Leaf and in South Korea, the company launched a new coffee and energy drink. The company launched new Powerade beverages in Nordic countries and France. The company also launched a number of other products in Middle East and Africa where it hopes to see strong growth. Finally in the U.S., the company added 19 new beverages in its portfolio of Coca-Cola Freestyle.
Everyday Coca Cola sells 1.7 billion servings of its beverages all over the world. The company has a huge manufacturing, distribution and marketing base in every geographical location in the world. This helps the company to observe, interpret and act upon any local or global trend, giving the company a large advantage over most other companies. For example, if the company detects fast growth at a given country, it can focus more on that country in terms of production and marketing. This also allows the company to experiment with its new products. For example, the company can test out a new product in Taiwan and move the product to China if it is successful in Taiwan.
Coca Cola's case unit sales increased from 24.4 billion in 2009 to 25.5 billion in 2010 and 26.7 billion in 2011. For reference, each case unit represents 24 servings or 24 cans of a drink. About three-fourth of this volume came from acidic drinks which the company calls "sparkling beverages." Additionally, only 20% of the company's sales volume came from U.S. This demonstrates how diversified the company's sales are. All in all 31% of the Coca Cola's sales volume came from Mexico, China, Brazil and Japan.
Coca Cola's total assets are worth $79.97 billion and the company's total debt is $13.66 billion. Compared to its assets, revenues and earnings, the company's debt does not pose any kind of threat to its existence or growth prospects. The company provides drinks to many large restaurants including McDonald's (NYSE:MCD). As the restaurants offering Coca Cola products grow, this should facilitate this company's growth as well.
Coca Cola competes mainly with Pepsi (NYSE:PEP) and Dr Pepper Snapple Group (NYSE:DPS) among many others. Lately, Monster Beverage (NASDAQ:MNST) has been accomplishing very strong growth in many countries, and this company may steal some market share from Coca Cola.
The company currently enjoys a P/E ratio of 18. The company's average P/E ratio in the last three years is 16.39, in the last five years it is 18.61 and in the last 10 years, it is 22.52. The stock priced moved from $47.85 to $69.15 in the last few years. This is an upward movement of 44.36% excluding dividends. Currently the company's dividend yield is 2.95 and it has the tradition of raising dividend payments every year. In the last 30 years, the company's dividend rate increased by an annual rate of 10%. Among the 14 analysts covering the stock, 10 of them rate it as "strong buy," two rate it as a "buy" and two rate it as a "hold." The average target price on the company is $75, which provides an upside of 8.45%.

In conclusion, Coca Cola has a strong dominance in the beverage market, it continues to grow and it enjoys solid dividend growth. Long term investors, dividend investors and value investors would do themselves a favor by allowing some room in their portfolio for Coca Cola if they haven't already done it.