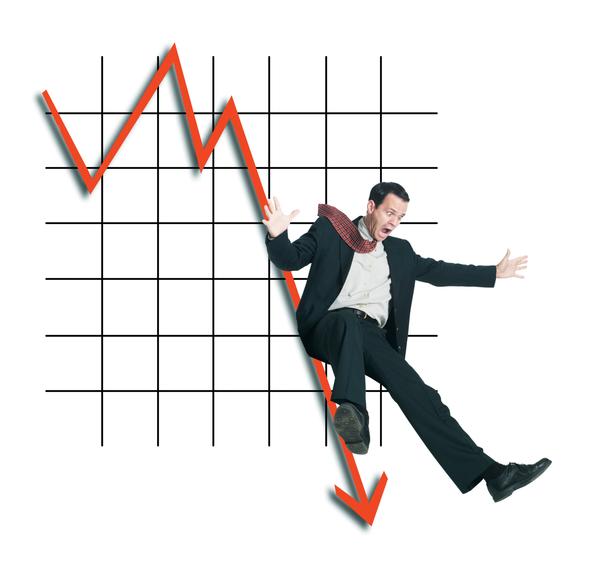 Investment Thesis
DryShips (DRYS) stock has been trading in a suspicious pattern. Often, it rises sharply at market close, then pulls back quickly immediately following the spike (presumably due to the dumping of new shares created by the company). As of last Friday, the company still had $74.7 million worth of shares to be sold. Thus, the share dilution is equal to the share price collapse. As mentioned in my previous articles, DRYS is one of the most dangerous stocks in the world and should be approached with extreme caution.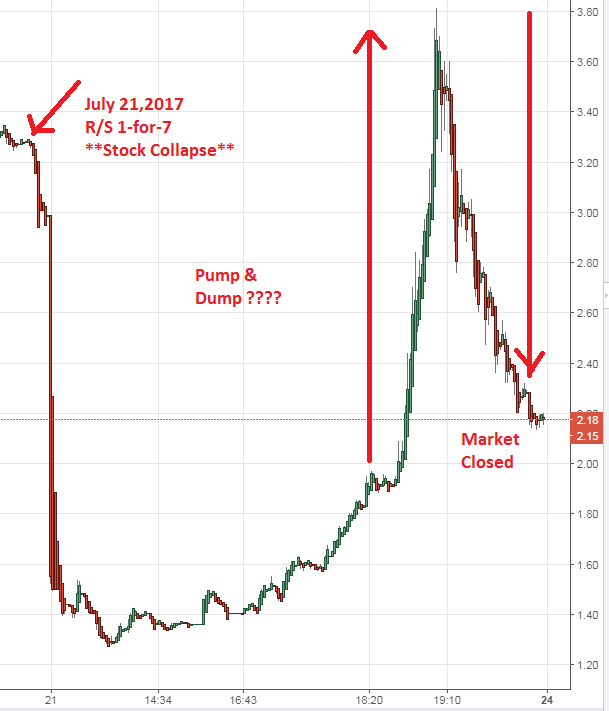 Source: Tradingview
Too Much Risk
You may wonder if the sudden spike in the share price may be related to a short squeeze (short covering). Most of the time, the share price spike occurs at market close, so there is a clear link between the share price spike and the timing of share dilution. This suspicious spike/collapse pattern suggests that DRYS is trading in pump and dump manner.
According to the Wall Streel Journal, Kalani is not a registered underwriter with the SEC. The company and Kalani are both subject to violation of federal security laws.
Legal experts said the quick sales raise questions for regulators. "If [Kalani is] buying it with the intent to resell, then they're acting as an underwriter and this is a public offering," said Jill Fisch, a University of Pennsylvania law professor who specializes in securities regulation. In an underwriting, a licensed entity, normally a bank, sells shares to the public and gives the proceeds to the company. James Angel, a financial-markets expert at Georgetown University, said the deal sounds like a "pseudo-underwriting." Kalani isn't registered with the Securities and Exchange Commission as an underwriter.
On September 9, 2016, DryShips entered into an agreement with Sifnos (owned by the DryShips CEO) to convert $8.75 million of the outstanding amount facility for Series D Preferred Stock (Series D Preferred stock has voting rights, 100,000 votes per share). As of March 10, 2017, there were 29,166 shares of Series D Preferred Stock outstanding (adjusted quantity for the reverse splits). Since then, there were four reverse splits, in April, May, June, and July—a striking record.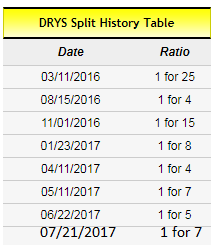 Source: Stocksplithistory.com
= 29,166 Series D Preferred Stock as of March 10, 2017
= 29,166 / 4 (reverse split 1 for 4)
=7,291 Series D Preferred Stock
= 7,291 / 7 (reverse split 1 for 7)
=1042 Series D Preferred Stock
= 1042 / 5 (reverse split 1 for 5)
=209 Series D Preferred Stock
= 209 / 7 (reverse split 1 for 7)
=30 Series D Preferred Stock
= 30 x 100,000 per share
= 3 million in voting rights (DryShips CEO George Economou owns 100% of Series D Preferred Stock)
= in comparison, the general public has 5 million in voting rights
Conclusion
One or more reverse stock splits up to 1-for-1000 were already approved by the Annual Shareholders meeting which took place on May 2, 2017. Based on this, the last five reverse splits (this year alone) didn't need shareholder approval, and so the next reverse split more than 1-for-4 will require shareholder approval. But the numerous reverse splits have reduced the CEO's voting rights to 3 million, versus 5 million for shareholders. Even then, the board of directors can issue "blank check" preferred stock without stockholder approval. Based on this, the shareholders may never gain control in the company. Consequently, DRYS is a very dangerous stock and should be avoided.
Author's note: Get my articles as soon as they are published by clicking the big orange "Follow" button at the top of this page.
Disclosure: I/we have no positions in any stocks mentioned, and no plans to initiate any positions within the next 72 hours.
I wrote this article myself, and it expresses my own opinions. I am not receiving compensation for it (other than from Seeking Alpha). I have no business relationship with any company whose stock is mentioned in this article.
Editor's Note: This article covers one or more stocks trading at less than $1 per share and/or with less than a $100 million market cap. Please be aware of the risks associated with these stocks.