I started Project $1M with the goal of growing an initial stake of about $225k into roughly $1M in 10 years. We are about to enter the final quarter of Year 2 and so far the portfolio is performing materially better than expected.
Project $1M began with the assumption that the S&P 500 has a lot of junk, mixed with a lot of good businesses, and that carefully identifying those truly good businesses and holding onto these businesses over the long haul would result in outperformance over the long haul. There's a lot of hubris in that assumption, I know, but I think it is also a fun experiment to see if a largely passive portfolio can outperform the constant rebalancing that goes on in index funds.
However, I didn't intend to adopt just a set-and-forget mentality with Project $1M. As a result of the advice from one illustrious commentator on this site, I resolved to add more stock when prices of companies I liked were beaten down by greater than 20%. Thus came the opportunity to add businesses like Alibaba (NYSE:BABA) and Priceline (PCLN) when markets dumped them irrationally. These are high-quality businesses that tend to reward patient investors over the long run, and that's exactly what they have done for me thus far.
Stock Selection
I set out to pick best of breed businesses that were cash-flow monsters that would literally drown themselves in the weight of the cash flow that these businesses would throw off. I then added onto this an ability to extract exceptional returns on capital, and finally optimized around those businesses that had strong secular stories and tailwinds. And all of that led to the mix of businesses that you see below. Mind you, not all the businesses in the Project $1M portfolio, there are certainly a couple of speculative ones in the mix here as well. From an invested capital base of $280k, the portfolio's tally now stands at a shade below $350k and has delivered a return of 16.5% on an annualized basis or 25% YTD.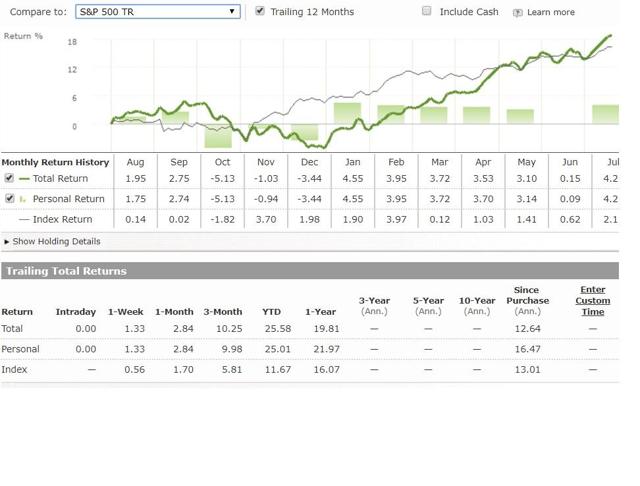 Comments
The themes of Project $1M at the midpoint of this year are largely the same as they have been thus far this year. Technology stocks are once again 'smoking it.' Alibaba, MercadoLibre (MELI), Google (GOOG) (NASDAQ:GOOGL), Facebook (FB), Priceline and Amazon (AMZN) have all recorded outstanding returns. To be candid, that's partially due to the inherent earnings power of these businesses and partly due to large increases in market multiples.
After being pounded through the latter half of 2016, these stocks have roared back to life in early 2017. I personally don't intend to buy any more of my existing holdings at these levels. In most cases, it would take a drop of at least 20% to get me interested again. That being said, I see no reason to sell off anything because these are all high-quality franchises.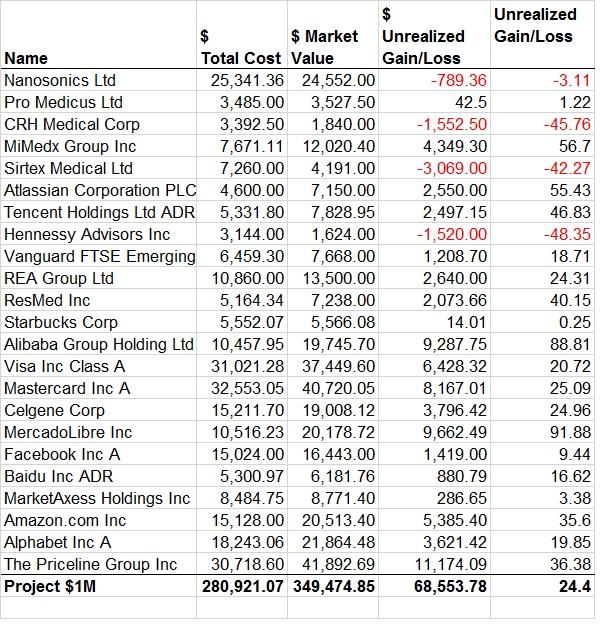 Surprise Packets
After almost a year or so of slumber, Celgene (CELG) appears to have magically roared back to life in the last quarter. I had by and large been ignoring Celgene as a contributor in the portfolio, so poor was its performance, and since then it has put on an almost 25% return overnight! There are a few stinkers in the mix here to be sure; however, the good news here is that they were relatively smaller bets that didn't have a significant a drag on the performance of the portfolio.
Disciplined Future Buying
As mentioned, I'm looking to top up positions when they fall by 20% or more. To take much of the guesswork out of this, I've written out of the money, long-dated puts for many of my positions at prices which are 30% less than prices that I'd considered fair value.
Of course, given the torrid rise of the markets upward, these puts have now substantially appreciated in price to the point where I will likely be considering closing some of these out, particularly if markets continue a steady ascent.
However, I don't intend to come into the markets and buy. I want to be put stock by people keen to get rid of it at prices I consider attractive. As prices continue to go higher and higher, I'm reviewing these put positions carefully to assess my exposure, as each day brings us closer to an inevitable 20% market correction, which will frankly be a good thing to bring some balance.
I'm not looking to sell anything in the medium term, irrespective of price, provided my businesses continue to maintain their structural advantages.
Thus to that end, I can happily enjoy the rest of the summer, hit the beach and wait things out.
Future Performance expectations
I expect that while 2017 will finish out in strongly positive territory, 2018 will bring back some return to normalcy, with marginal or perhaps slightly negative growth. Future performance of Project $1M will be largely driven by the performance of Priceline, MasterCard (MA) and Visa (V), which are the fund's largest holdings. This will be closely followed by a clutch of other stars including Alphabet, Celgene, Mercadolibre, Amazon and Alibaba.
I've got no doubt most of these will continue to outperform the broader market because they are high quality. Yet there is only so much that their market multiples can be inflated even with stellar earnings growth.
I'll be back sometime late fall with what is hopefully a positive note at the end of the second anniversary for Project $1M.
Disclosure: I am/we are long CELG.
I wrote this article myself, and it expresses my own opinions. I am not receiving compensation for it (other than from Seeking Alpha). I have no business relationship with any company whose stock is mentioned in this article.