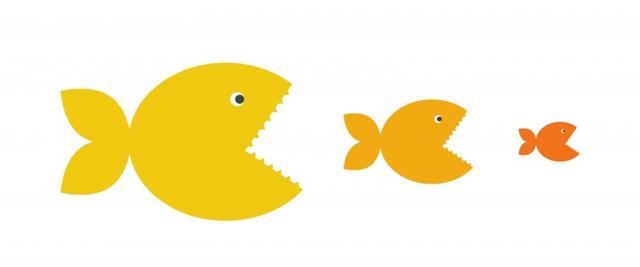 Source: Google Images
Review
There were two recent events over the past week sparking some volatile stock price action for both XPO Logistics (XPO) and McCormick Incorporated (MKC). This past Monday, XPO announced that it would be pursuing a public offering of common stock. Three days later, the company announced a pricing of $665 million for the public offering of common stock.
Tuesday of last week, McCormick announced its intent to acquire Reckitt Benckiser's food division, for $4.2 billion. Both companies witnessed stock price declines at around -5 percent the following day, after each respective announcement.
Moody's Corporation provides a weekly credit outlook based upon credit implications of current events. For the July 24th report, both XPO and McCormick were highlighted in the corporates section, with credit negative reviews. Each one of these companies is a core holding in the Lean Long-Term Growth Portfolio (LLGP).
XPO
The credit negative review for XPO is based upon Moody's assumption that the recent issuance of common stock proceeds is an indication of XPO's acquisition strategy restarting, including the likelihood that the company will utilize leverage for a transaction over the next 6 to 12 months. Specifically, Moody's stated that they believe the equity issuance is a precursor to potentially large transactions involving incremental indebtedness and more elevated leverage.
Moody's also made it clear that the renewed focus on acquisitions has come earlier than what was previously anticipated due to the previous substantial transactions made in 2015. XPO has been highly successful at integrating the last two major deals including Con-Way and Norbert Dentressangle. Integration has led to operational efficiencies and cost improvements.
As the last two deals have been absorbed, XPO's credit quality has improved strongly. The company's free cash flow is anticipated to approach $350 million in 2017, EBITDA margins have improved and adjusted debt was at around 3.8 times EBITDA, a strong improvement from 2015's 5 times level. XPO has excellent liquidity through both cash on-hand and its asset-based lending facility, close to $1.4 billion combined.
As has been stated by XPO, expectations were restated by Moody's that the company expects any acquisition to focus on enhancing XPO's existing services and growing the company's business geographies and lane density, versus expanding into entirely new markets.
McCormick
Some coverage has already been provided regarding McCormick's decision to enter into a definitive agreement to acquire Reckitt Benckiser's food division for $4.2 billion. Much discussion was generated based upon the premium paid for this segment based upon the estimated 20 times EBITDA price tag.
For Moody's the focus is on the financing of the deal. McCormick is anticipated to close the deal later in November of this year, and is expected to fund the deal with $3.7 billion of debt and $500 million of equity. The following increase in McCormick's leverage has triggered the credit negative status. Moody's has already placed McCormick's ratings on review for downgrade after the deal was announced. This may lead to a downgrade of the company's senior unsecured rating by three notches to Baa2 and its short-term rating to Prime-2.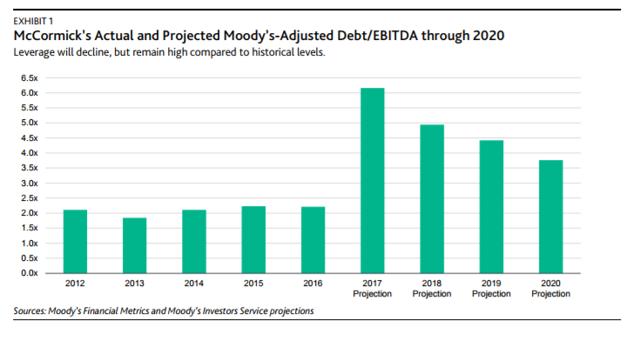 Source: Moody's July 24, 2017, Credit Outlook Credit Implications of Current Events
The new debt used to fund the deal is anticipated to raise McCormick's debt to EBITDA to 5.4 times, based upon the most recent quarterly filing. This reflects a substantial increase from the company's 2.5 times ratio prior to the acquisition. Importantly, Moody's expects this leverage ratio to remain higher over the near-term, despite McCormick's intentions to use all of its after-dividends free cash flow to repay debt. Moody's views this as substantial, since McCormick has maintained an A2 senior unsecured rating since 1993.
Summary
I'd have to say that my initial reaction after both of these announcements is less eager for the McCormick deal. I recognize that the improvement in margin, free cash flow and business segment and geographic growth potential are lucrative. Leveraging the deal now also provides for historically low interest rates as the financing vehicle. But the increase in leverage will likely be hanging around for a while. This places greater risk on the dividend in the event a substantial downturn occurs in the near-term.
XPO's move is still unknown as to what the acquisition target will end up being. There is still the possibility that it could involve a company with a smaller price tag than XPO's two most recent deals for Con-Way and Norbert Dentressangle. Both deals were at $3 and $3.5 billion respectively. Any deal of $2 billion or higher will obviously require further capital for financing purposes.
However, XPO has displayed an ability to greatly improve its leverage position with a short time period during the integration phase. This sets the company up to potentially replicate this model over the next few years, irrespective of the unknowns today.
Disclosure: I am/we are long MKC, XPO.
I wrote this article myself, and it expresses my own opinions. I am not receiving compensation for it (other than from Seeking Alpha). I have no business relationship with any company whose stock is mentioned in this article.