The EUR is shaping up to be the surprise package of 2017. So often the Eurozone has been derided for its low levels of inflation and political turmoil. Britain wants to leave, and "Fr-exit" and "Ita-leave" were in the news; EUR/USD was supposed to hit parity, according to various media outlets and investment banks, but amazingly, we find the currency pair at 1.1650 levels. The momentum behind this pair is simply astounding.
On July 20, the European Central Bank (ECB) kept interest rates unchanged, which was widely expected by the markets. The event the markets were focusing their attention on was instead Draghi's press conference following the interest rate decision. Draghi's speech sounded dovish at the onset, where he set no firm date on scaling back the central bank's asset purchase program, while reaffirming his commitment in asset purchases should recovery in the Eurozone splutter.
At first glance, this was dovish, and the markets were probably expecting the EUR to sell off subsequently. However, the crucial piece of news that eventually gave EUR a huge boost was during the Q&A session, where Draghi appeared unconcerned about the EUR strength:
"It's true there have been movements in bond price, asset price, exchange rates and so on, but financing conditions remain supportive," Draghi said.
Where ECB officials had previously appeared wary of EUR strength, given that it could potentially derail the Eurozone recovery by making exports more expensive, Draghi's comments seemed to hint that the ECB might not have a floor in mind with regards to levels in the EUR. Traders might have taken this as a green light to purchase EUR, going into the ECB's September meeting where they might potentially discuss downsizing the asset purchase program too.
Yes, there is strong momentum behind the EUR/USD, especially given that the USD has been selling off against most other currencies on back of Trump's failure to see through his pre-election policy promises. I would advise readers to look for opportunities to enter the EUR and convert some of the cash in their portfolio into EUR to potentially enjoy capital gains, but current levels of 1.1650 are not attractive to enter from a risk-reward perspective.
From a technical perspective, EUR/USD is now bumping against strong resistance coming in around 1.17-1.18 levels. Price action should find it difficult to cut through these levels easily, and I do expect a certain degree of pullback in prices given the rally the currency pair has already enjoyed.
I advise readers to look to go long EUR/USD around 1.13-1.1350 levels, which should present relatively decent support should there be a pullback in prices. From those levels, look to take profit at 1.18 with a stop loss just below 1.11.
For a long time, EUR/USD has been in consolidation mode, from 2015 to 2017. Current price momentum backed up by a change in tone and policy by the ECB may cause the currency pair to reverse. The pair has fallen a great deal from 1.40 to 1.05 levels, and thus, there could be a fair bit of distance or "meat" for EUR/USD to retrace.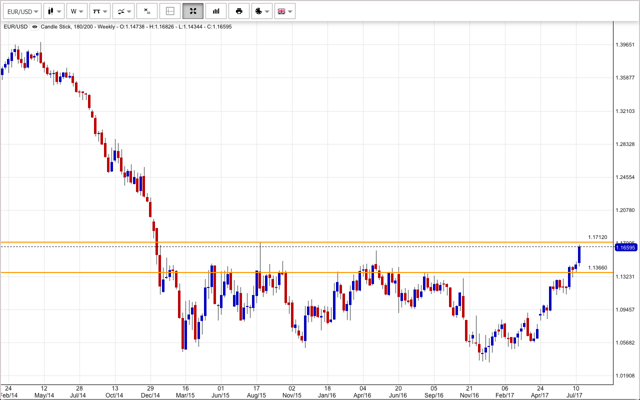 Disclosure: I/we have no positions in any stocks mentioned, and no plans to initiate any positions within the next 72 hours.
I wrote this article myself, and it expresses my own opinions. I am not receiving compensation for it (other than from Seeking Alpha). I have no business relationship with any company whose stock is mentioned in this article.