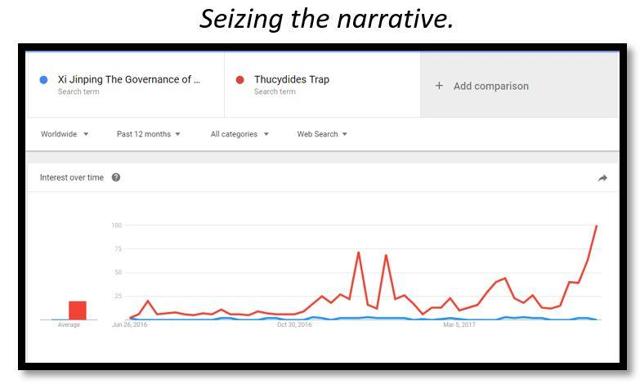 (Source: Google Trends)
The recent G20 Summit was an opportunity to gauge the status of international relations in the Trump era. It was also an opportunity for the respective G20 leaders to display their own versions of global governance in the current multi-polar global economy and to seek areas of common ground to enforce this model. There was one notable exception on display in the form of President Trump and his unipolar "America First" agenda. The event was therefore an opportunity to understand how the global economy is interfacing with the "America First" agenda.
If the platform of G20 serves as a good global barometer of the world's reaction to President Trump's posturing, then the words G19+1 would be a good characterization of current relations. The President's recalcitrance on free trade and Climate Change was incorporated in the group communique, but this was an add-on to an event at which free trade deals were much in evidence as was consensus on global warming. The global economy has simply put President Trump and his agenda in the corner and transcended him. The President is effectively mobilising the alternative global consensus to his own opinion.
The "America First" agenda in relation to China has become narrowly defined in terms of the Thucydides Trap frame of reference applied by western observers. It is therefore useful to compare and contrast this with the oriental frame of reference that is as yet largely a mystery to the same western observers. There has been an assumption by western observers that China will engage in the terms proscribed by Thucydides.
Thus far, China shows an awareness of the pitfalls of engaging by occidental defined terms and is engaging in its own way. The Chinese terms of engagement are however still viewed through the narrow prism of Thucydides, which could become a strategic blindspot for the observers. This was highlighted in the last report by what was termed "Peak Thucydides Trap" in relation to the attention that this frame of reference was enjoying in the global search engines.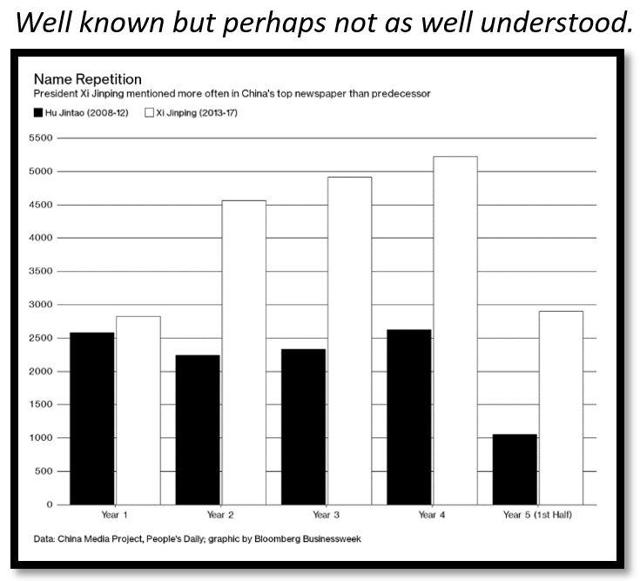 (Source: Bloomberg)
President Xi Jinping is by far the most mentioned Chinese leader in the media. Whilst his name is much broadcast, his message remains narrowly framed globally by the Thucydides Trap descriptor that has been promoted by western strategists and commentators. President Xi's thinking and message exists, it has just not been as widely promoted as the man himself.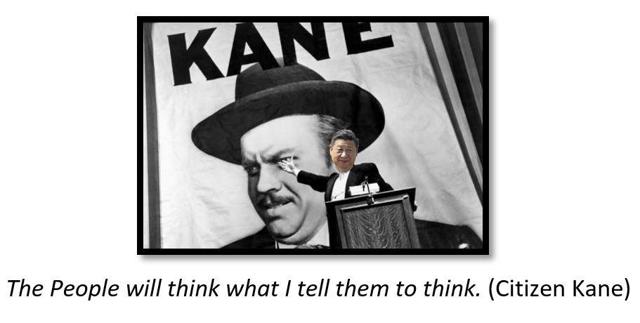 Most recently President Xi has been prepared for his elevation into the pantheon of great Chinese leaders later this year, by the development of his own eponymous school of "thought." State media has coined the term "Xi Jinping Thought" as the new doctrinaire philosophy for the Communist Party in China. "Xi Jinping Thought" is a "five in one" synthesis of economic, political, cultural, social and ecological branches into one unified construct that forms the social contract between the Chinese people and its government . The policies to advance this unified construct are defined by the "Four Comprehensives" of:
building a moderately prosperous society,
deepening reform,
advancing the rule of law; and
strictly governing the party.
These "Four Comprehensives" have been clearly (and ruthlessly) demonstrated thus far by President Xi, as he has advanced up the slippery pole to become supreme leader.
In China "thought" ranks higher than "theory" in political thinking. It is therefore highly likely that "Xi Jinping Thought" is being framed as the governing principle to be formally adopted by the nation this year. If and when adopted by the Communist Party, the President will have absolute legitimacy and authority to apply the total power that is concentrated in his hands as he deems necessary.
The role of diplomacy in "Xi Jinping Thought" was recently explained by State Councillor Yang Jiechi, China's top diplomat, in the journal Qiushi. This referred to "General Secretary Xi Jinping's thought on diplomacy." This thinking represents the Central Committee's "new governing philosophy and strategy as they apply to diplomacy and is an integral part of the theories of socialism with distinctive Chinese features." Diplomacy has therefore been incorporated into "Xi Jinping Thought."
"Xi Jinping Thought" has moved on from Mao Zedong's transformation of China, in that it now has a vision that interfaces with the global economy and global polity. Mao initially applied the Communist International in a specific Chinese domestic context, which isolated the nation in order for him to control it. Xi's strategy envisions maintaining total domestic control, whilst using the global diplomatic interface to enhance this control. By default therefore, Xi should not conflict but rather collaborate with global counterparties in order to maintain command and control.
Control through this interface is euphemistically defined as the need to maintain "distinctive Chinese features." President Xi has therefore embraced nationalism and populism in-order to prevent globalization from undermining his control of the nation.
Trade partners will be encouraged to and rewarded for acknowledging the "distinctive Chinese features" of his control and maintaining them. It is essential therefore that both he and his party remain the gatekeeper to this global collaboration. The recent Belt and Road Initiative should therefore be viewed as President Xi's own initiative to remain the gatekeeper and diplomatic interface.
For the further purposes of comparison and contrast, the Chinese frame of reference in the form of President Xi Jinping's magnum opus entitled "Xi Jinping: The Governance of China" may also be used as a comparative study aid. It can also be used as a guide to his global message as well as his domestic one.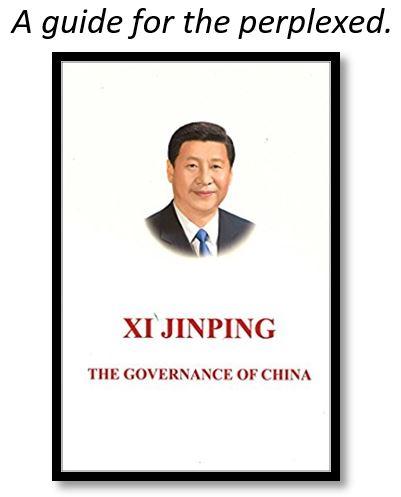 President Xi's message does not garner any interest in the global search world although perhaps it should. Perhaps this is because it has only been translated into 22 languages so far. It does however serve as a guide for the perplexed as to how President Xi intends to transition China from "big country to strong country" through tight internal governance and openness to the global economy. Thus far, there is strong evidence of both, so the narrative may be a little more than fantasy or propaganda.
It is certainly useful to compare and contrast Xi's tight internal governance and global openness with President Trump's shaky internal governance and global rejection, when deciding who has the edge in terms of ability to execute successfully. President Trump has limited ability and strong intentions to execute domestically, whilst he has no intentions and strong abilities to execute globally.
President Xi has strong intentions and capabilities to execute domestically, whilst his global capabilities may not match his intentions. The mismatches between the two and the fluctuating fortunes of their intentions and capabilities will make for interesting viewing going forward.
Premier Li Keqiang used the platform of the recent annual World Economic Forum meeting to underline Chinese commitments to opening its economy further and Chinese support for globalization. He also drew attention to the fact that foreign companies operating in China will be free to repatriate their profits, despite the clampdown on capital flight from domestic entities.
Unwittingly, he may have signalled that China may come to depend on these international flows; when he ventured that foreign companies should reinvest rather than repatriate in order to get what he termed "fatter profits." Premier Li's comments in general however echo President Xi's "Thought" and the Communist Party's preparations to enshrine it as national policy.
PBoC Deputy Governor Yi Gang used the timing of the forum as an opportunity to update the markets on where China is with its attempts to deflate its debt bubble. Whilst highlighting the positive "initial results" of these attempts, he gave no indication that the process would either be ended or scaled up. It should be concluded that this is still a work in progress that remains a priority, but should not be viewed as a crisis warning signal that will prevent the further opening up of the economy going forward.
The IMF gave its guarded approval in response to Mr. Yi's update, in the form of an objective opinion. Deputy Managing Director Zhang Tao opined that China should seek to stimulate some sectors of the economy whilst reining back those that are unsustainable. His comments are broadly in line with what Chinese policy makers are doing, and should thus be viewed as an endorsement.
Deputy Finance Minister Zhu Guangyao then ventured that China is willing to cooperate and coordinate with the developed nation central banks, following their contemporaneous signal that they will be slowly exiting the QE stimulus process. China clearly wishes to position itself and be seen as a rational actor and global partner, at a time when President Trump is viewed as the antithesis of such an agent.
Further evidence of the opening up of the Chinese capital account (and the need for foreign capital!) came with the symbolic opening of the mainland to Hong Kong bond-connect programme. Foreign capital now has a way to gain access to the $7 Trillion domestic bond market, should it wish to do so.
China now also has a mechanism for the subtle transfer of its economic risks from the domestic to the global economy. As this mechanism gets utilised, global private investors will be encouraged to support "Xi Jinping Thought" in order to create "fatter profits"; but more importantly not to put themselves at risk by conflicting with said thought.
Once seduced and subsumed by the pecuniary attraction "Xi Jinping Thought," said global private investors will then become useful puppets to encourage their own policy makers not to rock the boat by upsetting the system. President Xi has understood how to use globalization as a tool to buy the compliance of trade partners and global policy makers. Opining the benefits of free trade as he does, shows this acme of skill.
China's approach to opening up its capital account is bifurcated and does not follow the traditional singular model embraced and enforced by the IMF for developing nations. This puts China directly at odds with the American financial architecture of the 20th Century that still underpins the global economy. China currently has two doors through which capital can flow. There is a domestic capital door, that is currently locked against capital exit. There is also a global capital door, which appears to swing both ways, but is certainly weighted to stimulate capital entry and subdue capital exit.
Whilst this two-door strategy is working, it is not truly efficient; so that China cannot be said to be in total control of the doors. In fact, the global capital door is starting to impose entry and exit conditions of its own as seen by the recent Moody's credit downgrade.
China will be charged a significant risk premium for global capital in order to attract capital and also to compensate for the inherent risk of currency devaluation. As China's demands for capital grow, in excess of its currency reserves, the strength of the global capital market constraints will force it to gradually adopt global capital rules. The current two-door strategy will thus converge on a global door over time.
In order to prepare for the single door, China is currently scaling up selected companies to compete aggressively for global capital and markets. China is clearly in no hurry to merge the two doors into one global door, until its industrial base and capital markets are able to withstand the full winds of globalization primarily blown by fiscal and monetary policy in the developed nations.
Having observed what the Asian Crisis did to its neighbours in 1998 and mindful that there is a new developed nation agenda to protect its global legacy, behind global rules and regulations since the Credit Crunch, China may be forgiven for not rushing through the single door to jump into the global capital markets pool.
Having already given PBoC Deputy Governor Yi the thumbs down, through a ratings downgrade before the forum, the reaction of Moody's to his update was curious. The ratings agency chose to focus on the good stuff, that will lead to bond issues, in relation to China's Belt and Road Initiative. The institutional driver of this initiative will be China's Asian Infrastructure Investment Bank (AIIB).
In affirmation of this global growth strategy and prudent risk management, Moody's awarded the AIIB its highest credit rating. The combination of sovereign downgrade plus AIIB upgrade, shows that Moody's is broadly in line with the emerging global consensus that is supporting China's transition from domestic-driven growth towards a globally-driven one.
Belatedly, Standard and Poor's and Fitch joined Moody's latest warnings about China's debt levels. In this belated warning, S&P opined that there remain "significant obstacles" facing policy makers' attempts to control the credit bubble. Conversely, S&P also warns that any future economic slowdown could be met with a monetary stimulus. Whilst keeping its rating the same at negative, the rating agency has been able to portray the fine balancing act being attempted by policy makers. Fitch similarly retained its current rating, but warned about the potential for a future downgrade if the debt situation starts to unravel.
All of the above developments are currently lost on the embattled President Trump. A man with hammer only sees nails. Referencing North Korea as casus belli, America recently hit China with trade sanctions for its inability to make the country to conform with global national security norms and conventions. Having openly referred to the issue of trade as "almost as a war," the President is rumoured to be lining up further sanctions on imports from China.
Relations with China then took another turn for the worst, as America swiftly announced a new sale of weapons to Taiwan. Further preparations for conflict between the two nations appear to have been made, through the President's policy to position America for "Dominance" in global energy production. Energy Secretary Perry explains that "Dominance" translates into independence and national security.
President Trump then toughened his trade negotiating team with the nomination of China-phobe Dennis Shea as Deputy Trade Representative. The latest high level economic dialogue between the two nations began with acrimony over the trade gap expressed by Commerce Secretary Ross, and concluded with both sides being incapable of creating a joint communique.
The PBOoC's latest advisory monetary policy committee report gave no indication that the central bank is ending its policy of deleveraging the economy. The report classified the economy as stable but also continued to opine that the environment is "complex" and that risk prevention should be emphasized. This was echoed in Premier Li Keqiang's latest assessment of economic conditions. He characterized the growth in H1/2017 as hard won and sees similar difficulties in achieving a repeat performance is H2.
A picture is also emerging of close cooperation between the PBoC and fiscal policy agents within the government. New monthly PBoC commentary highlights and provides context for its enabling actions through open market operations. The PBoC is seeking to smooth out the headwinds as fiscal policy levers are turned towards putting a floor under slowing economic growth and providing future growth opportunities through new strategic industrial stimulus.
This situation has been framed as "neutral policy," which explains why the PBoC is reacting to changes in fiscal policy to balance them. The PBoC's role is therefore akin to a counter-cyclical buffer that is becoming enhanced as a macro-stability operation, whilst the fiscal constraints of a slowing economy are managed by policy makers.
Just like the developed nation central banks, the Chinese central bank's role as an economic management tool for policy makers is increasingly being relied upon. This reliance grows as underlying economic growth slows and fiscal limits on growth are reached, through the already indebted position of the economy after the counter-cyclical emergency stimulus measures post Credit-Crunch.
As the PBoC's combined deleverage and counter-cyclical buffer operations evolve, so its role in managing the future outcome of these operations is being enhanced and officially mandated. The PBoC's mandate is changing. China will set up a Financial Stability Development Committee under the State Council, President Xi decreed at the bi-decennial National Financial Work Conference held recently.
The report by state media did not however define the relationship of this new organization with the People's Bank of China, but it is expected that the central bank will be largely in control. In his speech, Xi said prudent monetary policy, a goal announced last December, should be firmly implemented and the PBoC should take a stronger macro-prudential policy role.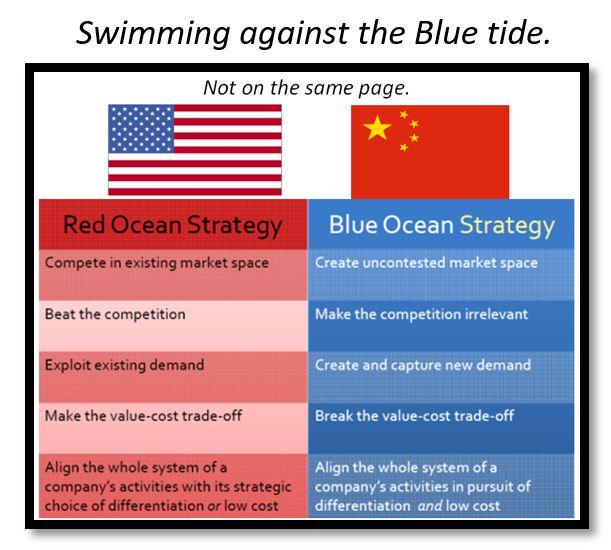 (Source: Seeking Alpha)
A previous report discussed China's adoption of Blue Ocean strategies in strategic industrial sectors, in order to stimulate economic growth and avoid trade friction with America. The strategy involved stimulating demand for key industrial products, through fiscal and regulatory initiatives. The latest spat with China's trade partners, in relation to electric vehicles, provides a classic example of how this strategy is unfolding.
China has announced strict quotas and penalties on gasoline-powered vehicles, in order to promote the electric vehicle sector. A key signal of industrial supply change, in response to these new rules, recently came from Geely (OTCPK:GELYY)-owned Volvo (OTCPK:VOLVY). Volvo has effectively abandoned gasoline powered cars for a hybrid and electric vehicle future from 2019 onwards. The signal from the global automotive incumbents shows how the global industry will react to China's Blue Ocean strategy in general.
These global incumbents have aggressively pushed back against China's new vehicle regulations, because they do not yet have the capex and plant in place to sustain an electric vehicle competition strategy with the Chinese producers. Global industry cries protectionism and foul play, when it has been strategically by-passed by the Chinese Blue Ocean. Thus far, global industry has not highlighted the role of the Chinese state in moving the goalposts and supporting its own industrial base. Perhaps this is because global industry still wishes to support "Xi Jinping Thought" and gain access to Chinese consumer markets.
China has also recently revealed its latest information technology transformation initiative for the future. The State Council published its guidelines for Artificial Intelligence (AI) development in China. The vision is for China to become a significant global player in AI by 2030. This is a classic state-driven initiative that aims to not only stimulate demand but also to enable the creation of an economic environment through rules, regulations and education. It will be interesting to see if the technology standards involved will be global or if China will seek to develop and then project its own standards onto the global economy.
Disclosure: I/we have no positions in any stocks mentioned, and no plans to initiate any positions within the next 72 hours.
I wrote this article myself, and it expresses my own opinions. I am not receiving compensation for it (other than from Seeking Alpha). I have no business relationship with any company whose stock is mentioned in this article.