With equity markets and high yield bond ETFs making new highs, calls for a correction are growing louder. Although I am concerned about valuations in risk assets and the impact of the Fed's policy tightening among other things, key market indicators suggest to me that appetite for risk is still strong and that a substantial decline in stock prices is therefore unlikely.
Risk appetite remains strong
Four indicators demonstrate that appetite for risk assets is strong across the board: tight high yield credit spreads, small-cap indexes making higher highs, solid breadth measures and outperformance by cyclical sectors.
The high yield US$ corporate bonds market (HYG) is making higher highs while high yield credit spreads remain very tight. Since high yield bonds tend to lead stocks, I find it hard to believe we can have a substantial (i.e. greater than 5%) correction while high yield continues to be so resilient. That said, I would grow concerned if high yield credit spreads rise above 4.2% since that is the widest level we have seen this year after they reached a 2017 low of around 3.50%. A higher high in high yield credit spreads would signal to me high yield investors perceive an important fundamental change that is prompting them to alter their approach. I would also grow more concerned if there is a break in the upward trend for HYG.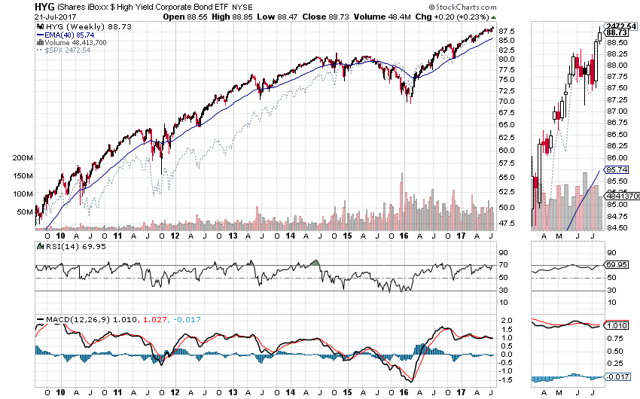 Source: stockcharts.com, July 23, 2017
Another indicator that risk appetite is still healthy is the strength of small-cap stocks (IWM). Although larger cap stocks have outperformed since late 2016, the new highs in the Russell 2000 are reassuring. I would only start to worry about the general state of risk appetite if we see a break in the upward trend of the Russell 2000.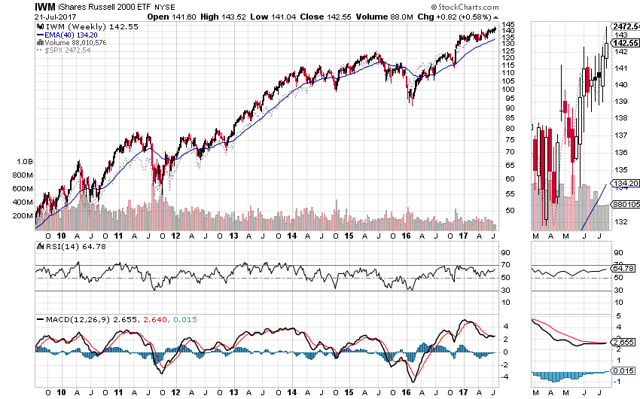 Source: stockcharts.com, July 23, 2017
The market rally has also been surprisingly broad considering the widespread focus on FANG stocks and other hot themes. In fact, over 75% of S&P 500 companies are above their 200-day moving average and around 68% of NYSE stocks are above their 200-day moving average. This implies broad participation in the market rally. Furthermore, the cumulative NYSE Advance-Decline line, which represents the number of rising stocks net of the number of declining ones, is in a solid upward trend and regularly making new highs based on weekly closes. This traditional breadth indicator tends to break down before the overall market does, so it is again difficult to imagine how the overall market can fall substantially before a key indicator like this one does.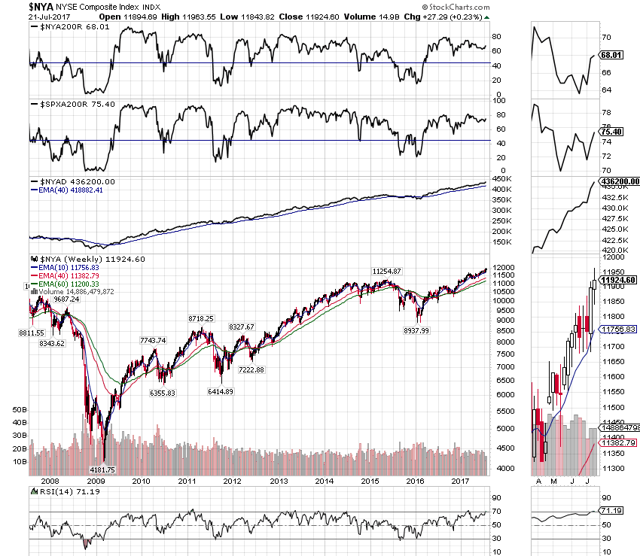 Source: stockcharts.com, July 23, 2017
Sector performance can also provide important clues regarding risk appetite and the likely future direction of the broader market. On this front, key sectors like transportation stocks (XTN), financial stocks (XLF), industrials (XLI) and tech (XLK) are in upward trends and outperforming the overall market. Moreover, consumer discretionary stocks (XLY) are outperforming consumer staples stocks (XLP), which is another sign that risk appetite is healthy.
Finally, as a bonus indicator, the trend of outperformance of the S&P 500 (SPY) versus 7-10-year US treasury bonds (IEF) remains intact. This is one of the simplest yet most powerful ways to gauge risk appetite. For me, it is unlikely that any decline of 3-5% in the overall market will extend into a more significant correction as long as the relative strength chart of SPY versus IEF remains above its 40-week exponential moving average (blue line in the below chart). After all, you need to see a clear shift in investor mentality for a small decline to turn into something more substantial.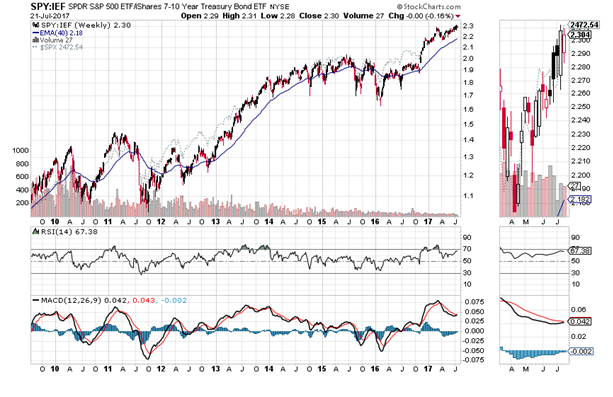 Source: stockcharts.com, July 23, 2017
Weak performance in commodities is the only concerning market indicator
It's good to see commodities outperform bonds, especially long-term bonds (TLT) that tend to be more sensitive to inflation expectations, as this typically represents an 'inflationary' environment. Stocks usually perform better in a mildly inflationary environment rather than a disinflationary one or even a deflationary one. Unfortunately, commodities have underperformed treasuries since the beginning of the year.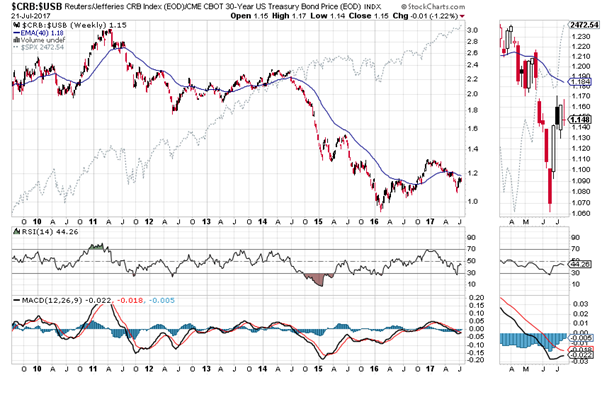 Source: stockcharts.com, July 23, 2017
This disinflationary environment, recently confirmed by a consistent fall in the Fed's preferred measure of inflation, appears to have prompted the Fed to remove the possibility of a rate hike in September. This disinflationary signal will likely place less pressure on central bankers to tighten monetary policy and also means that the health of the global economy is rather questionable.
The only commodity that is performing relatively well is gold. This has negative implications for risk appetite since gold's price tends to be inversely correlated with real US interest rates. This means that when gold's price is rising, real interest rates are usually falling (i.e. bond prices are rising). Falling yields tend to signal that investors are growing increasingly concerned about economic prospects.
The best risk vs. reward in the medium-term is currently with select stocks
Broad stock market indices such as the FTSE All-World are clearly overbought, so I don't believe the stock market as a whole represents a great risk vs. reward. However, there are individual stocks that appear to have been ignored by most investors and sold off so that money can be channeled into the high-flying names like Tesla (NASDAQ:TSLA), Facebook (NASDAQ:FB), Ali Baba (NYSE:BABA), etc.
Also, even though the market as a whole is seeing a spike in net insider selling, there are a few names that are seeing net insider buying. I use net insider buying as one of the signals I watch before taking a position in stocks that appear to have a strong risk vs. reward. Below is a list of stocks that I like at the moment from a risk vs. reward perspective:
Stock Pick 1: Devon Energy (DVN)
Devon has seen a rise in net insider buying following the sharp drop in its share price. It also now appears to have a decent support level around $29, which makes it easier for investors and traders to place their stop-loss. As pointed out by this excellent SA article, the company also appears to have several fundamental advantages: a lack of near-term maturities, a management team that has been deleveraging the company's balance sheet recently, prospects for revenue growth through the deployment of more rigs and a committed hedge book that could dampen the impact of a further decline in oil prices.
Stock Pick 2: AT&T (T)
AT&T appears to have suffered from the general narrative of growing industry rivalry among telecoms and falling margins over competition for offering customers unlimited data. Moreover, its balance sheet isn't particularly impressive, as suggested by a low Z-score. On the plus side, there has been more insider buying recently to offset the net selling over the last 12 months. I suspect we will see more insider buying if the stock approaches or even declines slightly below $35, which happens to be a technical support level. Moreover, the company has a stunning dividend that is well covered by its free cash flows. Over the medium-term, the company's proposed takeover of Time Warner will offer an opportunity to diversify its revenue stream away from the fiercely competitive telecommunications sector. I think the company's catalysts will likely start to play out over a 12 to 24-month horizon, so investors should focus on picking up shares as close as possible to the $35 support level to improve their risk vs. reward.
Stock Pick 3: Qualcomm (NASDAQ:QCOM)
The company's high dividend yield and modest forward P/E is offset by the overwhelming amount of net insider selling over the last 3 and 12 months. The insider selling coincided with stock's resistance around $60. The main thing with Qualcomm is that its near-term prospects will likely hinge on its acquisition of NXP and the outcomes of a growing number of litigation cases. Should the NXP acquisition go through without QCOM having to pay too much of a premium over its current proposed price, the company will likely open itself to a new range of revenue streams. Accordingly, investors can improve their risk vs. reward by picking up shares as close to the $50 support level as possible.
Stock Pick 4: Cisco (NASDAQ:CSCO)
Cisco's share price has suffered following downgrades to revenue and earnings guidance, prompting investors to shift their money elsewhere. Moreover, insiders have not been buying the stock lately despite a drop of 8% from its 52-week high. However, the company has made some interesting acquisitions in sectors like cyber security and blockchain technology, which could encourage upward revisions to revenue and earnings within 12 to 18 months. The technical support for this stock is around $28, and I suspect we will see insiders begin to buy shares if prices decline to that level.
Stock Pick 5: Pfizer (NYSE:PFE)
Pfizer is in a challenging position and many investors appear confused about the company's long-term intentions. It has openly searched for a large acquisition for some time and even made an arguably overpriced purchase in August 2016. It is therefore not surprising to see that insiders are not piling into the stock, although I suspect they will be motivated to do so if the share price were to decline to $28. After all, this is a company with a high free cash flow yield and solid dividend along with 34 pipeline items in Phase III. From a technical perspective, the risk vs. reward becomes more compelling the closer the price gets to $30. Another point worth noting is the tightening Bollinger Band Width, which tends to foreshadow a violent move up or down in the share price in the near future. A sharp move lower could create a favorable entry point for long-term investors.
Risk management
I would recommend that everyone considering the above stocks place a stop-loss at least 15-20% from their average cost price so that they can limit their risk in the event of a market panic or bad news focused solely on these companies. Moreover, investors should limit their capital at risk with prudent position sizing, preferably with a tool like this one. Although I do not think we will witness a market panic any time soon, I wouldn't rule one out either. Should such a panic come about, investors must remember that even the best companies will suffer substantial corrections.
Conclusion
Until we see a clear deterioration in the high yield market, small-cap stocks and/or key breadth measures, the likely path for risk asset prices is up. With treasury yields and gold stuck near the middle of their respective ranges, the risk vs. reward for short or long trades is not especially good for either treasuries or gold. The best risk vs. reward among the traditional asset classes is therefore likely to be in individual stocks - especially those that boast three of the following four characteristics: sound fundamentals, net insider buying, catalysts for revenue and earnings growth within the next 12-24 months and a clear support level that will likely remain intact unless there is a serious deterioration in the company's prospects.
Disclosure: I am/we are long CSCO, PFE, QCOM, T, DVN.
I wrote this article myself, and it expresses my own opinions. I am not receiving compensation for it (other than from Seeking Alpha). I have no business relationship with any company whose stock is mentioned in this article.