It's been quite an exciting week for type I diabetes sufferers. Three separate developments have fortuitously converged on the disease just in the last few days, each with a separate approach that looks promising. Two are privately funded university-based clinical trials that could eventually be acquired by a big diabetes player, and one, a press release by Caladrius Biosciences (NASDAQ:CLBS), is already investable. Let's briefly go over the two private trials and then address Caladrius.
Type I diabetes is less common than type II and is an autoimmune condition with immune cells killing pancreatic beta cells, the ones that produce insulin. In type II, the body becomes resistant to insulin and as beta cells try to compensate by producing more, they become burnt out and die over time.
According to the journal Epidemiology, about 6% of the US population suffers from type I diabetes, defined as a diabetes diagnosis under the age of 40 and actively taking insulin. That's a market of about 19.6M people. As per this recent analysis, the global treatment market for type 1 diabetes will expand from $6.6bn in 2013 to an estimated $13.6bn by 2023. The US alone accounts for more than 70% of this entire global market and the same analysis expects its share to increase to 78% by 2023. That's a total addressable market of more than $10.6 billion within 5 years.
So while not as big as type II, it is still quite a huge market.
Earlier this week on July 17th, a trial at Hackensack University in New Jersey reported progress on what lead study author Dr. Yong Zhao calls "stem cell educator therapy". Unlike most stem cell therapies, this one does not rely on using a patient's own stem cells to regenerate tissue. In other words, while most stem cell therapy is regenerative, this one is not. It rather uses the blood stem cells from the umbilical cord of an unrelated newborn to retrain the immune cells of type I diabetes sufferers. The theory is that stem cells reeducate the erring immune cells on how to behave properly.
The immune cells are first filtered out of the patient's blood, intermingled with stem cell rich umbilical cord blood, and then reintroduced to the patient. The exciting news is that two people in the study who received treatment within 5-8 months after initial diagnosis did not need any insulin four years after the treatment. Another patient already had the disease for 4 years and showed signs of improvement in insulin production, but did not reach remission. The other 6 patients unfortunately did not show signs of improvement. 3 out of 9, or 33% efficacy, is still quite impressive though for a disease that has been considered until now incurable.
The second development comes from Finland in a study based off recent research that suggests that beta cells infected with enterovirus cause immune cells to attack the beta cells. The solution being tested is to vaccinate against the offending enterovirus implicated in increased risk of type I diabetes, and then seeing if this lowers incidence rates in vaccinated patients.
On July 19th it was announced that upon successful preclinical animal studies, the enterovirus vaccine will be tested in humans for the first time. The initial trial will test safety of the vaccine. A second phase will test its efficacy in preventing enterovirus infection. The third phase, which could take as long as 8 years, will see if successful vaccination against enterovirus successfully reduces the incidence of type I diabetes. This is not a cure, but a potential method of prevention, much like the human papilloma virus vaccine helps prevent cervical cancer.
Caladrius
As for Caladrius, the company just served up a major update from an ongoing study in its lead development asset, CLBS03. The development itself hasn't injected any real upside momentum into the company's market capitalization, but there's a good chance that its implications may do if and when they play out.
The release announced that 50% of subjects with recent onset type I diabetes have been enrolled and treated in a Phase II efficacy study.
CLBS03 attempts to stop the body's attack on beta cells. The mechanism of action of CLBS03 is rooted in the interaction between T effector cells and T regulatory cells (Tregs). The former are responsible for attacking certain cells as part of our immune system's natural response to pathogens, disease, etc. The latter, the Tregs, keep this response in check to make sure that the T effector cells don't attack useful and non pathogenic cells in healthy people. In type 1 patients, the Tregs aren't stopping the T effector cells from attacking the beta cells responsible for insulin production.
With CLBS03, the company removes Tregs from a patient and modifies them so as to promote their inhibitory effect on T effector cells. The idea is that this should curtail the latter's attacking of beta cells and in doing so preserve the remaining beta cells so they can keep producing insulin. A simplified version of the science can be found in a company presentation.

Essentially, by increasing the amount of Tregs and rebalancing the immune system, effector cells can be stopped from attacking beta cells. In theory, this method could be used for any autoimmune condition, but first we need to see if it works on type I diabetes before we count our chickens.
There's a wealth of early stage data that supports this hypothesis. The most encouraging results (page 18 at presentation) come from an EU study of 22 patients aged 5-18. 8 of these 22, or 36%, achieved either remission, defined as less than 0.5 UI/kg of insulin per day, or complete insulin independence after one year.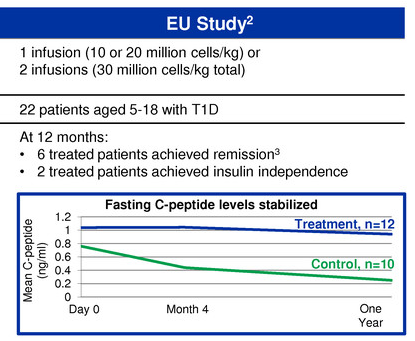 The treatment, though so far determined safe, does not seem to be as effective on adult patients, probably because most of their beta cells have already been destroyed whereas many of these cells in children recently diagnosed are still functional.
Caladrius is trying to build on this existing data with the end game of using it to underpin a pivotal study and - beyond that - a registration application in the US with the FDA.
The trial is called The Sanford Project: T-Rex Study and it's a randomized, placebo-controlled, double-blind investigation set up to establish the impact of this sort of Treg based treatment in type 1 patients. The study is aiming to enroll a total of 111 subjects age 8 to 17 and - as noted in the latest development - 50% of this target population has already been dosed. Younger patients were chosen probably in an effort to reproduce the remission rates seen in the first trial.
The half way point in dosing is important because a prespecified interim analysis is set to take place after the six-month post-treatment follow-up visit point. The more patients that are dosed, the closer the company is to reaching this point and - in turn - the closer we are to getting the interim report and seeing whether or not the treatment is working at all in these patients.
Right now, and based on the enrollment/dosing rate outlined in the latest announcement, the company is banking on getting the results of this interim analysis in the hands of investors at some point during late 2017 or early 2018.
The interim analysis should give investors a pretty good idea about whether Caladrius is on to something. A positive interim analysis should push the stock higher by at least 10-15%, depending on how good the results are. Underwhelming results could cut the stock by even more than that however.
Cash
There is another reason why the 50% enrollment mark is important, and that is cash. Enrollment of the 70th patient will trigger a $2.4M cash payment via just over half a million shares agreed for issuance in previous private placement agreements. That money would put Caladrius's cash reserves at about (Correction made August 9 2017) $90 million, taking into account the recent sale of subsidiary PCT to Hitachi Chemical. At current burn rate, that's 3 years runway.
Conclusion
The fact that private trials as well as Caladrius's CLBS03 are converging at the same time on promising type I diabetes developments indicates that something serious is going on here and that researchers are up to something with the disease. For Caladrius in particular, judging by previous results in young patients, positive interim results look probable. Whether they will be sustained long term becomes the next question, results that are probably a year and a half or so away. Investors looking to take advantage may consider positioning themselves towards the end of the year as the interim results get closer to publication.
Disclosure: I am/we are long CLBS.
I wrote this article myself, and it expresses my own opinions. I am not receiving compensation for it (other than from Seeking Alpha). I have no business relationship with any company whose stock is mentioned in this article.
Editor's Note: This article covers one or more stocks trading at less than $1 per share and/or with less than a $100 million market cap. Please be aware of the risks associated with these stocks.