It's true: if you look at the historical price chart for Groupon (NASDAQ:GRPN) stock since its IPO it does not paint a pretty picture:

And if you read some of the current commentary from analysts at Bank of America or Morgan Stanley, you wouldn't think that anyone in their right mind would want to purchase Groupon stock (in fact, as of 7/21, none of the 18 analysts covering Groupon have it as a buy). The key rationale coming from the bears is that:

The cost of customer acquisition and retention is expensive which leads to
Very high marketing and advertising expense which means that

Groupon may operate at a loss and not turn a net profit for quite some time
This narrative makes a lot of sense, but may I remind you that most of these analysts are sell side. I would not recommend buying Groupon if you're only planning on holding it for 1-2 years. But for a longer term investor who can stomach some mediocre growth in the short term, I believe at a price under $4.00 Groupon has enough upside potential to warrant stashing it into a portfolio.
Here's why:

A New Strategy
Groupon's stock dropped nearly 25% in after hours trading after it was announced that Eric Lefkofsky would be stepping down and Rich Williams would be taking his place. When Williams took over the helm in late 2015 he clearly outlined a strategy to turn the company around:

Renew investment in customer acquisition

Get out of international markets that don't make sense

Shift "Goods" category away from lower margin products
Turning a struggling company around can take time, and it isn't easy (ask Marissa Meyer or Meg Whitman). But, in 2017, it finally appears that Williams' strategy is starting to yield results. Last quarter (Q2 2017), Groupon beat Wall Street expectations with revenue of $934.9 million (vs. $912.8 million consensus) and a EPS of $0.07 (vs. $0.02 consensus estimate.) In fact, Groupon has beat consensus estimates the last four quarters dating back to Q2 2016.

Let's look at each component of Williams' strategy in more detail.

Customer acquisition and retention
Groupon currently has 48.3 million active customers. One of the company's earlier problems was churn. In addition to spending money on acquiring new customers, Williams has been smart to invest in other components that will retain current customers. For example, significant upgrades to the app have made for a better experience (No. 1 retail app on iOS and Android with 92% customer satisfaction), as well as investment in customer service staff so that there is little to no friction when users have issues or questions about a deal. Overall, Groupon reports that their "time to payback" for marketing is 12-18 months which isn't great, but it's not going to put them out of business, either. (source)
Leaving non-accretive international markets
I believe this is one of the smartest moves Williams has made, but is also taking time. Thus, the financial impact has actually been negative so far as Groupon works to exit a number of countries. Groupon was spending far too much money opening up shop in low margin countries like Morocco and Thailand, ignoring the opportunity to build relationships with their customers in North America. It's still early, but the results from Q1 2017 were positive: Groupon added 4.7M customers in North America in the last year (an 18% increase). (source) Gross profits in North America were up 2.3% year over year in Q1.

Shift "Goods" category away from lower margin products
Groupon made a mistake trying to capitalize on products like electronics which have higher revenues but are much lower margin. There are already plenty of sites out there, namely Amazon (NASDAQ:AMZN), that sell discounted products. Groupon needs to continue focusing on local - it's higher margin, they've already established relationships, and there's not much competition (more on that later). Local gross billings in North America increased 9% year over year in Q1 2017.
Decreasing Expenses and Decreasing Competition
While Groupon is spending money on marketing and advertising, the company has been intentionally reducing expenses via headcount and other SG&A. Here are two slides from the Q1 earnings release that summarize: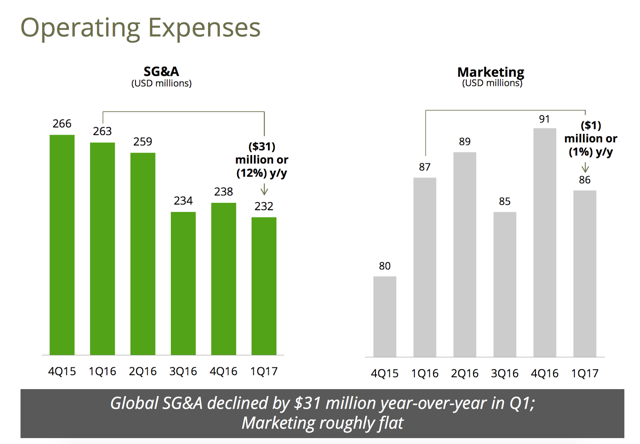 (Source)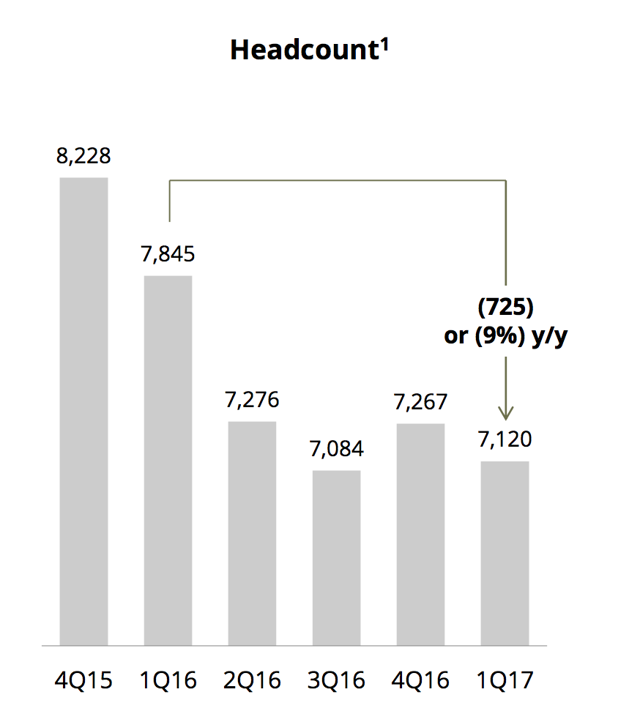 (Source)
In addition to decreasing expenses, the competitive landscape is actually getting smaller, especially with Amazon exiting the "local deal" space. Since Groupon acquired LivingSocial (for basically nothing, by the way) last year, there really aren't any major competitors left. Of course, there's always the risk of a new company entering the space. But given the expense of customer acquisition, Groupon definitely has a first mover advantage that should be defensible.
Putting It All Together
I'm bullish on Groupon (for the long term) because I believe:
They're spending their marketing dollars in the right places and on the right areas of the business (North America, Local)

Decreasing overhead expenses will help manage cost

There are no real competitors in the space
If Groupon can continue to grow new customers in North America at 18%, they will have 5.55M. With an average gross billing of $123.00 (source), revenue from new customers would be $682.65. I believe the investments in customer service, mobile technologies, and building relationships with current customers should increase the average gross billing rate so the increase in revenue should be even more substantial. By the end of 2017 Groupon should have completed all of their country exits which will reduce financial noise. Finally, I believe Groupon stock should be able to weather any overall economic downturns as customers will likely be more adept to discounts/deals.
I'm curious to hear your thoughts. Do you believe even at under $4.00 Groupon is overvalued? Why or why not?
Disclosure: I/we have no positions in any stocks mentioned, and no plans to initiate any positions within the next 72 hours.
I wrote this article myself, and it expresses my own opinions. I am not receiving compensation for it (other than from Seeking Alpha). I have no business relationship with any company whose stock is mentioned in this article.