Introduction:
There are a million stock market clichés. You have heard most of them, here in articles and comment threads at Seeking Alpha. You have heard them from your mom and dad, who were stock market investors and if you lived during the go-go stock market days of the late 1990s, then you heard them from your barber, the guy who changed your oil, the guy who sold you groceries and everyone else who was investing in the stock market.
My favorite cliché is "Buy low, sell high." It's simple. It's concise. It is pure genius.
But it is probably the most ignored stock market cliché of all.
What You Should Know:
Most investors do not "Buy low and sell high."
Most investors don't even come close to "buy low and sell high."
They don't because most investors live in a world that is surrounded by fear. There are so many different fears out there that one can honestly say they outnumber stock market clichés.
Many investors rationalize their decisions to not be investing in out-of-favor stocks. The most common refrain seems to be, "The market is at all-time highs, so I'm not buying anything here."
Even worse are the folks that are presented with an investment thesis for an out-of-favor stock, like Target (TGT) for example and their response is "Well, everyone knows that retail is dead and investing there is like trying to catch a falling knife."
Investing in stocks when no one else seems to want them is a recipe for capital gain opportunities that many investors seem to continually miss.
What Are You Talking About?
As a Dividend Growth Investor, also known as "DGI," I like to invest, for the most part, in companies that have a history of increasing dividends annually, for at least 5 years in a row. I like those dividend increases to be in excess of 6% annually, so that I am able to stay ahead of the underlying inflation that we all have to deal with, living in the USA.
That being said, I also like to purchase shares in these dividend growth stocks when they are priced at a value to their intrinsic worth. Now, I understand that for many people, the concept of intrinsic worth is kind of a moving target, but I look at it from a dividend yield point of view, first, and a fundamental analysis, second.
You can learn more about my screening process here.
So, What Are We Really Talking About?
Most people have access to stock market screens of one kind or another. My brokerage Schwab has a pretty good stock screen that gives you a number of options, but the other brokerages also have stock screens for investors to use as a starting point.
I called up a screen this weekend that was pretty interesting. My screen looked like this: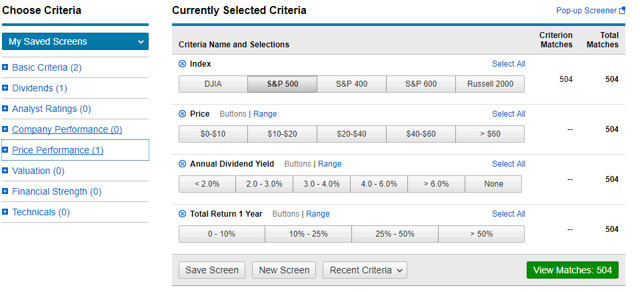 What I wanted to see were the companies that made up the S&P 500 and the 1-Year Total Return for each of those companies. When I went to "View Matches" I decided to have the screen rank them from largest total return percentage to lowest total return percentage (which produced some negative numbers).
Here are the companies with the best 1-Year Total Return: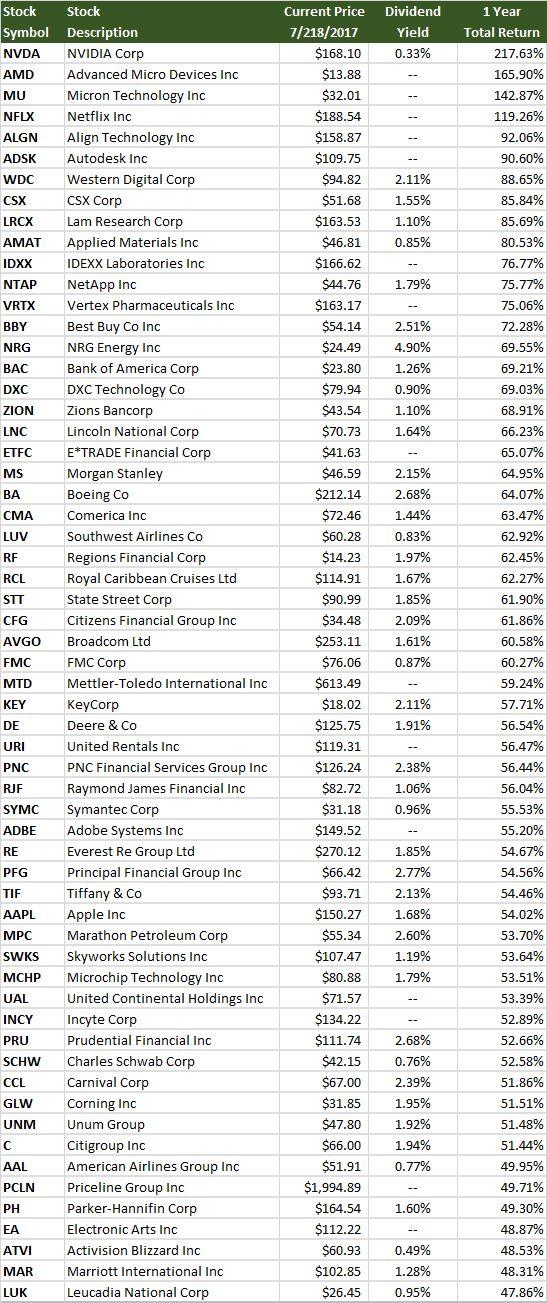 If you look at a one-year price chart for each of these companies, you will begin to see how potentially undervalued they were a year ago. There are two companies on this list that we purchased for The Perfect Portfolio last year. Those two companies are Western Digital (WDC) and Marathon Petroleum (MPC).
Western Digital: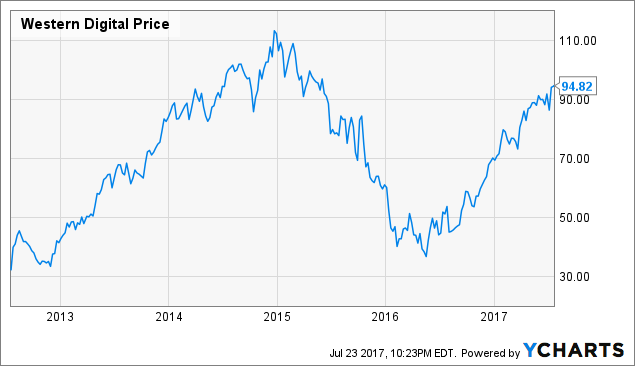 After a nice run-up in price from 2013 to 2015, Western Digital began to experience a price decline moving toward 2016 and into that year. We added WDC at a price of $43.50 a share on April 26, 2016. If you look at articles written about Western Digital in early 2016 you will find both pro and con articles from various authors.
Marathon Petroleum: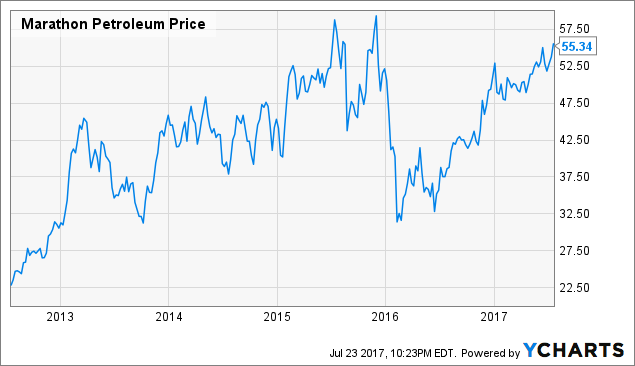 Marathon Petroleum shows a similar dynamic to Western Digital. A nice upward movement in price from 2013 through 2015 and then a decline in 2016. We purchased MPC at the same time that we purchased Western Digital and added our position at $41.50 a share.
Hope that you don't miss this, but in both purchases we did not "catch the low" but we did get pretty close. And in my opinion, getting close is as good as it gets.
But Wait, It Gets Even Better:
When we scroll down the list of stocks that have the best 1-Year Total Return, we see a few more stocks that we own in The Perfect Portfolio or that we added to our portfolio in 2016. Other holdings that did well in terms of 1-Year Total Return were Microsoft (MSFT), Reynolds American (RAI), JPMorgan Chase (JPM) and McDonald's (MCD).
But, I said "it gets even better" and it does when we look at the underperformers, relative to the 1-Year Total Return. Here is that list of 60 for your review: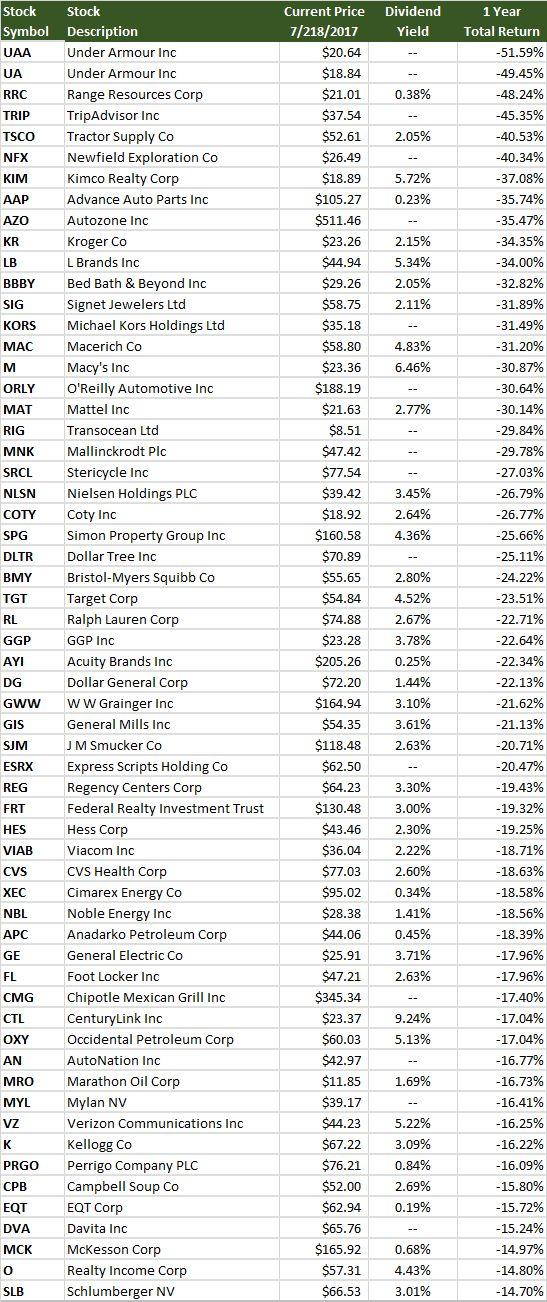 In a previous article, I discussed our watch list for The Perfect Portfolio. I hadn't looked at this format before identifying the watch list stocks that are:
W.W. Grainger (GWW), General Mills (GIS), and CVS Health Corporation (CVS).
There are also some interesting names on this list of the "worst" performing companies as measured by the 1-Year Total Return numbers, but more research would be advisable before making a purchase.
One Stock Stands Out:
From the perspective of the amount of interest a given company can generate on the pages of Seeking Alpha, Target is one company on this list that sticks out the most.
The number of articles, pro and con, for Target is pretty large. Go to this link and check it out.
I love reading these articles for a number of reasons. The passion of the authors for or against a given company is just priceless, in my opinion. I love that. The other thing that I find interesting is the thought process that each author, pro or con, puts into their opinions about a given company. Sometimes, you find an author who has put "a spin" on the analysis that you've never even considered and that can influence your own decision to purchase or walk away.
Conclusion:
The universe of stocks for you and I to own is fairly large. There are companies selling at 52-week highs and 52-week lows. In either case, there is nothing that should make you run out and purchase any company, just because that company is priced at either a 52-week high or a 52-week low.
In my opinion, looking at those companies that are priced at 52-week lows or on the spectrum of poor performance relative to the overall market makes more sense as an exercise.
Let me explain. If we are looking for bargains, then we are often sorting through a bargain basket of companies. Take the best performer list from the beginning of this article and ask yourself, "Why didn't I buy any of these companies a year ago?"
That list of 60 stocks has something for everyone. There are growth stocks and there are dividend growth stocks in that list. A year ago, the coal issue had people bailing out of CSX Corp (CSX). Who in the world was buying Best Buy (BBY) a year ago? Sure, wasn't in my wheelhouse.
And what about the list of the worst performers? Anything there sounds interesting to you? Well, they are cheap, right now. And there might very well be a good reason for them to be cheap. That's where you come into the equation.
If you are going to purchase individual stocks, then you are going to have to "take the shot" or "pass the ball." It's all on you.
What separates us as investors are the decisions that we make. We can either make a purchase of a given stock or we can decide to pass on making a purchase. But don't forget:
If we buy the stock, it can:
Appreciate in price from our entry point
Remain price-bound and trade within a tight range
Erode in price from our entry point
But, on the other hand, if we do not make a purchase, the same thing is true. The stock can appreciate, remain price-bound, or continue to drop in price without us having any skin in the game at all.
In other words, the stock is going to do whatever it's going to do, with us or without us. Our ownership or non-ownership of the stock is irrelevant to whatever happens moving forward.
So, you put down your money and you take your chances. Good luck!