Recent MLP tailwinds (oil prices, lack of equity issuance) reversed this week, pumping the brakes with a 1.9% decline after 3 weeks of outperformance. The move this week reversed last week's 1.9% gains and mirrored the drop in oil prices. NGL prices were up and interest rates declined, but otherwise prime conditions from last week were not in place this week.
The week started out sleepy: MLPs traded basically flat through Wednesday ahead of KMI earnings. Flatness gave way to weakness Thursday and Friday, hurt by a large secondary sale and perhaps some rotation into KMI, which traded up Thursday and Friday on the latest round of management promises made. MLPs dropped below 300 on Friday, after closing above 300 for 5 straight days.
Strange Things are Afoot at the Circle KMI
Owner of the Circle K brand of convenience stores and gas stations, Couche Tard, made some news this week with its MLP plans (see below). This weekend, I re-watched the one movie I am aware of that references Circle K directly: Bill & Ted's Excellent Adventure, where the future of humanity depends on a high school oral report aided by a time travelling phone booth.
While it's no Back to the Future, the 1989 film still holds up, at least for me. It also made me realize that the Magic Treehouse series of children's books are a blatant rip-off of this film (just replacing the time travelling phone booth with a treehouse). It probably also inspired Wayne's World, but I digress…
In Bill & Ted's Excellent Adventure, the title characters start in their garage discussing a predicament they face in establishing a band that will change the world: they will never be a super band until they have Eddie Van Halen on guitar, but they do not believe they will get Eddie Van Halen on guitar until they have a triumphant video, and they can't make a triumphant video before they have decent instruments, and they can't have decent instruments until they know how to play guitar. And that's why they need Eddie Van Halen and a triumphant video.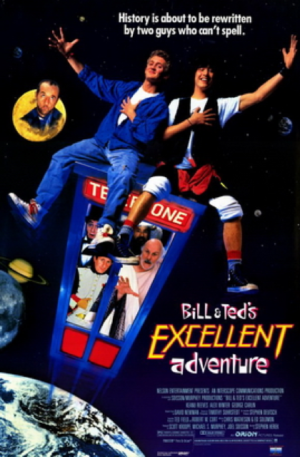 You can discount this opening dialogue as drivel to provide expositional insight into the vapidity of Bill (a young Keanu Reeves) and Ted, but it also could be considered foreshadowing of the paradoxes of time travel they explore later.
Paradoxes are at play in midstream as well. MLPs have always been a circular formula: per unit distributions are paid out of cash available after IDRs that depend on how high the per unit distribution is. MLPs also rely on high current unit prices to create future value with funds raised by issuing more units.
Kinder Morgan announced a new plan this week, including a large dividend increase and a potential $2bn share buyback, funded with excess cash flow. KMI appears comfortable with leverage around 5x as a new normal, even if it remains high relative to other large midstream companies (ex-Canada and PAA).
KMI wants back in the growth / M&A game, and this latest announcement is designed to achieve that end by establishing a better equity currency, even if it doesn't add much debt flexibility. Even if KMI is no longer an MLP, the circularity of the business strategy remains. The market cheered the early dividend guidance, and if that continues, a virtuous circle could replace the vicious one we've seen over the last few years.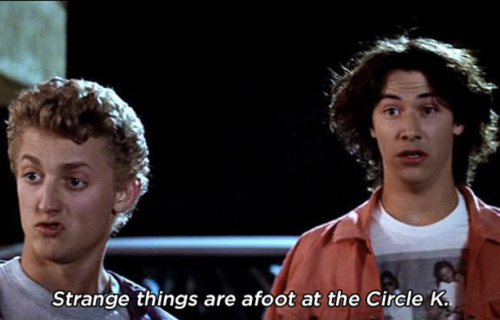 More Time Travel
In another blast from the past, a couple of data points this week confirmed sponsors (and their bankers) still find the MLP model attractive for value creation. Small-cap wholesale distribution and convenience store MLP CAPL and its Circle K-owning sponsor delineated a strategy to continue using its MLP to acquire its fuel distribution assets over time.
In separate news, BP announced it is considering an MLP subsidiary for its U.S. pipeline and storage assets. So, even as some of the oldest MLPs exit the structure, others see value in the structure. It is still a safe bet to assume ongoing consolidation will result in fewer MLPs in the next few years, net-net.
Winners & Losers
CAPL's sponsor affirmed that CAPL has a role to play in its future plans, which was enough to spark a significant move higher. HESM elevated after a rough few months of toiling in obscurity post-IPO and is still below its IPO price ($23.00). TLP's distribution increase helped it catch a bid.
Selling shareholders for ENBL (CNP) and WES (First Reserve) weighed on those stocks. NGL continues to struggle as issues from last earnings release related to Colonial Pipeline don't seem to be improving.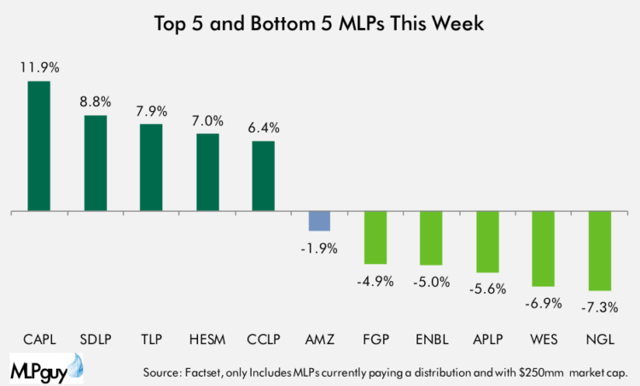 CCLP made it two straight weeks in the top 5. APLP dropped into the bottom 5 after strength in recent weeks.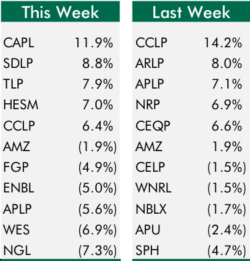 Year to Date Leaderboard
DKL popped into the top 5 on the leaderboard this week, replacing fellow small cap refinery-backed MLP WNRL. Little change among the YTD losers.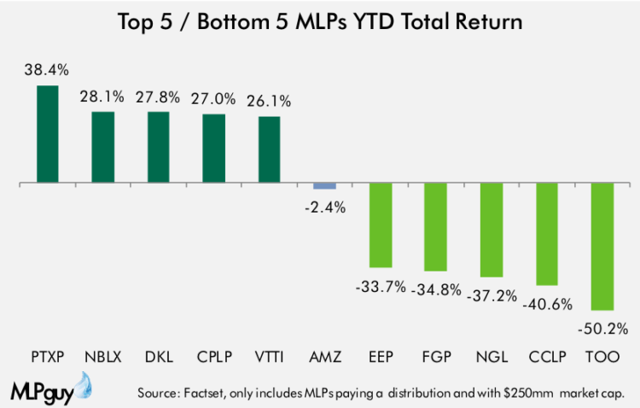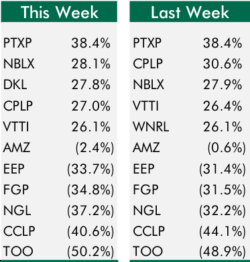 General Partners and Midstream Corporations
Midstream corps and GPs traded in line (down) with the MLP index and oil prices this week, but there were a few bright spots. KMI took the top spot, but other midstream corps that typically underperform with lower oil prices (PAGP and TRGP in particular) outperformed. KMI's announcements may have brought some generalists back to the sector, and may have helped OKE and WMB outperform. LNG sold off hard on no news other than higher lower oil prices.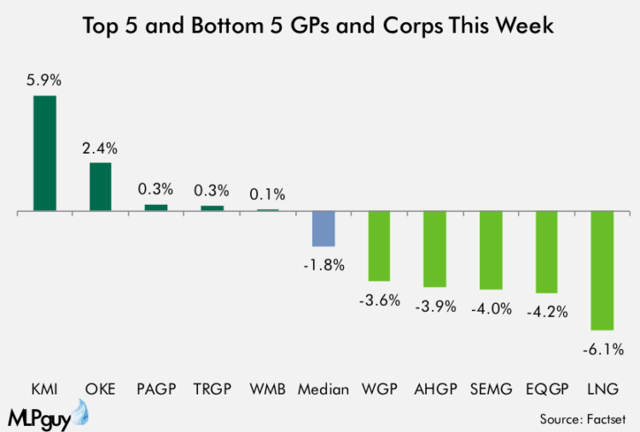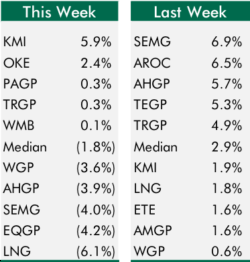 News of the (MLP) World
Another active week. PAA secured volumes in the Permian for an expansion to Cushing. Laredo Petroleum (NYSE:LPI) also confirmed the sales process for its Medallion Midstream, which may fetch $2bn+. This announcement helped Laredo, but may have contributed to weakness in MLP land in anticipation of equity issuance and near-term dilution if an MLP wins the process. Equity overhang and high multiple growth projects are clearly not welcome by the MLP market for now, unless you are OKE.
Capital Markets
First Reserve Corporation executed a large block trade of 13.0mm units of Western Gas at a discount of 6.5%

No primary units were issued, the sale was all secondary and cleaned out First Reserve's entire position in WES
Units traded down 0.2% in the next session
ONEOK entered into $1bn equity distribution agreement (filing)

This $1bn filing did not spook buyers of OKE, which outperformed significantly this week
Viper Energy (NASDAQ:VNOM) priced upsized public offering of 14.0mm units at $14.75/unit, raising $206.5mm of gross proceeds (press release)

Overnight offering, priced at 9% discount, and traded up 3% in the following session
VNOM's parent Diamondback (NASDAQ:FANG) has agreed to purchase 700k units, an affiliate of VNOM's GP has agreed to purchase 3mm units, and certain officers and directors of FANG and the GP have agreed to purchase 114k units
Major integrated oil company BP announced evaluation of an IPO of its midstream assets via an MLP (press release)

Midstream assets include crude oil, natural gas, and refined product pipelines located in the Midwest and on the U.S. Gulf Coast
BP midstream assets transport 1.3mmboe/d of oil, products and gas through 3,500 miles of pipeline
If BP chooses to pursue an IPO, the SEC filing of a registration statement would take place in 2H 2017
Growth Projects / M&A
Western Refining Logistics (NYSE:WNRL) received buy-out offer from Tesoro Logistics (TLLP), as expected (filing)

TLLP offered to purchase all outstanding units of WNRL in an all-equity transaction with an exchange ratio of 0.4906 TLLP units per WNRL unit
The resulting value to WNRL unitholders represented a 0.3% discount to closing price on 7/20, but a 23% premium to WNRL's price prior to the merger of the MLP sponsors TSO and WNR
This was a very well-telegraphed and expected transaction, which is also expected to be executed alongside a transaction that eliminates or resets TLLP's IDRs
Plains All American announced successful open season and expansion of Delaware Basin to Cushing pipeline system (press release)

Open season received enough shipper commitments to increase capacity by approximately 120,000 bpd
PAA will build approximately 180 miles of pipeline from Colorado City, Texas, to Wichita Falls, Texas, expanding the Delaware Basin capacity system by 200,000 bpd
Williams Partners (NYSE:WPZ) filed application with FERC seeking approval for North Seattle lateral upgrade project (press release)
CrossAmerica released a strategic update that outlined long-term plan for how CAPL's sponsor would use CAPL (presentation)

Over time, through asset swaps and drop-downs, CAPL will be streamlined to focus exclusively on fuel distribution, while Couche Tard will retain retail stores and retail gas station business
Laredo Petroleum confirms sales process for Medallion Midstream (press release)

Medallion is owned by Laredo (49%) and private equity firm Energy Minerals Group (51%)
Medallion owns an oil gathering system in the Midland that feeds into Bridgetex pipeline
Tesoro Corporation (TSO), sponsor of Tesoro Logistics (TLLP), announced agreement with Pemex to provide terminalling and transportation services for refined products in Northwest Mexico (press release)

TSO plans to integrate the assets with its West Coast Refining and Logistics segment and market products under ARCO brand
Other
Enterprise Products (NYSE:EPD) won appeal in suit against Energy Transfer (NYSE:ETP) stemming from a 2014 Dallas jury verdict in a lawsuit filed by ETP over a proposed pipeline project that was cancelled due to a lack of customer support (press release)

The amount in question is around $500mm, but is likely not resolved until another few rounds of appeals
Distribution Announcements