Despite the bearish trend in crude oil prices, there are signs that demand is picking up. Just last week, the EIA reported that inventories fell 7.6mm for the week ending July 14 after falling 6.3mm the prior week.
We all know that rig counts have been on the rise as has U.S. oil production and yet crude oil has bounced off its lows in June. Although crude is in a bearish trend, we'll analyze the signs that demand could be firming up.
The roller coaster ride in crude oil prices has impacted investors who are long crude via The United States Oil ETF, LP (USO), the Vanguard Energy ETF (VDE) and stocks like Exxon Mobil Corporation (XOM) and Devon Energy Corporation (DVN) to name a few.
A look at overseas demand
Since Norway is an oil exporting country, export growth is a great indicator for a potential increase in demand for crude oil. We can see any changes in oil demand by watching two indicators. The first indicator is Norway's crude exports and the second indicator is the Norwegian kroner exchange rate to the U.S. dollar.
By no means is this analysis comprehensive for the entire oil market. However, because the exports of oil and natural gas are so critical to Norway's economy, any change in exports can be a great indicator for oil demand and give us insight to the fundamental picture of crude. In short, it strips down the analysis to the lowest common denominator; supply and demand.
Monthly percentage change in crude oil exports from Norway
As we can see in late 2016 and into Q1 of this year, crude exports were increasing on a monthly basis. Crude prices were trading around $53 to $54.
Since March, exports have fallen off slightly. This makes sense since oil inventories also showed a rise during this time and so began the slide in oil prices to $48 by the end of March, to $45 by the end of May, with a slight bounce to $47 by the end of June.
Although crude oil exports in May were down on a month-to-month basis, they were up 16% as compared to May of last year.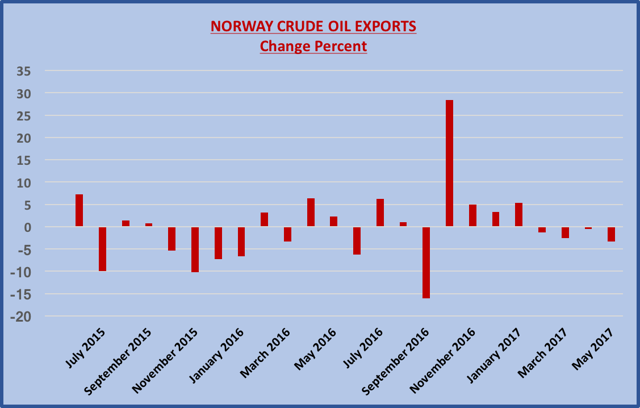 Data: Statistics Norway (chart & table by chrisbmurphy.com)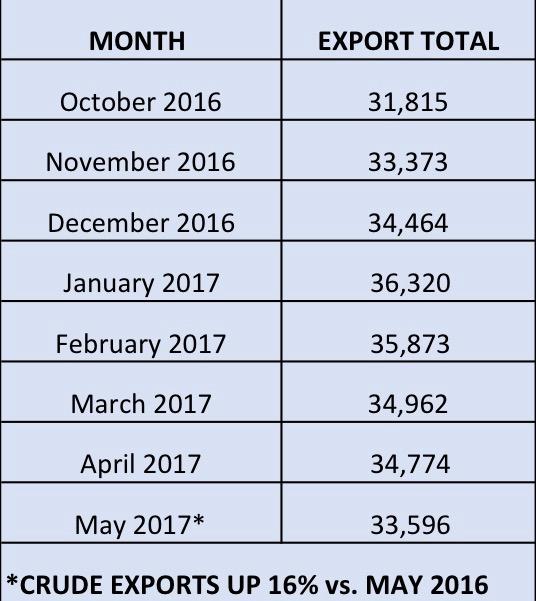 In looking at the table to the right and the chart above, crude exports have been down slightly from month-to-month, but have never exceeded a 5% reduction in any given month since September of last year.
For as low as crude oil prices have been lately, and all the talk of oil being in a bearish trend, Norwegian oil exports have remained relatively stable.
Perhaps Norway's exports are signaling a firming in demand and may be indicating a bottom in oil prices is coming soon.
Norwegian kroner is strengthening against the U.S. dollar.
We can see from the chart below that the kroner correlates fairly well with crude oil prices.
Just a week ago, the kroner broke higher through the red trend line connecting the highs of the bearish move which started back in 2015.
There are a myriad of reasons why the kroner could be strengthening, and it could simply be due to dollar weakness. However, the kroner rose even when the dollar was trading sideways earlier this year.
One reason for the strength in the kroner is possibly an increased demand for their exports.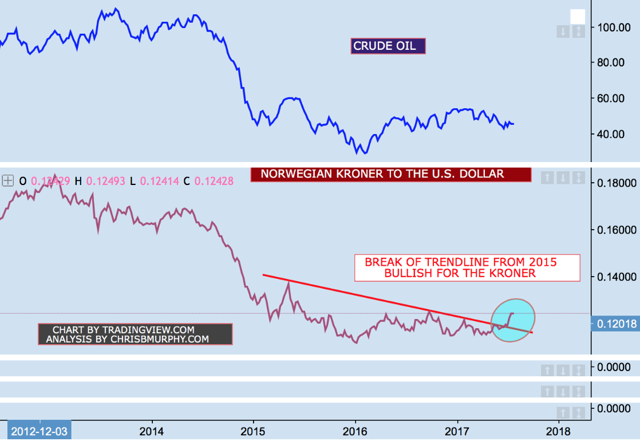 As companies buy oil from Norway, they must convert their currency to U.S. dollars to pay for it. However, at the end of the day, the production facility needs kroner to pay their employees and ultimately converts the U.S. dollars from the sale of the oil into kroner.
In short, a stronger kroner or weaker dollar results from increases in purchases of crude oil exports from Norway. This is why currency exchange rates are great early indicators for what the private sector is doing internationally.
How does the data from Norway fit into the overall narrative of crude oil production, supply, and demand?
U.S. crude oil stocks have come down consistently since the top in March, perhaps indicating a rise in demand.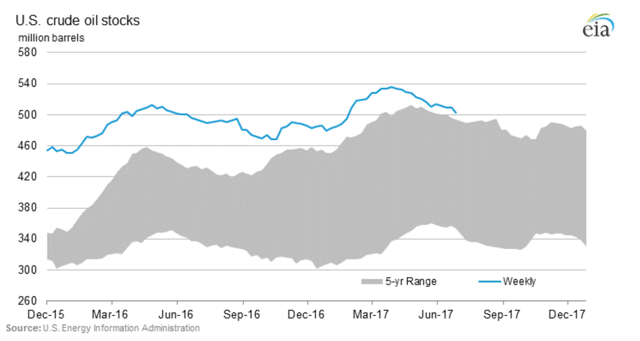 Crude oil days of supply
Further illustrating the fall in stocks is the drop in crude oil days of supply charted below showing a steady decline since the highs in March.
Although the fall in days of supply has not been dramatic, as of July 1st, days of supply is down on a year-on-year comparison. (see table below).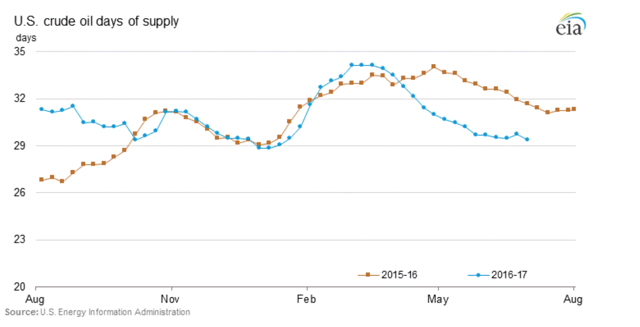 One might conclude that the decline in days of supply and reduction in stocks has been due to a decline in production. However, U.S. production has remained stable as in the chart below.
U.S. crude oil production
Although production is off slightly from the highs in March, U.S. oil production has been relatively stable during the recent slide in oil prices.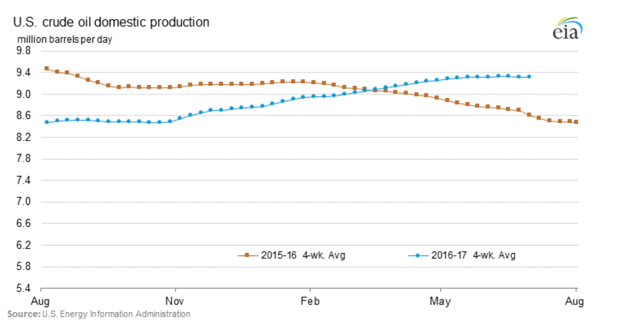 Fitting it in to the overall crude oil narrative
The U.S. data outlined above fits nicely with the data from our Norwegian friends.
Production in the U.S. has been stable which coincides with a steady demand for Norwegian oil exports, albeit down slightly on a monthly basis.
Also in the U.S. crude oil stocks are coming down and days of supply are falling, further indicating a potential bump up in demand.
Of course, each of us can read into these numbers differently, but it appears that there's a building undercurrent of demand for crude oil.
Perhaps crude oil demand is firming as evidenced by stable Norwegian exports, rising Norwegian kroner indicating demand for Norway's exports, stable U.S. production, and lower U.S. stocks.
There are many other factors that go into driving the value of crude oil prices including OPEC production and economic growth.
If economic growth improves in the second half of 2017, which I believe is likely, we may see further increases in exports from oil exporting countries.
Crude oil performance has been negative due to economic fundamentals, but for those looking to get in, crude will likely become more attractive as growth picks up in the second half of this year.
Watch for currencies of oil exporting countries to strengthen as growth picks up because it may be a sign of a bottom in oil prices in the coming weeks and months.
Good luck.
If you like this article and would like to receive email alerts stay up to date on crude oil, commodities, and macro events, please click my profile page, and click the "follow" button next to my name, and check the "get email alerts" to receive these articles sent via email to your inbox.
You can also find the "follow" button at the top of this article next to my name. And, of course, feel free to comment below if you have any questions or send me a private message by clicking the "send a message" link on my profile page.
Disclosure: I/we have no positions in any stocks mentioned, and no plans to initiate any positions within the next 72 hours.
I wrote this article myself, and it expresses my own opinions. I am not receiving compensation for it (other than from Seeking Alpha). I have no business relationship with any company whose stock is mentioned in this article.