I've been on record at least a couple of times that this bull market is getting a bit long in the tooth, and that it's probably better to be at least a little more cautious than bullish.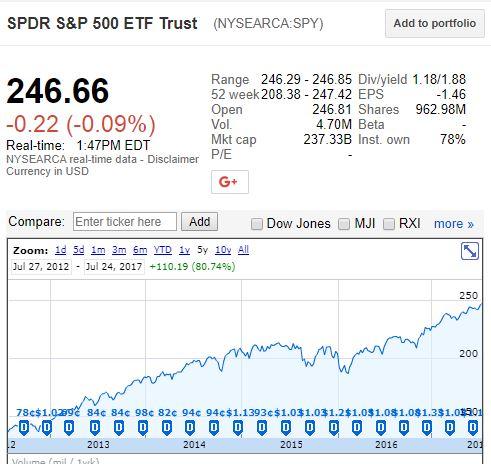 Courtesy of Google Finance.
This chart of the S&P 500 ETF (SPY) illustrates the reasons behind my caution. Unsurprisingly, the 'blue chip' staple stocks, which retail investors often rely on for reliable dividend income and solid growth, are quite overvalued in the historical average sense. However, there are a few blue chip stocks that are reasonably valued, or even downright cheap. This article looks at three large cap companies with long dividend-paying histories, each of which can be bought right now.
The bargain bin
National Grid Plc (NYSE: NGG) is a major British utility which has been divesting some non-strategic businesses as of late. The end result will be a company that transmits electricity and distributes gas in the UK, plus a regulated US business in New England. National Grid is a solid business that has been knocked down by the pound's devaluation thanks largely to Brexit.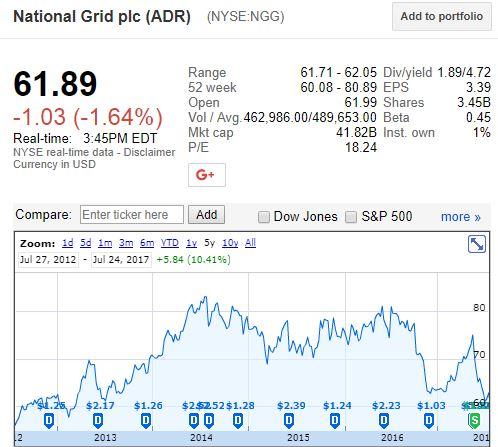 Courtesy of Google Finance.
Shares of National Grid are well down from since 2016. Based on last year's dividend, National Grid now yields 5.2%, which is not bad for a utility at all. This is pretty much a belt-and-suspenders utility company, and so I would not expect too much growth from this name going forward.
Nevertheless, that yield is quite nice. National Grid has two major capex projects underway: one subsea power link to Belgium, and another subsea power link to Norway, which will be complete in 2019 and 2021, respectively. This is being done to hook the UK up to Europe's renewable energy grid. I am not a huge fan of these projects, especially in the Brexit era, but this remains a solid utility worth owning nevertheless. When the pound recovers, and I believe that it will, there will be substantial upside to this one.
UPS Inc (UPS) is another blue-chip name that can be picked up right here. UPS has a lot going for it in the age of e-commerce, and also in a time of automation. Yet, UPS trades at right about its average trailing ten-year price to earnings, according to data from FAST Graphs.
UPS currently trades at 19.2 times earnings, which may be a little costly, but it also offers a solid 2.9% dividend yield that is only going to grow with time. Consider this: management expects package volume to grow 4%-6% year-on-year until at least the end of the decade. I suspect it will be for even longer, as the trend of e-commerce in shopping habits seems to be a generational one. Thanks to automation and connectivity which allows drivers to better optimize their routes, management expects to keep its overhead and total costs in check despite steadily-rising need for UPS's services. This is a good place to be.
I predict dividend growth in the mid-to-high single digits from UPS. That makes UPS a good long-term hold for income investors. This is an example of a terrific business that isn't quite a bargain, but it is at least priced reasonably. I believe it should be on the short list of any income investor in it for the long term.
Schlumberger Ltd
Schlumberger Ltd (SLB) is another blue-chip name worth looking into here. It is the largest oil servicing company in the world. Give or take a few dollars, Schlumberger is as low as it's been in five years, and the company's most recent performance wasn't even too bad. Revenue was up 8% sequentially and North America revenue was up a whole 18% sequentially.
You might not see it, but there is a recovery in the oil industry and it is quite strong. Already we are seeing price inflation in onshore North America, lead by a rising rig count in the Permian Basin. Permian shale drilling has become so economical that companies are able to achieve comparable returns at $50 today to what they had achieved around $80 just a couple years ago. Therefore, rig count in West Texas has doubled over the last couple years, and that has made the services Schlumberger offers that much more in demand. So even though the price of crude isn't really recovering, energy activity definitely is.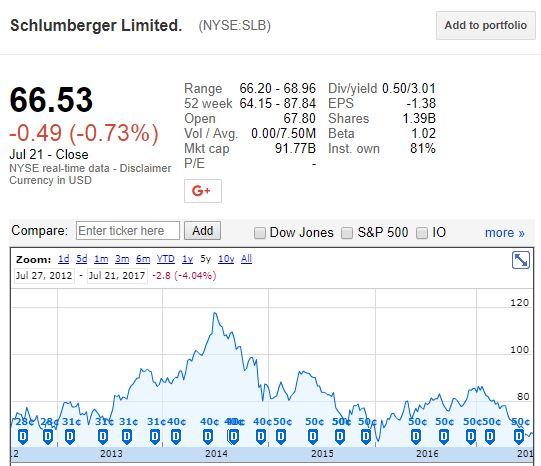 Despite that, Schlumberger is quite cheap. It yields a nice 3%, and as the "priceless recovery" continues, Schlumberger is an ideal way to play it. I strongly recommend opening a position in Schlumberger, or buying more if you already have some.
Conclusion
Just because the market is grinding higher and higher doesn't mean that everything out there is too expensive. There are good deals out there, even among 'blue chip' companies. If you're interested in any of these stocks, consider this article a 'jumping off' point for further research. Also, feel free to follow me here on Seeking Alpha. I am personally long two of these stocks, and am considering getting into Schlumberger. I will continue to write update articles on these when doing so is both material and relevant.
Disclosure: I am/we are long NGG.
I wrote this article myself, and it expresses my own opinions. I am not receiving compensation for it (other than from Seeking Alpha). I have no business relationship with any company whose stock is mentioned in this article.