Note: This article was originally published July 10th on Value Investor's Edge, a Seeking Alpha subscription service.
Overview
Matching up supply and demand isn't always as easy as it sounds, especially on a global playing field like the maritime trade which has many participants. Often, the ups and downs in this industry can be traced to supply side imbalances.
Recently, several segments have been experiencing a bit of trouble brought on by an oversupply of vessels with many more still set to hit the water. This oversupply has been a main culprit behind the disequilibrium in shipping markets lately and therefore low charter rates.
Here, we take a look at the crude tanker market supply side to gain a better understanding of where we are exactly in this cycle. Companies engaged in the ownership of crude tankers include DHT Holdings (NYSE:DHT), Nordic American Tankers (NYSE:NAT), Euronav (NYSE:EURN), Frontline (NYSE:FRO), Gener8 Maritime (NYSE:GNRT), Navios Maritime Midstream Partners LP (NYSE:NAP), Ship Finance International (NYSE:SFL), Teekay Tankers Ltd. (NYSE:TNK), Tsakos Energy Navigation Limited (NYSE:TNP), and Navios Maritime Acquisition Corporation (NYSE:NNA).
But before we get to that supply side update, let's review some key concepts for the supply side, including how these situations arise and market responses that aid in a correction.
What is the Supply Side?
The supply side is composed of vessels that are on the water, and when speaking about the future, can include vessel contracts on order. Those contracts, or "new builds", are collectively referred to as the "order book".
As with any market, "price" is determined by a combination of supply and demand. In this case, charter rates for these vessels are the "prices" we concern ourselves with when talking about shipping markets.
Charter rates are determined through brokers attempting to balance the available supply of vessels with current demand. If demand outpaces supply, charter rates increase. If demand falls short of vessel availability, rates decline. Charter rates are important for companies, as they compose the operating revenue stream.
In a perfect world, supply growth would keep pace with demand increases for each respective segment, thus ensuring market equilibrium. However, the shipping market is anything but perfect. Much of the volatility in the shipping market, historically and currently, can be traced to the supply side.
Cycles
It's a simple analogy to make: shipping often rides a boom and bust cycle, much as ocean waves move from peak to trough. This cycle becomes more predictable when you know the factors that influence this wave movement. Furthermore, once familiar with the cycles, it becomes easier to predict market reactions to different stages of the cycle.
Let's take a brief look at a full market cycle using the LNG segment, focusing on the reactionary nature of owners to market conditions.
One brief note before we begin: the terms "Available Vessels" and "Utilization" are often used to refer to a single concept, which is ships working versus idling. If there is 100% fleet utilization, there are no available vessels, and vice versa. Of course, something like 70% utilization would imply 30% availability. Low availability/high utilization is desirable for those seeking higher charter rates.
Below is a chart showing LNG charter rates and vessel availability. Note the inverse relationship between rates (lines) and vessel availability (shaded). This is an important concept that applies across all shipping markets.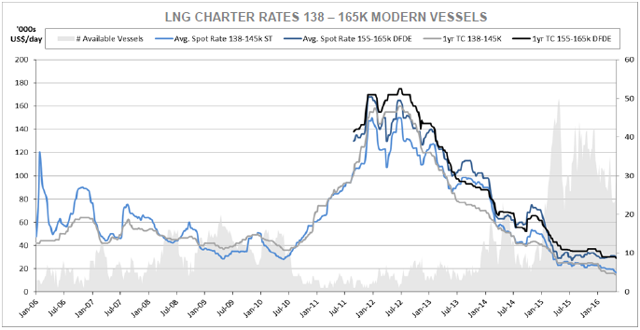 Source: Awilco
In the LNG segment, the last oversupply cycle first developed around 2004, as high charter rates inspired increased ordering. Those rates remained attractive through 2006, with spikes providing some bullish sentiment in 2007, before collapsing in 2008.
The attractive rates prompted more owners to invest in new tonnage as they sought to capitalize on a bullish market. The chart below shows how contracting remained subdued during less than attractive rates for LNG vessels but then picked up starting in 2011 as rates moved to more bullish levels.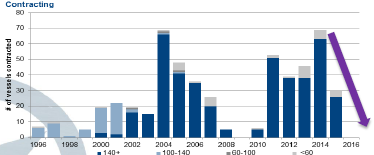 Source: Golar LNG Limited
As noted in the first chart, rates had been declining (right along with orders for new builds), before reaching historic lows in terms of both rates and utilization in 2010. But due to a lack of new build orders placed between 2008 and 2010 (a direct result of reactionary owners responding to low rates), this trend then reversed, such that the demand for LNG shipping was not being met by available supply in 2011. This paved the way for charter rates together with fleet utilization to reach historic highs in the years after.
However, as owners reacted to the attractive rates by ordering more vessels, the trend reversed course yet again. Notice the crash in rates and increasing availability of vessels starting in 2013 as orders placed in 2011 and 2012 began hitting the water.
So, here we are attempting to point out that the supply side cycle is often created by owners reacting to market conditions. These orders take some time to hit the water, so conditions may be different than the period in which those orders were made.
Which brings us to our age old shipping conundrum. Individually, owners can be very smart. However, collectively, these decisions can become harmful. An individual can look at the forecast and make decisions for their own specific company that are correct. But they do not exist in a vacuum, and that's the rub. When individuals across the board start making the same decisions based on a similar macro outlook, we run into problems. Many times, this is what creates the boom and bust cycles in shipping.
Demolition Theory
Now that we know what is traditionally responsible for the supply side woes and the low rates as a result of this disequilibrium, let's move on to how the market resolves this issue.
A re-balancing effort requires the demolition of older vessels to compensate for the new tonnage hitting the water. Often this occurs naturally, but market factors such as low rates often lend a hand by forcing owners to part with vessels sooner than expected.
Those low rates have played a key role in forcing the departure of many dry bulk vessels over the past couple years when rates were well below what it cost to operate one of these vessels. Similarly, the container shipping segment has also seen high levels of demolition based on sub OPEX rates brought on by a massive influx of vessels. The same can be said for the tanker market lately, as well.
Here, we will use the dry bulk market as an example.
First, it is important to note that there is a direct correlation between charter rates and the amount of ships that are sold for demolition. The worse the rates get, the more ships are sent in for demolition.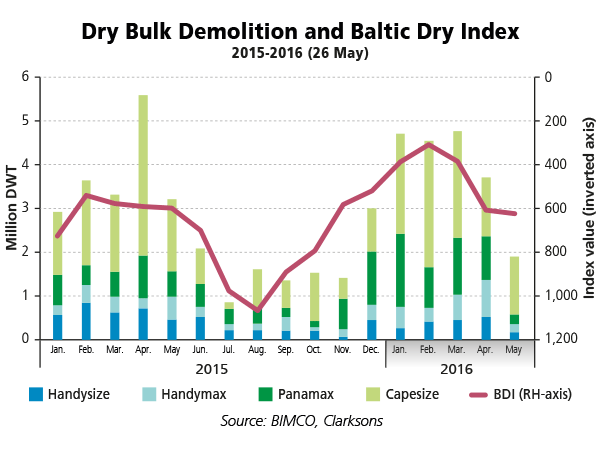 Source: BIMCO
In the chart above, BIMCO was kind enough to flip the BDI (Baltic Dry Index) scale (right-hand side), so we can now observe this relationship directly. The Baltic Dry Index is a composite of the Baltic Capesize, Supramax, Panamax, and Handysize vessel indices which reflect the charter rates for each respective vessel. Notice, the demolition rates track the market quite closely.
However, the opposite is also true, and the boom years leading up to the 2008/2009 crash provide a great example of how high charter rates keep older tonnage on the water.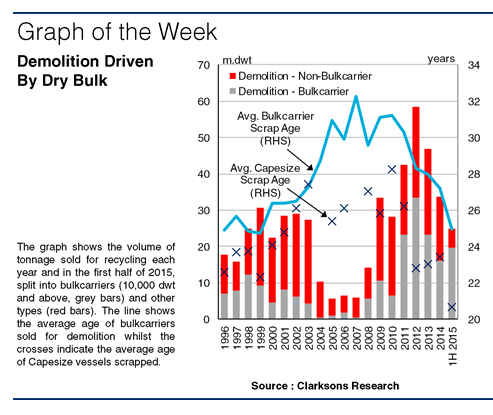 Source: Clarksons
Now compare that with a shot of the Baltic Dry Index showing the rate spike starting in 2003 and the following drop.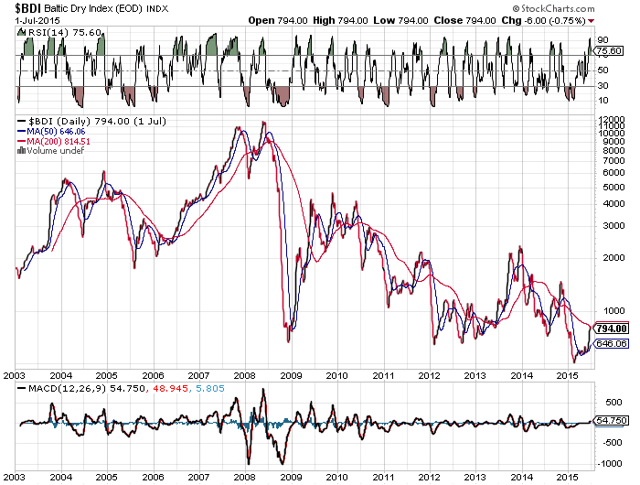 Source: stockcharts.com
The point is that rates are often a huge factor in deciding when to scrap. If they are good, the older tonnage is kept on the water as long as it is deemed profitable to do so. If rates fall sharply, ships can be sent to the scrapyard much sooner than their average life expectancy.
The key point here is that in a troubled market, the degree of capitulation has a direct correlation to the magnitude of the market disequilibrium and therefore scrapping rates.
But in this current environment, some sectors have started to show signs of stabilization based on the prospect of a recovery and high rates of demolition have come off the table. This scenario creates a sort of ebb and flow, as newbuilds hitting the water play tug of war with vessels being scrapped, resulting in a prolonged "U"-shaped recovery as we trend back toward long-term equilibrium.
So, as the cause of the disequilibrium lessens so too does the magnitude of the market remedy.
Taking a closer look at recent demolition trends should help explain this point further.
The latest report showing demolition rates for the first half of 2017 shows that if scrapping rates stay steady, we will be seeing the lowest total of DWT sent for demolition since 2010.

Source: Athenian Shipbrokers
On the surface, this doesn't look too bad for the overall market. But let's dig a bit deeper.
Looking back over the past couple years, we find that the first half of the year has been the busiest time of the year for the demo markets.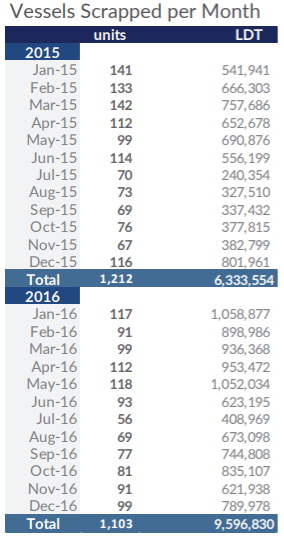 Source: Allied Shipping Research
Notice that in 2015, over 60% of recycling, in terms of DWT, took place from January through June. In 2016, that figure came in at about 58%. If this trend holds, we could only come out with approximately 26m DWT scrapped in 2017.
But recent reports suggest that the demolition market faces serious headwinds during the second half brought on by policy shifts, budget disputes, weather related issues in key recycling markets like India, Bangladesh, and Pakistan. This raises a concern that perhaps that 26m might not even be reached.
Another concerning development for 2017 is that prices paid for vessels headed to the scrap yard have been higher over the first half compared to previous years which should have induced greater activity.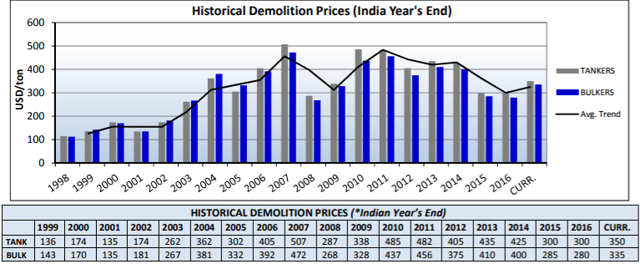 Source: Athenian Shipbrokers
However, these higher prices have failed to lure owners to part with their tonnage.
To conclude, as the market stabilizes the very thing responsible for this shift, demolition rates, begins to slow. As we trend back toward equilibrium, the steep scrapping curve begins to flatten. This is the result of all the low hanging fruit being plucked at the start of the downturn and owners becoming less likely to part with potentially profitable tonnage as a recovery looms on the horizon.
X Factors
Other factors can induce greater scrapping activity. Recently, the IMO came out with two mandates; the Ballast Water Management Convention and the 2020 Global Sulphur Limit.
The Ballast Water Management Convention requires a specialized and approved system. These systems must be installed during the first dry docking following the implementation date, which has now been pushed back to 2019.
On a side note regarding the extension of the BWMC, this means that some vessels that are under the five year special survey timeline can drydock before implementation and keep operating without an approved system until as late as 2024. But vessels older than 15 years are required to undergo a special survey every 2.5 years. Originally, the BWMC was supposed to enter into force on September 8th, 2017. Pushing it back may seem like a win for maritime trade as less regulation is often viewed as better for business. But this may not be the case in this instance.
While older tonnage has a bit of a reprieve for a couple years, rates may not be high enough to allow these owners to capitalize much. Furthermore, it keeps older tonnage on the water for longer contributing to rate pressure by further prolonging the oversupply issue. Additionally, with both mandates entering into force within months of each other, this may create a bit of a supply side shock which can disrupt the market as a great deal of older tonnage is removed over a short period. Of course, this could potentially result in higher rates which is good for owners, but those higher costs will then be passed along to consumers. Finally, it creates a fragmentation of sorts since the U.S. Coast Guard issued a warning that the IMO guidelines on the Ballast Water Management Convention do not apply to America's own ballast water laws. When vessels are within the territorial waters of the United States, they must discharge via a USCG-approved ballast water management system, an approved alternate management system, a shoreside facility, or not at all.
The Global Sulfur Limit requires the use of low sulfur fuel which can be up to 100% more expensive than the heavy fuel oil currently used. With a lack of processing and bunkering facilities around the globe for low sulfur fuel prices may climb higher. Bunker fuel can account for up to 70% of the water voyage expenses. The other option is an expensive retrofit of a ship's engine to utilize fuel able to meet the emissions requirements.
The point here is that both of these mandates will have an impact on the older ships where many may not be considered viable to retrofit (or sail utilizing the more expensive fuel) in terms of costs versus age and earnings potential.
Crude Tanker Supply Side
The crude tanker segment has been bracing for a bad 2017 for quite some time. A thickening orderbook as far back as 2015 (when rates for VLCC's hit the 100k mark in two separate instances) raised concerns that an oversupply of vessels may begin to materialize in 2016 with the impact being most significant in 2017 with a major hangover for 2018.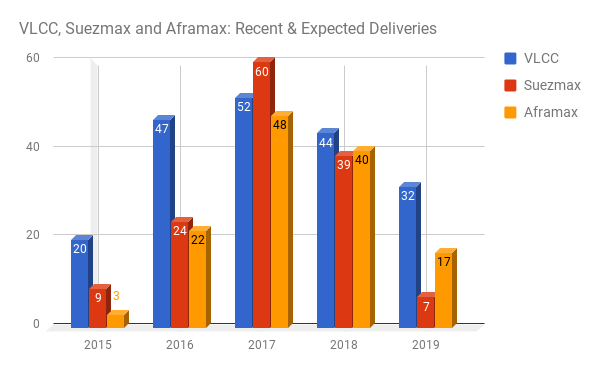 Source: VesselsValues Data, Charted by James Catlin
2017 has already seen a large influx of tonnage hitting the water and 2018 should also be a strong year for deliveries. However, the demolition rates for the first half of the year have been less than promising.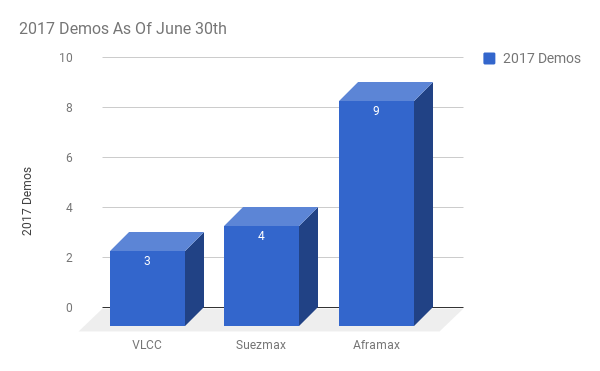 Source: Allied S&P, Charted by James Catlin
But it is noteworthy that demolitions have been outpacing last year which saw only four VLCCs scrapped, along with three Suezmax, and six Aframax. So, while 2017 has been a bit disappointing, with the VLCC and Suezmax segments off the pace for 2017 projections, it is still much better than 2016 with regard to demolitions.
OFE Insights recently reported:
"The pace of newbuild deliveries continues to be relentless while scrapping remains minimal. A more worrying trend is that according to BIMCO, VLCC orders between January and May this year hit their highest level in 9 years on the back of low newbuilding prices, which could delay a potential recovery in rates."
The total count of VLCC orders placed in the first six months of this year reached 38 compared to just 13 in the whole of 2016. Additionally, there have been 16 Suezmaxes ordered this year compared to 18 in 2016. Finally, the Aframax segment has really heated up as well with 35 orders placed in the first half compared to just six last year.
These low newbuilding prices have continued to be a major concern. On July 19th of 2016, I wrote an article entitled Will Low Ship Prices Sink A Maritime Recovery? The article detailed how owners realized the drastic oversupply issues plaguing many segments and have reacted accordingly by curtailing new build orders. But I also noted that shipyards plagued by massive overcapacity and a lack of work have cut prices for newbuilds.
In that article, I wrote:
"This scenario presents an interesting dilemma. Will owners (who have the capital resources - and there are still many out there) take advantage of these low prices at the risk of collectively maintaining a market imbalance geared toward low rates?

For several months now I have voiced my concern about this scenario playing out in such a way as to stall any recovery. In short, I believe the low prices will entice owners to order at the first significant sign of a rate upswing which would continue to maintain an oversupply and thus rate pressure."
Now, it appears that the recent flurry of VLCC orders are giving some credibility to that theory.
Gibson recently stated:
"Price is still a driver. (Additionally) owners may also be betting on the potential recovery of the tanker market by placing orders for 2019/20 delivery in anticipation of a rising freight market."
But if these orders continue at such a robust pace, that potential recovery may never come to fruition and owners will be stuck with vessels in a low rate environment meaning they will burn cash as they depreciate.
Just to put these prices into context, and let's take a closer look at how they have changed over the past years.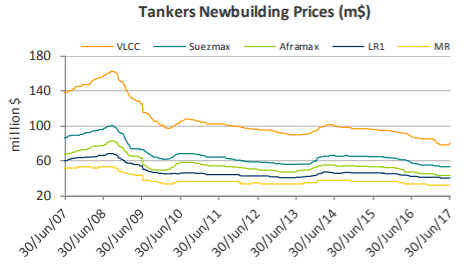 Source: Intermodal Week 26, 2017, Report
On a side note, the obvious correlation between charter rates, newbuild prices, and owner contracting is hard to ignore.
As noted earlier, 2019 appears to be a decisive year for the fleet with regard to the expensive 20 year special survey and the upcoming implementation of the BWMC and Global Sulfur Cap. So, let's take a look at just how many vessels might be impacted compared to what will remain on the water and expected deliveries.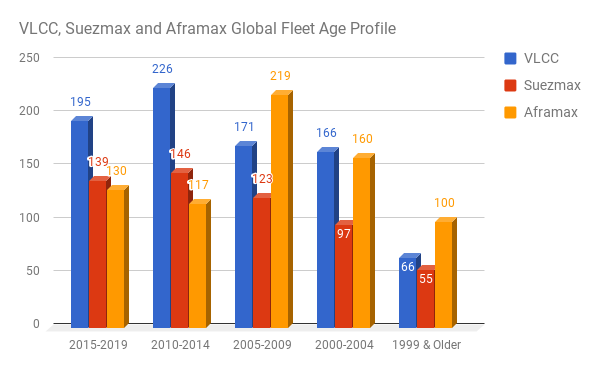 Source: VesselsValues Data, Charted by James Catlin
Looking back at the chart showing expected deliveries, we can see that there stands to be a large net gain over the coming years even if all the 20+ year old vessels are scrapped by 2019, which I believe even with the upcoming surveys and mandates is a highly unlikely scenario.
Looking back, the average scrapping age for a tanker in 2015 was 30.35 years as owners were less likely to part with tonnage that was capitalizing on high rates. But in 2016, rates fell and so did the average scrapping age to 28.57 years. In 2017, as rates continued to decline, sometimes into loss making territory we only saw a slight decline in average age to 27.47 years.
Let's just suppose that the average demolition age falls to 25 years. According to Clarkson Research, the VLCC segment only has six vessels built in 1994 or before. That paints a not too promising picture of a potentially bearish demolition market. For the Suezmax segment, that number comes in at 11, and the Aframaxes would see 21 sent to the scrapyard.
Again, according to Clarkson, 29 VLCCs have already been delivered in the first half of 2017 leaving approximately 23 more to hit the water in the second half. Let's not forget the 76 additional vessels expected in 2018 and 2019 with another single unit scheduled for 2020. Given the build time for a VLCC, it isn't out of the question to place an order today and be assured delivery in the second half of 2019.
The Suezmax segment has already seen 35 hit the water in the first half, leaving approximately 25 left for the remainder of the year and a total of 46 still to come in 2018-2019. Now, in comparison to the VLCC and Aframax segment, that may not seem like a lot. But the Suezmax segment composes the smallest number of vessels, so the orderbook here currently stands at 16% of the total fleet which is the largest percentage of any segment. This isn't great news especially considering that rates for this segment have been hardest hit lately due to the oversupply situation. See my article regarding how Suezmax rates will impact Nordic American Tankers, an all Suezmax fleet, for more details.
Finally, the Aframax market appears to heavily weighted toward the second half as only 18 have been delivered in the first half. This leaves 87 more deliveries through 2019 with the latest Weber Weekly Tanker Report noting that there are five more on the horizon for 2020.
But astute readers might recall that the Aframax segment had the largest number of potential demolition candidates of vessels 20 years or older, numbering 100. So, if a very bullish demolition market develops, this segment looks to be in the best position.
It is also worth noting that the required retrofits do vary in price by the size of the ship but not by a large degree. Therefore, owners are going to view retrofitting an older VLCC perhaps more favorably than that of an Aframax which would impact scrapping rates accordingly.
Conclusion
In my February 2017 Crude Tanker Macro Outlook I wrote the following:
"Since late 2015 I have been forecasting a tumultuous 2017 for crude tankers based on an orderbook that appeared to be too large for too little growth. This situation is now firmly upon the market and rates should suffer as a result. While there will be some upswings here and there based on seasonal demand or the ebb and flow of global trade, 2017 looks to be the worst year as a whole for crude tankers in a few years with a hangover likely carrying over into 2018.

However, there is some good news on the horizon. Aside from the positives noted above, the oversupply situation will be clearing up quickly as the orderbook has seen very limited contracting lately. Given traditional demolition ages coupled with current orders, global fleet growth is actually projected to be negative in 2018 for the Suezmax segment with VLCCs following that trend in 2019, provided owners can keep orders for new builds under control."
Unfortunately, that last line proved to be quite appropriate. Owners have returned to the newbuild market in a big way during Q2 of 2017.
Although I stated this earlier, I believe this bit of analysis bears repeating:
"Individually, owners can be very smart, however, collectively these decisions can become harmful. An individual can look at the forecast and make decisions for their own specific company that are correct. But they do not exist in a vacuum and that's the rub. When individuals across the board start making the same decisions based on a similar macro outlook we run into problems."
As Gibson aptly noted, owners are chasing both low newbuild prices while attempting to position themselves for a potential recovery by having as much tonnage on the water as possible.
This collective action may be the initial undoing of what was once a promising future bull market. At the least, these recent moves by the IMO and owners have delayed and/or dulled the upcoming bull market and, at worst, (if owners don't get their act together collectively) sowed the seeds of its ultimate demise.
But then again, if that happens, we will be examining just how deep the magnitude of the drop goes in order to determine the level of capitulation and the resulting market remedy in the form of demolitions. And, so goes the ebb and flow of shipping cycles.
Thank you for reading, and I welcome all questions/comments.
If you would like to stay up to date on my latest analysis, I invite you to follow me on Seeking Alpha (click the "Follow" button next to my profile picture at the top) as I continue to cover all aspects of maritime trade.
Value Investor's Edge
Value Investor's Edge is a top-rated Seeking Alpha research service, which focuses primarily on the volatile, and therefore potentially very profitable, shipping industry. Members receive a two-week lead time on all reports by James Catlin, alongside exclusive content by J. Mintzmyer, a top-tier deep value analyst. This platform offers actionable trades and strategic income opportunities through Mr. Catlin's data-driven macro analysis, which often complements Mr. Mintzmyer's company-specific analysis. This winning team has developed a dedicated following of highly knowledgeable investors and industry professionals who also share their own thoughts and ideas on Value Investor's Edge.
Disclosure: I/we have no positions in any stocks mentioned, and no plans to initiate any positions within the next 72 hours.
I wrote this article myself, and it expresses my own opinions. I am not receiving compensation for it (other than from Seeking Alpha). I have no business relationship with any company whose stock is mentioned in this article.