After three straight months of declines, Consumer Confidence saw a solid rebound this month, rising from 117.3 up to 121.1. July's reading also handily exceeded the consensus forecast of 116.5. While the headline reading in Consumer Confidence is still off its cycle-high of 124.9 from March, it still sits at levels that have rarely been seen in the last 17 years.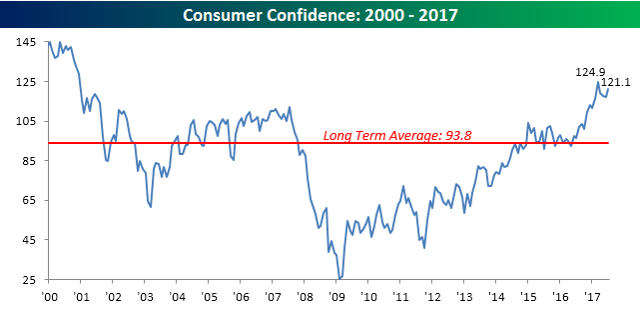 Overall confidence was driven this month by consumer attitudes toward their present situation. As shown in the chart below, that index rose to 147.8 in July, which is the highest level in 16 years. Meanwhile, consumer attitudes toward the future aren't nearly as positive as that reading barely increased in July.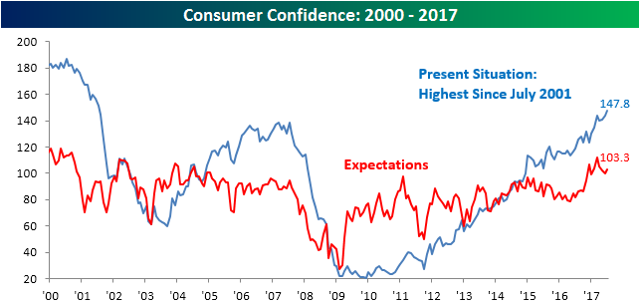 The reason consumers appear to be so confident about their current situation is that it is easy to find work. As shown in the "Jobs Plentiful" tracker, consumers feel that it is easier to find a job now than at any other point since July 2001.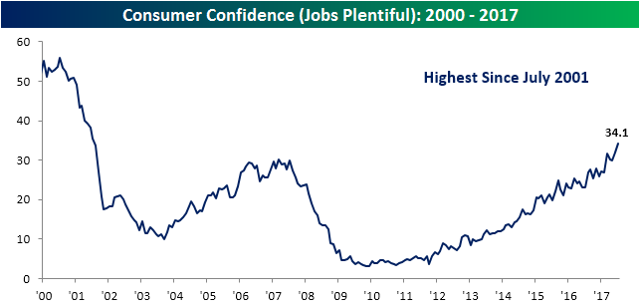 "Thanks for reading the article. Follow our account to get our articles as soon as they're posted to Seeking Alpha. To get our full newsletter, sign up for Bespoke Newsletter PRO. Subscribers to that service get access to Bespoke's model stock portfolios, actionable data-driven insights, and in-depth analysis of everything that drives the markets, among other things.