Emerging markets are characterised by their superior rate of growth over developed countries in good times. In bad times, the ugly spectre of political instability, rampant inflation, and corruption may rear its head. That said, emerging markets can potentially deliver strong returns in an investor's portfolio.
E-commerce has been a growing theme globally, and brick-and-mortar retailers have seen much of their business being lost to their more nimble and efficient business competitors. According to Standard & Poor's, 10 US companies in the retail industry have already filed for bankruptcy in 2017. The trend looks set to continue; names like Amazon (AMZN) and Alibaba (BABA) have taken the market by storm, with the former dominating e-commerce sales in the US and the latter making waves in China/Asia.
E-commerce growth in Latin America is a segment that has not really made headlines as much as that in more developed economies as well as China, but the dynamics and structural trend is similar. E-commerce growth is booming and is expected to growth at a CAGR of 19% from 2014 to 2019, as seen in the diagram below. The rate of growth in this market segment is extremely attractive.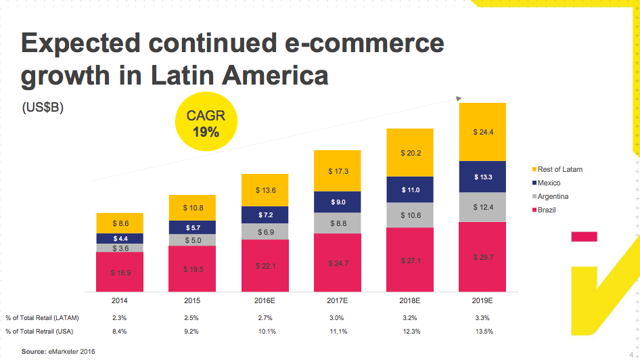 This brings me to a company I believe is well-poised to capture a large slice of the e-commerce pie in Latin America - MercadoLibre (NASDAQ:MELI). The company hosts the largest online commerce and payments ecosystem in Latin America and has a presence in 18 countries, including Brazil, Argentina, Peru, Mexico and Chile. According to Bloomberg, in FY16, 54% of the company's revenues were from Brazil, 31% from Argentina, 5% from Mexico, 4% from Venezuela and 6% from others.
From the diagram below, based on unique visitors, MercadoLibre is currently the number one e-commerce website in Latin America and the market leader.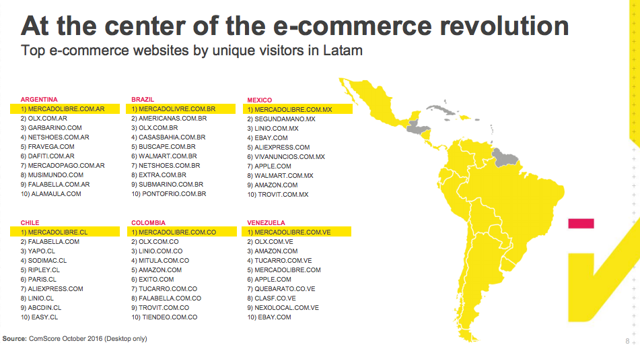 Its business model is relatively diversified, and there are plenty of opportunities for cross-selling, similar to that of Amazon's. As seen from the diagram below, MercadoLibre has various revenue streams, from e-commerce sales to transaction fees, advertisements, logistics, shipping, etc. As such, the company is able to control the e-commerce ecosystem and is well-capitalised to grow from here.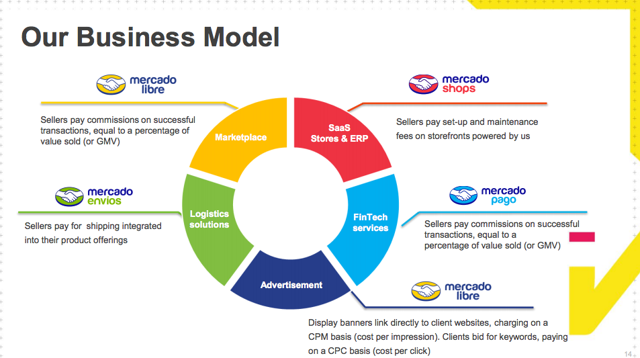 MercadoLibre does not rest on its laurels too, and is making acquisitions to fortify its first-mover advantage in the LATAM e-commerce sector. In FY16, the company purchased Axado, an online freight services company which aims to streamline online orders and shipments, Mango, an online payments solutions provider, as well as Monits, a company that provides web and mobile platform solutions. As of FY16, it has $2.3 billion (Source: Nasdaq) of cash on its balance sheet, a huge war chest it can utilise to make future acquisitions to further cement its leadership position.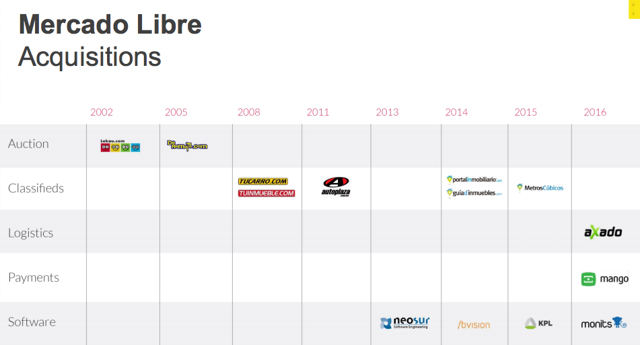 MercadoLibre's financial position is rock-solid. The company's net revenues have been growing at a steady rate since 2011 and have seen positive growth each year. FY16 net revenues grew by 10.5% YoY from FY15, and FY15 net revenues grew by 9.1% from FY14.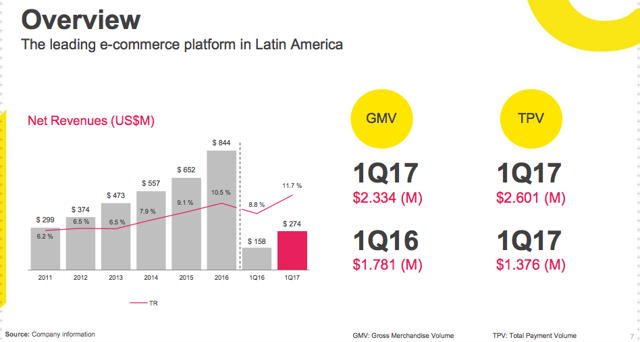 Looking at various key market metrics unique to e-commerce players too, MercadoLibre has excelled:
1) Gross Merchandise Value (GMV) has grown from $5.7 billion in 2012 to $8 billion in 2016.
2) The number of items sold over its e-commerce platform have also increased from 67 million in 2012 to 181 million in 2016.
3) Total Payment Value (TPV) has increased from $1.7 billion in 2012 to $7.7 billion in 2016.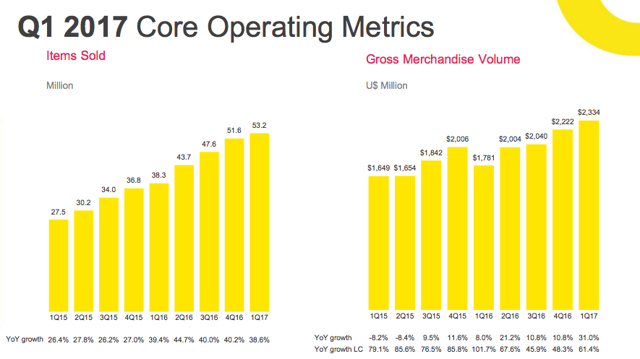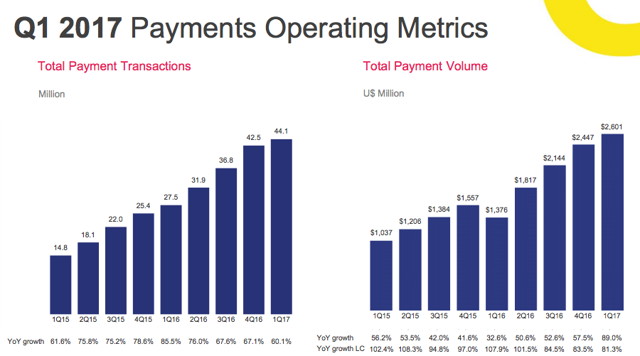 Assessing MercadoLibre from a broader perspective, the company is the 7th e-commerce website in terms of unique visitors, behind its more prestigious peers like Amazon, Alibaba and eBay (EBAY). The company has been flying relatively under the radar thus far.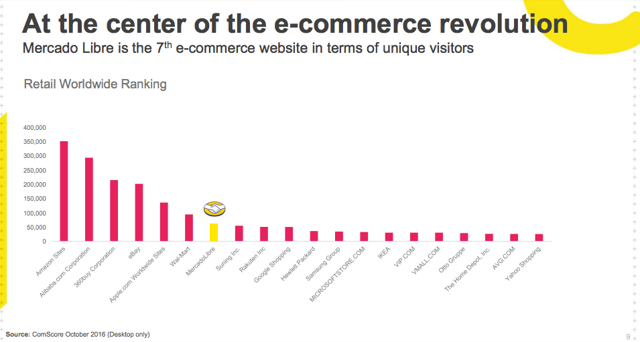 From a relative value standpoint, let us take a look at the table below, which compares MercadoLibre with a few of its global peers:

The company's 73x P/E might seem relatively expensive, but it is worth noting that the market is pricing Amazon at 195x P/E and Alibaba at 65x, both of which are market leaders in their geographical segments too. Is the sector expensive? That can be covered in another article, but I believe 73x P/E is well supported by MercadoLibre's strong growth and profitability metrics, namely EBITDA growth, EBITDA margin and Return on Assets.
The company enjoys a 50% EBITDA growth rate, only second to Alibaba, as well as strong EBITDA margin of 27%, matched only by eBay and Alibaba. Lastly, its Return on Assets is the highest out of the peer group.
From a technical perspective, MercadoLibre stock is on a very robust uptrend, hitting highs just shy of $300. The stock has since pulled back somewhat and is now trading at $280 levels. I believe investors should accumulate MercadoLibre on dips around support levels of $250-270, as this company has the makings to follow the footsteps of Amazon and Alibaba to be a strong global player in the e-commerce space.