Thesis:
Second quarter 2017 earnings provided a jolt of excitement, in the form of a one-day 12.5% stock price spike, for those who may have expected a comparatively lackluster 2016 to continue. The growth woes of 2016 were defined by a 1.4% same-store sale growth figure. This number has since jumped to 6.3%. As of April 2017, 20 of the last 23 quarters saw comp store sales increase, an impressive feat not to be glossed over. On taking a closer look, Bassett is a double-digit growth stock with a rising EBITDA deserving of the attention it's now enjoying.
Company Overview:
Bassett Furniture (BSET) is a well-established retailer and manufacturer of branded home furnishings with 61 corporate and 29 licensed stores. Bassett aspires to be a single source home furnishings store for a modestly affluent female target customer, between 35 – 55, with a household income of around $140,000.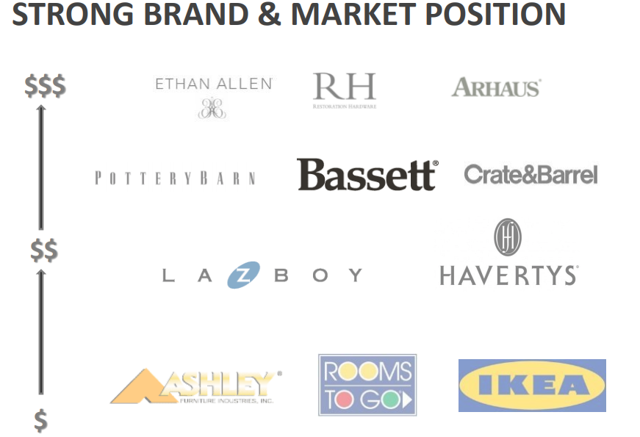 Source: Bassett April 2017 Presentation
After many years of contracting, Bassett, in 2015, finalized its acquisition of Zenith Freight Lines, permitting considerable cost savings for one of the most cost-intensive aspects of the furniture business - shipping. Zenith also generates revenue from the storage and shipment of furniture from companies other than Bassett. Bassett is the source of 45% of Zenith's business. A considerable fleet is required to keep a successful furniture business humming. Zenith has, through ownership and leasing, 246 trackers, 517 trailers, and 35 home delivery trucks.
At 7% sales growth in the year trailing Q2 2017, Basset is trending in the right direction. Their plans are to open three to five new stores each year, with six being projected for 2017.

Opportunities:
Consumers are largely sold on the "makeover" concept advanced by television shows on HGTV. It was only natural, then, that Bassett partnered with HGTV in 2011 to put their brand into its stores. This was coupled with the personalized service offered by their team of 500 designers. These spaces are coined, "HGTV HOME Design Studios." Presently about 40% of sales are generated in this way. These sales yield a good deal more than typical sales of furniture on the shop floor, as one might imagine, plus customers feel more invested in the brand and are more likely to come back. This is an industry-wide phenomenon. While exact numbers are not available for Bassett, La-Z-Boy's CEO, Kurt Darrow, points out the following: "We have said that the ticket on walking into the store is typically around $1,500, and the ticket on in-home design is between $4,000 and $5,000." FQ4 2017 Conference Call
Basset is increasingly assembling their products in the US, with 31% of products coming in fully assembled from overseas. This is down from 42% and 37% for 2014 and 2015, respectively.
Stock Metrics: Bassett ramped up stock repurchases to $6.4 million in 2016, after spending $2.1 million in 2015. Comp Stores, after years of high single, and low double-digit, increases, were flat last year at 1.4%. Adjusted EBITDA has been steadily rising to its current 9.2% on the strength of a steadily rising gross margin each year since 2013. The five-year revenue growth has been impressive at 11.3% versus a sector benchmark of 5.3%. A rising EBITDA and double-digit revenue growth spells out why Bassett enjoys a P/E higher than its sector at 23 versus 20.

Conclusions:
The strength of their balance sheet, with 52.9 million, in Q2 2017, in cash and short-term investments coupled with virtually no debt, is impressive. Analysts have 2018 growth at 8.4% with a 1.81 EPS. Such a growth rate is historic - and entirely feasible, translating into a stock whose strong growth story is poised to continue.
Disclosure: I/we have no positions in any stocks mentioned, and no plans to initiate any positions within the next 72 hours.
I wrote this article myself, and it expresses my own opinions. I am not receiving compensation for it (other than from Seeking Alpha). I have no business relationship with any company whose stock is mentioned in this article.