As by now most of us know, exchange traded funds (ETFs) created a mismatch between liquidity expectations and actual liquidity in some markets. One should read lengthy, detailed and terrific articles regarding this issue here and here. Or order a news feed from one of the major investment banks (eg Deutche or BofAML).
For those refusing to read external sources, the key problem is simple. Most of ETF trading, as according to data compiled by Vanguard, is conducted on the secondary market. Or in plain words, 99 percent of trades that happen in ETF universe are conducted without trades in underlying markets. Investors simply buy and sell ETF units, while actual holdings of fund do not change.
Figure 3a shows the percentage of daily equity ETF trading volume conducted solely on the secondary market. The median ratio was 99%, suggesting that for every €1 in trading volume, only 1 cent resulted in primary market trading. Put another way, 99% of the trading volume resulted in no portfolio management impact and no trading in underlying securities (Figure 3b shows the same analysis for bond ETFs - the median ratio here was also 99%).

Source: Vanguard
This creates a problem - ETFs investing in illiquid markets may simply buy and hold their positions, while investors can be convinced that their fund units can be sold at any time. Which may not be the case during market sell-off.
Fixed income universe
For example corporate bond markets, especially in Europe and emerging countries, are in essence very illiquid. Ten to twenty years ago they there almost non-existent and their current rapid growth can only be attributed to rise in ETFs and corporate bond buyback program from European Central Bank.
Due to accommodative monetary policy in developed markets and hunt for yield spurred by zero interest rate environment, investors flocked first into European corporate and after into emerging world bond markets. What lead to a long rally in these markets, during which capital inflows almost always were bigger than capital outflows: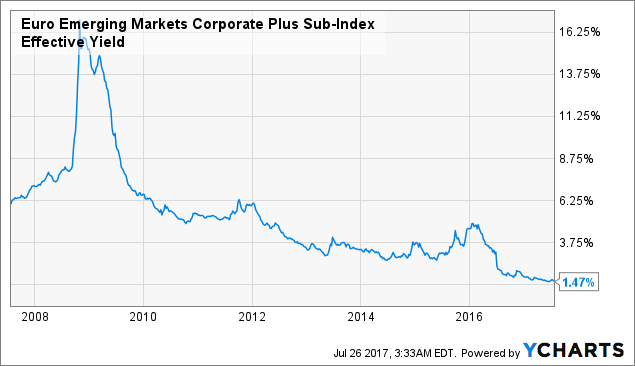 Euro Emerging Markets Corporate Plus Sub-Index Effective Yield data by YCharts
In fact, not only inflows into emerging market debt funds are staggering this year, combined inflows into ETF universe are also at record highs.
Thus large number of investors are buying into rising market, which at a glance seems very liquid. However in reality it is only liquid as long as inflows into ETFs exceed outflows - during this phase investors may simply sell their units to new buyers without manager doing any changes in actual portfolio.
The moment that outflows start to exceed inflows and ETF managers start selling underlying assets, actual liquidity will be tested which might not be as deep as everyone thinks, as there is no one trading in these markets.
Don't take my word for it. Here is European Systemic Risk Board saying the same thing:
Developments in market liquidity across different markets have occurred against a backdrop of changing demand for liquidity. On the demand side, there are concerns that the greater role investment funds are playing in financial intermediation may result in them being an amplifying factor in the event of a future systemic crisis. Within this context, the following two issues may affect the role and impact of investment funds in systemic crises.
1. The growth in assets under management in EU investment funds in recent years: total assets of EU investment funds amounted to €12.7 trillion in the fourth quarter of 2015. Assets managed by these funds have expanded significantly over the past few years, almost doubling since the end of 2009 (see Chart 7).
2. Shifting portfolio composition: many funds are increasingly investing in less liquid assets while continuing to offer daily redemption opportunities to investors, creating a potential liquidity mismatch (see Chart 8).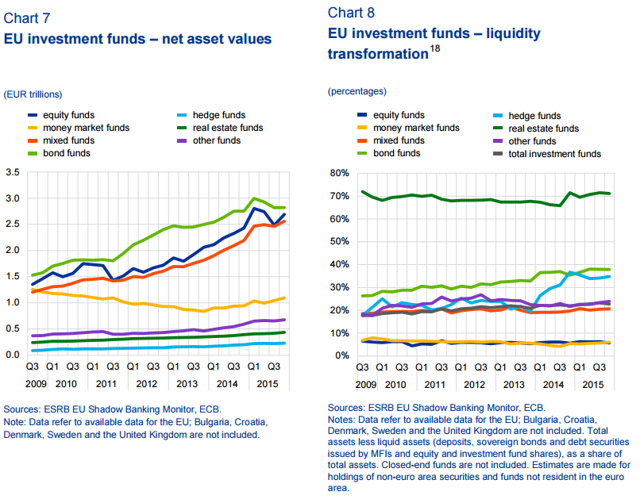 Source: European Systemic Risk Board
With Bank of International Settlements developing the same reasoning in their lengthy report:
Many market participants have considered trading large amounts of corporate bonds increasingly difficult (eg with block trade sizes of US investment grade corporate bonds declining continuously in recent years). Furthermore, even though reliable data are often unavailable, trading appears to remain highly concentrated in just a few liquid issues in most corporate bond markets, with signs of further concentration in some markets.
What we all fail to notice?
Due to all this focus on illiquid bond markets, everyone failed to notice that liquidity mismatch risk may also be present in the most liquid equity markets in the world.
The key problem is that the largest chunk of volume in biggest indices is generated by trading in a few superstar stocks. Take for example Dow 30 - almost fifth of total volume in this index over the past 30 days was on average generated by Apple, almost tenth by Microsoft: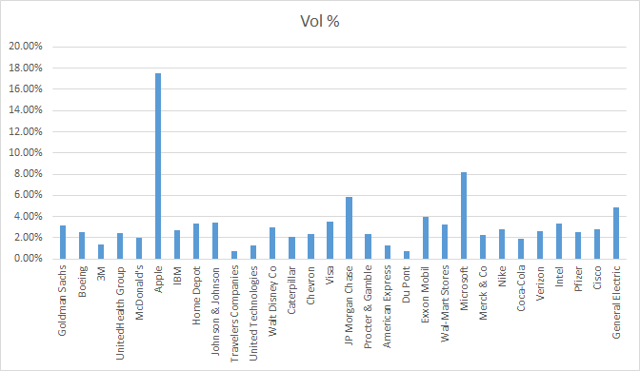 Source: Bloomberg, Google Finance
However, volume generated by trading in such companies as 3M, Travelers, DD only accounted for less or slightly more than 1 percent each.
At the same time, weight of different companies in Dow 30 is much more equally spread among the constituents. And if one compares weight in index to average daily volume traded, a large mismatches may be found: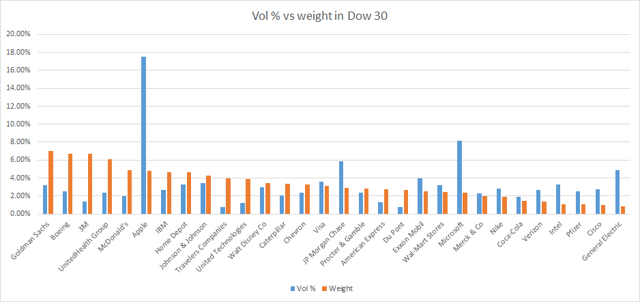 Source: Bloomberg, Google Finance
This was never a problem, as there are no apparent reasons for liquidity to match index weights. Only funds tracking indices should be worried that some positions may be hard to liquidate in market turmoil...
Got it? Funds tracking indices! With rapid growth in ETFs, described previously, number of exchange traded funds tracking indices from Dow 30, to Dow Jones Industrial Average Utility Companies, to every other conceivable index, has skyrocketed.
What implies that in the presence of larger systemic risk, all these funds will start selling their holdings as according to their weights in different indices. And that might pose a threat, as in some cases differences between weights and average volumes traded are very material.
How to play this out and why should you care?
Let me put it plainly in three points:
ETFs with holdings in less liquid markets may crash heavily when investors start to pull their money out just due to the fact that there is no actual liquidity in underlying markets. Add trends in market making, which show that there are increasing imbalances and systemic risks, and You may sit back and wait for the perfect storm. Just liquidate all the exotic ETFs before that;
Mega cap value stocks are not a safe heaven by default. Those with lower average daily volumes may also suffer from liquidity mismatch and crash more heavily when correction starts. Thus such positions should be reviewed with scrutiny.
Goldman Sachs just quit the ETF market making business. Now being realistic, why would GS quit a growing, prosperous and profit making business if not because of implied risk? Just sit back and think about that for a while.
Disclosure: I/we have no positions in any stocks mentioned, and no plans to initiate any positions within the next 72 hours.
I wrote this article myself, and it expresses my own opinions. I am not receiving compensation for it (other than from Seeking Alpha). I have no business relationship with any company whose stock is mentioned in this article.