Whether you are young or old, dividend-paying stocks deserve a place in your portfolio. If you are young, with a long time horizon ahead of you, you may wish to consider the evidence that dividend-paying stocks both outperform the market over the long term as well as contribute to stability and lower volatility in your portfolio.
If you are a little older, monthly income may form an additional, desirable goal. Might it be possible to achieve this goal while keeping the number of stocks in your portfolio manageable and expenses low? In this article, I would like to expand on a previous article I wrote, enhancing and building on the concept with that specific goal in mind.
A Solid Foundation
The article was titled, "A Dividend Portfolio Built From The World's Best Dividend ETFs." I introduced the idea for the article this way:
A month or so ago, I started to seriously ponder the concept of... attempt[ing] to build a top-quality dividend producing portfolio from a manageable number of individual stocks, using the world's best dividend ETFs to help me find them.
In brief, I selected 5 world-class dividend growth and high dividend yield ETFs, all of which have stringent criteria for deciding which companies are included. After listing each ETF, along with the criteria it employed, I asked this question:
What if, instead of starting from scratch to pick out our 12-15 companies, we used the combined power of the selection process used by these ETFs to do it for us? If you could find a group of stocks that had passed the varying selection criteria for most or all of these ETFs, might this not yield (pardon the pun) a pretty impressive portfolio?
I then did exactly that, calculating the Top 12 stocks in terms of their cumulative weighting across the 5 ETFs, and concluding by offering 3 suggested additions if an investor wanted to round up to 15 stocks for a little more diversification. If you have not yet read this article, I might take the time to do so now as it forms the foundation for the expanded version of the thought process that I will feature in this article.
The Desirability of Monthly Dividends
As time passed following the publication of that article, and some of the enjoyable interaction with readers in the Comments section, I started to think about the question of whether I could improve on the portfolio in any way. And that led to the concept of monthly dividends.
It struck me that, for many investors, and particularly those of retirement age, there would be great benefit in having an income stream each month. One of the things I have always appreciated about the SPDR Dow Jones Industrial Average ETF (DIA) is that it pays dividends monthly. It's true that the amount varies, with the payout in some months being larger than others, but it is still a nice feature. I thought: "I'd like my portfolio to do that as well."
As it turned out, of the 12 stocks in my original portfolio, 8 of them paid out their dividends in the 3rd month of each quarter, 3 in the 2nd month, and only 1 in the 1st month.
And so I went to work. Looking down a little further into the list of the Top 25 stocks from my original analysis, I set out to expand the portfolio. I decided that, while I was at it, I would expand to 20 stocks to allow for greater diversification. But as I pondered which companies to add, one of the factors I took into consideration was finding a few more that paid dividends in months 1 and 2 of each quarter.
The Base Portfolio: 20 Stocks
With that in mind, without further ado, I present the list.
| | | | | |
| --- | --- | --- | --- | --- |
| Symbol | Company | Sector | Current Yield (As of 7/20/17) | Month Paid |
| (AAPL) | Apple | Information Technology | 1.68% | 2 |
| (ABBV) | AbbVie | Health Care | 3.46% | 2 |
| (CSCO) | Cisco Systems | Information Technology | 3.64% | 1 |
| (CVX) | Chevron | Energy | 4.13% | 3 |
| (GE) | General Electric | Industrials | 3.60% | 1 |
| (IBM) | International Business Machines | Information Technology | 4.06% | 3 |
| (JNJ) | Johnson & Johnson | Health Care | 2.46% | 3 |
| (JPM) | JPMorgan Chase | Financials | 2.19% | 1 |
| (KO) | Coca-Cola | Consumer Staples | 3.30% | 1 |
| (MCD) | McDonald's | Consumer Discretionary | 2.44% | 3 |
| (MMM) | 3M Co. | Industrials | 2.21% | 3 |
| (MRK) | Merck | Health Care | 2.99% | 1 |
| (MSFT) | Microsoft | Information Technology | 2.10% | 3 |
| (PEP) | PepsiCo | Consumer Staples | 2.79% | 3 |
| (PFE) | Pfizer | Health Care | 3.82% | 3 |
| (PG) | Proctor & Gamble | Consumer Staples | 3.11% | 2 |
| (T) | AT&T | Telecommunications | 5.37% | 2 |
| (VZ) | Verizon | Telecommunications | 5.22% | 2 |
| (WFC) | Wells Fargo | Financials | 2.77% | 3 |
| (XOM) | Exxon Mobil | Energy | 3.81% | 3 |
The Devil's in the Details
To help you see the portfolio a little more visually, let's take a look at the following two pictures, using the sorting and cell formatting capabilities of Excel.
First, here is the list sorted first by the month of each quarter in which dividends are paid, then by symbol.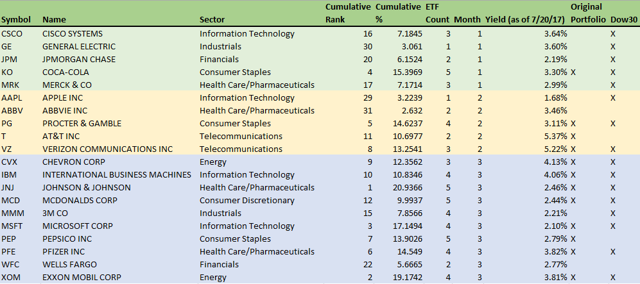 In the picture above, as well as one that will follow shortly, I added two columns on the right which indicate, by means of an 'X', whether a given stock was in the original portfolio as well as if it is a component of the Dow.
Here are a few additional statistics to ponder, assuming you purchased roughly an equal weighting in each of the 20 stocks:
Your overall dividend percentage would be approximately 3.25%. This is only a small drop from the 3.45% for the original portfolio.
Of the 20 stocks, there are now 5 paying dividends in the 1st and 2nd months of each quarter, and 10 in the 3rd month.
Approximately 24% of your overall income would be received in the 1st month of each quarter, 29% in the 2nd month, and 47% in the 3rd month.
Next, here is the same list, but sorted and color-coded by sector for easy visibility.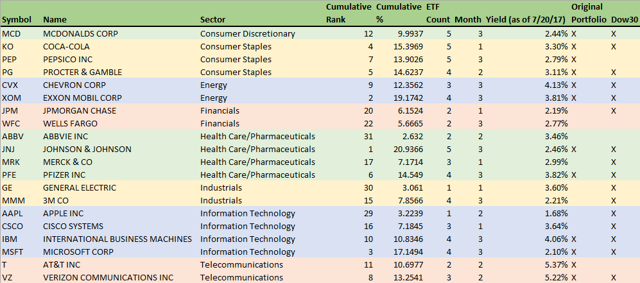 Take a look at the 8 stocks added to the list: Apple, AbbVie, Cisco, Chevron, JPMorgan Chase, 3M, Merck, and Wells Fargo. With those 8 additions, I was able to add 2 sectors not in the original portfolio: Financials (JPMorgan Chase and Wells Fargo) and Industrials (General Electric and 3M). In Apple, I added a company whose dividend, in my view, may well be the safest corporate dividend in the world moving forward due to their legendary cash position. The addition of Cisco rounds out the Technology sector, and AbbVie and Merck nicely round out the Health Care sector.
In summary, the additional stocks are all from the list produced by the exercise outlined in my previous article. You will find that 16 of the 20 stocks I selected for this portfolio are in the Top 20 from the original exercise, with the lowest-ranked stock making the cut, AbbVie, ranked #31. While, as outlined, generating monthly income was a large consideration, I find myself pleased with the specific companies I was able to include, as well as the fact that two additional sectors are represented in the portfolio.
Bonus: Two Additional Stocks To Consider
Conservative investors may want to leave well enough alone and stick with the base portfolio presented above.
However, for investors who find themselves a little more adventurous, here are two more stocks for you to consider.
| | | | | |
| --- | --- | --- | --- | --- |
| Symbol | Company | Sector | Current Yield (As of 7/20/17) | Month Paid |
| (COST) | Costco | Consumer Discretionary | 1.32% | 2 |
| (SBUX) | Starbucks | Consumer Discretionary | 1.72% | 2 |
Let's talk briefly about each.
Costco: Costco is the 38th-ranked stock from my original analysis, although it only appeared in 1 of the 5 ETFs. At a share price in the $151 range as I write this, Costco is down approximately 17% from a recent high of $182. As with many companies in the retail sector, this price weakness appears to reflect fears related to online juggernaut Amazon.com (AMZN). However, Costco, in my mind, is an amazingly well-run business. Its inventory runs the gamut from everyday items such as grocery and clothing to exotic items such as expensive and top-quality wines. Costco buyers uncover spectacular deals, and the stores manage to somehow capture the atmosphere of a treasure hunt. Clearly, with the recent price drop, Costco's dividend yield is substantially higher than it was even one month ago.
Starbucks: Starbucks is the only stock mentioned in this article that is not on the list generated by my original article. Starbucks is a relatively recent dividend payer, having started a "mere" 7 years ago, in 2010. However, it has consistently raised its dividend each year, typically at a rate of roughly 20%. What I particularly admire about this brand is that it continues to innovate. Recent enhancements such as online ordering are driving yet more traffic to the stores. In fact, this has caused some difficulties with respect to things like store congestion, average wait times and the like. Still, on balance, not the worst problems to have. Long story short, I see this company, and its dividend, continuing to grow well into the foreseeable future.
Putting My Money Where My Mouth Is
You might notice in the tables above that key data points, such as current yield, are calculated as of July 20, 2017. That is no accident.
You see, on that day, I sold my entire holdings in the following ETFs and replaced them with roughly equal dollar investments in each of the 22 stocks I shared with you in this article:
I still maintain the bulk of my portfolio holdings in ETFs. However, the more I thought about it, I began to more and more like the idea of holding a few top-quality stocks directly. Going forward, I plan to use ETFs for the areas in which it is impractical to hold individual securities (Total Market, International, Bonds, REITs) and allow these to sit on top of what I would hope to be a small basket of world-class stocks that I can conceptually hold for the rest of my life. One benefit of including at least a few ETFs is that they can prove to be very useful tools to rebalance your portfolio. As you consider which ETFs to include, keep your expenses low by paying attention both to expense ratios as well as ETFs that you can trade commission-free.
And now, it's your turn. I can't wait to read your comments on everything I have covered.
Until next time, I bid you...
Happy investing!
Author's note: At the top of this article, next to my name, you will see a "Follow" button. If you like my work, I would be profoundly grateful if you would take a minute to do this, as well as feature my work to friends, colleagues and/or relatives who may be interested in the subject matter. Growing one's readership base is critical to any author and I am no exception. Your support will enable me to continue my efforts.
Disclosure: I am/we are long ALL STOCKS MENTIONED IN THE ARTICLE.
I wrote this article myself, and it expresses my own opinions. I am not receiving compensation for it (other than from Seeking Alpha). I have no business relationship with any company whose stock is mentioned in this article.
Additional disclosure: I am not a registered investment advisor or broker/dealer. Readers are advised that the material contained herein should be used solely for informational purposes, and to consult with their personal tax or financial advisors as to its applicability to their circumstances. Investing involves risk, including the loss of principal.