Welcome to the trend is here edition of Oil Markets Daily!
It wasn't long ago that the market narrative was filled with how the "oil market was oversupplied" and "how OPEC's production cuts were fake." Just a month later from our article, "Two Bad Oil Storage Reports Does Not Make A New Trend," we reiterated our stance that despite two back to back bearish EIA oil storage reports, the bullish trend remains in place. Here's what we said:
WTI finished the week lower yet again, and investors are dumping producers, MLPs and servicing firms in mass. EIA reported two bearish oil storage reports in a row, and the bears are roaring back with headlines saying the "global glut" continues and how US shale growth will make the market oversupplied.

The issue with focusing too much on short-term data is you can get lost analyzing the leaves, and forget you are surrounded by trees. Two weeks of bad EIA storage reports does not make a new trend, and we illustrate this in the charts below:

The year-over-year difference in oil stockpile has been decreasing. Despite the two negative EIA oil storage reports, the trend is clear that the year-over-year surplus will continue to decrease. Markets could be concerned about the "pace" of the rebalancing, but the trend is certain – US oil stockpile will continue the downward trend towards rebalancing.
Fast forwarding to today's EIA storage report, here's how we are stacking up...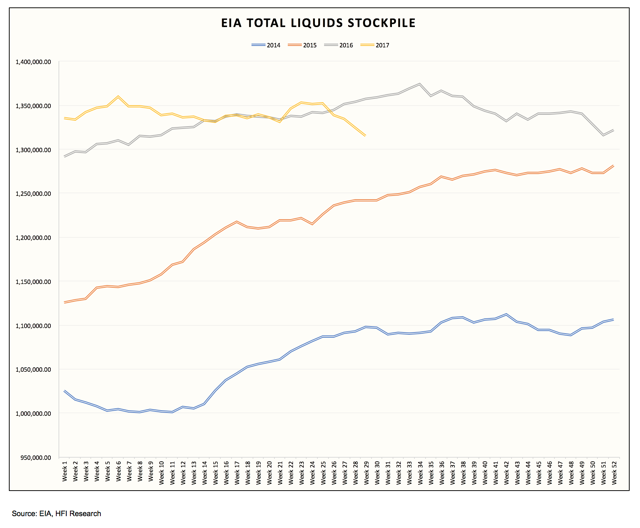 Total oil stockpile since the start of the year is now solidly in negative territory. Since the glut started in 2015, the year-over-year decline is accelerating as shown in the chart below:

In addition, you can see in the chart below that US crude storage is now in deficit territory year over year.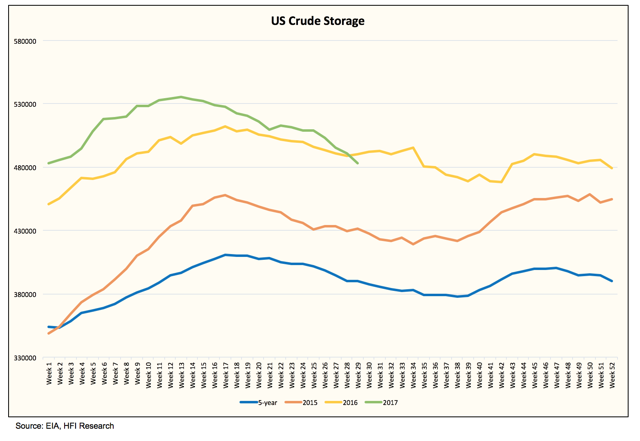 Refinery margins point to impressive runs continuing...
The impressive thing about the latest storage reports is that refined products are also decreasing, which has pushed crack spreads to year-to-date highs. Implications of higher crack spreads imply that US refineries will likely increase throughput over the coming weeks; this will push crude demand up, and result in more storage draws.
Physical oil markets continue to be very bullish pointing to...
As we wrote yesterday, the physical side of the oil market continues to paint a very bullish picture. The STRIP curve is flattening once again pointing to possible backwardation by summer end if storage draws continue to impress, and floating storage globally has been absorbed by higher than expected demand.
Where does that leave us...
We continue to expect US crude storage decline in the coming weeks at a material pace of about 5 million bbls per week. This is what storage will look like by September: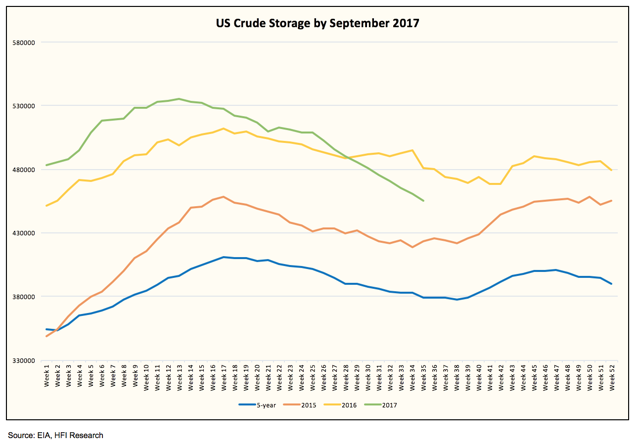 If Saudi follows through with its commitment of cutting exports in August to 6.6 million b/d, global crude storage draws will likely accelerate faster than we are currently forecasting. The underlying fundamental outlook continues to point favorably for the bulls.
For readers that have found our oil market articles insightful, we think you will find our HFI Research offering to be even more valuable to you. You can see here for more info.
Disclosure: I/we have no positions in any stocks mentioned, and no plans to initiate any positions within the next 72 hours.
I wrote this article myself, and it expresses my own opinions. I am not receiving compensation for it (other than from Seeking Alpha). I have no business relationship with any company whose stock is mentioned in this article.