In about 3 weeks, the USDA will publish the first survey-based estimates of the U.S. soybean (NYSEARCA:SOYB) crop for the 2016/17 marketing year. The food value chain as well as many non-food industries uses the soybean as a raw material input in their production processes. For example, J.M. Smucker Company (NYSE:SJM) and Pinnacle Foods (NYSE:PF) uses soybean oil in a number of its consumer food products. Archer Daniels Midland (NYSE:ADM) processes soybeans into meal and oil for all their various uses downstream in the food production chain.
Given the multitude of uses of the soybean, its market price affects the profitability of many firms. Soybean prices peaked during the 2012/13 marketing year with an average farm price of $14.40 a bushel. However, prices plummeted to an average of $8.95 during the 2015/16 season before rebounding to $9.50 per bushel recently. Early 2017/18 marketing year estimates have farm prices receding again to an average $9.40 per bushel.
In August 2014, The Mays Report published an article entitled, "Soybean Prices Continue Downtrend Heading Into Record Harvest". While prices for soybeans are lower than the average of the $13 per bushel received by farmers during the 2013/14 marketing year, soybean prices today remain 28% higher than the long-run average of $7.35 per bushel.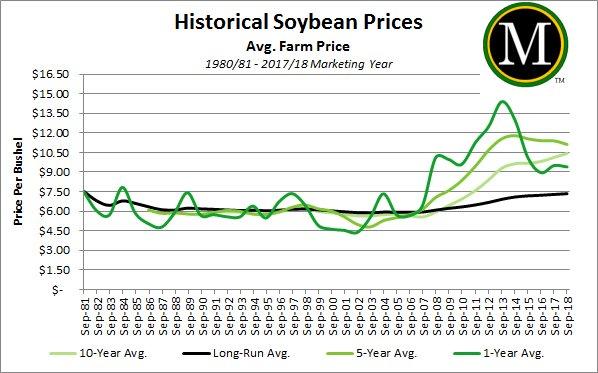 Despite soybean prices remaining above their long-run averages, one can make a bull case, at least over the short-run.
The Bull Case
Higher Current & Projected YOY Export Sales / Higher Chinese Imports
The rise in soybean imports by China has benefitted U.S. exporters the most. Brazil exports more soybeans than any other country in the world. However, Brazilian producers have recently postponed sales despite more than ample stocks, presumably in search of higher prices. Notably the Chinese Yuan has weakened recently relative to the Brazilian real, which is also providing U.S. exporters with a short-term advantage.
Next Years projected CAGR of global demand higher than CAGR global supply
Current estimates of the 2017/18 marketing year suggest a demand growth rate of 3.85% while supply expected to grow 2.99%.
Current soybean crop condition lower than a year ago
Only 57% of crop rated good-to-excellent vs. 71% a year ago. Soybean crop condition for two states with the highest acreage planted (23% of total), are Illinois & Iowa. The crop rated good to excellent condition is 59% & 62%, respectively. This is a marked decline from the prior week for Illinois, which had a good to excellent rating of 67%.
States with the lowest condition ratings are North Dakota, South Dakota, and Indiana. Collectively, these states have 20% of total soybean planted acreage this year. The good to excellent condition ratings for these states are 41%, 25%, and 47%, respectively.
The Bear Case
Soybean Ending Stocks at Multiyear Highs
Estimates of current marketing year soybean stocks are 11.1 million metric tons. This is more than double the 2015/16 marketing year in which soybean ending stocks were only 5.35 million metric tons. The 2005/06 marketing year saw ending stocks at 12.2 million metric tons. The average farm price that year was $5.66 per bushel.
Higher Soybean Acreage Driving Supply Growth
The downturn that began following the 2012/13 marketing year saw a marked increase in planted acres from 75 million in 2011/12 to a projected 89.5 million acres in the 2017/18 marketing year. Wheat acres planted declined from 54.4 million to a projected 46.0 million over the same period. Farmers have been understandably chasing the greater profits offered by soybeans compared to wheat.
Current Farm Prices Significantly Higher Than Long-Run Average
As explained and illustrated in figure 1 above, the current year and next years projected average farm price remain well above the long-run average.
Longer Term CAGR of global demand lower than global supply
Excluding projections for the 2017/18 marketing year the three, five, and 10-year growth rates of global soybean supply are higher than demand. U.S. supply growth rates have long been lower than U.S.demand. The U.S. market is highly dependent on growth of global exports.
In my opinion, despite recent price declines, soybean prices will likely remain relatively strong and perhaps even rise above current levels over the next couple of months. However, over the longer term, which I'm defining as beginning beyond the next one to two months from now to one to two marketing years from now I expect a further price correction towards the long-run average price per bushel.
Farmers understandably will always be long; they want to sell their harvest for the highest price available. Speculators thrive on the often-unpredictable short-term volatility. However, investors with a time horizon beyond the next couple of months may want to exercise patience before adding soybeans back to portfolio.
Disclosure: I/we have no positions in any stocks mentioned, and no plans to initiate any positions within the next 72 hours.
I wrote this article myself, and it expresses my own opinions. I am not receiving compensation for it (other than from Seeking Alpha). I have no business relationship with any company whose stock is mentioned in this article.