The debt situation in China is an issue that seems to ebb and flow with regularity. This is not surprising since China is the second largest economy in the world. It continues to grow rapidly but its debt to GDP ratio is now on a par with Japan. Any significant slowdown in growth would have global repercussions. Indeed, not too long ago, debt implosions in the much smaller countries of Greece and Argentina were feared to imperil the global economy, triggering big public-sector bailouts.
Recently concern over the magnitude and growth of debt in China has been put on the back burner. There are several reasons. Economic growth has actually exceeded both government and private sector forecasts in the first half of this year. Trade frictions with the U.S. have seemingly eased since the U.S. presidential election. Government actions have staunched what was a continuous large capital outflow from the country in 2016. And the Chinese currency has stabilized lately, standing at about its highest level of the year versus the U.S. dollar.
Those who say that debt concerns are overblown point to this recent record. They highlight the idea that China's political system gives the government much greater latitude in controlling financial imbalances. And the government has used its powers adroitly. In the 1990s as much as 50% of the debt of State Owned Enterprises went bad. The government engineered a huge bailout with little disruption to the global economy and with little fanfare, unlike the hoops former Treasury Secretary Paulson had to jump through to implement the bank rescue of 2008-2009. China's 1990s bailout set the stage for explosive growth in this century's first decade so China's fans are wondering if a similar consequence lies ahead.
Yet China's skeptics remain firm. For one thing, they point out that history shows that the ability of government to quickly undo the damage caused by financial excesses of debt and leverage are overestimated and diminish as an economy gets larger. China's central bank does not have nearly the power of the Federal Reserve or the European Central Bank and these had difficulty dealing with the 2008 financial crisis.
What worries skeptics even more is the recent growth in the structure of China's debt. In our earlier report titled "The Global Growth Conundrum" dated April 15, 2016, we noted that since the 2008 financial crisis, debt growth had exploded around the world. In the U.S., debt relative to GDP rose by about 5% per year with public sector debt nearly doubling relative to GDP while private sector debt actually fell by about 4% per year. In China, it is noteworthy that both public and private sector debt exposure increased since 2008, but with the private sector's exposure increasing at about twice that of the public sector.
Recent data show a continuation of this pattern. Chart I shows that the household debt ratio began to explode around 2012, largely fueled by unbridled real estate speculation and ballooning mortgage debt. According to the Institute for International Finance, it hit an all-time high of over 45% in early 2017, well above the Emerging Market Economy average of around 35%. Meanwhile, in Chart II data from the Bank for International Settlements shows that as of late 2016, China's non-financial sector debt ratio rose to 257% from about 200% three years ago.
Private sector debt problems are generally more difficult to resolve smoothly than are public sector problems because the private sector does not have the ability to print money. In China, the line between public and private is blurred by the large amount of debt owed by State Owned Enterprises. This makes the system less accountable to the market as well. Indeed, not satisfied with financing the construction of ghost cities in China, they have recently financed unaffordable projects in Angola.
Overall, China has added about $24 trillion of debt in the last ten years, bringing its debt to GDP ratio somewhere between 280% and 310% of GDP. The debt run-up is about equal to the total wrung up by the U.S. and Europe combined. To be sure, China's economy has grown faster than the U.S. and Europe, but its debt run-up has far surpassed the run-up by the U.S. in the 2000-2007 period before the financial crisis.
Some estimate that a full-grown government bailout of the financial system could need to be as much as $3 trillion. But this might be understated because of potential secondary damage done to the global economy. The Federal Reserve expanded its balance sheet by about $3.5 trillion in the aftermath of the financial crisis and the global economy is still not right. China skeptics are not about to throw in the towel, but let us hope we do not have to find out how much a Chinese debt explosion might foster.
Chart I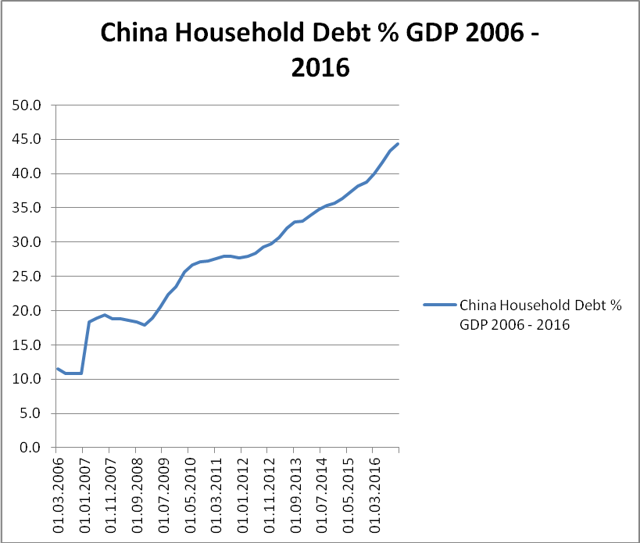 Chart II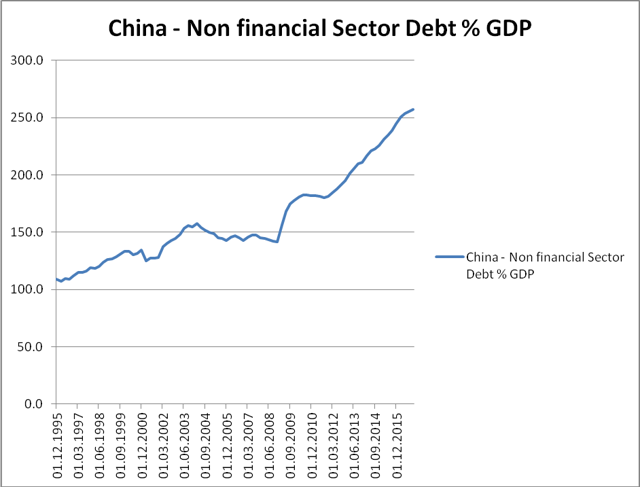 Disclosure: I/we have no positions in any stocks mentioned, and no plans to initiate any positions within the next 72 hours.
I wrote this article myself, and it expresses my own opinions. I am not receiving compensation for it (other than from Seeking Alpha). I have no business relationship with any company whose stock is mentioned in this article.
Additional disclosure: Please note that this article was written by Dr. Vincent J. Malanga and Dr. Lance Brofman, with sponsorship by BEACH INVESTMENT COUNSEL, INC., and is used with the permission of both.