Now-bankrupt U.S. solar panel producer Suniva's Section 201 petition, filed this past April, has caused concerns over increasing political complicity in the U.S. solar market, along with the attitude of the new U.S. presidential administration toward renewable energy. We are hearing opposing voices in unison from the U.S. and the global solar community. Meanwhile, there is speculation from solar PV professionals stating that there's a strong chance the petition will prevail. The impact on the U.S. solar PV industry and jobs could be devastating, as reported by GTM. Solar stocks in various supply positions and countries will be affected in a variable way, leading to an increasingly cloudy outlook for the solar sector.
Nearly three months has passed since GTM stated that this petition was "the most important thing solar is facing in the U.S. right now." Many things have happened in the solar industry in the past three months. Some of them might be equally important, if not more important, than this petition. This individual case seems to have faded from the spotlight. In the meantime, there are increasing signs that the chances for it prevailing are pretty slim. I believe it's time for an update.
First, a lot of attention has been given to strong uptrend of solar stocks lately. The surge started in late June and shows no sign of slowing in July, with JinkoSolar Holding (NYSE:JKS) up 30%, SunPower (NASDAQ:SPWR) up 25%, DAQO New Energy (NYSE:DQ) up 22%, First Solar (NASDAQ:FSLR) up 15%, and Canadian Solar (NASDAQ:CSIQ) up 13%. Second, global solar PV installation in the first half of 2017, especially in China, has surprised people with its soaring numbers. China alone installed 24GW in the first half of 2017; whole-year volume is expected to reach 40GW. The demand and price plummet we saw in the second half of 2016 is unlikely to happen this year. The outlook for 2018 appears even better for China, as solar roof installation is seeing exponential growth. Third, thanks to rapid cost cuts, solar has increasingly become the cheapest energy resource across the globe. The table below shows some low solar power prices of late. We are sure more record low prices will come to pass in the near future.

Source: PV media
Given these new developments, we think it's time to take a deeper look at the two potential results of Suniva's Section 201 petition. It will either be rejected by the U.S. government, or it will be granted. Either way, it will have an impact on solar companies.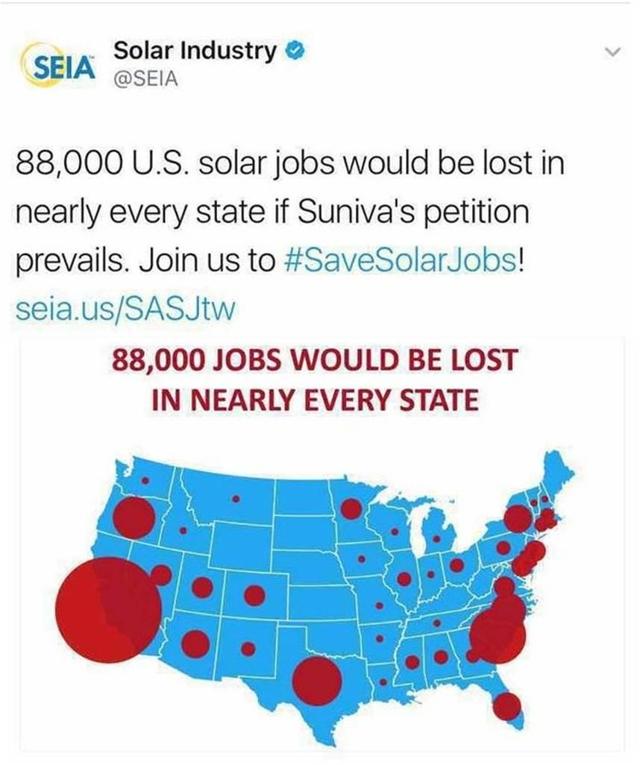 Source: SEIA
Information Suggests This Is a Ridiculous Play That Should Be Stopped
SEIA reports that U.S. solar PV installation in 2016 was 14.6GW. Domestic solar panel capacity, as the table below shows, was around 3.0GW. Factory utilization, however, was pretty low due to high production costs. Nearly 12GW of panel supply depended on imports. The U.S. Energy and Employment Report indicates that the U.S. solar PV industry hired around 37.4K workers in 2016, mostly in the project installation business. That represented the biggest increase in employment in the energy sector in 2016. If the Section 201 petition prevails, there will be a job loss of around 88K workers in the U.S. solar industry. The table below offers a look at U.S. panel factories and the number of people employed there. It's very clear which side the U.S. authorities should protect, from a "safeguard" perspective, which is a principle of Section 201.

Source: Company profile
As more information comes out, Suniva's petition makes it appear as if an ailing Chinese company is trying to blackmail a group of Chinese and American solar PV companies by using an already-dead hostage. Suniva is 63.13% owned by the Chinese company Shunfeng International Clean Energy (OTCPK:SHUNF). Shunfeng also owns Suntech Power (OTCPK:STPFQ), and is a major shareholders of solar wafer maker LDK Solar (OTCPK:LDKYQ). It stepped into those companies when they nearly fell off the cliff, but never succeeded in bringing them back on track. Shunfeng offered its aversion to Suniva's petition on May 16, 2017, saying that it "upholds global free trade principles over Suniva's Section 201 petition." There is no legitimate explanation why Shunfeng, as a main shareholder, couldn't stop Suniva from taking action while it stood against the decision. Maybe it just did nothing to stop it. Maybe it actually supported the decision.
What's even more absurd is that, according to a government source, Suniva wrote an email to China business authority CCCMB -- the supervisor of the national solar PV committee -- shortly after it declared bankruptcy. In the email, it stated that it had a loan of around $55 million that it had to pay back urgently. It provided a list of equipment worth $55 million in its factory and proposed that CCCMB make any Chinese solar company take back the equipment and pay the $55 million. In return, they would drop the petition.
CCCMB denied the proposal instantly, after which Suniva went ahead with the action. There has been no more response from Shunfeng regarding the petition after the PR announcement on May 16. But there are some Chinese media reports stating that Shunfeng has refused to pay Suniva legal fees to proceed with the petition because it doesn't have the money. As international trade exports point out, this Section 201 petition doesn't have the least bit of formality or legal ground with respect to other cases of this sort in U.S. trading history, given the fact that the subject of safeguard is too small a group and that the petitioner's identity is confusing.
Very few U.S. local producers will benefit from this result. First Solar will have full exemption from Section 201 duties with its thin-film panel products. Suniva and SolarWorld U.S. might get back into production, at the expense of 88K jobs and, ultimately, much higher prices for solar consumers in the country. Sunpower has all of its factories scattered in South Asia. It might get an exemption to import its panels into the U.S. free of tariffs, but again that would trigger a flurry of controversy regarding the free trade principle.
Even if the Petition Is Granted, the Impact on Producers Will Be Limited This Time
Although U.S. solar deployment is increasing, its proportion in regard to global installation has been on the decline in recent years. Global renewable energy efforts and rapidly falling costs have created a surge in installations in China and emerging markets. For most Chinese top panel producers -- Jinko Solar, Canadian Solar, and JA Solar (JASO) --U.S. shipments only accounted for 10%-20% of revenue in 2016. Back in 2011, when first-time solar PV AD/CVD duties were raised by the EU and the U.S., more than 60% of global demand was affected. Chinese panels were 95% exported at that time. But now they have orders of 40GW annually -- almost 50% of worldwide volume -- from domestic demand.
The last round of AD/CVD tariffs pushed numerous Chinese panel producers overseas to build factories across the world, especially in South Asia. This time it would seem to be the right countermove again if the petition prevails. But Jinko Solar and Canadian Solar have told the media that they would not be so quick to make that decision this time, as the U.S. market is no longer at the top of their list. A 10GW market would matter a lot when worldwide demand is flat-ish and oversupply is severe. But since 2016, the worry has been eased a lot by the explosion of installations in global markets as solar energy fast approaches grip parity. The deficit in U.S. shipments can be sufficiently compensated for, should it close its door.
Finally, even if the petition is granted, Suniva's price propositions -- $0.40/w for cells and $0.78/w for panels -- are totally irrational. They nearly double the market price. Industry people and legal professionals are working together to make it more viable for the petition to move forward. There have been news reports that have said the price could be somewhere around $0.5/w for panels. That price would probably help Suniva and SolarWorld U.S. restart production, but it would do little to help them make decent profits as their cost is around 50 cents per watt.
Another item for speculation is a quota mechanism that will charge duties on extra volume after regular shipments. This is a measure applied by the EU, but what happened in EU clearly shows that this is not a good solution for all parties.
Conclusion
The company that fueled the first round of solar trade tariffs -- SolarWorld Germany -- is already dead. The outcome of these trade wars is that solar producers in China and Taiwan have continued to grow and international expansion is booming. Global solar PV prices have dropped 80% over the past five years, and are bound to see another 50% decline in the next five years. Solar energy seeing grid parity could happen a decade earlier than expected. U.S. solar deployment is already on the decline vs. global installation. Suniva's Section 201 petition could potentially have a destructive effect on the U.S. solar industry and, to a much lesser extent, on the rest of world. It's still unclear how this case will unfold. However, what's clear is that the impact on Chinese solar stocks such as JKS, CSIQ, and JASO will be limited this time.
Note: As I was writing this article, news came out that India has started an anti-dumping investigation of solar PV products imported from China, Taiwan, and Malaysia. So another 10GW country is trying to close its door on the global solar PV market. I maintain my view about the outcome of this Suniva petition. but the political environment in the solar PV market is clearly becoming more complicated now. Jinko Solar's share price was down by 8% on July 25th.
Disclosure: I/we have no positions in any stocks mentioned, and no plans to initiate any positions within the next 72 hours.
I wrote this article myself, and it expresses my own opinions. I am not receiving compensation for it (other than from Seeking Alpha). I have no business relationship with any company whose stock is mentioned in this article.