The latest house price data, the S&P CoreLogic Case-Shiller Home Price Indices, illustrate a critically important point: real estate is local.
That seems an obvious statement, but many of us have to make national or even global generalizations about the economy, the demand for mortgage debt, the net worth of households, or the need for new construction. So there's good reason for generalizing even though experience is tremendously varied from one metropolitan area to another.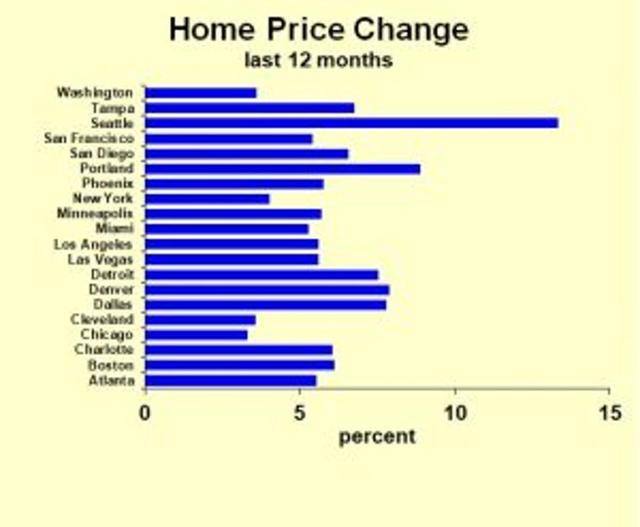 Dr. Bill Conerly based on data from S&P CoreLogic Case-Shiller
Home Price Appreciation
The chart nearby shows the past 12 months' price appreciation. We in the Pacific Northwest look at Seattle (+13%) and Portland (+9%) and wonder if housing is a bubble. The good people of Chicago and Cleveland have seen home prices rise by just three percent, so they wonder what we're talking about.
My favorite generalization for the United States is the Home Price Index for the nation published by the Federal Housing Finance Agency, which showed a seven percent gain most recently. That's strong but does not strike me as bubblicious.
Key takeaways: First, when your objective is understanding the nation, focus on national data and (try to) ignore what's going on in your own neighborhood. Second, when your objective is to understand your own metro area, ignore the national trends even if you hear about them in the news.