In my previous article, I outlined the bearish case for EURUSD. However, I was wrong about the timing. Euro has broken out of its 2.5-year trading range on July 18 and gained another 1.5% since then. In total, EURUSD is up almost 12% so far in 2017, followed by AUDUSD, which is up by 11%.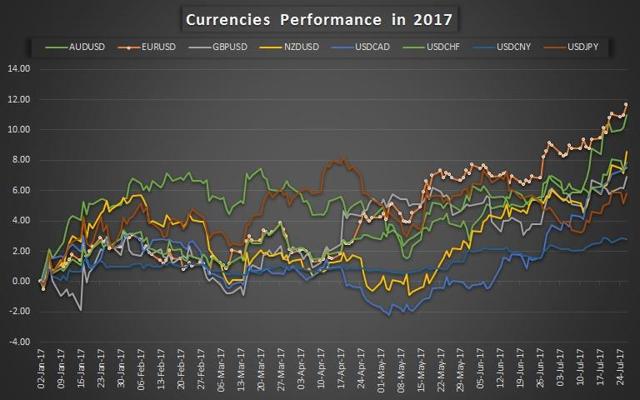 Source: FXCM, CMC Markets, personal calculations
Interestingly, almost half of these gains were accumulated over the course of the last two months, despite the fact that the FED has essentially reiterated its relatively hawkish stance on interest rates and balance sheet reduction. Therefore, if you believe that US dollar is oversold and should rise due to divergent monetary policy, then you might consider going long USD against the most overbought currency. Judging by comparative performance among the majors, euro looks to be the most overextended currency.
However, there are other reasons while I personally believe that shorting EURUSD is a good trade. Let's take a look at the technical picture first and then consider the fundamentals.
Technicals
On a weekly chart, EURUSD has now approached the upper bound of an upward sloping trend channel at around 1.1750 (which is also 38.2% Fibo level from 2014 high to 2017 low). In other words, strong resistance lies ahead. Furthermore, weekly RSI is extremely overbought. In fact, it has reached the level unseen since 2007. I believe we could see a correction towards (at least) 1.1680 and 1.1620. Should economic data disappoint, we could even see EURUSD re-testing support at 1.1300.
Fundamentals
I have calculated that euro is the most overvalued currency based on another measure: the so-called secular performance. Secular performance is a useful, but underused concept in forex trading. It measures currencies performance against the gold. This is an important measure because gold (it is assumed) has some intrinsic valued as opposed to fiat currency, which is just a "legal tender" not backed by physical commodity. In the end, the price of gold will be determined by supply and demand rather than by central banks' monetary policy and the printing press. Analyzing currency performance against the gold allows us to see the scale of "real" demand for this or that currency.
Based on 12-month correlation between EURUSD and euro secular performance against the gold, I estimate that US dollar is currently undervalued by 7.00% against its European counterpart.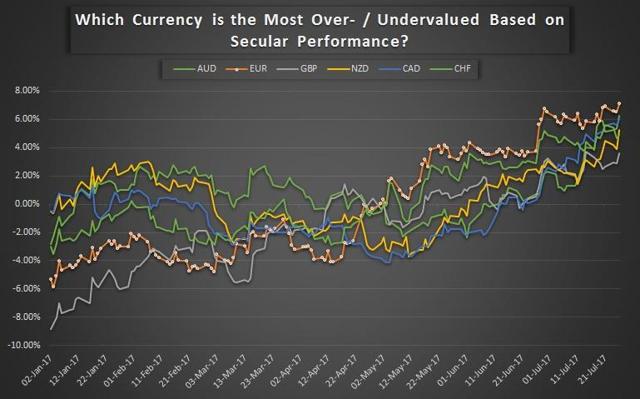 Source: FXCM, CMC Markets, personal calculations
However, the real risk for EURUSD stems from the European economy. Eurozone has traditionally been more sensitive to exchange rates than the U.S. A stronger exchange rate, therefore, is a concern for the ECB, as it will keep a lid on inflationary pressures. According to BNP Paribas, a 3.5% appreciation in the currency knocks 0.16% off inflation. Indeed, inflation seems to be slowing already. Annual CPI rate was at 2.0% in February, but now it is down to just 1.3%.
The final thing to consider is speculative positioning. Aggregate or composite measure - i.e., net non-commercial positions + net commercial positions - stood at 209,773 contracts as of July 18, 2017. This is the largest net long position since March, 2011. This Friday, CFTC report will probably show an even larger scale of long exposure for the week ending July 25. The long side of the trade is clearly overcrowded. And I would assume that it is now safer to be on the opposite side of the trade. I recommend to short EURUSD with initial target at 1.1620.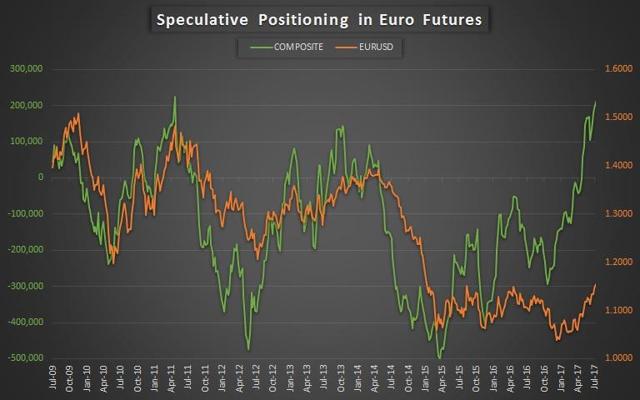 Source: CFTC, personal calculations
Disclosure: I/we have no positions in any stocks mentioned, and no plans to initiate any positions within the next 72 hours.
I wrote this article myself, and it expresses my own opinions. I am not receiving compensation for it (other than from Seeking Alpha). I have no business relationship with any company whose stock is mentioned in this article.