(Editors' Note: This article is meant as an introduction for "Valuation 360," a new Marketplace service by Jason Phillips, CFA).
Over drinks, on the evening of my 30th birthday in January of 2014, a trusted mentor and good friend of mine offered to seed me with capital so that I could start my own hedge fund.
It had been my goal to start a hedge fund of my own one day – but I never expected it to happen so soon.
I left my job with a major international bank to get started immediately, and over the 3 years that followed, I worked tirelessly to build up my knowledge base and learn as much as I could.
Despite a few bumps along the way – what I would characterize today as "rookie" mistakes – I, along with my partner who helps me co-manage the fund, were enjoying some incredible success.
That was until the Spring of 2016 when I had to deal with an unexpected, and very serious threat to my health.
Don't worry – everything is fine, now.
But that experience changed my entire perspective on life.
Leading up to that health scare, I had been working extremely hard to achieve investment success.
But to be perfectly honest, I was only really interested in my own success. The money I had been making for others was only a conduit for me to gain from.
Then, when I started to reflect on my own mortality (I'm not trying to be overly dramatic, but it's true) I realized that my life was lacking a "purpose."
I realized it was time to start giving back, and sharing with others what I had learned.
I want to help people like you make more money investing.
What Is "Valuation 360"?
So, when Seeking Alpha approached me to start my own Marketplace service where I could build a community of like-minded investors – I was thrilled. That's when my new service, "Valuation 360," began to take shape.
"Valuation 360" is your chance to invest, learn and engage, alongside a hedge fund run by a team of CFA Charterholders and chaired by a CFA Charterholder and someone that has +30 years of experience working in the investment industry.
Not to mention a team that has doubled the return of the S&P 500 in its first 20 months.
Who Is This Service For?
This service is for those who are active in the market, simply speaking.
It could be you are a "stock market enthusiast" who loves the "game" of buying stocks and trying to pick the winners.
Or maybe you're a "do-it-yourself investor" because you feel confident that you can manage your own money better than anybody else.
Or, it could be you're like me, and work as a "professional investor." Maybe you manage money for clients and want to get an edge up on the competition. Or maybe you invest or trade full-time, living off the profits you make.
If any of these sound like you, I believe you'll find value in "Valuation 360."
Why Invest With Me?
I've posted a total of 6 articles on Seeking Alpha, to date:
Ford (NYSE:F) (August 15) – this was the only article that didn't include a call to action (buy/sell, etc.). Rather, I suggested holding off on buying the shares and seeing if you could get them at $10.
Full disclosure: I revisited Ford last month and went long the deep-in-the-money calls at a price of $11.05. I'll be revisiting Ford's valuation in an article accompanying the launch of Valuation 360 - inside my service, I'll be revealing how I'm leveraging the idea with an options strategy.
Western Refining (Aug 3) – Here I suggested shares had 50% near-term upside to $30 with a 3-year target of $39. The company was acquired 3 ½ months later for approximately $37 or a 77% gain.
This was the most successful pick I wrote about on Seeking Alpha.
Tsakos Energy Navigation (NYSE:TNP) (Sept 2) – I know a fair number of friends who purchased this stock and like me, we're all still waiting.
Shares are basically flat although perhaps are starting to break out. Still waiting.
Chicago Bridge & Iron (NYSE:CBI) (Jan 31) – If you read this report and purchased the stock as a result, I'm genuinely sorry. Flat out, we just got it wrong that $30 was the time to buy. Yet at the same time, we continue to hold the stock, confident that it is undervalued below $20 and worth at least mid-$30s.
We are strongly considering doubling down on this stock with call options if/when the chart stabilizes – stay tuned for more.
Triumph Group (NYSE:TGI) (Mar 24) – This one has done better, up 35% in the 3 ½ months that have passed since my article was posted.
Full disclosure: I no longer have any position in Triumph Group.
ICICI Bank (NYSE:IBN) (Feb 7) – We own ICICI shares but bought them well before this article was posted.
We are up 42% since buying IBN early-to-mid 2016 for a 35% annualized return. IBN is up 16% since my article was posted which would work out to be 42% annualized.
To summarize the returns:
Western Refining 77%
Tsakos Energy 0%
Chicago Bridge & Iron -38%
Triumph Group 35%
IBN 35%
Average holding period return: 21.8%
More performance attribution:
Winning percentage: 60% * I count TNP as a "loser" because we're not in this to break-even
Average win size: 49%
Average loss size: -19%
But wait - there's more… (Yes, I realize that's a small sample size)
While six articles posted to Seeking Alpha would constitute a "small sample" by anyone's measure, my body of work as a portfolio manager is considerably larger, yet is remarkably similar.
"Take the probability of loss times the amount of possible loss from the probability of gain times the amount of possible gain. That is what we are trying to do. It is imperfect but that is what it is all about."
-Warren Buffett, 1989 Berkshire annual meeting
The following are our portfolio's returns after our first 20 months, measured by what I could consider the five key measurement periods:
Year 1 (Nov 2015 to Nov 2016): Portfolio 14% S&P 2%
2016 Calendar Year: Portfolio 25% S&P 10%
Year 2 (Nov 2016 to July 2017): Portfolio 16% S&P 14%
2017 Calendar Year: Portfolio 2% S&P 8%
Since Inception: Portfolio 32% S&P 17%
We have effectively doubled the return of the S&P 500 in our first 20 months.
What's more, our portfolio's winning percentage is similar that of the "SA Picks," at about 60%-65%, with an average "win size" of about 40% and loss size of around 10%.
Note: CBI has been a drag on performance for us in 2017, and value has been underperforming growth, but perhaps I'll address the effect of "style investing" later via an exclusive article, or maybe we can discuss it in the "live chat" feature within the service, if you'd like.
Don't pass up on this opportunity to invest, learn and engage, alongside a hedge fund run by a team of CFA Charterholders and chaired by a CFA Charterholder and someone that has +30 years of experience working in the investment industry.
And, a team that has doubled the return of the S&P 500 over its first 20 months.
Here's What You Get As A "Valuation 360" Subscriber
As an exclusive member, you'll get:
At least 1-2 actionable ideas per week featuring what I feel is "The Best Idea in the Market Today" complete with comprehensive research and a focus on valuation.

These are typically going to be stocks that I believe are offering you, the investor, annual returns of at least +20% per year.

"The Weekly 360," an exclusive weekly newsletter designed to highlight the Top 10 Best Investment Opportunities in the Market Each Week, along with a short brief about each idea and its score according to the "Valuation 360 Methodology" which is detailed inside the site.
Where appropriate, I'll also be highlighting how ideas can be leveraged using option strategies (deep in the money calls and puts, diagonal calendar spreads, covered calls, short puts, etc.)
And in addition, from time to time, I'll be posting exclusive articles on educational or informational topics of interest to members of the "Valuation 360 Community" as requested (technical analysis, options strategy, trading psychology, behavioral investing, money management, etc.)
"Push" notifications to email on real-time buy and sell alerts.
A "live chat function" – where members can discuss and share ideas with other members in real-time and where I will be holding "live Q&A sessions."
Don't Miss Out On This Opportunity – Limited Time Only Offer
Free Trial for the Next 2 Weeks
Plus! Early Bird Discount - 30% off Yearly Price for First 25 Members Who Sign Up Before Labor Day
In an effort to have you come inside and try out the service, I've decided to offer a 2-week free trial for all new members.
When you get inside the site, you'll see that I've already posted what I believe are the "3 Best Ideas in the Market Today":
An underappreciated, fintech company with EM exposure and an aggressive growth agenda.
A deep value contrarian stock with a great chart set-up and rich in cash flow.
What I feel is the best "short play" available in the market today.
The value of these three investments alone is worth more than the entire value of my yearly subscription, not to mention that you aren't obligated to pay anything if you aren't completely satisfied.
If you aren't at all happy with the service, you can leave anytime, no questions asked.
I'm essentially giving you a free call option on my service – but remember, only for a limited time.
In addition, I am offering an exclusive opportunity for the first 25 members who join to receive 30% off the yearly price of their first year's subscription.
PLEASE NOTE: Prices will be going up over time, so do not miss out on this opportunity to get at today's discounted price, which will effectively lock you in at the "grandfathered" rate.
I hope you'll take full advantage of this limited-time offer and check out the service for yourself.
One last thing:
I want to make this the best possible service for "Valuation 360" members.
So once you get inside, there are a plethora of ways you can reach me to tell me what you like about the service, what you want to see more of, what you dislike, what you want to see changed, and even what companies you would like to see me cover. This service is for you, and I'm open to your suggestions to make it the best it can be.
See you inside.
Jason Phillips, CFA
Update on February 28, 2018:
"It has come to my attention that there were some questions raised as to the validity of my performance claims in the original 'Announcement' article, originally published July 27th, 2017.
As a result, below, I have provided a more complete, full and fair disclosure along with supporting documentation so that you, the reader, can come to the most complete conclusion as to the quality of my research and the resulting performance of my "actionable ideas" published on Seeking Alpha, prior to the launch of my Marketplace service.
The performance figures below have been calculated as of July 3rd 2017, which is the same date that the since inception returns were calculated for my larger body of work as a portfolio manager (also shown in more detail below).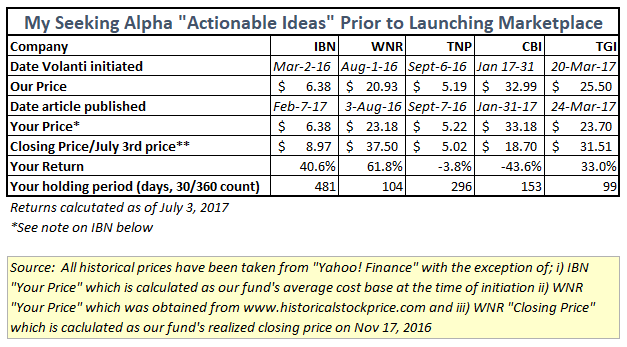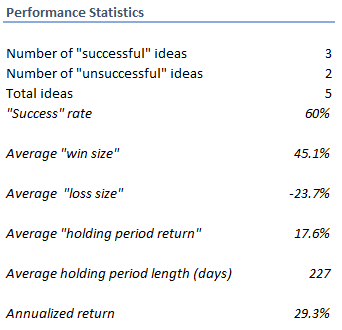 Note: "Your price" is determined as the closing price the day the article was published, or the opening price of the first day's trading, if the article was published on a weekend.
My rationale in disclosing all of the articles that I had published on Seeking Alpha, up to time I had launched my Marketplace service, as well as the respective performance of those ideas, was to give my readers the ability to review all my past research ideas and theses, so they could make an evaluation for themselves as to the quality of those ideas and the investment philosophies described in combination with those ideas, in order to allow them to come to a clear conclusion as to whether my research, the type of performance that research was capable of producing, and the Marketplace service that I was launching in support of that research, was the right type of service for them.
It is with that thought process in mind, that I have made the decision to include the performance of ICICI Bank (IBN) as part of our fund's concentrated "alpha" portfolio within the overall performance of my research prior to the launch of my Marketplace service.
While the February 7, 2017 article was posted well after our fund had initiated a position in the company, I was not actively contributing to Seeking Alpha at the time we had initiated our position, the week of March 2nd, 2016.
Therefore, I simply didn't have the forum available to share the idea with my readers back then - but the justification in including the ICICI Bank idea is that this most certainly would have been an idea which I would have been sharing with my readers had I been operating a Marketplace service at the time.
Also, it may be worth noting that since publishing the ICICI Bank research idea on Seeking Alpha on February 7th 2017, the stock has continued to perform well, up 42% since then, in a little under a year, as of January 24th 2018, despite our decision to close out the position and an article that I published on September 11th, 2017 that suggested we no longer favoured the risk-reward being offered by the shares at the time.
However, if you opted to take the more conservative approach and remove IBN from the above performance, the results would be as follows: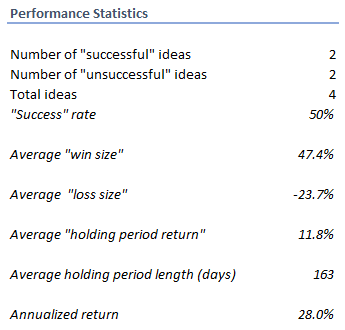 While the average "win size" and "loss size" do not change materially, it's the "success rate" dropping from 60% to 50% in the absence of IBN, that brings the "annualized return" down from 29.3% to a lower, but arguably, still respectable, 28.0%.
The following are our portfolio's returns after our first 20 months, measured by what I could consider the five key measurement periods:

We have effectively doubled the return of the S&P 500 in our first 20 months.
Disclosure: I am/we are long F.
I wrote this article myself, and it expresses my own opinions. I am not receiving compensation for it (other than from Seeking Alpha). I have no business relationship with any company whose stock is mentioned in this article.
Additional disclosure: We are long Ford, Chicago Bridge & Iron, ICICI Bank and Tsakos Energy Navigation