Investment Thesis
The last article written on John and Jane was nearly 2 months ago, and considering the changes that have been made is time for an update/review of their portfolio and life situation. For more detailed background on John and Jane situation, please refer to the original article here.
The goal of this article is to review some of the changes that have been made and discuss my thought process as I make changes in their retirement portfolio. My hope is that this article helps other retirees give consideration to the different aspects and consequences of making changes to a retirement account (especially when it is held in a taxable account).
John and Jane have achieved a lot over the last two months as they continue to position themselves for retirement. While Jane still has a few years left to work, John will be retiring at the end of the year and so it is especially important that the majority of changes that need to be made are completed by this time. Here's a short list of some of the changes made:
Replaced Jane's 18-year-old vehicle with a brand-new one. The vehicle is paid for in cash, so there are no payments involved.
John recently turned 66 and is set to receive his first Social Security payment.
Recently transferred the taxable account from their financial advisor to a self-managed account using Charles Schwab.
Changed Vanguard dividends from reinvestment into a direct deposit that goes into John and Jane's savings account. (This amounts to about $2800 per year). We are still working on gathering all the necessary General Electric (GE) paperwork (these are paper certificates and are complicated due to some being listed in Jane's maiden name). We expect the GE dividends to amount to approximately $3800 per year.
Changes To The Taxable Account - Considering Our Options
One of John and Jane's biggest complaints was that years ago changes were made in their taxable account that resulted in capital gains even though the funds from the sale were reinvested in another mutual fund that was sitting at a loss by the end of the year. This created a very unsavory situation where John and Jane had to pay taxes even though they were currently sitting at a loss.
I want to be clear that I am not a tax advisor nor am I qualified to give tax advice. However, I consider myself fairly skilled in reviewing situations like this and being able to work through a meaningful dialogue that helps determine the best course of action. As a firm believer in the benefits of the Socratic Method, John and Jane were able to determine that minimizing capital gains taxes was a top priority as this will be the final year of full income before John retires.

Source: Consistent Dividend Investor, LLC
The table above represents what John and Jane's portfolio would look like had no changes been made at this point in time (this is exactly what it looks like when we brought it over from their financial advisor). The primary reason for bringing it over without selling anything was primarily to make sure that we did not incur any unnecessary capital gains charges. With John and Jane both working full time and earning strong incomes with no deductions, the last thing that we needed to do was add an additional $27,561 of earnings to their normal income.
The next goal I had was to free up the maximum amount of capital for investing while incurring the least amount of capital gains in the process. Although this exercise sounds simple there are several things I discussed with John and Jane that helped lead us to the best solution:
Most of the mutual funds have a "load fee" accompanied by a maintenance fee of .25%. Because of this, we don't want to unnecessarily sell mutual funds that we might want to keep because the "load fee" would become a sunk cost in the process. The maintenance fee alone is not enough to justify the sale of any of the above mutual funds.
The goal for John and Jane is to build a portfolio that generates consistent dividend returns regardless of the market changes and economic conditions. I reviewed each of the mutual funds' holdings to see whether these were consistent with this goal.

Source: Consistent Dividend Investor, LLC
3. Finally, the table above was designed to give me a ratio of capital gains to total portfolio value. This table ensured that we freed up the most funds with minimal capital gains. A low percentage represents minimal capital gains for John and Jane.
We decided to sell Loomis Sayles Investment Grade Bond Fund Class A (LIGRX) for a couple of reasons:
With John and Jane both still working and John beginning to collect Social Security it was important to minimize capital gains. LIGRX represented the best option to free up a meaningful amount of capital with minimal cost.
LIGRX currently trades at close to net asset value and is sitting at the higher end of its 52-week range.
It is stated in the fund strategy that the goal is to "generate current income and capital appreciation. However, the 15 year annualized returns of 7.15% (without load) is heavily skewed towards capital appreciation over current income. In the end, LIGRX's 12-month yield of 2.37% was not high enough to fit John Jane's strategy. This yield is further reduced when we consider the expense fee of .80%-.85%.
New Positions
After selling the entire LIGRX holding on July 21, we have added six new stocks to John and Jane's holdings. Each position entered into is considered to be a "partial position" with the potential for additional investment going forward. It can be difficult to restrain one's urge to enter into a full position (especially when we believe that shares are undervalued) and admittedly it has taken me the better part of five years to truly appreciate the benefit of a partial position strategy.
Some people have a hard time saying no because of the fear of missing out (also known as FOMO). The same concept can be applied to investing since investors can suffer from the fear of missing out on an investment that ends up producing high-returns (which leads to a hindsight is 20/20 moment). Every seasoned investor remembers the investments that they would've made a killing on but rarely do they talk about the investments that they shouldn't have made. Partial positions help smooth out this process by doing the following:
Allows us to still capture some of the upside associated with an investment.
Reduces our exposure to investments that are subject to increased downside.
For securities that experience downside, it allows us to enter into a position later on that improves upside and lowers the average share cost.
For those who do better with analogies, I can't help but think of a better example than baseball to explain this strategy. If we go up to bat attempting to hit a home run every single time without exception it would be reasonable to expect that our batting average would decrease because our likelihood of striking out or hitting a pop fly ball increases. Anyone that knows baseball can tell you that the most successful teams are the ones who can get players on base (this isn't just strategy, statistics support it).
Translating this concept to investing is even less practical because it would require you to find stocks that are incredibly undervalued in order to hit a home run, but we all know that is difficult to do with markets that are typically quite efficient. Partial positions are equivalent to consistently getting on base while full position investing represents a player who is always swinging for the fences.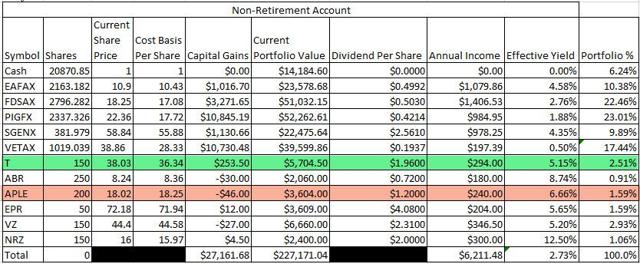 Source: Consistent Dividend Investor, LLC
The changes made to John and Jane's portfolio demonstrate why the partial position strategy makes sense. AT&T (T) ended up being a grand slam as we entered into a position a few days before their earnings beat expectations. We all know that I would've added more to that position had I known they would beat their earnings but let's be honest with ourselves and admit that they had just as much likelihood of missing their earnings. By entering into a partial position John and Jane were able to capture some of that upside.
Apple Hospitality REIT (APLE) is an example of a position that I am glad I only took a partial position in because it is down almost $.25 per share since my purchase on Monday, July 24th. Third-quarter earnings should be coming out in early August (which is normally a strong quarter for APLE). With a payout ratio of approximately 68% this could very well be the quarter that APLE announces a dividend increase. If shares keep dropping I would definitely feel inclined to add the John and Jane's shares.
Gas In The Tank
We all know that it is a terrible idea to drive down to the last ounce of gas in our tank, so why do so many people invest every last penny they have when ever possible? As noted in the table above, there is still over $14,000 of available capital for future investments before another mutual fund needs to be sold. I believe in maintaining a modest amount of cash in direct relationship to the total amount of money available for investment.
Gas in the tank is important for taking advantage of home run-like situations that occur when the market overreacts. Here are a few examples of stocks that popped up on my radar over the last few days due to the dramatic fall in share price:
Stepan Co. (SCL) - I view SCL is one of the most unappreciated consistent dividend growth stocks available. SCL is closing in on its 50th year of continuous dividend increases and although its yield is under 1% I see a small position in this company as a great way to provide balance for some of the higher-yielding stocks and John Jane's portfolio. After a slight earnings miss (primarily due to one-time costs and restructuring expenses) the market hammered SCL and dropped their share price by approximately 4.2% in one day.

3M Co. (MMM) - Chances are that there are numerous products in your household made by this company and with 58 years of continuous dividend increases is one of the strongest performers on the market today. 3M announced rather favorable earnings on July 25th beating earnings per share estimates by $.07/share and only slightly missing revenue expectations. 3M also raised the low end of its full-year earnings guidance (which I view is a huge positive). With a payout ratio of 52%, and a five-year average dividend increase of 15.1% I see 3M as an excellent addition to John and Jane's portfolio. Although the increase in dividend yield from 2.24% to 2.36% might seem trivial, I would consider it extremely significant given the strength of 3M's business.
Conclusion
With just a few changes to John Jane's portfolio we have increased dividend income by over $700 annually ($58/month) while still maintaining almost $12,000 more in cash (when compared to their old investments) that can be used to purchase additional stocks. At the same time, we have made these changes without causing John and Jane to incur any significant capital gains taxes. I will continue to write regular updates as we buy additional stocks and eventually sell other mutual funds that will provide the capital necessary to expand on our consistent dividend growth strategy.
What do you think about the changes made to John and Jane's portfolio? I am always interested in hearing constructive and meaningful feedback.
John and Jane are long: Verizon (VZ), T, New Residential Investment Corp (NRZ), APLE, Arbor Realty Trust (ABR), EPR Properties (EPR), and GE.
Final Note: If you enjoy my articles, please take the time to follow me. While I enjoy performing analysis, following me is the best method for showing me that SA subscribers are finding my work useful.
If you have any suggestions to improve my articles or if you would like me to perform analysis on a stock please feel free to message me and I will do my best to make it happen. I truly appreciate thoughtful feedback and would love to create content that is truly meaningful.
Disclosure: I am/we are long ABR.
I wrote this article myself, and it expresses my own opinions. I am not receiving compensation for it (other than from Seeking Alpha). I have no business relationship with any company whose stock is mentioned in this article.
Additional disclosure: This article reflects my own personal views and is not meant to be taken as investment advice. It is recommended that you do your own research. This article was written on my own and does not reflect the views or opinion Umpqua Bank (UMPQ).

Charts used in this article are the property of Consistent Dividend Investor, LLC of which I am the sole owner. They are not to be used or recreated without my permission.