If you're looking to get on the ascending side of a growth trajectory, maybe you should look closer at MPLX LP (NYSE:MPLX), a midstream energy MLP we've covered in previous articles.
We last covered MPLX on 5/4/17 - since then, it's up 9%. Although it trails the market year to date, it has caught a bid in the past month, rising 12.66%. Guggenheim started coverage on July 20th, giving it a Buy rating, with a target of $40.00.

The company's CEO, Gary Heminger, made a bullish move on June 12th, buying 9,000 shares at $33.26, for a total investment of $299K:

(Source: finviz)
MPLX has been on a roll, increasing its assets via drop-downs from its sponsor/general partner, Marathon Petroleum Corp. (NYSE:MPC). MPLX is a diversified, growth-oriented master limited partnership formed in 2012 to own, operate, develop, and acquire midstream energy infrastructure assets. In 2015, MPLX merged with MarkWest, whereby MarkWest became a wholly-owned subsidiary of MPLX.
Q2 '17 saw record amounts again, in revenue, net income, EBITDA, and DCF: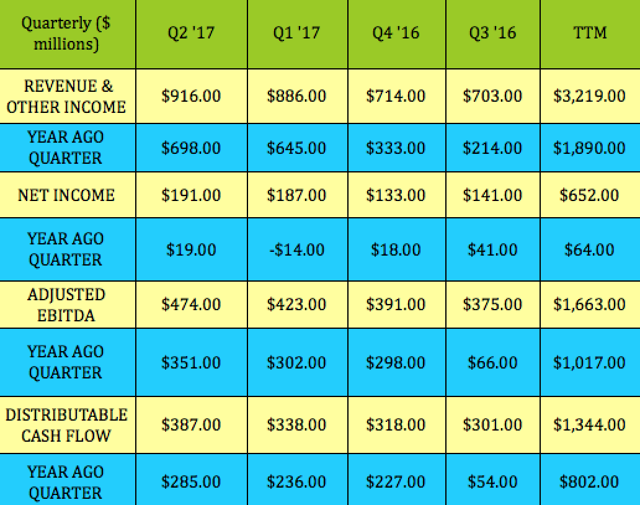 This asset growth trajectory has led to some rather impressive quarterly growth numbers over the past four quarters: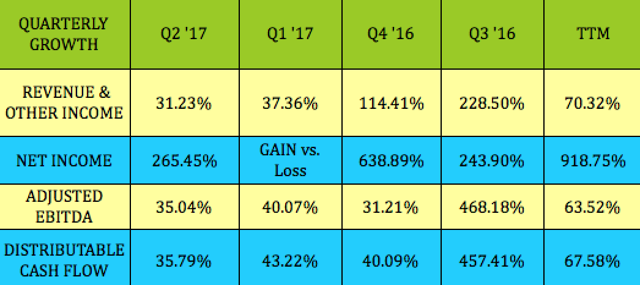 Which, in turn, has caused management to increase its 2017 EBITDA, DCF, and Net Income guidance for the 2nd straight quarter. In addition, management has reaffirmed its guidance for 12% to 15% distribution growth in 2017 and double-digit growth in 2018: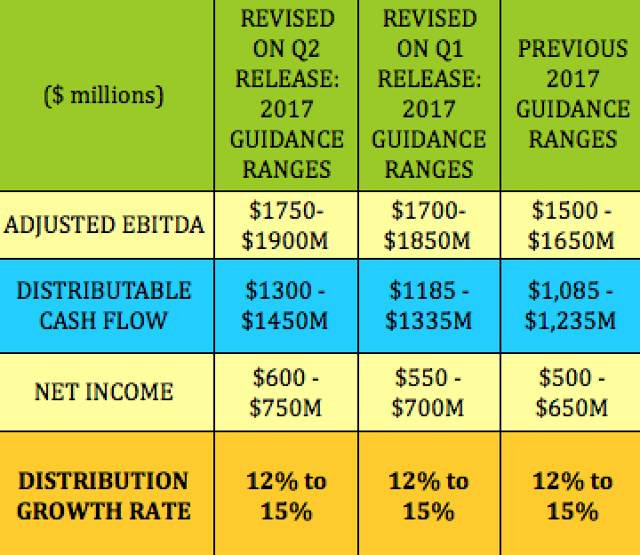 Unit count grew over 15%, as management issued units to help fund its acquisitions, but with 68% DCF growth, both distributions/unit and distribution coverage have grown in the past four quarters:
Distributions:
Management declared its 18th straight quarterly distribution hike, raising the payout to $.5625 vs. last quarter's $.54 payout. It currently yields 6.2% and goes ex-dividend this week, on 8/3/17. MPLX has a four-year annualized distribution growth rate of 24.67%.

You can track MPLX's current yield and price in the Basic Materials section of our High Dividend Stocks By Sectors Tables.
Unit-holders get a K-1 at tax time. Since this is a tax-deferred investment, you'll get more tax advantages from it by not holding in an IRA. There also can be tax reporting consequences resulting from holding an LP in an IRA - please consult your accountant before investing.
MPLX's distribution coverage has been solid, averaging 1.26x over the past four quarters. But wait, it's going to get better - on the Q2 '17 earnings release, management stated that, in Q3 '17, "MPLX expects to exchange newly issued common units for MPC's general partner economic interest, including incentive distribution rights (IDRs) and its 2% general partner interest."
"These strategic actions are intended to reduce MPLX's cost of capital and enhance its long-term distribution growth capabilities. Following these transactions, the partnership also expects to target a higher coverage ratio over time and internally fund a greater portion of its future growth." (Source: MPLX Q2 '17 earnings release)
Options:
If you have more of a short-term horizon, here's a September 2017 covered call trade for MPLX, from our free Covered Calls Table, which tracks over 25 trades daily.

Here are the three main scenarios for this trade, (other than a price meltdown), which range from static to assignment. The risk with covered calls is that you may only participate in a limited amount of upside, (i.e. the $.69/share difference between MPLX's $36.31 price/unit vs. the $37.00 strike price), in return for receiving the $.45 option premium. Take a look at the Analysts' Targets section further below - the low target is now $39.
If, on the other hand, you're looking to boost your income on a short-term basis, the call option bid of $.45 can do that, giving you $1.01/unit vs. $.5625/unit, in this approximately seven-week trade. The $.69 upside is a bit higher than the quarterly distribution, if your units get assigned/called away prior to the ex-dividend date this week.
An alternative approach would be to wait until after the ex-dividend date to execute a covered call trade, which wouldn't jeopardize the August quarterly distribution.

Looking for a lower breakeven? This September put trade is from our Cash Secured Puts Table, where you can see more details for over 25 other put-selling trades. The $36.00 put strike bid is currently $1.10 vs. the $.5625 August distribution, and gives you a breakeven of $34.90.
Another wrinkle would be to wait for the ex-dividend date, when MPLX should probably correct by around $.56, the distribution amount. You may get a lower breakeven at that point, unless it runs up this week.
Future Growth:
Management reiterated its major growth plans on the Q2 earnings release:
"In early July, the Logistics and Storage segment's (L&S) Utica build-out projects, including the newly constructed Harpster-to-Lima pipeline, became fully operational. In combination with the Cornerstone Pipeline, these projects create additional fee-based revenue for the partnership and new access for Utica and Marcellus shale producers by moving condensate and natural gasoline to refineries throughout the Midwest. MPLX is currently constructing additional connectivity and expanding pipelines to provide more optionality for Midwest refiners."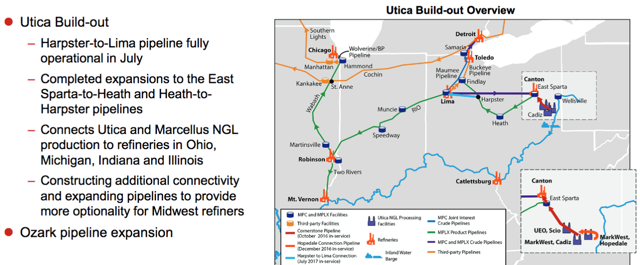 (Source: MPLX site)
"In the third quarter, MPLX anticipates completing the second of several acquisitions from sponsor MPC, with the offer of the joint-interest ownership in certain pipelines and storage facilities. These assets are projected to generate approximately $135M of EBITDA. MPC has indicated work remains on schedule to prepare the remaining assets with annual EBITDA of approximately $1 billion for dropdown to MPLX no later than the end of the first quarter of 2018."

"Upon completion of the dropdowns, MPLX will be among the largest diversified master limited partnerships in the energy sector," CEO Heminger said. "With a robust portfolio of organic projects in the Marcellus, Permian and STACK, which are among the most prolific and economic shale plays in the country, we believe MPLX is well positioned to deliver attractive long-term returns." (Source: MPLX Q2 '17 release)

In addition, it has more projects due to complete in 2018:

(Source: MPLX site)
Risks:
Even though MPLX has limited direct commodity price exposure, the risk is still there. Management added this table to its Q2 '17 presentation, which shows the potential impact to the company's DCF from NGL, crude, and natural gas.
NGL would have the greatest potential impact, ~$18M per $.05 move. This equates to ~ 1.3% of the company's low end $1.3B DCF forecast for 2017.

(Source: MPLX site)
Unit Dilution: As we detailed earlier, management plans to issue more units in Q3, as part of a buyout of MPC's Incentive Distribution Rights - IDRs. This may result in a temporary dilution of units, but, long term, it makes sense, and should decrease MPLX's cost of capital. The IDR payout in the first six months of 2017 was pretty hefty, at $130M - 22% of its total distributions declared. The IDR buyout should decrease the total distributions paid, while aiding the company to maintain and even increase its coverage over the long term.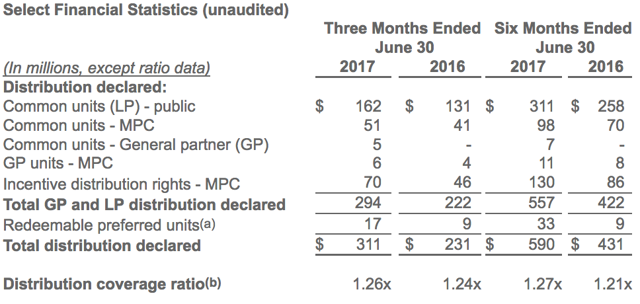 (Source: MPLX site)
Debt: At present, MPLX's debt levels look reasonable when compared to its peers. This will be something to watch as they take on more assets. Management is aware of this - as noted above, it intends to internally fund a greater portion of the company's future growth.
Analysts' Price Targets:
MPLX is currently 7% below analysts' low price target of $39.00 and 15.5% below the average $42.97 price target.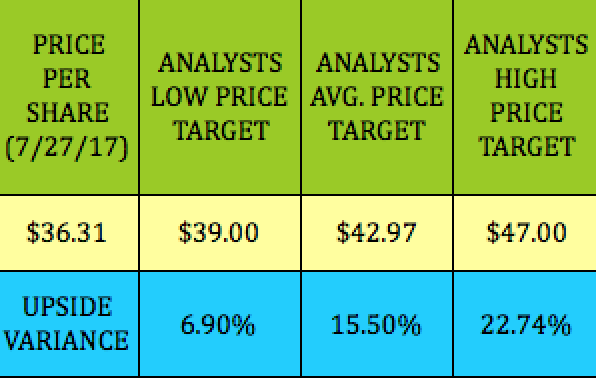 Analysts have consistently raised their low price targets for MPLX over the past few quarters:

Valuations:
We've updated this midstream valuations table, which also includes some midstream firms we've covered in recent articles, such as Enable Midstream Partners LP (NYSE:ENBL), Summit Midstream Partners LP (NYSE:SMLP), PBF Logistics LP (NYSE:PBFX), Green Plains Partners LP (NASDAQ:GPP), Arc Logistics Partners (NYSE:ARCX), Holly Energy Partners LP (NYSE:HEP), Martin Midstream Partners (NASDAQ:MMLP), and Plains All America Partners, (PAA).
MPLX has the lowest yield in this group but has above-average distribution coverage (third highest in the group). Its price/DCF is at a premium, right up there with Holly's, whom it also trails with the second highest EV/EBITDA ratio. Conversely, it has the second lowest price/book in the group:
Financials:
Management has made steady progress in its ROE, ROA, and operating margin performance measures over the past four quarters. Debt/equity and net debt/EBITDA are both higher now than at the end of Q3 '16, but the company's net debt/EBITDA ratio has declined steadily over the past two quarters. (There's no current ratio on the earnings release.)

There's a wide range of values in this group for most of these metrics. MPLX's ROA, ROE, and operating margin all have a ways to go to get even with the group average, but it has the lowest debt/equity in the group, and a below average net debt/EBITDA leverage factor:
Debt and Liquidity:
Management issued this information regarding debt and liquidity on its Q2 '17 earnings release today:
"As of 6/3017, MPLX had $293 million in cash, approximately $2B available through its bank revolving credit facility expiring in December 2020, and $500 million available through its credit facility with MPC."

"On 7/21/17, MPLX replaced its existing bank revolving credit facility with a new five-year $2.25B bank revolving credit facility, with an expiration approximately 18 months after the previous facility."

"The $250M outstanding under the term loan facility was repaid on July 19, 2017. During the second quarter, MPLX issued approximately 9 million new common units through its at-the-market program and received net proceeds of approximately $286M."

"The partnership's $2.8 billion of available liquidity and its access to the capital markets should provide it with sufficient flexibility to meet its day-to-day operational needs and continue investing in organic growth opportunities. The partnership's debt-to-pro forma adjusted EBITDA ratio was 3.8 times at June 30, 2017. MPLX remains committed to maintaining an investment-grade credit profile."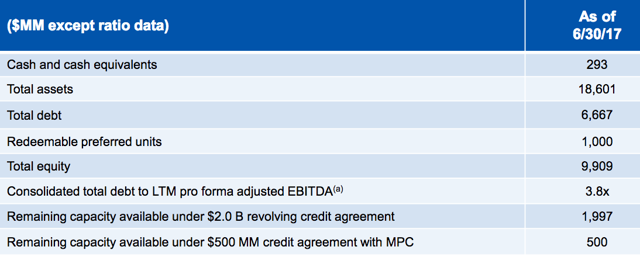 (Source: MPLX site)
Summary:
We rate MPLX a buy, based upon its growth prospects, attractive yield, strong balance sheet vs. its peer group, and its strong distribution coverage.
All tables furnished by DoubleDividendStocks.com, unless otherwise noted.
Disclaimer: This article was written for informational purposes only, and isn't intended as personal investment advice. Please practice due diligence before investing in any investment vehicle mentioned in this article