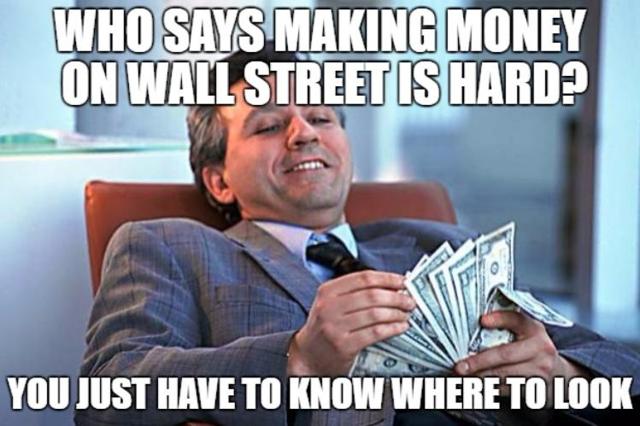 As an investment writer and high-yield, dividend growth investor, one of my greatest passions is finding and pointing out excellent long-term investing opportunities to my readers.
That's especially true when Wall Street is mispricing certain sectors, as it pretty much always does, no matter how high the overall market may fly.
So let's take a look at two of my favorite real money investments in the beaten-down midstream MLP segment: MPLX LP (NYSE:MPLX) and GasLog Partners (NYSE:GLOP).
Specifically, learn why these two MLPs have the kind of generous, secure, and fast-growing payouts that are likely to help you turn your diversified dividend portfolio into a true money-minting machine in the coming years and decades.
MPLX: Growth Engine Firing On All Cylinders
MPLX is a midstream MLP sponsored and managed by Marathon Petroleum Corp. (NYSE:MPC). It operates in six states, mostly servicing the hyper-prolific Marcellus and Utica gas shale formations via its:
5,900 miles of petroleum and light product pipelines
62 distribution terminals and storage facilities
18 towboats
200 barges
Gas gathering and processing capacity of 5.6 billion cubic feet per day and 7.8 billion cubic feet per day, respectively.
570,000 barrels per day of natural gas liquids, or NGL, fractionation capacity
MPLX derives the vast majority of its cash flow (95%) from long-term, fixed-rate, take or pay contracts with just 3% net commodity exposure (after accounting for hedging). That means its distributable cash flow, or DCF (the MLP equivalent of free cash flow and what pays the distribution), is highly secure even in the face of low energy prices.
Better yet? Thanks to an aggressive pace of dropdowns of new projects from Marathon Petroleum, MPLX is also growing like a weed.
| | | | |
| --- | --- | --- | --- |
| Metric | Q2 2016 | Q2 2017 | YoY Change |
| Revenue | $698 million | $916 million | 31.2% |
| Adjusted EBITDA | $653 million | $897 million | 37.4% |
| Distributable Cash Flow | $276 million | $370 million | 34.1% |
| Units Outstanding | 331 million | 382 million | 15.4% |
| DCF/Unit | $0.83 | $0.97 | 16.2% |
| Forward Distribution | $0.51 | $0.5625 | 10.3% |
| Distribution Coverage Ratio | 1.24 | 1.26 | 1.6% |
(Source: Company Earnings Release)
That's because Marathon Petroleum has instituted an important, and very investor-strategic, decision it began at the beginning of the year. The plan is to drop down (sell) all its MLP qualified assets to MPLX as fast as possible, while also selling its general partner and incentive distribution rights, or IDRs, to MPLX in exchange for limited partnership units.
This is excellent news, because not just will it mean very fast cash flow and distribution growth in the near future (12-15% in 2017 and 10+% in 2018), but it will permanently strengthen MPLX's payout profile.

(Source: MPLX 10-K)
That's because IDRs give MPC the right to 50% of MPLX's marginal (new) DCF, meaning the MLP has less cash flow from each new project with which to increase its payout (18 consecutive quarters of payout growth and counting) and invest in its future growth.
Best of all, the deal will substantially lower MPLX's cost of equity because the MLP will soon become one of just five midstream MLPs (the others being Enterprise Products Partners (NYSE:EPD), Magellan Midstream Partners (NYSE:MMP), Genesis Energy (NYSE:GEL), and Buckeye Partners (NYSE:BPL)) without IDRs.
And because this means lower costs of capital as well as faster distribution growth going forward, it should mean that MPLX's units will soon trade at a more premium valuation.
| | | |
| --- | --- | --- |
| Capital Source | Capital Weighting | Cost Of Capital |
| Retained DCF | 20.6% | 0% |
| Debt | 30.2% | 3.32% |
| Equity | 49.2% | 9.94% |
| Weighted Average Cost Of Capital | 100% | 5.89% |
| Cash Yield On New Drop Downs | NA | 11.1% to 14.3% |
(Sources: MPLX Investor Presentation, Company Earnings Release, Simply Safe Dividends, GuruFocus)
That, in turn, will lower its weighted average cost of capital, or WACC, which is already much lower than the cash yield it's getting for new dropdowns.
Or, to put it another way, MPLX is currently enjoying bountiful growth opportunities that are only going to get better in the coming years. That's thanks to two major growth catalysts.
MPLX's Growth Runway Is Both Long And Massive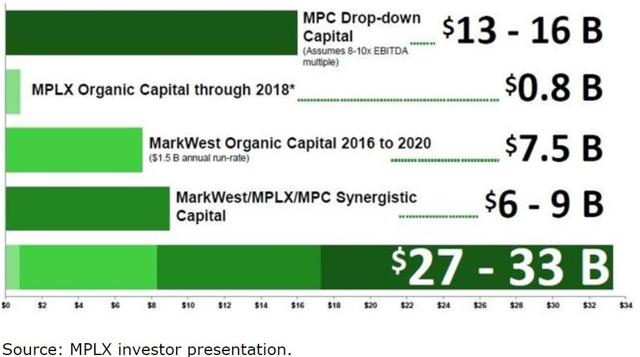 MPLX makes an exceptional long-term income growth investment because its growth backlog is enormous. Even after it completes acquiring all of MPC's MLP assets, (sometime in 2018), the partnership will still enjoy plenty of growth opportunities.
That's courtesy of both its $1.9 billion in organic growth backlog (expanding existing assets) and the growth opportunities it acquired by purchasing MarkWest Energy Partners (the largest midstream MLP servicing the Marcellus and Utica shale) in 2015 for $10 billion.
Better yet? Thanks to America's ongoing fracking boom, courtesy of much lower shale production break even costs, US natural gas and NGL production is set to soar in the coming years.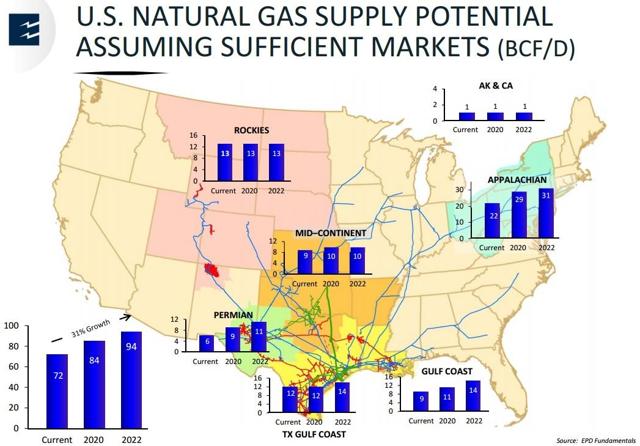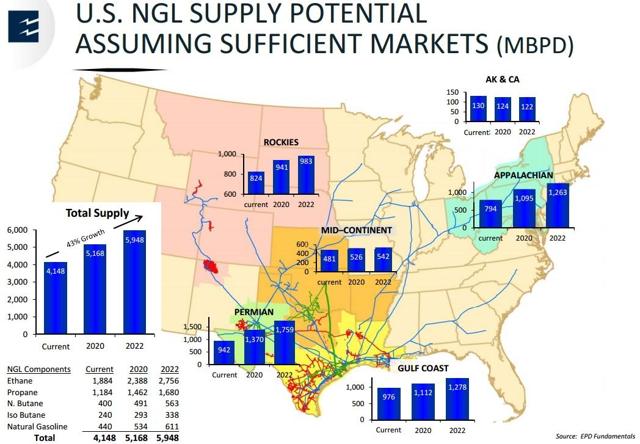 (Source: Enterprise Products Partners Investor Presentation)
This huge production growth in MPLX's core markets means the MLP's growth backlog is likely to remain among the industry's largest, thanks to an estimated $700-900 billion in new midstream asset investments that will be required over the next decade.
GasLog Partners: Perfectly Positioned To Grow Strongly For Years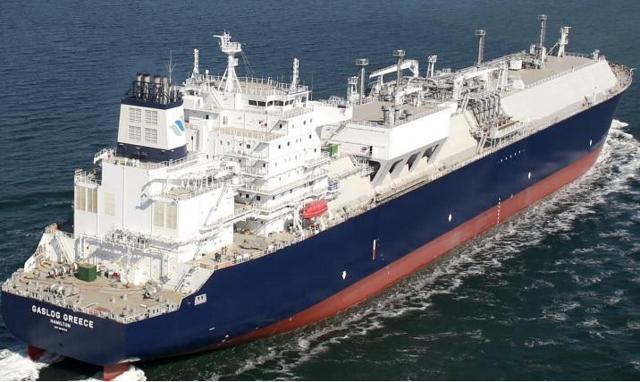 (Source: GasLog Partners Investor Presentation)
GasLog Partners is one of my favorite liquefied natural gas, or LNG, tanker MLPs.
That's because, thanks to its sponsor and general partner, GasLog (NYSE:GLOG), the fast-growing MLP has all the makings of a rockstar income growth investment.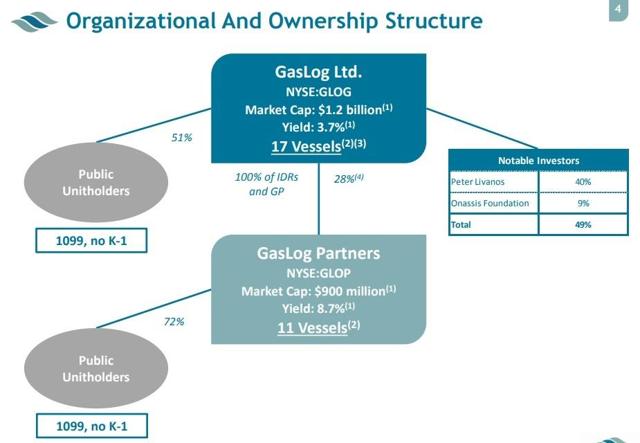 This is because in recent months, the recovery in oil prices has raised GLOP's unit price high enough to free the MLP from its liquidity trap, in which the unit price is too low to allow for the funding of new vessel acquisitions.
| | | |
| --- | --- | --- |
| Source Of Capital | Capital Weighting | Cost Of Capital |
| Retained DCF | 10.7% | 0% |
| Debt | 40.2% | 4.62% |
| Equity | 49.1% | 9.43% |
| Weighted Average Cost Of Capital | 100% | 6.49% |
| Cash Yield On New Tanker Dropdowns | NA | 11.0% |
(Sources: Company Earnings Release, Investor Presentation, F.A.S.T. Graphs, GuruFocus, Simply Safe Dividends)
Or, to put another way, its cost of equity has fallen low enough that it can once more raise accretive growth capital to buy its sponsor's dropdown backlog, which currently stands at 12 vessels.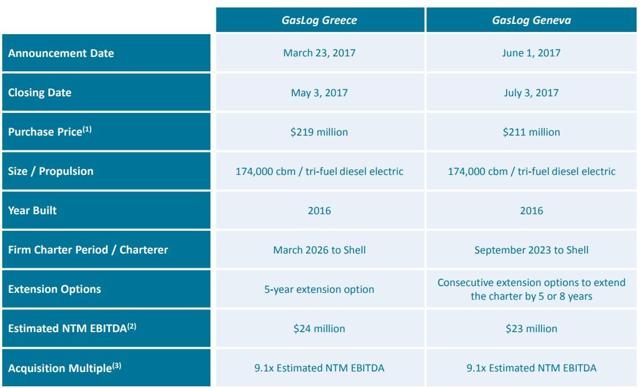 That, in turn, has returned the MLP to its traditional strong growth, especially in the most recent quarter, courtesy of its two most recent purchases.
| | | | |
| --- | --- | --- | --- |
| Metric | Q2 2016 | Q2 2017 | YoY Change |
| Revenue | $49.6 million | $57.0 million | 14.8% |
| EBITDA | $35.6 million | $42.0 million | 18.2% |
| DCF | $19.8 million | $23.5 million | 18.4% |
| Units Outstanding | 35.7 million | 40.2 million | 12.6% |
| DCF/Unit | $0.56 | $0.58 | 5.2% |
| Forward Distribution | $0.475 | $0.51 | 6.7% |
| Distribution Coverage Ratio | 1.16 | 1.12 | -3.6% |
(Source: Company Earnings Release)
GasLog Partners' impressive top and bottom line growth is courtesy of its two most recent dropdowns, the GasLog Greece and Geneva, which have allowed the MLP's DCF/unit to rise sufficiently to raise its distribution for the fourth consecutive quarter.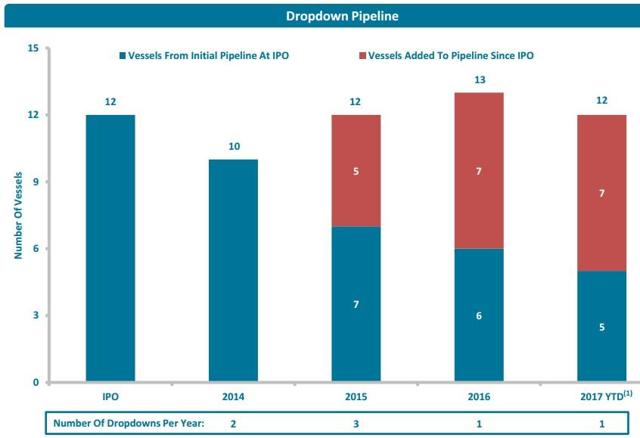 Better yet? The sponsor's dropdown pipeline is not just large (representing a potential increase in fleet size of 110%), but continues to remain highly stable over time, as GasLog continues to acquire new vessels of its own that will eventually be purchased by its MLP.
The Long-Term Outlook For LNG Tankers Remains Excellent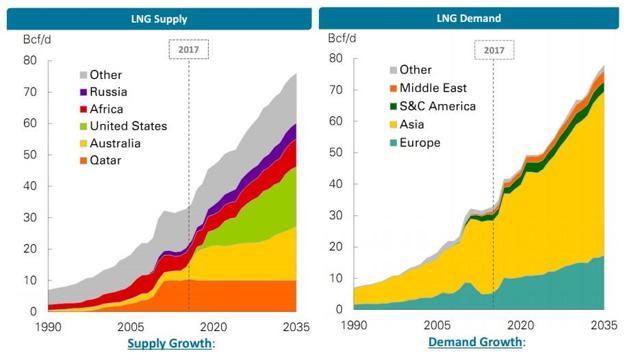 Like all LNG MLPs, GasLog Partners' long-term investment thesis is predicated on the strong increase in LNG demand, especially from Asia, where cleaner-burning gas-fired power plants are gaining market share from dirtier coal plants.
And while it's true that the world's supply of LNG tankers continues to rise steadily, the pace of new vessel construction is slow enough to keep charter rates high, both now and likely for years to come.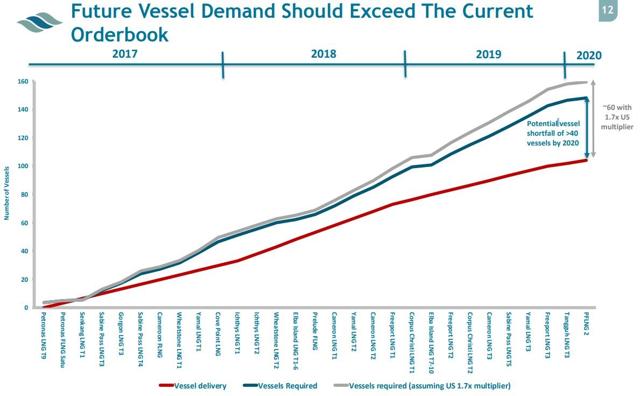 That's because the pace of new LNG export projects, especially in the US, is so strong as to greatly increase the supply of LNG that needs transporting in expensive and highly specialized tankers.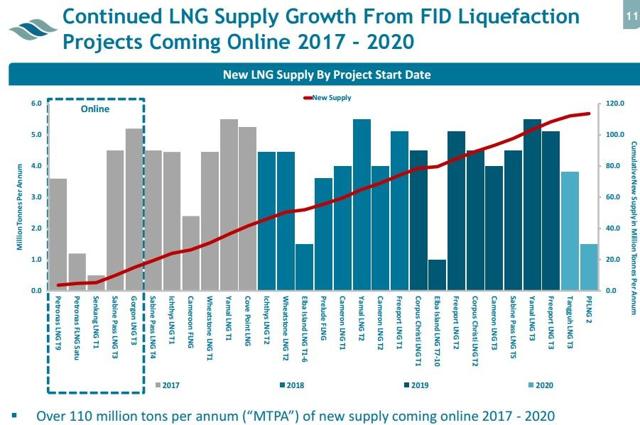 That, in turn, creates strong demand for very long-term contracts (6-9 years in duration) with very strong counterparties, which underpin GasLog Partners' approximate $3.5 billion in contracted future cash flow.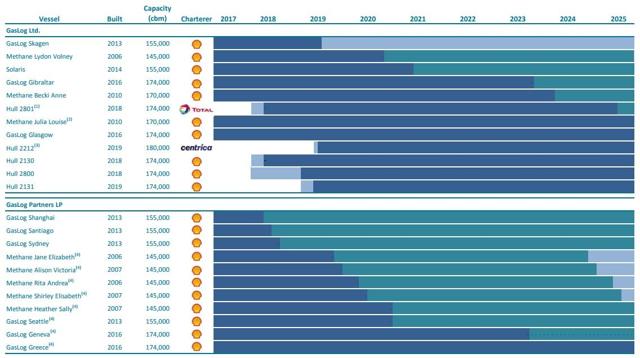 This provides GLOP with a highly predictable, guaranteed (and commodity-insensitive) recurring cash flow with which to secure and grow its already generous payout.
Strong Balance Sheets Make For Safe Payouts
| | | | | | |
| --- | --- | --- | --- | --- | --- |
| MLP | Pro Forma Debt/EBITDA | EBITDA/Interest | Debt/Capital | Current Ratio | S&P Credit Rating |
| MPLX | 3.80 | 7.92 | 38% | 1.14 | BBB- |
| GasLog Partners | 4.44 | 5.62 | 45% | 1.05 | NA |
| Industry Average | 6.54 | NA | 40% | 0.85 | NA |
(Sources: Morningstar, Earnings Release, Investor Presentation)
Since the oil crash began, many highly leveraged MLPs have been forced to cut their distributions, thus teaching income investors a very painful lesson about the importance of a strong balance sheet.
And while it's true that MLPs are part of a highly capital-intensive industry, one with a business model that relies on high debt levels, that doesn't mean that high-quality MLPs with conservative debt metrics don't exist.
For example, as you can see, both MPLX and GasLog Partners have relatively low leverage ratios (Debt/EBITDA) and much-higher-than-average current ratios (short-term assets/short-term liabilities).
In addition, their interest coverage ratios are among the best in the industry. In fact, most MLPs have an interest coverage ratio of 2-4, which shows you just how little trouble MPLX and GLOP must have servicing their debts.
This not only helps ensure stronger access to low-cost debt capital going forward, but it also means that both MLPs can afford to continue borrowing to leverage new equity raises into further growth initiatives.
Payout Profile: Some Of The Best Total Returns Potentials You Can Find Today
| | | | | |
| --- | --- | --- | --- | --- |
| MLP | Forward Yield | Distribution Coverage | 10-year Projected Payout Growth | 10-year Projected Annual Total Return |
| MPLX | 6.2% | 1.26 | 10% to 12% | 16.2% to 18.2% |
| GasLog Partners | 8.3% | 1.12 | 8% to 10% | 16.3% to 18.3% |
| S&P 500 | 1.9% | 2.53 | 5.7% | 9.1% |
(Sources: GuruFocus, Earnings Release, FactSet Research, F.A.S.T. Graphs, Multpl.com, Moneychimp.com)
Investing in MLPs is, ultimately, all about income. However, that doesn't mean a high yield is the only thing to look for. After all, an unsustainable payout can wreak havoc on the unit price and lead to substantial permanent capital losses.
That's why there are three components to a good payout profile: forward yield, payout security (coverage ratio and strong balance sheet), and long-term distribution growth potential.
You can see that, in terms of current yield, both MPLX and GLOP offer mouthwatering payouts. But more importantly, both MLPs have distribution coverage ratios, or DCRs, greater than 1.1, which is the minimum amount you want to see for indicating sustainable distributions that are likely to grow in the future.
And speaking of growth, that's where both MLPs truly shine. Historically, income investment total returns follow the formula "yield + payout growth", so MPLX's and GLOP's 11% and 9% potential long-term payout growth means both are offering some of the best total return prospects of any high-yield investment you can buy today - far better than the market's historical total return of 9.1% since 1871.
That's largely because both MLPs are trading at ridiculously low valuations.
Valuation: Both Are Ridiculously Undervalued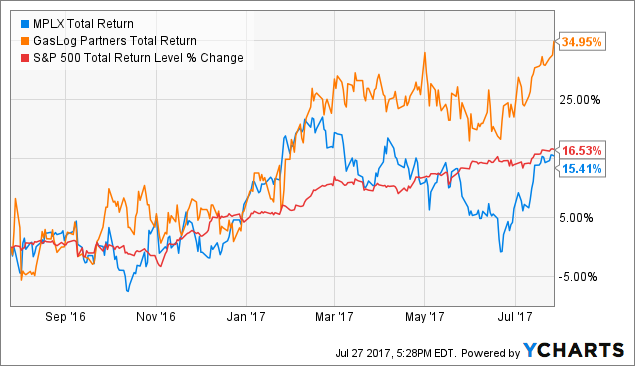 MPLX Total Return Price data by YCharts
You wouldn't necessarily think either MLPX or GLOP were all that undervalued right now, given how well they've done in the past year.
However, you'd be dead wrong.
| | | | | |
| --- | --- | --- | --- | --- |
| MLP | Price/Operating Cash Flow | Historical P/OCF | Yield | Historical Yield |
| MPLX | 7.5 | 13.0 | 6.2% | 2.4% |
| GasLog Partners | 5.5 | 4.1 | 8.3% | 8.6% |
(Source: F.A.S.T. Graphs, GuruFocus, Earnings Release)
Both MLPs are trading at very low price/operating cash flow ratios, and as I've already explained, the yields are super-attractive - especially given the incredible growth prospects.
In fact, it's only when we look at the long term, using a 20-year discounted dividend model, do we really get an idea of how amazing a long-term buying opportunity both MPLX and GLOP represent.
| | | | | | |
| --- | --- | --- | --- | --- | --- |
| MLP | Forward Annual Distribution | Projected 10-year Payout Growth | Fair Value Estimate | Growth Baked Into Current Price | Margin Of Safety |
| MPLX | $2.25 | 11% | $65.92 | -3.4% | 45% |
| GasLog Partners | $2.04 | 9% | $55.68 | -19.7% | 55% |
(Sources: Earnings Release, GuruFocus, Management Guidance, F.A.S.T. Graphs)
For example, using a discount rate of 9.1% (the market's historical return, and thus the best default alternative investment), we can see that the current unit prices of both MLPs are pricing in ludicrously pessimistic payout growth.
Which means both MPLX and GLOP are offering some of the largest margins of safety you can find in any high-yield stock. It also means that today is a great time for investors to initiate a new position in either MLP or add to an existing one.
Risks To Keep In Mind
While I'm a huge fan of both MPLX and GLOP, and I own both in my real money portfolio. Nonetheless, there are some risk factors to bear in mind.
For GasLog Partners, one needs to keep in mind that three of its 11 LNG tanker charters roll off in 2018, which will expose about 27% of the MLP's DCF to potential rechartering at lower day rates.
The good news is that the because of their specialized niche, LNG tanker rates are less volatile than that of other shippers. For example, day rates were basically flat between 2015 and 2016, and starting in the second half of 2016 they began to rise. That's because the market is anticipating about 13% increased demand for tankers, compared to a 10% increase in supply in 2017. That's against a longer-term outlook (through 2020) of 36% increased demand versus 27% greater tanker supply.
The bottom line being, the LNG market is very strong, so barring an unexpected collapse in spot day rates (from which longer-term charter prices are derived) in 2018, GasLog Partners' cash flows shouldn't be negatively impacted.
An additional risk that applies to both MLPs is that despite their actual DCF being almost entirely immune from energy prices, MLPs still generally trade along with the price of oil. Also, the business model is one in which the vast majority of cash flow goes towards paying a generous distribution, and growth is financed using external debt and equity capital. All in all, it means both MPLX and GLOP's ultimate growth potential is somewhat at the mercy of fickle investor sentiment and energy markets.
MLPs are a highly interest rate-sensitive industry because their stable income model makes them an attractive bond alternative for many yield-starved income investors.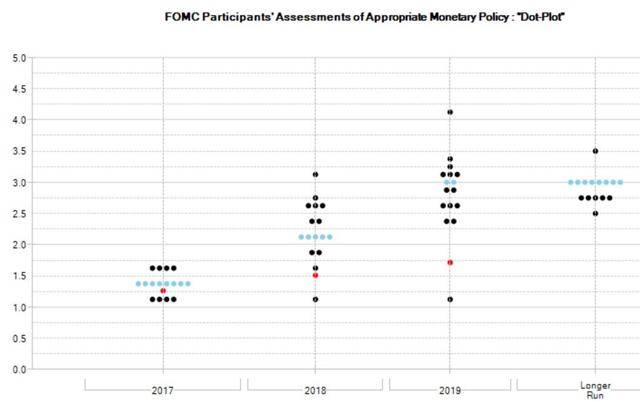 (Source: CMEGroup)
Thus, if the Federal Reserve makes good on its plan to raise short-term rates to 3% by the end of 2019 and shrink its balance sheet by about $2 trillion over the next five to 10 years, then 10- and 30-year Treasury yields could rise to about 3.5% to 4%, respectively, thus creating potentially less demand for MLPs' high-yielding units.
Combined with higher new borrowing and refinancing costs, this will mean gradually higher costs of capital that will make it more important than ever for investors to be highly selective about which MLPs they choose to own.
Bottom Line: MPLX and GasLog Partners Make Two Great Core Holdings For Any Long-Term Income Growth Portfolio
No matter how frothy the market may get, something is always on sale. In this case, thanks to the oil crash, high-quality MLPs like MPLX and GasLog Partners represent some of the best high-yield income growth investments you can make today.
Disclosure: I am/we are long MPLX, GLOP, EPD, MMP, GEL.
I wrote this article myself, and it expresses my own opinions. I am not receiving compensation for it (other than from Seeking Alpha). I have no business relationship with any company whose stock is mentioned in this article.