The retail malaise has been encircling Hibbett (NASDAQ:HIBB) since a few quarters now. Looking at the projection for Q2, it seems to have the company firmly in its grasp. Yes, Hibbett will probably throw in a kick here and a punch there so it can wriggle itself out with a few gashes. But can it escape the fate that shut down Sports Authority last year? I think it may have enough to float itself for a couple of years. However, a long-term investment in this retailer at this stage is simply speculative and nothing more.
Too late to the online party
Hibbett should be crowned the winner of the slowest entrant to the e-commerce channel. I doubt if there are many retailers left that have not gone from bricks to clicks. There is a price to pay for coming late to the class. The question is will it be steep enough to put Hibbett out of business. While competitors have had decent success, just because you launch a website does not mean it's a given. The first mover's advantage in e-commerce is real. Amazon (NASDAQ:AMZN) itself has defied that conventional wisdom in locations like India, but it had the funds and the expertise necessary to execute the plan. Hibbett, as the last follower, has neither. Low switching costs for customers simply compound the problem for the sporting goods retailer. Consumers can check out and compare prices at the click of a button. When it comes to pricing, can Hibbett really be expected to compete with a juggernaut like Amazon? Or even a competitor like Dick's Sporting Goods (NYSE:DKS) which has better scale?
What the move tells about the management
Given how purchasing trends have rapidly veered towards online, it seems like the executives were spooked about the survival of the company. The management had previously stated its base consists of cash customers who were less inclined to shop online. As this Pew Research survey shows, 24% of Americans are not making any purchases with cash in a typical week. Hibbett has been very slow in picking this trend. When it comes to the retail industry, adaptability and survivability go hand in hand. And a company that is so slow to adapt simply cannot make it in the long run. I am not saying Hibbett's e-commerce channel will not attract any sales whatsoever. It will of course, especially if products are priced on a promotional basis to gain popularity. But the gains it makes will likely be wiped out on the comps it loses at the store.
Vendors are taking the direct route
Adding to the problem are vendors who are now taking the direct route to consumers. This new alignment by Nike (NYSE:NKE) is being called the Consumer Direct Offense, and it almost sounds like a war-like operation. Given the state that retailers find themselves in, it probably is. Nike has also entered into a pilot partnership with Amazon. I do foresee Nike's partnership with Amazon extending beyond the pilot due to the twin advantages of checking counterfeit items and reaching a wider audience. As one can expect, sporting goods retailers like Hibbett will have less bargaining power with vendors as they reach consumers through their own online channels.
The Q2 projection and the base for H2
The company has projected a 10% decline in comps and a loss between 19 cents and 22 cents in the second quarter. After a 20.1% decline in February, monthly comps were up 5.5% in March and 3.1% in April. Investors were expecting more stabilization, not a rout. What is even more worrying though is that its projection for the whole year now hinges on the response it gets on the e-commerce channel. Why? Blame it on art of patience of modern-day consumers.
When we look at the more recent quarters, Hibbett has been forced to clear out its inventory through markdowns. Year over year, the company's gross margins fell 170 bps, 135 bps and 50 bps in the last three quarters respectively. I think we will probably see a continuation of this trend as retailers have conditioned consumers to shop on discounts and sales. Consumers are happy to pick the benefits of playing the waiting game. Therefore, the window where retailers price their products to the full price is getting shorter and shorter. No matter how better the company manages its inventory, the company still ends up marking down its products simply because consumers are patient. With bargaining power declining with both vendors and customers, I do not see a major case for optimism at the store front for Hibbett.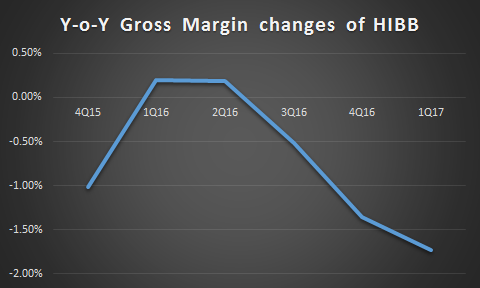 Much like the consumers, I intend to be play patient with my "BUY" call on Hibbett. The company has earned average free cash flows of $54 million in the last three years. Digital campaigns guzzle a lot of money. Especially when your much richer peers are courting the same customers. Dick's Sporting Goods is already making over a billion dollar in sales on the online medium. And mainly because it entered the game a lot earlier. For a late entrant like Hibbett though, the process could be slow and expensive.
Note: All company related data have been sourced from Morningstar.
Disclosure: I/we have no positions in any stocks mentioned, and no plans to initiate any positions within the next 72 hours.
I wrote this article myself, and it expresses my own opinions. I am not receiving compensation for it (other than from Seeking Alpha). I have no business relationship with any company whose stock is mentioned in this article.