Coach (NYSE:COH) has been a core part of my portfolio for the last few years and has rewarded me well. The stock is up 60% during the last 5 years, and has increased in value by approximately 550% from the March 2009 low. The company has a market capitalization of $22 billion and offers a dividend yield in 1.18%. Additionally, the company has minimal debt and $1.1 billion in cash and equivalent. The company had 350 full price stores and 157 factory stores in operation in North America, 184 locations in Japan and 80 locations in China. In this article, I will perform valuation analysis to determine the fair value and 12-month price target.
I started my analysis by reviewing the historical growth rates for COH. These are shown in the table that follows:

The company has been a solid performer with every major category experiencing a double digit growth rate over the last 10, 5 and 1 year period. Going forward, I project a 17% growth rate over the next 5 years with the Chinese market and Men's accessories sector presenting the greatest growth opportunities for COH.
Coming to profitability, the company has largely maintained its gross and operating margins over the last 10 years. It has improved its return on invested capital, equity and assets during this period. In fact, company's TTM ROIC of 52% is very impressive in my opinion and comfortably beats my miimum required ROIC of 15%. The table that follows presents the profitability and operational metrics.

I also reviewed the cash conversion cycle (NYSE:CCC) to evaluate the company's effectiveness in managing its resources. As shown in the table below, the company has consistently reduced its CCC.
Valuation:
Valuation analysis was performed using relative valuation. The multiple used in the analysis was developed using historical analysis of the company's and the peer group's multiples. The peer group selected for this analysis consisted of Ann Inc. (NYSE:ANN), Kenneth Cole Productions (NYSE:KCP), Tiffany & Co. (NYSE:TIF), and Williams-Sonoma, Inc. (NYSE:WSM). A comparison between Coach and its peer group is shown below.

The table below shows the valuation analysis results.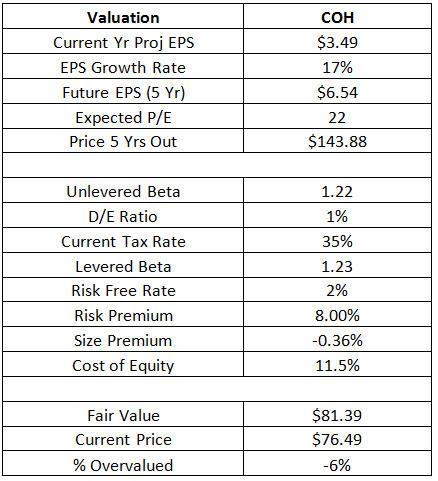 As shown in the table above, COH currently trades at a discount of 6%. Applying a P/E of 22 to my 2013 EPS estimate of $4.10, my 12-month price target of $90 is obtained. The stock should approximately double in price in the next 5 years and offers a 12-month return potential of 18% from current levels.
Disclosure: I am long COH.
Disclaimer: Kindly use this article for information purposes only. Please consult your investment advisor before making any investment decision.