There has been a surge in interest in uranium explorers and miners in recent months because of growing optimism surrounding the outlook for the radioactive metal. This has sparked a rash of upgrades for a number of uranium miners and explorers including Cameco Corp. (CCO) which has been upgraded to outperform and has an average price target of up to C$17 per share. Uranium explorer NextGen Energy (NXE) has also garnered considerable attention from investors since Hong Kong billionaire investor Li Ka-shing doubled down on the company with a $110 million investment last month.
The marked uptick in the outlook for uranium is long over due with the radioactive metal caught in prolonged slump that now sees it trading at less than a sixth of its 2007 high.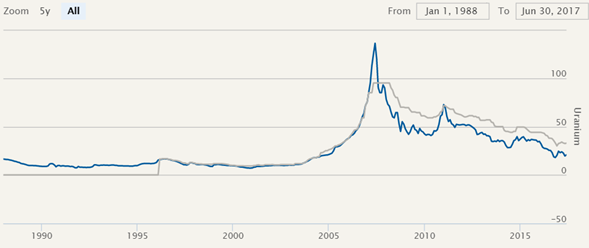 Source: Cameco.
That has had a significant impact on uranium companies as the performance of uranium miners and explorers as the performance of the Global X Uranium EFT (URA) shows:

Source: YCharts.
Despite the proclamations of some analysts and market pundits there are distinct signs that point to a sustained recovery in uranium being unlikely and that the long-term prognosis for the fuel is poor.
What is driving this positive outlook?
The progressively positive outlook for uranium mining stems from a belief that the current global supply glut which has been weighing heavily on uranium prices will be eliminated over the next two-years. This is for several reasons, key being the forecast marked uptick in demand for uranium because global installed nuclear capacity is projected to grow by 60% between now and 2040. There are already 60 power generating reactors under construction in 13 countries globally efforts underway to boost the capacity of existing operational reactors and plans to construct further reactors in China, India and Russia.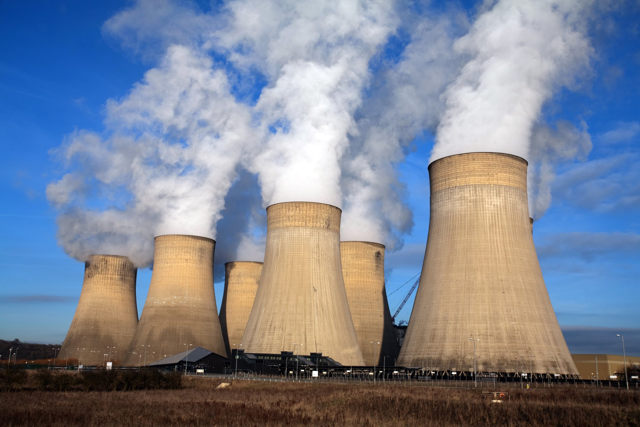 source: Documentary Channel.
Global warming has also given nuclear power a considerable boost with the ratification of the Paris Agreement on climate change which aims to keep global warming below 2 degrees centigrade above pre-industrial levels.
This has given nuclear power as well as natural gas and renewable sources of energy considerable momentum as signatories move to meet their obligations.
There is also the expectation among market pundits that as demand for the radioactive metal begins to grow global supplies will diminish. This is because the prolonged slump according to those pundits has led to a dearth in investment in exploration and mine development which will impact uranium production in coming months.
Furthermore, uranium miners have been forced to shutter high cost production because it was uneconomic at current prices. The slump in uranium particularly in the wake of the Fukushima disaster sent one of the world's largest uranium miners Energy Resources of Australia (OTCPK:EGRAF) also known as ERA, which at its peak was supplying 10% of the world's yellow cake, into terminal decline.
Back in April 2016 Cameco shuttered the Rabbit Creek mine in Saskatchewan which was responsible for around seven million pounds of global uranium production. According to some analysts this would have a meaningful impact on spot prices but unsurprisingly the spot price remained in terminal decline as the chart shows: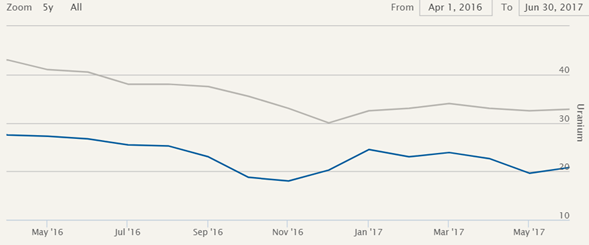 Source: Cameco.
Perhaps indicating that some institutional analysts really have no idea what they are talking about and further supporting the negative thesis that I am about to posit for the outlook of uranium and its miners.
You see, despite claims of a looming supply cliff and higher demand which will support higher prices demand for uranium is set to weaken in an environment where supplies are growing.
Global uranium supplies are growing
According to the World Nuclear Association uranium supplies over the last 10-years have grown by just over 50%. This is despite many miners and explorers winding down high cost production and drilling activities because of the protracted weakness of uranium prices.
A large proportion of that production has come from developing economies such as Kazakhstan, Namibia and China.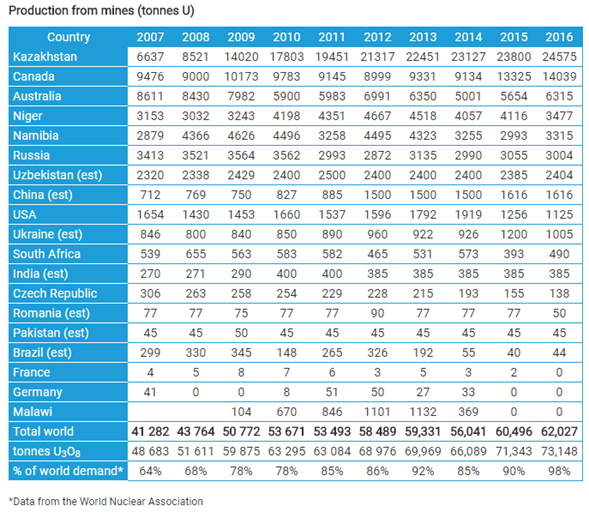 Source: World Nuclear Association.
This indicates that mine closures made over recent years have had a negligible to zero impact on global supplies.
It is relatively easy to explain this phenomenon.
The largest producer of uranium globally Kazakhstan has focused on expanding production at a rapid clip as a means of driving economic growth, boosting exports and generating much needed government revenue. Between 2007 and 2016 the central Asian nation expanded its uranium production almost fourfold. Despite claims earlier this year that state-owned uranium company Kazatomprom would cut production by 2,000 tonnes which amounts to around 3% of global supplies it is difficult top believe that this has occurred or will be sustained.
You see, Kazakhstan is also a major producer of oil and crude is responsible for 48% of all exports and oil rents make up 6% of GDP. That makes it a key driver of economic growth and earner of government revenue for the developing nation. The sustained weakness of crude has had a significant impact on government revenues, triggering substantial budget deficits in 2015 as well as 2016 and significantly weaker prices will cause those deficits to continue into 2017.
Oil's ongoing weakness is forcing the government to look elsewhere for additional sources of income. It has also the reason that Kazakhstan elected to bow out of the deal between OPEC and key non-OPEC oil producing nations because they have not lifted prices to the level required.
The easiest lever for the government to pull to boost economic growth, export earnings and revenues is to expand uranium production. It is for this reason that it is doubtful the production cuts for uranium as well as crude will continue.
There is also the likelihood of a marked increase in uranium supplies from other sources, most notably Namibia. In 2016 the deeply impoverished African nation was the fifth largest uranium producer globally and because of a dearth of other opportunities it is determined to invigorate economic growth by expanding uranium production.
Furthermore, Namibia's finance minister in 2015 stated that uranium output would triple by 2017 to be roughly 9,000 tonnes. While this appears quite ambitious it does appear achievable because of Namibia's massive Husab mine which has been assessed to be the third largest uranium deposit in the world. As production ramps-up Namibia's uranium output will increase by 5,500 tonnes.
It isn't only Namibia that is seeking to significantly boost uranium production.
Major uranium miners have positioned their operations so as to be capable of ramping-up production which means that even the slightest price rise will trigger a marked increase in global uranium supplies. Mining heavyweight BHP Billiton (BHP)(BBL) which is the fifth largest uranium miner globally has implemented a low-key plan to expand its Olympic Dam mine in Australia. This is an attractive opportunity for BHP because it allows it to take advantage of the recovery in copper prices while boosting gold and uranium output as well.
Rio Tinto (RIO) which is the majority owner of ERA and the world's third largest uranium producer is also focused on boosting its uranium output. There is a push to expand ERA's Ranger uranium mine located in northern Australia. Rio also holds a stake in the Rossing mine in Namibia, where the government has made it clear that it intends to assist miners to boost local production.
These factors make it difficult to see how there will be any marked decrease in uranium supplies as some analysts are claiming.
Renewables are a more attractive option than nuclear
The Fukushima disaster underscored the dangers posed by nuclear energy and further increased its unpopularity. The dangers posed by nuclear energy and the waste that it produces are clear and radiation can have a catastrophic impact on the environment, animals, and humans.
According to the United States Nuclear Regulatory Commission high-level nuclear waste like a spent fuel assembly produces 20 times the fatal dose of radiation for humans 10 years after being removed from a reactor.
The desire to limit global warming as well as the dangers posed by nuclear energy in the wake of Fukushima sparked a significant uptick in investment and research into cleaner more sustainable and less dangerous sources of energy. That culminated in renewables receiving a record level of investment totaling $349 billion in 2015. While investment declined in 2016 by 18% compared to 2015 it was still a very respectable $287 billion.
The substantial increase in investment in renewables has seen the majority become very economic sources of energy that are as cost effective and even in some cases cheaper than fossil fuels and nuclear. That becomes apparent when reviewing recent research which shows that wind, solar, geothermal and biomass on an unsubsidized basis in many cases have a lower cost per megawatt hour produced than nuclear.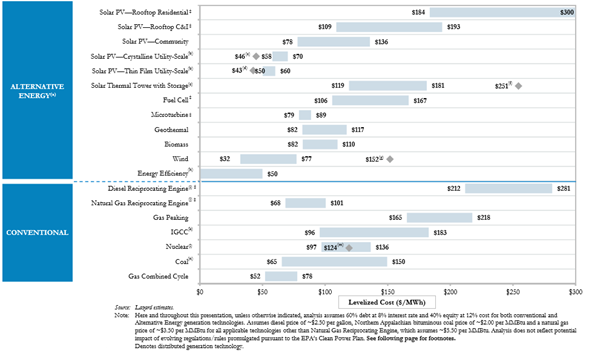 Source: Lazard.
The costs associated with producing electricity from renewable sources can only keep falling. This because of the significant investment made in research, the incentives created by the Paris climate change agreement, further technological improvements and growing efficiencies because of the growing volume of renewables being deployed.
Furthermore, none of those sources of energy emit dangerous forms of waste that require costly and specialized storage to render it safe. Nor do they have the potential to leak highly dangerous fissile materials that can have a harmful effect on humans or animals as well as damage the environment irreparably for decades.
Bottom-line
Despite claims that uranium prices will receive a leg up from greater demand and constrained supplies, it is clear that the tide has turned against nuclear power and the radioactive metal. Not only has sentiment turned against nuclear energy after Fukushima but cleaner safer renewable forms of energy are increasingly becoming cheaper and more efficient. The surge in investment in renewables now sees the vast majority being competitive with or even cheaper than nuclear power as well as fossil fuels.
For those reasons alone it is difficult to see the substantial demand growth required to lift uranium prices significantly higher, particularly when global uranium supplies will keep growing weighing further on prices. That means primary uranium miners remain value traps despite their attractive valuations.
Editor's Note: This article covers one or more microcap stocks. Please be aware of the risks associated with these stocks.