Eastside Distilling (OTCQB:ESDI) plans a $6.3 million secondary offering (currently traded on the OTC market) and enter the NASDAQ on August 4, 2017. Shares should be offered in the $6 - $6.25 range. This offering is managed by Roth Capital and Motif Investing is one of the platforms on which investors can participate.
My thesis is simple here. Though there may be better small cap, mid cap and large cap equity investments, based on track record, management teams, and growth prospects; Eastside Distilling will be an investment with which you can base your investing education around. I'll fully round out this argument in my conclusion.
For full company disclosure of their secondary offering, see their S-1 SEC filing here.
The Company
The Portland, Oregon company focuses on premium craft spirits and has distribution in 22 states, though 78% of the companies revenue still comes from Oregon. It already has a robust product line and established production facilities, and is set to grow the company through 1) market penetration, 2) the improvements in their cost of sales, and 3) their strategy to acquire established fledgling brands.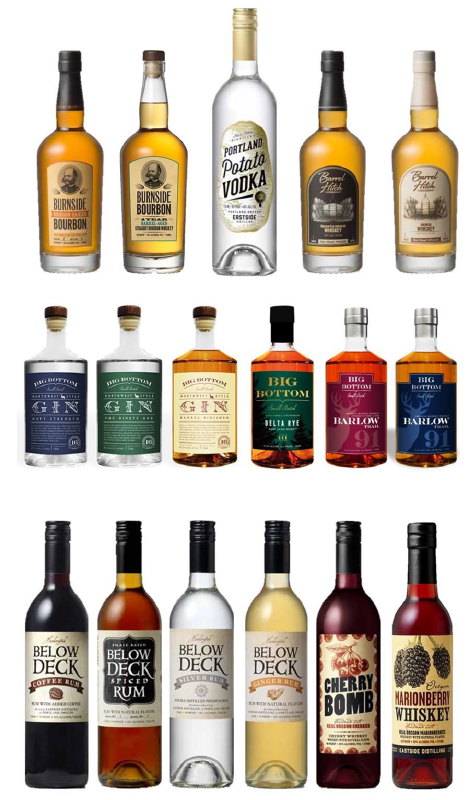 Eastside's product mix as presented in their SEC Secondary Offering filing.

Furthermore, they've just diversified their business by acquiring MotherLode, a fully outfitted and established Portland-based bottling and canning company, in an all equity deal worth approximately $377,000. This acquisition will create an additional diversified revenue line item for Eastside that will be derived from contracting bottling and canning services from other wine and spirit makers. It also puts the company's management squarely in front of potential acquisition targets.
We're not talking about large numbers here, with Eastside's revenues far from even the $10 million/year mark. But we are talking about getting in on a company's ground floor.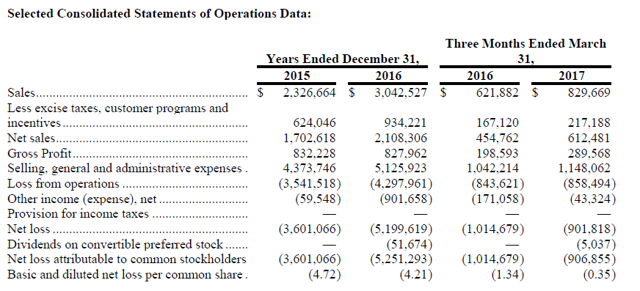 Consolidated Statement of Operations from SEC S-1 Filing.
However, revenues are moving in the right direction, as well as expenses. Margins are pretty ugly here, but they're getting better, and management has identified the need to improve and how to get there.
The Company's Leadership
In any young fledgling company, I believe that management is as important, if not even more important, than the widget or service the company is selling. The jockey is as important as the horse. And with Eastside I'd suggest this principal is the same.
Grover Wickersham was put into leadership as Chairman of the Board and then CEO late last year, and his resume in the world of finance is lengthy. See more on Wickersham at Relationship Science here.
The company also touts it's first female master distiller "west of the Mississippi" status, one which should land with a certain Millennial and female subset market subset. In the company's S-1 filing, it states that it will target both Millennials and women. Eastside reports that women make up 37% of all whiskey drinkers. Thirty-three year old Portland native Melissa Heim has served Eastside since June 2012, and was promoted to EVP in November 2016.
And lastly, Jarrett Catalani, a long-time sales executive in the alcohol industry, recently joined the company (although perhaps he should update his LinkedIn profile.) Though Catalani's abbreviated time with Fishbowl Spirits (founded by singer songwriter Kenny Chesney), he has lengthy stints with Russian Standard Vodka and DIAGEO.
The Company as an Investment
The numbers won't blow you away. And the industry isn't high tech - it's well defined and doesn't offer any breakthrough disruptive technological advantage. It is more about market share (marketing and branding), and growing into markets with huge headwinds from established players.
However, I've seen several sub $10MM revenue companies come across my desk over the past twelve months - and I can only blame it on the current bull market's sustained upwards trajectory for young cash poor companies to pursue the credit facilities that the public markets afford.
However, I like Eastside here as an opportunity for investors to get involved actively with a young company, with good product and sales prospects, and good management. This is a company to invest in and then book a trip to Portland to check out your investment. It's a company that you can meet Master Distiller Heim and perhaps even have a drink with Catalini or even Wickersham.
Ask questions. Journal your thoughts. Dig into their financials and marketing strategies. Understand its struggles. It's a company to have fun with.
Though the company books net operating losses, and expects to in the foreseeable future, Eastside leadership boasts current cash facilities will carry them through the next twelve months at current NOL levels.
Several expense reduction measurements are currently being carried out, including 1) rent expense through the MotherLode acquisition - Eastside shuttered their current facilities to take over the MotherLode facility, 2) higher volumes of core product and ingredient resulting in an overall decrease of Cost of Goods, and 3) the elimination of receivable factoring - where the company had to bear a 1.5%/month interest expense for 75% of its receivables, until they were received.
This secondary offering will raise the company's coffers to $9.4 million in cash, which with expense reductions and margin enhancements, could possibly be dedicated to strategic acquisitions rather than overing NOL.
Furthermore, 78% of current revenues are made up of Oregon sales. With Eastside distributorship in 22 states, the upside to sales and resulting revenue is significant.
This is a story about management and its ability to execute. And this is where your diligence should begin and end. I suppose testing the product may be a part of diligence also.
Use of Proceeds
The company expects to net about $6.3 million after paying underwriting an estimated $900,000. (High finance still exists and this is a significant amount to pay to recapitalize in the public markets). Some would say this is the cost of doing business, but it leads me to believe that, even at a cost of 12.5% of capital, this must be the "path of least resistance" to create the capital event the company needs at this juncture. Their S-1 abounds with past capital events over the past 36 months (pp 31-33).
With $350,000 of this raise dedicated to retire outstanding notes, along with $4.45MM dedicated to "fund working capital and general corporate purposes," it is fairly clear to me that they want to clean up their capitalization table and some debt while putting some money in the checking account.
As outlined with their Use of Proceeds statement in their S-1, the will use $1MM to acquire raw materials (distillate and others) to produce product; $500K to purchase additional production equipment, $350K to retire outstanding notes, and 4.45MM to fund working capital and general corporate purposes. See risks below for more on this.
The Risks Abound
The primary risk with this stock, as with many nanotech stocks, is the simple fact that the company is losing more money than they are making. Read that right - the company is spending more money than it's making on its total sales.
To make sense of this risk, we have to feel great about the company alleviating some other big risks to their business plan - like 1) breaking into a highly saturated market with a new product by getting mass consumer adoption, 2) deepening their sales in 21 other states while breaking into 23 states by expanding sales distribution agreements and overcoming a highly regulated environment, and 3) being able to scale. If leadership doesn't get any of these other single issues right - let alone all three of them - then it will be very hard to increase sales levels above spending levels. Overcoming all three risks, along with tight controls in spending and money management, will provide the company a fighting chance to eventually reach profitability.
Another unique risk to Eastside as a nanocap company is staying compliant with the listing requirements of the NASDAQ and staying away from "penny stock" status. If the company were to be delisted, then the OTC markets will likely provide very little volume and shareholders may have a hard time selling their shares. If the price falls below $5 per share or have net tangible assets of $2,000,000, the company's shares could be subject to certain "penny stock" rules as outlined by the SEC.
Then there is the acquisition strategy in their business plan.
The company has an eye for growing through acquisition - they have already acquired two companies in their short three years of existence in MotherLode and Big Bottom Distillery. While seemingly successful, these acquisitions were so small (less than $400,000 each, and all equity deals), it seems difficult to believe Eastside will achieve its aggressive growth plans by bottom picking quarter million dollar deals.
Success with acquisitions can be a significant boost to the top and bottom lines but, just as in every industry and every size of company, acquisitions can be extremely hard to execute and highly unprofitable if done poorly. Even the best of leadership teams have flubbed up a well thought out acquisition play.
Need examples of poor acquisitions? How about Hewlett-Packard's (HP) acquisition of Autonomy ($8.8 billion write-off), Microsoft's (MSFT) acquisition of aQuantive ($6.3 billion expense that costs Microsoft money each year), and AOL TimeWarner (a $99 billion loss in the first year of the acquisition, the $226 billion comglomerate is now worth $20 billion).
Source: Investopedia
In regards to their use of proceeds, I always prefer a company to spell out their use of proceeds better than the Eastside has on page 21 of their S-1 filing. Leaving 70% of the proceeds in a general use category makes it very hard to perform due diligence here and doesn't provide insight into how the company plans to use these funds to achieve growth in revenues and ultimately, profitability.
Which leads to the last major risk as spelled out earlier - the company's leadership. Both the ability for leadership to execute on the company's business plan, as well as the ability for the company to retain and attract key personnel, are significant risks to this fledgling company. As stated, perhaps we are investing more in the team at this point, and not the product. If the team isn't laser-focused and successful at hitting the $50MM annual revenue target, I believe it is going to be hard for it to ever provide significant shareholder value.
Risk Factors begin on page 10 of the company's S-1 Filing, and span through page 19 of the document. Though this length of risks is pretty typical in these types of documents, their typical nature does not make it any less important for you to heed them and to understand that, in the company's potential demise, the reasons to the company's demise were most likely spelled out in this risk section.
To fully understand these risks is to, again, 1-up your game in a financial sense. If you review the list of risks and don't understand one, then dig into it until you do. For more novice investors reading this article, the very nature of due diligence is to do the best you can to fully understand the risks posed in a potential investment. If you simply don't have enough information, which is often the case in a new company issue or a company that is not widely followed by The Street, then you decide what you're going to do with it. Note it? Dive deep and discover the facts yourself? Reach out to the company? Ignore it?
If your long thesis still holds - that is if it is stronger than the risk profile, then it may be a worthy investment for your portfolio.
What Happens if Eastside Runs out of Cash
The ultimate risk is the event that the company runs out of cash. A significant portion of cash will be needed to dedicate to marketing activities to penetrate the spirits industry, and in the end the company may not reach the sales to justify this marketing spend.
So what happens if Eastside runs out of cash? Of course, bankruptcy is usually the ultimate conclusion - but I only see the worst bankruptcy (dissolution) as a possibility since, at least at this point, a reorganization wouldn't provide much relief to continue operations.
Then that leaves us with two likely outcomes - an additional capital raise (expensive money - likely more expensive than the 12.5% the company paid for this raise) or a company sale to venture capital, private equity, a private buyer, or a competitor. If positioned right it could be beneficial to company shareholders (an unlikely scenario for a cash-strapped company) but the more likely scenario is that any one of these buyers could buy a distressed company for pennies on the dollar. In the event any of these occur, it likely will be a sale for a lot less than the company's current $20MM valuation - likely leaving current shareholders in the dust.
My Conclusion
I'm going to pick up a few hundred shares of ESDI - a very minor holding in my portfolio ( < .1%). To be certain, my goal here is to make money and experience significant capital appreciation with my Eastside holding in the mid and long term. But make no mistake, this is not my primary goal.
My primary goal is to invest in a small company with access to product and leadership. It is to stay financially sharp regarding the company's numbers, risks, and successes.
Most undercapitalized companies at this stage attempting to get into the public markets have skeletons in their closet or simply don't offer a strong enough value proposition to consider - often their leadership is inexperienced or weak, their growth prospects are too fuzzy, or the risks simply outweigh the possibilities.
To be sure - I'm not saying that the company doesn't have skeletons in their closet. I haven't talked to any of the company's leadership, past or present. I also don't personally know the company's leadership, and the risks to this company are significant. This is all a part of my, and your due diligence when considering an investment in this company, and any company.
But I don't believe these issues exist with Eastside. I believe that investors that make this a part of their portfolio will have the opportunity to learn quickly, or sharpen their already skills, on financial things like operating statements, balance sheets, cost of goods sold, gross and net margins, shareholder equity, and how to improve them all. A real-time Finance 101 and 201, if you will, for much less than the price of admission to business school.
With Eastside, its investors will be able to see a company attempt to hire the right leadership to grow their now 78% core revenue from Oregon and go head-to-head with the highly established players in their other 21 current states they are in, as well as growing into the final 28 states. To clarify, I think they have a great start in Wickersham and Catalani.

Add to the marketing story the company's Melissa Heim, and I think Eastside is a story for which marketing and public relations firms clamor.
I watched Tito's Vodka out of Austin, TX do it over the last five years, and there's no reason why Eastside's leadership couldn't do the same with the company's product mix and Portland-based story.
As always, I'd love to hear your comments. And as always, you can assume I'll be awaiting the day that the ESDI options market launches - for then I will be able to cover my position with call options to make some sweet, sweet cash along the way.
Disclosure: I/we have no positions in any stocks mentioned, and no plans to initiate any positions within the next 72 hours.
I wrote this article myself, and it expresses my own opinions. I am not receiving compensation for it (other than from Seeking Alpha). I have no business relationship with any company whose stock is mentioned in this article.
Additional disclosure: Remember, YOU push the buy button and the sell button. Investors are always reminded that before making any investment, you should do your own proper due diligence on any name directly or indirectly mentioned in this article. Investors should also consider seeking advice from an investment and/or tax professional before making any investment decisions. Any material in this article should be considered general information, and not relied on as a formal investment recommendation.
Editor's Note: This article covers one or more stocks trading at less than $1 per share and/or with less than a $100 million market cap. Please be aware of the risks associated with these stocks.