The American consumer is not dead. In fact, he has moved from the ER to the ICU. Since consumption is about 70% of GDP, a stable / improving consumer is an essential part of the U.S. economy.
Note: While Consumer Staples and Consumer Discretionary companies only make up about 22% of the S&P 500 (NYSEARCA:SPY), most of the companies in all sectors are exposed to the consumer. (For example, S&P 500 constituent Apple (NASDAQ:AAPL) is placed in the Information Technology sector, but is highly dependent on the consumer.) What's good for the American consumer is good for stocks.
Don't mistake this for blind optimism -- given the fragility of the consumer's recovery, any number of exogenous shocks could send him straight back to the ER. There are plenty of potential ticking time bombs. It's only a matter of time before one goes off, once again damaging the American consumer. Also, don't mistake this as disregard for the plight of the American middle class. The stories of rising cohabitation, worsening living standards, permanent unemployment and general despair aren't lost on me.
The point of this article is to show that the condition of the damaged American consumer could be considered stable and slowly improving. Below, I have created a few charts to help illustrate how the American consumer has moved from "critical" to "serious but stable" condition. The first chart looks at employment.
While employment remains at abysmal levels, it isn't getting worse. Seasonality aside, employment has remained fairly flat since early 2009. Because employed workers are no longer witnessing their coworkers getting fired by the boatload, one can assume that their sense of job security has risen.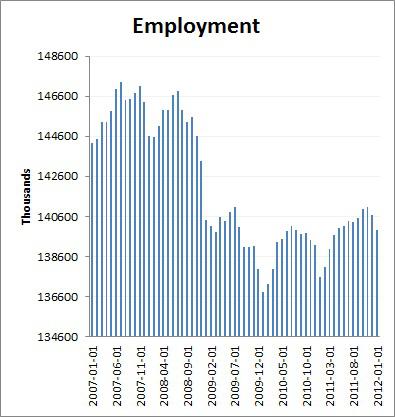 Source: Federal Reserve
Another historically weak, but improving stat: Quits. The slowly improving confidence in the jobs market is highlighted by the gradually growing number of people quitting their jobs. People don't quit their jobs when they're worried about job security, therefore rising 'quits' suggests more people are confident enough to move from one job to another.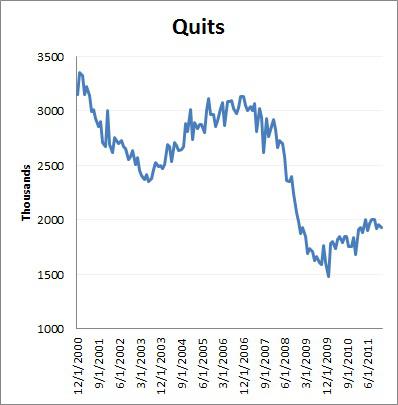 Source: Federal Reserve
Another potential sign that the American consumer is resilient is that retail sales have surpassed previous peaks. However, I hesitate to rely on the retail sales data because prices for many goods have risen considerably, causing spending to rise. Rising prices puts pressure on the financial condition of households. I would consider retail sales figures a wash.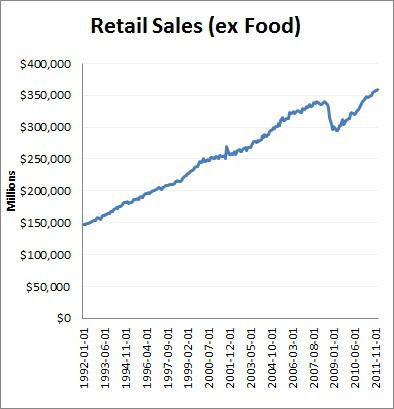 Source: Federal Reserve
Aggregate disposable income has risen steadily since the 2009 bottom. Of course, a rising portion of disposable income is derived from government transfer payments, but because these transfer payments replace lost incomes, the net effect of transfer payments should be slightly negative (because transfer payments are usually a fraction of earned income). Regardless of the origins, rising incomes mean the consumer has more money to spend.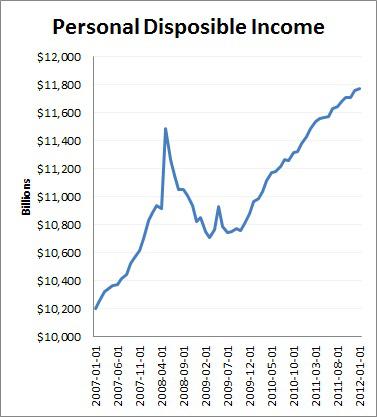 Source: Federal Reserve
Next, consumers are defaulting less on all kinds of consumer loans. It would be a stretch to say all the excesses have been totally worked off, but it does appear that the tidal wave of consumer defaults has subsided.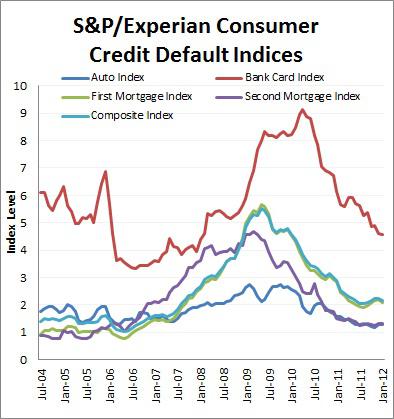 Source: Standard & Poor's
And for various reasons (including strategic mortgage defaults and super-low rates), the proportion of income used by a household to finance consumer debt has fallen to the lows of the mid 1990s and early 1980s. Although record-low interest rates (a temporary phenomenon) are partly responsible for declining debt service burdens, a consumer seeing his or her debt burden fall is more likely to spend. Old habits die hard.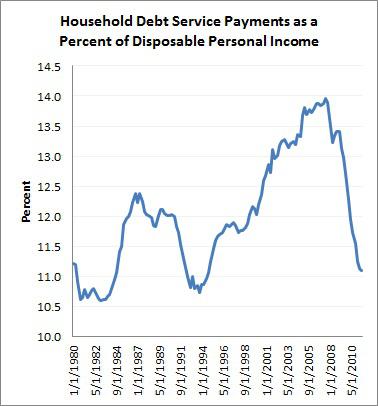 Source: Federal Reserve
Frankly, the data on the state of the American consumer can be interpreted multiple ways. However, I believe there is sufficient evidence to justify the hypothesis that things aren't getting worse (for now).
Before concluding, let me throw in a few caveats:
While there may be a short-intermediate term case to go long the American consumer (either directly through Consumer Staples Select Sector SPDR (NYSEARCA:XLP) or Consumer Discretionary SPDR (NYSEARCA:XLY), or indirectly through the S&P 500), there are many headwinds approaching. Resource scarcity will lead to higher prices and a weaker economy. Labor competition will suppress wages. Developed world debt crises could have a multitude of outcomes that damage the consumer.
But for now the American consumer has moved from the ER to the ICU, and that's good news.
Disclosure: I have no positions in any stocks mentioned, and no plans to initiate any positions within the next 72 hours.
Disclaimer: This is not advice. While Plan B Economics makes every effort to provide high quality information, the information is not guaranteed to be accurate and should not be relied on. Investing involves risk and you could lose all your money. Consult a professional advisor before making any investing decisions.