The latest Commitment of Traders (COT) report, which was published BEFORE the recent Fed decision, shows a massive drop in speculative shorts – the biggest in the report's history back to 2006! Speculative longs did increase their own positions, but by nowhere near the same amount that shorts covered. Silver also saw a good amount of covering, but nowhere near the amount that was seen in gold.
Since this data was dated to Tuesday, before the Fed decision, we expect it to be even more bullish as gold and silver continued to rise post-meeting and sit around 1% higher.
The big economic event next week is Friday's Non-farm Payrolls report, which should be very important to help determine the Fed direction for both interest rates and balance sheet unwinding. Additionally, we have the non-economic drama that is taking place in Washington as President Trump is expected to sign a Russian sanctions bill overwhelmingly approved by Congress (Russia is expected to respond) and the drama of his internal shakeup continues. Not particularly US Dollar inspiring material…
Last week we did the first survey of our readers and it turns out they were right with their bullish call.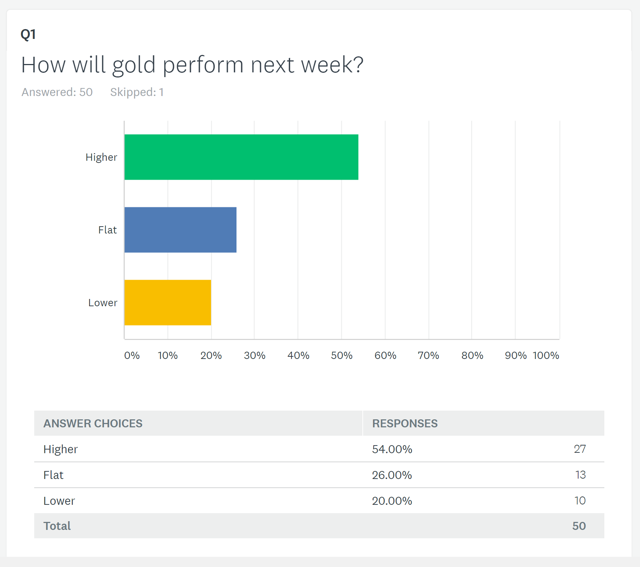 This week's survey can be done here:
This Week's Gold Survey (7/30-7/31)
For those that fill out the survey they can see the results here:
View This Week's Results (7/30-7/31)
We will get more into some of these details but before that let us give investors a quick overview into the COT report for those who are not familiar with it.
About the COT Report
The COT report is issued by the CFTC every Friday, to provide market participants a breakdown of each Tuesday's open interest for markets in which 20 or more traders hold positions equal to or above the reporting levels established by the CFTC. In plain English, this is a report that shows what positions major traders are taking in a number of financial and commodity markets.
Though there is never one report or tool that can give you certainty about where prices are headed in the future, the COT report does allow the small investors a way to see what larger traders are doing and to possibly position their positions accordingly. For example, if there is a large managed money short interest in gold, that is often an indicator that a rally may be coming because the market is overly pessimistic and saturated with shorts - so you may want to take a long position.
The big disadvantage to the COT report is that it is issued on Friday but only contains Tuesday's data - so there is a three-day lag between the report and the actual positioning of traders. This is an eternity by short-term investing standards, and by the time the new report is issued it has already missed a large amount of trading activity.
There are many ways to read the COT report, and there are many analysts that focus specifically on this report (we are not one of them) so we won't claim to be the exports on it. What we focus on in this report is the "Managed Money" positions and total open interest as it gives us an idea of how much interest there is in the gold market and how the short-term players are positioned.
This Week's Gold COT Report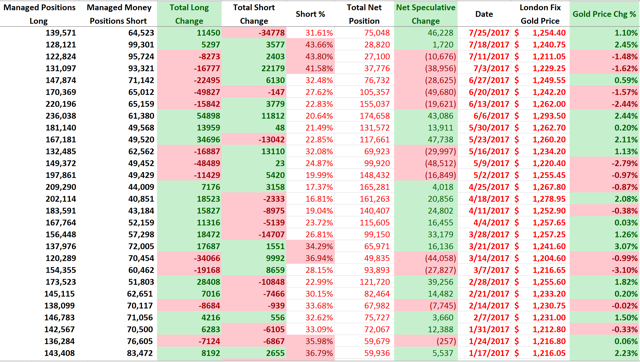 *Gold price data reflects the COT week (Tues-Tues) not a standard week (Mon-Fri)
For the week, speculative longs increased their positions by a mediocre 11,450 contracts, while the big action was on the short side as they puked out positions by closing a massive 34,778 contracts on the week. This was the biggest drop in speculative shorts in the history of the current COT report dating back to 2006.
In our opinion, this dramatic drop in speculative shorts tells us that shorts lost their patience in a large drop in the gold price and were covering with minimal losses/gains in preparation for a Fed decision. After all, looking at the data, shorts have been increasing positions prior to this week for 11 out of the past 13 weeks – a very steady and consistent increase in positions. Despite that, gold has been range-bound in the mid-$1200's and that means many shorts were very disappointed when we didn't drop below $1200 a few weeks ago and simply lost their patience.
Despite this massive drop in speculative shorts, gold's 1.1% gain on the week was relatively small and thus we are a bit concerned we didn't see a higher move in gold with this large drop in speculative shorts.
Moving on, the net position of all gold traders can be seen below: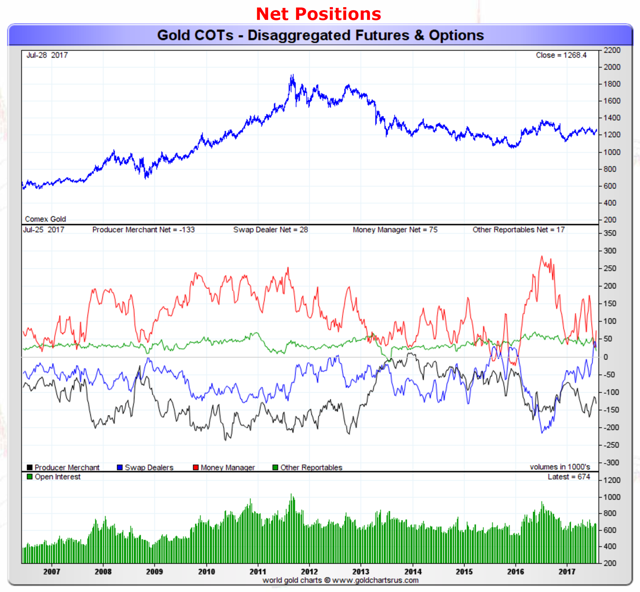 Source: GoldChartsRUS
The red-line represents the net speculative gold positions of money managers (the biggest category of speculative trader), and as investors can see, we saw the net position of speculative traders increased by a chunky 46,000 contracts to 75,000 net speculative long contracts.
As for silver, the action week's action looked like the following: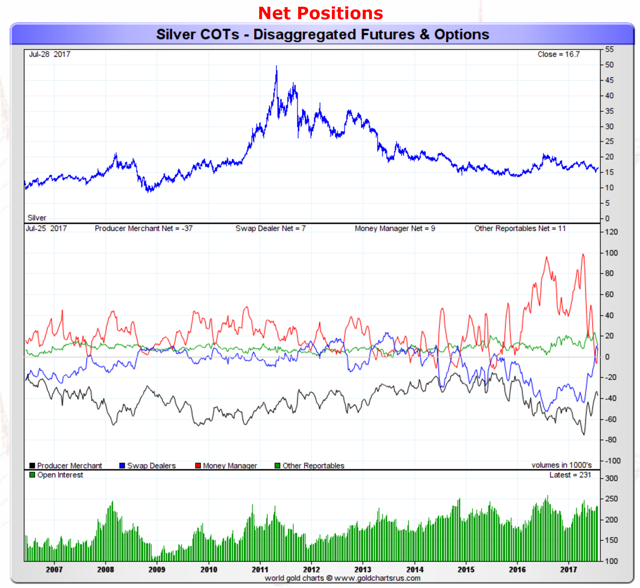 Source: GoldChartsRUS
The red line which represents the net speculative positions of money managers, showed an increase in the net-long silver speculator position as their total net position increased by around 15,000 contracts from a net speculative short position to a net long position of 9,000. As was the pattern historically, the net speculative short position in silver only lasted a few weeks.
Our Take and What This Means for Investors
Last week we were Fed-watching and it turns out that the Fed was a bit less hawkish than we expected – at least that's how markets interpreted their meeting. Despite the market's view of the meeting, we think the meeting wasn't dovish at all as the Fed remained on track to start winding down its stimulus 'relatively soon'. We wouldn't be surprised if markets pulled back next week when the realization sets in that the Fed is going to be removing stimulus before year-end…
While removing stimulus is generally bearish for gold and silver (unless it causes a market meltdown – which is quite possible), the COT positioning is currently very positive for gold and silver as it remains in healthy territory with less than 100,000 contracts net-long gold and less than 10,000 contracts net-long silver. Throw in the lack of consensus on any major tax-code and healthcare changes by the US Congress, the upcoming debt-ceiling debates, and the potential for Trump to use a US default as a negotiating tactic and you have PLENTY of reasons to be bearish on the USD and require a risk-hedge like gold and silver.
On the other end though, Asian physical demand has continued to weaken with higher precious metals prices as gold prices in India recorded their largest discount in seven months and Hong Kong premiums dropped on the week. Additionally, ounces held in silver ETF's and funds are near record-highs, which is worrisome if any type of physical unload occurs as the market cannot absorb this amount of physical silver.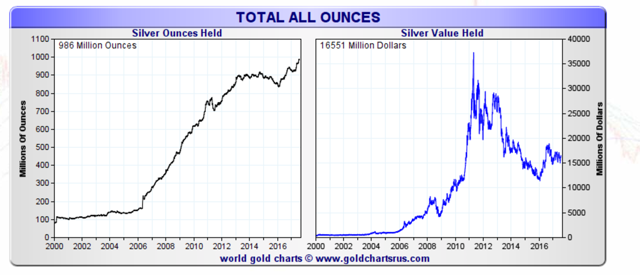 Source: GoldChartsRUS
Finally, on the bearish side of things, USD speculative positioning continued to fall as speculators increased their bearish bets last week to a net short position of $3.92 billion. As a contrarian that's a bit worrisome as any surprises such as a positive economic report (think the upcoming Nonfarm Payrolls), a hawkish Fed governor speech/comments, or something that spooks markets could initiate a short-term short squeeze and strengthen the USD. A stronger USD could also lead to gold weakening depending on how its interpreted by markets.
While we see both the bullish and bearish sides of the short-term gold debate, currently we are more concerned about some of the bearish catalysts (very weak physical demand and a potential USD reversal) than the bullish catalysts (US political uncertainty and historically bullish COT positioning). At this point we want to go against recent precious metals strength and batten the hatches and prepare for a reversal. Thus, we are changing our position in the short-term for gold and silver from Neutral-Bearish to Bearish for both gold and silver as we expect short-term USD strength as the Fed is less dovish than markets perceive and speculators are way too comfortable in their short USD positions.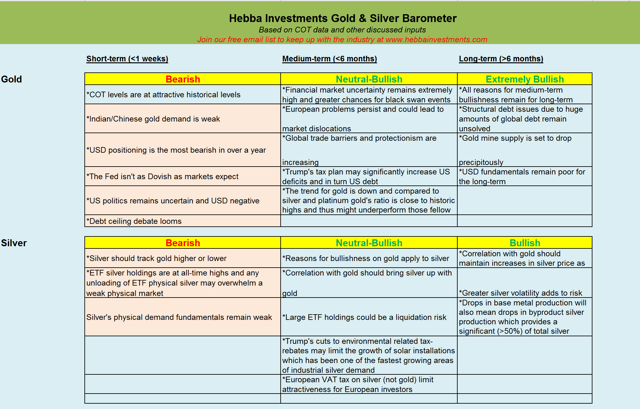 We want to emphasize that we are bearish on the short-term ONLY as we are extremely concerned about financial markets for the medium/long-term and the fundamentals of gold (and to a lesser extent silver) remain extremely bullish.
What this means for short-term traders is that it is time to continue to take profits on bullish positions and look for a better entry point. While its always tough to do this into strength, we think it's the right more for short-term investors and it is time to lighten up on gold and silver positions in the ETF's (SPDR Gold Trust ETF (NYSEARCA:GLD), iShares Silver Trust (SLV), Sprott Physical Silver Trust (PSLV), and ETFS Physical Swiss Gold Trust ETF, etc).
Disclosure: I am/we are long SGOL.
I wrote this article myself, and it expresses my own opinions. I am not receiving compensation for it (other than from Seeking Alpha). I have no business relationship with any company whose stock is mentioned in this article.