Fannie Mae (OTCQB:FNMA) and Freddie Mac (OTCQB:FMCC) are two companies that have been in a government run conservatorship handing all their money to the government since 2008 despite the fact there are other shareholders in the public market. These public shareholders continue to point out that the government took over the two, engaged in suspicious accounting to force them to take money and then unilaterally decided to take everything for nothing in 2012 after which it reversed the suspect accounting resulting in a calculated one-time windfall to the government in addition to the sustained and future profitability of two of the most recurringly profitable companies in the United States. On July 27, the Sixth Circuit court heard oral arguments (listen here) for the Robinson case where the government continued to insist that no court can interfere with any action of FHFA as conservator.
Investment Thesis: The government has won all the core legal rulings so far except the remanded claims in Perry Capital which are not injunctive in nature but instead revolve around FHFA and Treasury violating contract law. If this is how the proverbial cookie crumbles, the net worth sweep itself would not be illegal but the net worth sweep would breach shareholder contracts. Plaintiffs in the Federal Court of Claims have fought tooth and nail to get access to documents produced publicly last week that prove that the government lied publicly and in court. Whether this matters or not remains to be seen but the general rule of thumb is that it would only make sense to lie if they knew what they did was wrong. What remains to be proven is whether or not the government broke the law. With GSE Jumpstart Reform expiring early next year I think that the time is ripening for a settlement at which point the government could allow the companies to capitalize themselves and eventually exit conservatorship. With Watt getting ready to take some sort of capital buffer action, what the lawsuits have produced is important to changing the public narrative.
Rop Plaintiffs Amended Case Highlights
Below I will walk through the specific paragraphs that were changed due to the discovery produced in the Rop First Amended Complaint.
The first excerpt is paragraph 29, where plaintiffs argue that it is inappropriate to interpret the word "may" differently in two different places as the government has: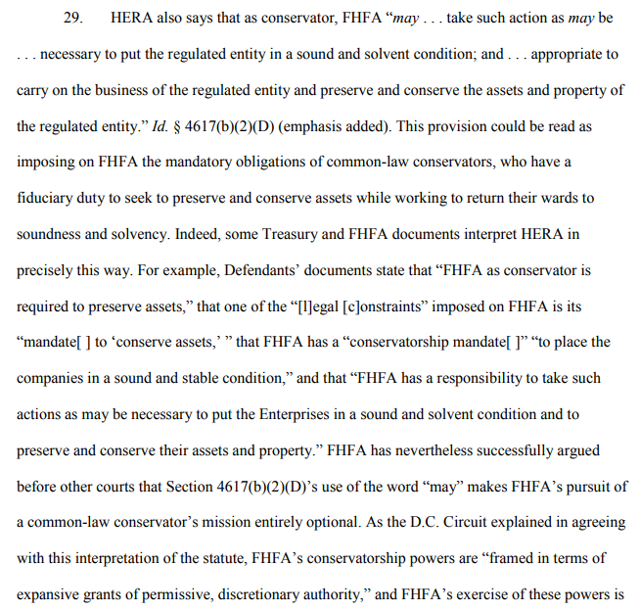 In paragraph 34, the plaintiffs show that conservatorship wasn't even necessary: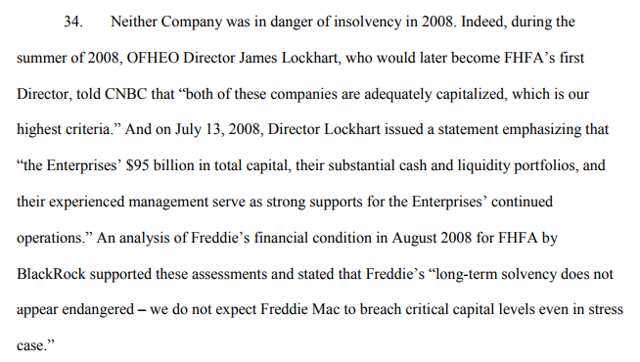 Paragraph 61 shows us that the White House kept close tabs on Ed DeMarco, then head of FHFA: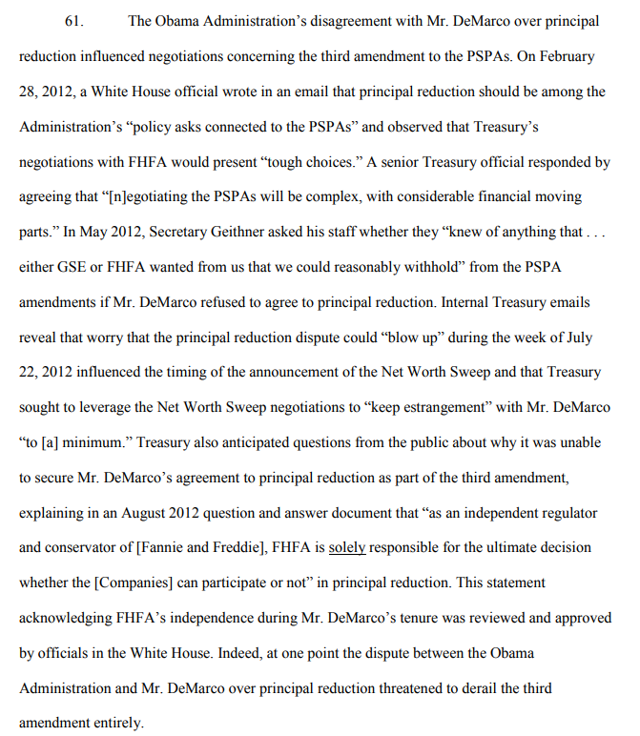 Paragraph 62 shows that Obama considered firing DeMarco: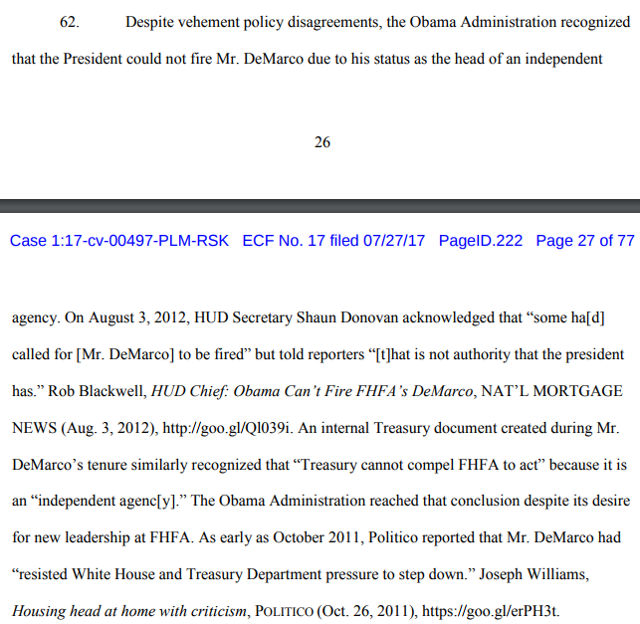 On paragraph 69, it shows Freddie Mac was bullied into taking losses that exceeded its own financial models: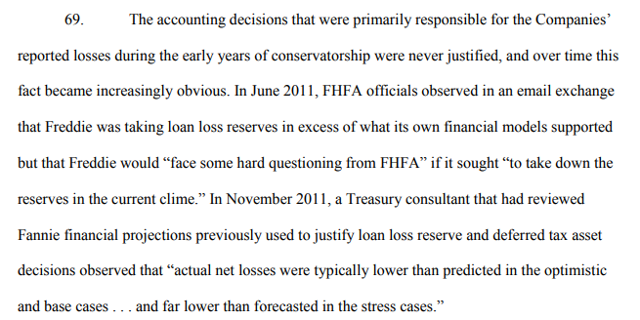 On paragraph 74, a Treasury official noted that the majority of losses were almost entirely originated and guaranteed between 2008 and 2008: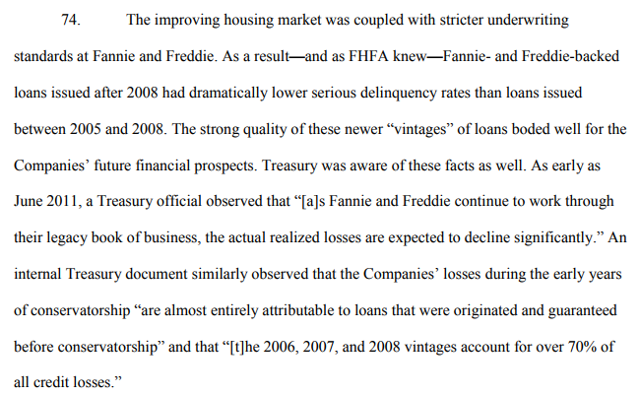 In February of 2012, FHFA officials thought that the agency deserved a "high five" for the companies' strong financial outlook: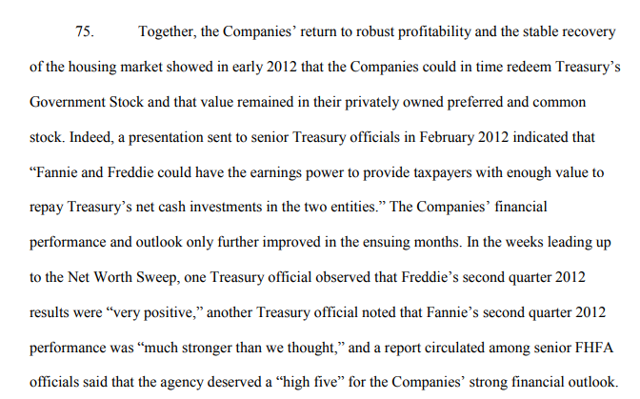 Paragraph 77 shows that the government knew that its accounting write-downs were soon to be reversed as early as July 2012: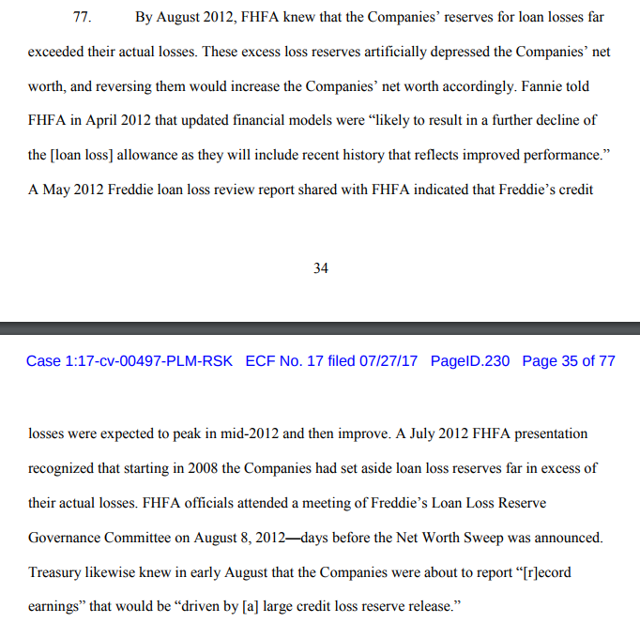 Paragraph 86 shows that documents undermine FHFA and Treasury's circularity arguments: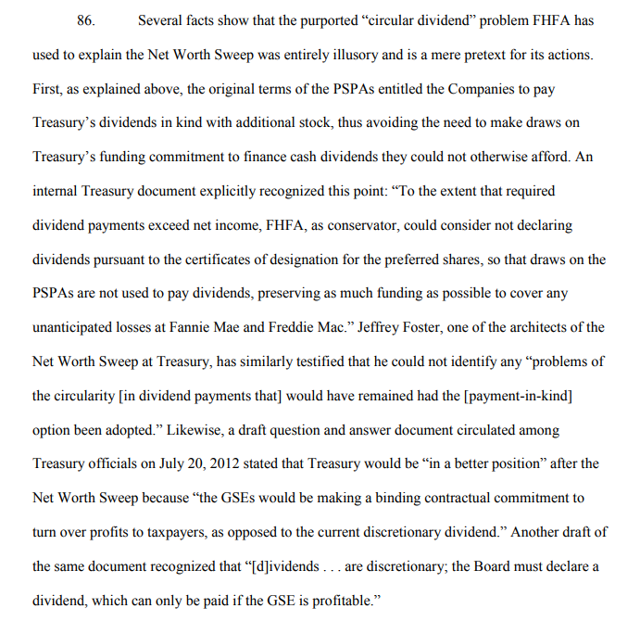 Paragraph 89 shows that DeMarco saw that there was no rush to implement the net worth sweep since the GSEs would be generating income exceeding the 10% annual dividend well into the future as early as June of 2012: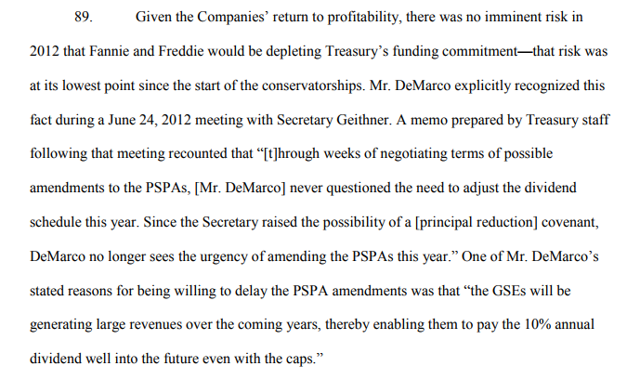 Paragraph 90 shows that Treasury officials questioned the soon to be released public narrative: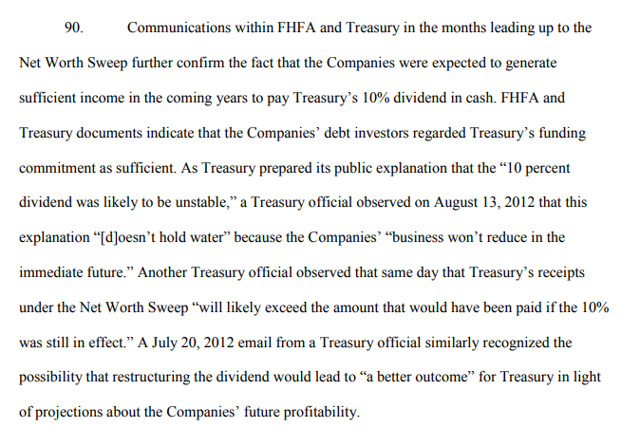 Paragraph 96 shows that the government knew it would be getting more money out of the net worth sweep than the 10%: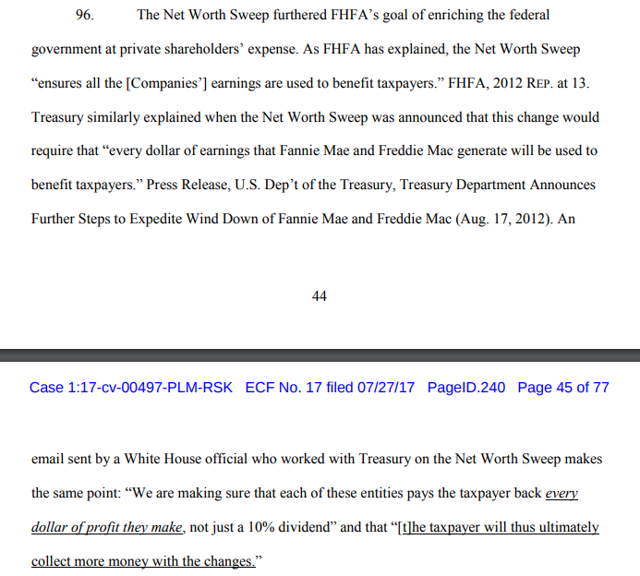 Paragraph 97 shows that Treasury gave up nothing when entering into the net worth sweep: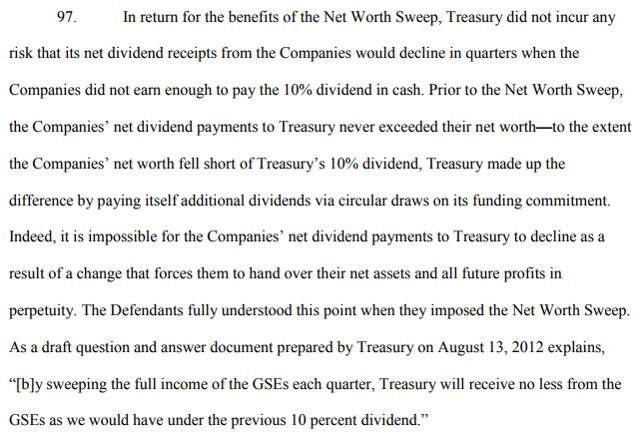 Paragraph 101 reveals the true nature of the net worth sweep, to prevent Fannie and Freddie from emerging from conservatorship: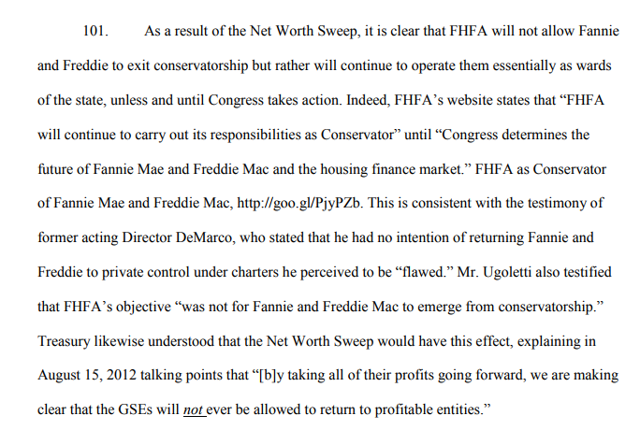 Paragraph 102 shows that the government knew that earnings were about to wildly exceed the 10% dividend. Treasury didn't want conservatorship to ever end: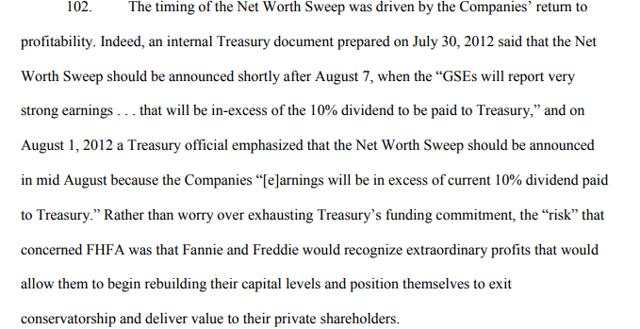 Paragraph 104 shows that the government believed it was important to make sure that Fannie and Freddie never looked like healthy institutions: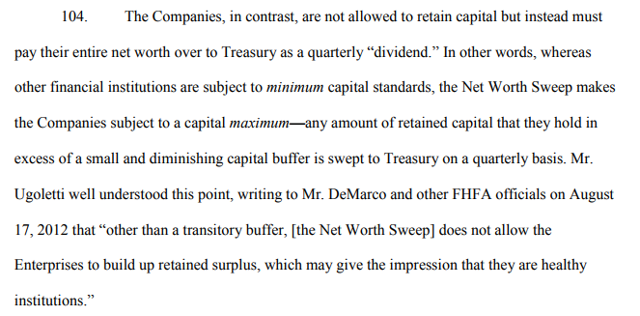 These modifications to the original complaint were made possible by discovery documents produced due to the motion to compel in the court of federal claims. They prove that the government has been lying publicly about why the government implemented the net worth sweep. Just because the government has been lying does not mean that the government has been breaking the law. Thus far the courts have ruled that the facts don't matter, which makes this all the more interesting. If the facts don't matter in the first place, why would the government lie about them? I continue to have no good answer to that question.
Fact Checking Raises Questions
Last week, Bloomberg's Joe Light reported the government's side of the document release. He quoted Michael Stegman:

If you actually take time to look at the documents, however, Stegman seems to be less than truthful. On July 22, Stegman sent out an email raising concern that Treasury might not be able to modify the PSPAs to Treasury's advantage: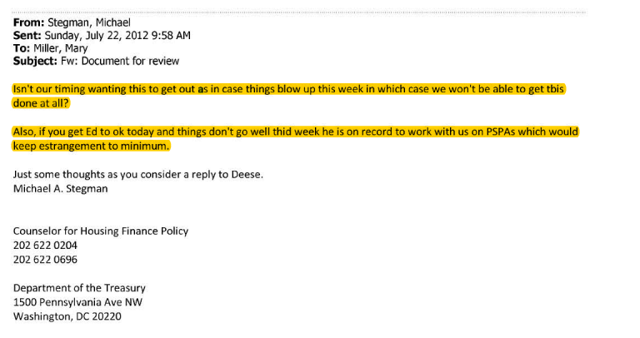 To provide context, two days earlier Michael received an email regarding PSPA modification points: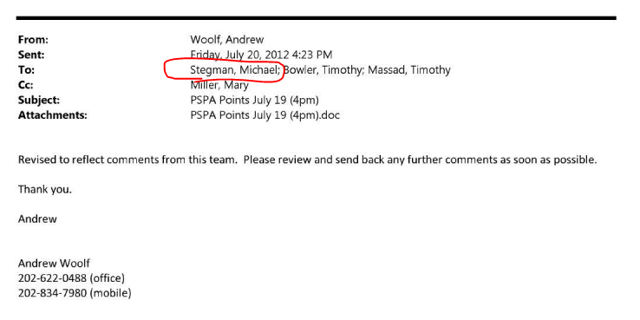 Attached to that email was a document outlining that the Treasury should take the net worth of Fannie and Freddie as opposed to the 10% dividend rate. If you'll notice, stricken from the document was the original claim that this was done in response to the recent stabilization of the GSEs' financial profile as this would not support the made for litigation reasoning to implement the sweep in the first place: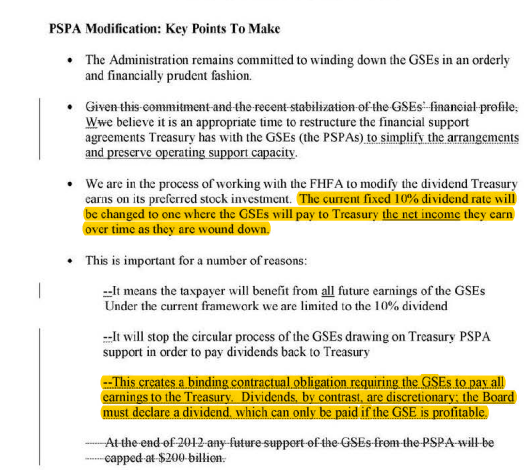 Michael Stegman confirmed the edits above and was provided feedback, wondering if they could say that this would be better for Treasury: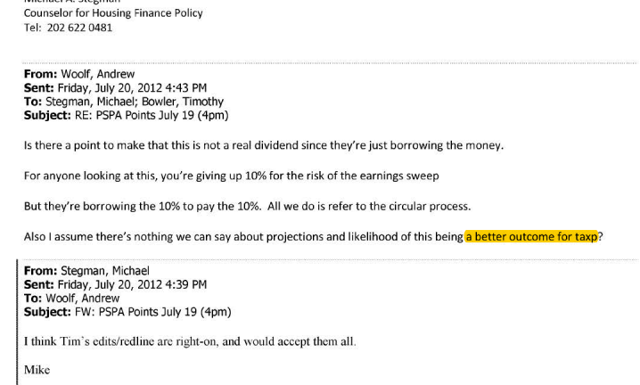 Consider the email response above with respect to the marked up PSPA Key Points To Make. There is no doubt that Stegman knew that this was a better outcome for the taxpayer:
10% dividends were discretionary. This alone undermines the circular process argument. Stegman appears to be going out of his way to make things look worse than they actually are.
10% discretionary dividends are inferior to binding contractual takings of all earnings for Treasury. I will draw a Venn Diagram and put it below for your convenience, but the basic gist is that 10% dividends will never be greater than 100% of the net worth because dividends come from a portion of net worth.
Cash dividends were optional. 12% was a PIK option. The discretionary dividend wording of this demonstrates that Stegman was aware of this and agreed with it, "I think Tim's edits/redline are all right-on, and would accept them all."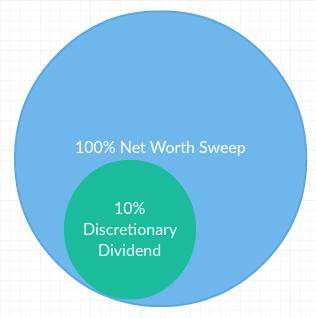 Further, on July 30th, still well in advance of the net worth sweep, it was clear to the government that the GSEs would produce earnings in excess of the dividend: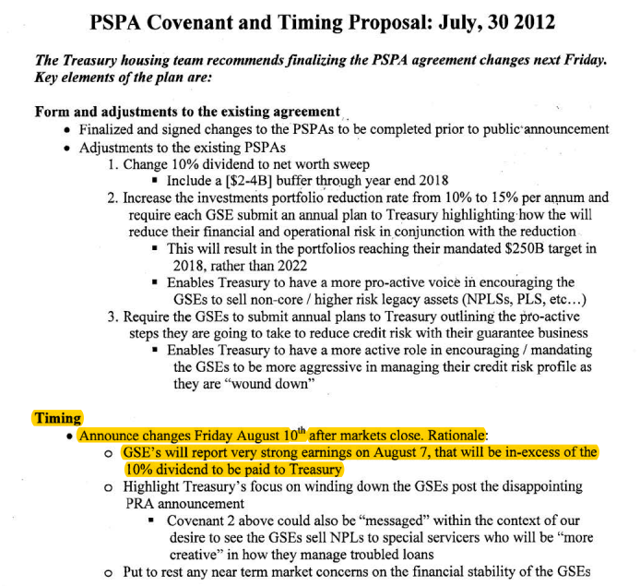 A day later on July 31, Stegman was told by Jeff Foster that the GSEs were producing results much stronger than forecasted: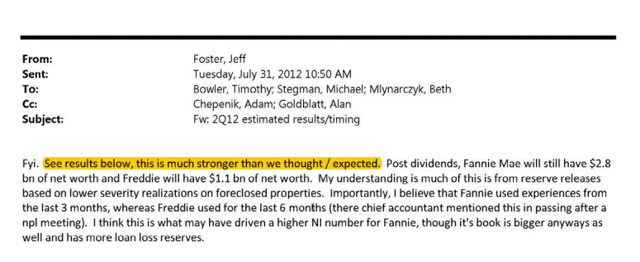 Given the facts produced by documents that the government improperly hid from plaintiffs for over a year that were only produced recently due to a motion to compel, Stegman appears to have been less than truthful to Joe Light. Joe Light also got questions answered by Benson Roberts:

If you look at the context of Benson Roberts note, his interpretation provided to Joe Light regarding that one highlight makes sense, but his added commentary does not make sense:

For starters, Benson Roberts wanted to know why the existing 10% dividend structure could become unsustainable:

Secondly, the biggest point Benson flagged was balance sheet consolidation:

Benson pointed out that continuing to argue that the enterprises should not be consolidated onto the federal balance sheet was inconsistent with the stated purpose of the net worth sweep. Josh Rosner argues that this is a violation of accounting under GASB as Treasury officials intentionally misled the GAO & CBO.
Watt Capital Cushion
Senator Bob Corker spoke to Mnuchin about Watt implementing some sort of capital cushion in 75 days or so. What Corker calls the capital cushion I have previously referred to as the capital buffer, but here will refer to as the capital cushion. 75 days or so from the time Corker made this statement is this coming Tuesday, August 1.
If you watch the video, you'll see Mnuchin confirms the 75-day time frame. This time frame ripens the same day Freddie Mac reports earnings. Corker says that the two of them have that time frame to figure out the appropriate resolve to this issue. If you recall, Senator Corker suggested to Watt that Watt just take $10B from Treasury. Corker is opposed to the cushion entirely. Since Corker raised the 75-day issue from what I can tell nothing has changed. I expect Watt to set up some sort of Capital Cushion, especially since he said he can do so unilaterally. If Corker's time frame is correct, I would expect it to happen sometime this week. What this means is that depending on how large it is, it will fill up with retained earnings after which the sweep will take the recurring earnings above and beyond the capital buffer. In effect, this turns the net worth sweep into the sweep of all earnings exceeding the capital cushion, thereby eliminating the net worth part of it. What this does is makes it increasingly difficult to justify putting put Fannie and Freddie into receivership.
Since Corker raised the 75-day issue from what I can tell nothing has changed. I expect Watt to set up some sort of capital cushion, especially since he said he can do so unilaterally. If Corker's time frame is correct, it is reasonable to expect something to happen this week or in the not too distant future. What this doesn't mean is that this ends the net worth sweep.
Summary and Conclusion
I own 4050 shares of FMCCH, 21988 FMCCP, 7370 FMCCT, 1341 FMCKO, 12885 FMCKP, 12788 FNMFN, and 5 FNMFO. I own these shares because I believe the government has been lying and that it has broken the law. I think that the plaintiffs counted on judges to apply reason to their legal opinions and instead the judges have ruled outside of any constitutional framework so far. The lawsuits have been tightened up and it will be interesting to see how the rulings fall going forward.
The reality, however, is that the administration seems to be preparing for some sort of administrative solution where capital matters. Watt is prepared to implement some sort of capital buffer. In court, FHFA lawyers say that capital doesn't matter. This is a welcome change of direction. With a capital buffer established, the only thing left is to decide how much capital is needed for Fannie and Freddie to exit conservatorship and to chart a course to make that possible in a reasonable timeline. The Moelis plan is the best plan I've seen so far to do this. Interestingly enough, Trump and Moelis bet $1M on a coin flip: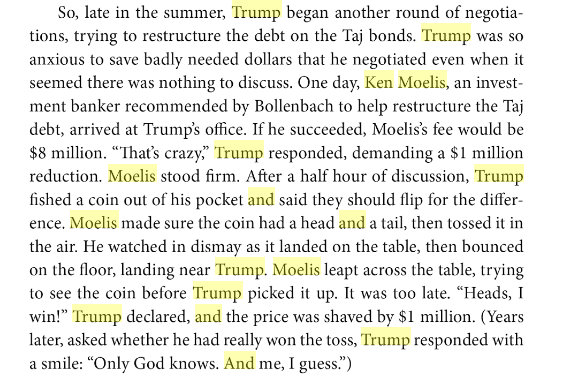 The Moelis plan was put together in support of non-litigating preferred shareholders, like myself and John Paulson. Paulson's Merger Arbitrage fund suggests a resolution before the end of the year:

This makes sense considering the beginning of next year is when GSE Jumpstart reform expires. According to the Moelis plan, the common stock could be worth over $10 as soon as next year at which point it would be expected to increase to over $13 by 2020: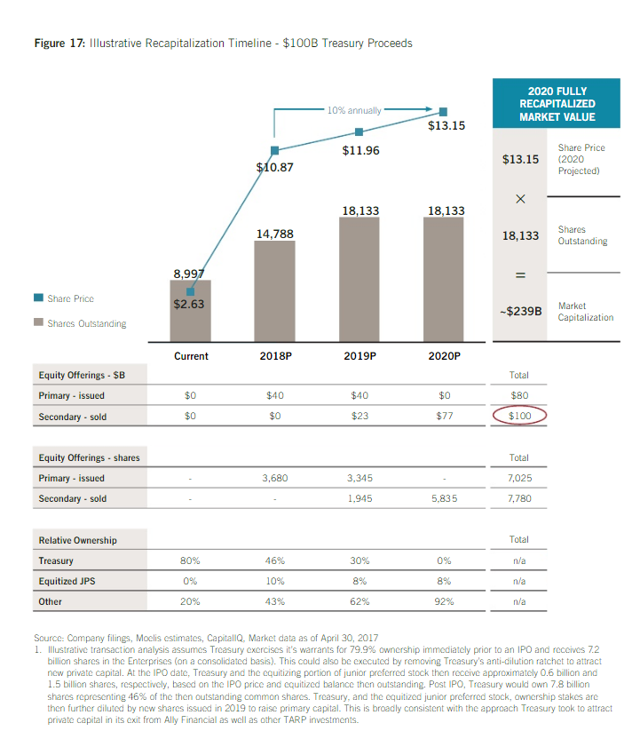 That's a multiple of the current common stock price.
Disclosure: I am/we are long FMCCH,FMCCP,FMCCT,FMCKO,FMCKP,FNMFN,FNMFO. I wrote this article myself, and it expresses my own opinions. I am not receiving compensation for it (other than from Seeking Alpha). I have no business relationship with any company whose stock is mentioned in this article.
Editor's Note: This article discusses one or more securities that do not trade on a major U.S. exchange. Please be aware of the risks associated with these stocks.